The Trump Labor Board Just Made It Harder for Fast-Food Workers to Hold Corporate Bosses Accountable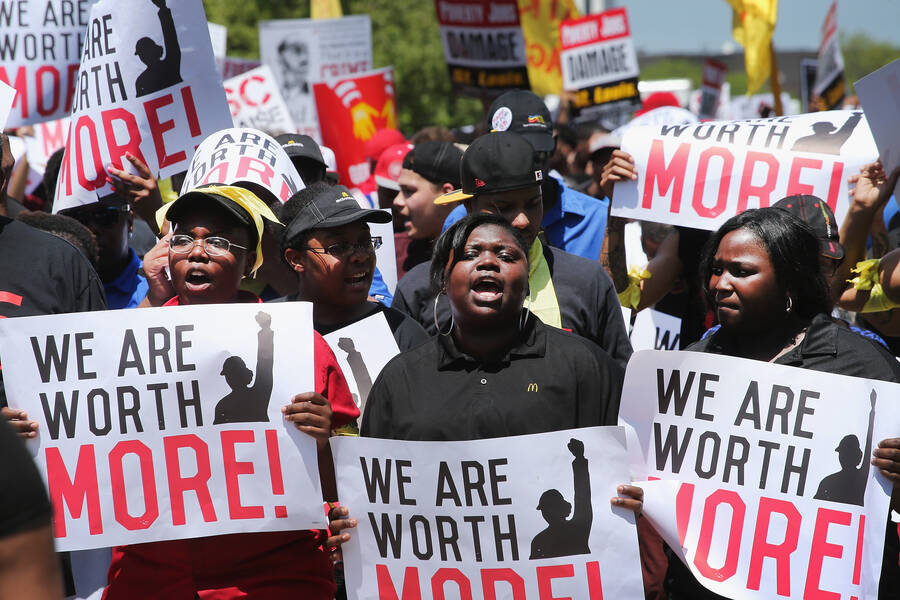 On Decem­ber 14, the Nation­al Labor Rela­tions Board (NLRB) over­turned a 2015 pol­i­cy that had made it eas­i­er for work­ers — par­tic­u­lar­ly fast-food work­ers — to union­ize and chal­lenge their employ­ers over unfair labor practices.
The Oba­ma-era stan­dard sprung from a 2013 case involv­ing work­ers attempt­ing to union­ize at a recy­cling plant in Mil­pi­tas, Calif. The recy­cling com­pa­ny, Brown­ing-Fer­ris Indus­tries, owned the build­ing but used a small staffing agency called Lead­point to pro­vide and man­age work­ers. The local Team­sters union was try­ing to orga­nize the employ­ees, but it didn't want to mere­ly nego­ti­ate with Lead­point: It want­ed Brown­ing-Fer­ris to be con­sid­ered a joint employ­er and par­ty to any labor con­tract. A region­al direc­tor deter­mined that Lead­point was the sole employ­er, but the Team­sters request­ed a review, and the NLRB's gen­er­al coun­sel sided with union in a 3 – 2 vote.
The vote was hailed by unions and labor advo­cates for mak­ing it more dif­fi­cult for cor­po­ra­tions to dis­tance them­selves from cer­tain legal vio­la­tions — and for strength­en­ing the bar­gain­ing pow­er of sub­con­tract­ed gig-econ­o­my workers.
The Brown­ing-Fer­ris deci­sion was also good news for fast-food work­ers and orga­ni­za­tions like Fight for $15. Most fast-food com­pa­nies use a fran­chis­ing mod­el, and Brown­ing-Fer­ris made it eas­i­er for work­ers to hold cor­po­ra­tions respon­si­ble for wage theft and union bust­ing at indi­vid­ual loca­tions. In 2014, the NLRB's gen­er­al coun­sel had already ruled that the McDonald's Cor­po­ra­tion could be con­sid­ered a joint employ­er in var­i­ous labor cas­es brought against the company's fran­chis­es. But Brown­ing-Fer­ris pro­vid­ed an entire­ly new legal dimen­sion to the proceedings.
The Brown­ing-Fer­ris deci­sion was pre­dictably crit­i­cized by indus­try groups, which imme­di­ate­ly launched an all-out assault on the new rule. Inter­na­tion­al Fran­chise Asso­ci­a­tion lob­by­ist Matt Haller declared that the deci­sion was ​"a knife-to-the throat issue," pro-busi­ness orga­ni­za­tions pres­sured Con­gress to block its imple­men­ta­tion in their sub­se­quent spend­ing bill, and Brown­ing-Fer­ris Indus­tries chal­lenged the deci­sion in a fed­er­al appeals court.
Indus­try ner­vous­ness end­ed up being alle­vi­at­ed by the sur­pris­ing elec­tion of Don­ald Trump, who suc­cess­ful­ly tipped the NLRB back to a Repub­li­can major­i­ty in Sep­tem­ber — and has sought to over­turn the labor vic­to­ries which occurred under his pre­de­ces­sor. The Trump admin­is­tra­tion recent­ly end­ed Obama's exten­sion of fed­er­al over­time pay, and it's prepar­ing to erad­i­cate a 2011 rule which pro­tects the tips of wait staff. All of Trump's NLRB appointees were con­nect­ed to anti-union poli­cies at their pre­vi­ous posi­tions, but the con­fir­ma­tion process was fast-tracked, and they eas­i­ly made it through GOP-con­trolled Sen­ate. In over­turn­ing the Brown­ing-Fer­ris prece­dent, the board claimed that the 2015 deci­sion was respon­si­ble for ​"upend­ing decades of labor law prece­dent and prob­a­bly cen­turies of prece­dent in cor­po­rate law."
In a state­ment, Nation­al Employ­ment Law Project exec­u­tive direc­tor Chris­tine Owens called the rever­sal ​"just one more exam­ple of the Trump Admin­is­tra­tion favor­ing cor­po­ra­tions over work­ing people."
"In this econ­o­my, employ­ers are increas­ing­ly sub­con­tract­ing out vital parts of their busi­ness to oth­er con­trac­tors and/​or using tem­po­rary employ­ment agen­cies to fill vital posi­tions," said Owens. ​"The Brown­ing-Fer­ris deci­sion rec­og­nized that in these arrange­ments, com­pa­nies that con­tract out work may still retain con­trol over the con­di­tions and stan­dards that gov­ern the work and how the work­ers doing the jobs are treat­ed … the Trump NLRB has decid­ed to let them off the hook."
While there is no evi­dence that Trump was direct­ly involved in the case, we do know that one his com­pa­nies was impact­ed by the 2015 deci­sion. In May 2016, cater­ing work­ers at the Trump Nation­al Doral golf resort in Flori­da won a $125,000 set­tle­ment after suing for unpaid wages. As a result of the joint-employ­er lia­bil­i­ty, the work­ers were able to hold Trump Mia­mi Resort Man­age­ment respon­si­ble, even though an out­side staffing agency had hired them.
It is like­ly that the Trump admin­is­tra­tion will soon work to over­turn a num­ber of addi­tion­al Oba­ma-era NLRB deci­sions. To the sur­prise of many, the board end­ed up adapt­ing to the com­plex­i­ties of a chang­ing econ­o­my under Oba­ma and force­ful­ly assert­ed the rights of work­ers in a num­ber of impor­tant votes. Recent NLRB deci­sions have giv­en grad­u­ate stu­dents the right to union­ize at pri­vate uni­ver­si­ties, increased the bar­gain­ing pow­er of work­ers at char­ter schools and made it eas­i­er for small­er groups of work­ers to union­ize at com­pa­nies. How­ev­er, the term of the NLRB's Repub­li­can chair­man, Philip A. Misci­mar­ra, end­ed just days after the board's vote. Trump will at least have to wait until the Sen­ate con­firms his next nom­i­nee and reestab­lish­es the Repub­li­can major­i­ty before he's able to undo any of these changes.
"
Michael Arria
is the U.S. cor­re­spon­dent for Mon­doweiss. Fol­low him on Twit­ter: @michaelarria.