How Progressives Can Criticize Trump's $7 Trillion Deficit Without Preaching Austerity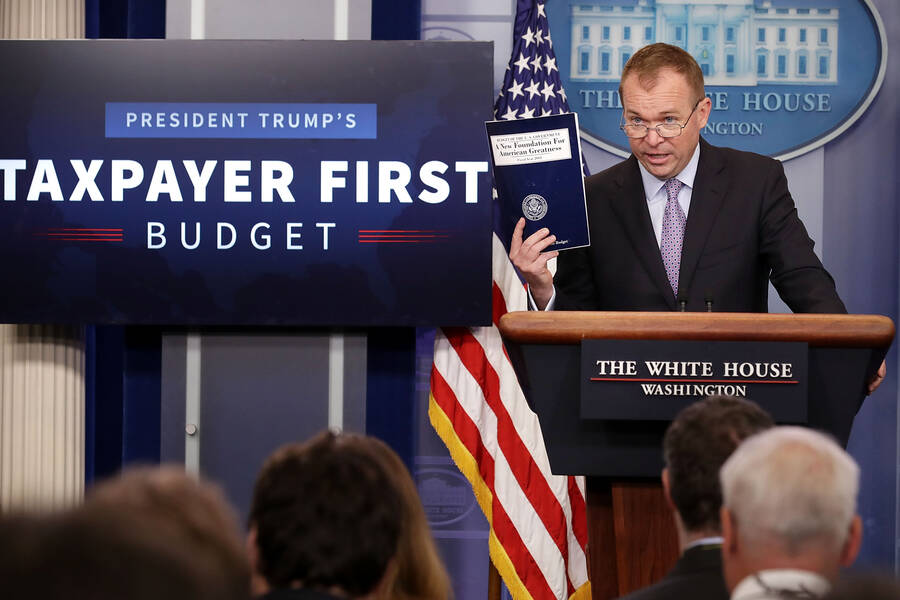 Deficit spend­ing isn't a sign of moral or eco­nom­ic fail­ure. But look­ing at the head­lines about the Trump administration's last few weeks of eco­nom­ic pol­i­cy­mak­ing, you might think otherwise.
Refer­ring to Democ­rats and Repub­li­cans both, The Wash­ing­ton Post​'s Robert Samuel­son bemoans that, ​"Ever-larg­er bud­get deficits have become their means of mak­ing pol­i­cy and prac­tic­ing pol­i­tics." He points to the $1.7 tril­lion spend­ing agree­ment reached last week, the $1.4 tril­lion tax plan passed recent­ly and the White House's 2019 bud­get pro­pos­al, which — if passed in full (some­thing that basi­cal­ly nev­er hap­pens) — would add $7 tril­lion to the fed­er­al deficit over the next decade.
As John Cas­sidy at the New York­er puts it, ​"the country's finances will be in a wretched state once the GOP's recent tax-cut bill is ful­ly enact­ed." He laments the ​"sea of red ink that now stretch­es into the indef­i­nite future." We have to ​"keep the deficit num­bers in check," he says. But Repub­li­cans — com­mit­ted to small gov­ern­ment and even small­er bud­gets — sim­ply aren't up to the task. The irony!
Top Democ­rats adopt­ed a sim­i­lar line. ​"If you're a deficit hawk you've got to be a deficit hawk all the way through," Sen­ate Minor­i­ty Leader Chuck Schumer (D‑N.Y.) told a crowd on in response to Rand Paul's rejec­tion of the bud­get deal, not­ing the Republican's hypocrisy in vot­ing for the GOP tax cuts. ​"For both sides to get the deficit down, each side can't say, ​'Well I'm a deficit hawk on this issue but not on that issue.' If we're going to get the deficit down."
In the push to con­demn Trump, it seems that everyone's become a deficit hawk, blur­ring the line between call­ing out Repub­li­can hypocrisy and Democ­rats' procla­ma­tions that Amer­i­ca needs to get its fis­cal house in order before slip­ping irrepara­bly into the red. Yet, the prob­lem with the bud­get the White House pro­posed yes­ter­day lies not in the amount of mon­ey it pro­pos­es to spend — but the pro­grams it aims to cut. The plan would take a sledge­ham­mer to America's social safe­ty net and pub­lic sphere, cut­ting deeply into Medicare and food stamps while sell­ing off vital nation­al infra­struc­ture. So why are Democ­rats still fix­at­ing on the debt as Repub­li­cans aban­don the pre­tense that it ever mattered?
The GOP has been lying about the impacts of the fed­er­al deficit for well over 30 years. Despite cam­paign­ing against so-called waste­ful spend­ing, Repub­li­can admin­is­tra­tions have reli­ably dri­ven up huge deficits: Ronald Rea­gan, George H.W. Bush and Ger­ald Ford are respon­si­ble for the third, fourth and fifth largest debt hikes over the course of an admin­is­tra­tion, respec­tive­ly. Today's breed of deficit hawk­ish­ness might most accu­rate­ly be traced back to bud­get talks in the mid-1990s, when Repub­li­can strate­gists inge­nious­ly com­pared the finances of the world's largest econ­o­my with the every­day eco­nom­ic trade-offs of hard­work­ing Americans.
"You sim­ply can't draw enough par­al­lels to the fam­i­ly bud­get­ing process," poll­ster Frank Luntz has advised GOP law­mak­ers. ​"It forces vot­ers to eval­u­ate the U.S. bud­get for what it is, rather than as some abstract gov­ern­ing con­cept … Keep it sim­ple and force Amer­i­cans to apply some com­mon-sense kitchen-table eco­nom­ics to the bud­get process."
NPR White House cor­re­spon­dent Scott Hors­ley echoed that refrain on Sun­day, argu­ing that ​"if you out­spend your pay­checks a month, you might put the dif­fer­ence on your cred­it card. The gov­ern­ment does the same."
Amer­i­cans por­ing over their month­ly bills, of course, don't enjoy either the pow­er of tax­a­tion or access to a sov­er­eign cur­ren­cy. The issue when the fed­er­al gov­ern­ment deficit-spends mon­ey isn't the amount they spend, but what they spend it on: There's no finite amount of cash the Trea­sury is pulling out of a vault. There are also no omi­nous bill col­lec­tors — vig­i­lante Chi­nese bond­hold­ers, for instance — who are going to cross the Pacif­ic Ocean to shake us down for what they're owed and threat­en our sov­er­eign­ty, no mat­ter which par­ty dri­ves up the bill. Sim­ply put, there's no inher­ent rea­son to wor­ry about the size of the deficit itself.
As for­mer Sen­ate Bud­get Com­mit­tee chief econ­o­mist Stephanie Kel­ton said recent­ly, Repub­li­cans' out­right embrace of deficit spend­ing in this con­text should be treat­ed as a gift to Democ­rats. ​"Take that gift," she said, ​"and say, ​'Look, you're will­ing to do $1.5 tril­lion. We're will­ing to do $1.5 tril­lion. But you're mak­ing your check paid to the order of big wealthy cor­po­ra­tions and the rich­est peo­ple in this coun­try. Let me show you how we're going to write our checks for $1.5 trillion.'"
Some push back against Kelton's line of think­ing by argu­ing that that, while there's a time and place for deficit spend­ing, an econ­o­my that's close to full employ­ment sim­ply isn't one of them. ​"There is no com­pa­ra­ble case for deficits now, with the econ­o­my near full employ­ment and the Fed rais­ing inter­est rates to head off poten­tial infla­tion," Paul Krug­man writes of the bud­get deal, ref­er­enc­ing big spend­ing out­lays dur­ing the recov­ery in 2012. ​"If any­thing, we should be using this time of rel­a­tive­ly full employ­ment to pay down debt, or at least reduce it rel­a­tive to G.D.P."
But why? A grow­ing deficit has lit­tle effect on the macro­econ­o­my, and can be spent on impor­tant goods like infra­struc­ture and job cre­ation that would be a sum pos­i­tive for the pub­lic. Mar­kets balked recent­ly over fears of infla­tion — some­thing which could the­o­ret­i­cal­ly rise if the econ­o­my tru­ly does become over­heat­ed — but there's lit­tle rea­son to expect it will any­time soon. Com­mon wis­dom has held that a so-called ​"nat­ur­al rate" of unem­ploy­ment around 5.5 per­cent is ide­al for ward­ing off infla­tion, yet the unem­ploy­ment rate has fall­en steadi­ly below that since 2015, with few signs of infla­tion on the horizon.
Econ­o­mist Dean Bak­er, of the Cen­ter for Eco­nom­ic and Pol­i­cy Research, sug­gests see­ing how low unem­ploy­ment can drop before infla­tion kicks in, in the process improv­ing the lot of peo­ple still strug­gling to recov­er from the last reces­sion. While the econ­o­my is rel­a­tive­ly close to what we call full employ­ment, near­ly all the jobs the Unit­ed States has cre­at­ed since 2005 have been tem­po­rary. Wages are only just now start­ing to rise for the first time in years. If the econ­o­my real­ly is mov­ing in the right direc­tion, why stop stim­u­lus spend­ing now?
"The unem­ploy­ment rate has now been well below [5.5 per­cent] for more than two-and-a-half years," Bak­er writes, ​"and there is still no evi­dence of an infla­tion­ary spi­ral. In fact, the infla­tion rate remains well below the Fed­er­al Reserve's 2‑percent target."
Deficit hawk­ish­ness has been a Repub­li­can con for decades. That a few peo­ple were dumb enough to drink the Kool Aid in that time isn't all that sur­pris­ing. Take Mick Mul­vaney, who is now inex­plic­a­bly both the head of the Office of Man­age­ment and Bud­get and the Con­sumer Finan­cial Pro­tec­tion Bureau. As a Tea Par­ty Con­gress­man from South Car­oli­na, he pushed to cap spend­ing and bal­ance the fed­er­al bud­get, and arrived to the Trump Admin­is­tra­tion promis­ing to ​"restore fis­cal sanity."
Intro­duc­ing the 2019 bud­get pro­pos­al yes­ter­day, Mul­vaney admit­ted that it wouldn't amount to a bal­anced bud­get, going on to say, ​"I will always be a deficit hawk … I am today, I was yes­ter­day, I am tomor­row." But whether Mul­vaney, Paul Ryan or oth­er alleged deficit hawks actu­al­ly believe what they say can be left up to their ther­a­pists: What's rel­e­vant is how they actu­al­ly vote.
For years, cable news chan­nels gave equal time to earth sci­en­tists and cli­mate deniers, poi­son­ing the nation­al debate on glob­al warm­ing to dis­as­trous effect. The con­ver­sa­tion around the deficit might be even more dire still: Deficit hawk­ish­ness — based on a series of fan­tasies about how mod­ern economies work — has by now become com­mon wis­dom, includ­ing among oth­er­wise shrewd pun­dits and politi­cians. Fear­mon­ger­ing about the debt is its own kind of trap. Doing so in the name of par­ti­san pol­i­tics is anoth­er. With any hope, Democ­rats will avoid both in craft­ing their own poli­cies mov­ing forward.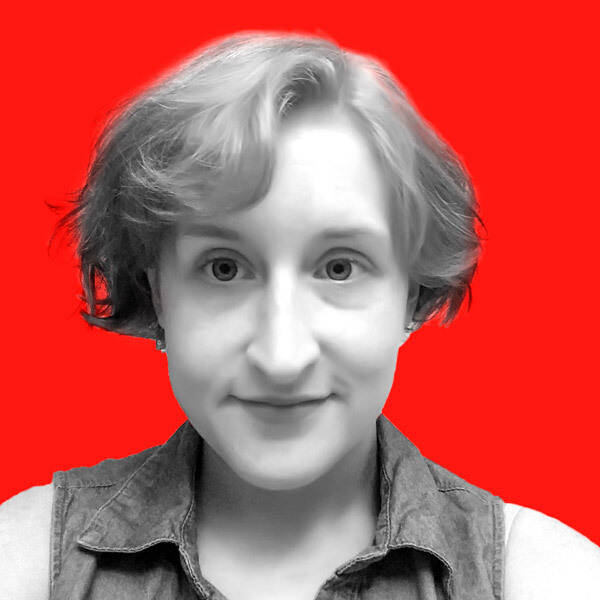 Kate Aronoff
is a Brook­lyn-based jour­nal­ist cov­er­ing cli­mate and U.S. pol­i­tics, and a con­tribut­ing writer at The Inter­cept. Fol­low her on Twit­ter @katearonoff.