Actually, Trump Loves Chinese Goods—So Long as they Make Him Richer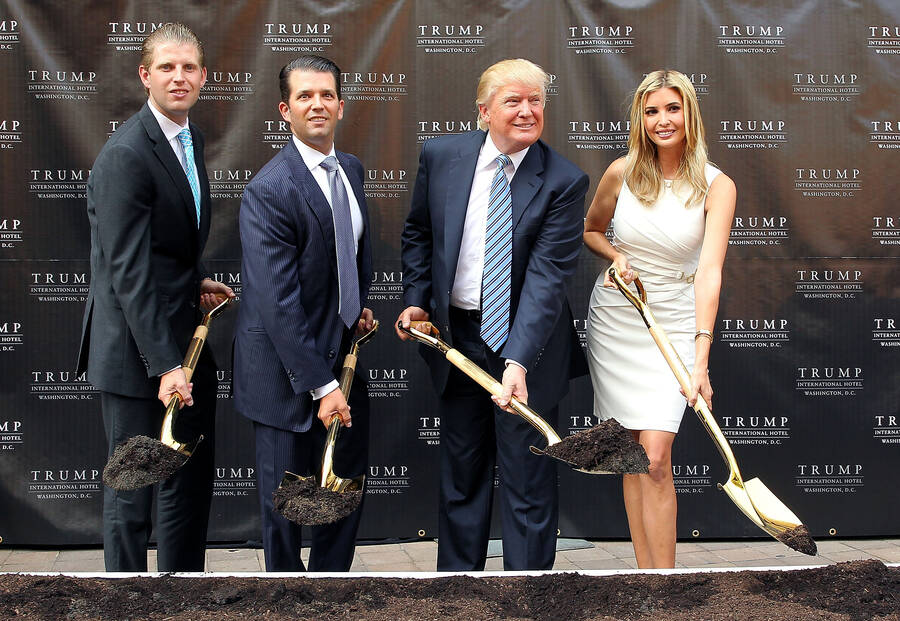 Don­ald Trump built no small part of his polit­i­cal brand rail­ing against Chi­nese indus­try — so much so that The Huff­in­g­ton Post once pub­lished a super­cut of the pres­i­dent sneer­ing the word ​"Chi­na" dozens and dozens of times, for three full minutes.
While Trump's high­ly charged lan­guage about Chi­na ​"rap­ing our coun­try" show­cased the pres­i­den­t's usu­al xeno­pho­bia, the part about lost jobs spoke to real eco­nom­ic pain that oth­er politi­cians appeared to ignore. The mes­sage played well in parts of the coun­try — like my home state of Ohio, and much of the Mid­west besides — that suf­fered griev­ous­ly as pros­per­ous indus­tries pulled up their stakes and moved fac­to­ries to oth­er coun­tries, Chi­na chief among them.
Despite wild pol­i­cy fluc­tu­a­tions on oth­er fronts, Trump has been unchar­ac­ter­is­ti­cal­ly con­sis­tent on this point. For the last few months he's been stok­ing a pos­si­ble trade con­flict with Chi­na, threat­en­ing tar­iffs on up to $150 bil­lion worth of Chi­nese goods and draw­ing Chi­nese threats to penal­ize U.S. indus­tries in turn (can­ni­ly, often from the very regions that sup­port­ed Trump in the 2016 election).
The pres­i­dent even that tweet­ed he was look­ing for­ward to a trade war. (They're ​"easy to win," he said.) But with­in a few weeks, he seemed to roll over, sus­pend­ing most of those tar­iffs while trade talks were under­way. ​"We're putting the trade war on hold," Trea­sury Sec­re­tary Steve Mnuchin told Fox News.
Trump ini­tial­ly claimed that he'd got­ten the Chi­nese to decrease their trade sur­plus by up to "$200 bil­lion" — a claim the Chi­nese gov­ern­ment flat­ly denied. By all appear­ances, Bei­jing sim­ply made vague, unen­force­able assur­ances to pur­chase con­sumer goods they were prob­a­bly going to buy anyway.
For this, Chi­na did­n't just get a reprieve on tar­iffs. It won a reprieve for a major Chi­nese cor­po­ra­tion accused of run­ning seri­ous­ly afoul of U.S. sanctions.
If Trump want­ed a boogey­man for his broad­sides against Chi­nese indus­try, it would've been hard to come up with a bet­ter one than the Chi­nese phone mak­er ZTE. It's China's sec­ond-largest telecom­mu­ni­ca­tions firm, a third of which is report­ed­ly owned by state entities.
But ZTE is no ordi­nary com­peti­tor for Amer­i­can firms. It's also been offi­cial­ly sanc­tioned by the U.S. gov­ern­ment for sell­ing goods with Amer­i­can-made parts to Iran and North Korea, and then lying about its efforts to address Washington's com­plaints. Not only that, but some experts have wor­ried that the com­pa­ny could be using its phones as sur­veil­lance devices. The U.S. mil­i­tary has even banned the sale of ZTE phones on mil­i­tary bases.
Those sanc­tions may have been dra­con­ian, and per­haps the mil­i­tary's con­cerns were para­noid. But the cut-and-dry nature of the vio­la­tions gave the admin­is­tra­tion a chance to exer­cise the sort of cor­po­rate over­sight it often pro­fess­es but sel­dom prac­tices. This spring, Trump's own Com­merce Depart­ment announced a sev­en-year ban on U.S. com­pa­nies sell­ing ZTE com­po­nent parts, like the microchips it des­per­ate­ly needs. The move was expect­ed to put the giant out of business.
But then, in a move that The Wash­ing­ton Post reports went com­plete­ly out­side the usu­al White House pol­i­cy chan­nels, Trump made a stun­ning rever­sal: He was order­ing Com­merce Sec­re­tary Wilbur Ross to ease the sanc­tions. And more aston­ish­ing­ly, Trump tweet­ed that he want­ed ZTE ​"to get back into busi­ness, fast" — because there were ​"too many jobs in Chi­na lost."
In addi­tion to being a pol­i­cy 180, this was extreme­ly off-brand. The pres­i­dent boast­ful­ly tweet­ing about sav­ing jobs in Chi­na was, arguably, far more bizarre than his typ­i­cal Fox and Friends live­blogs, or even dada-esque mas­ter­pieces like ​"cov­fefe." (Remem­ber that?) And right in the mid­dle of a pos­si­ble trade war of his own mak­ing, too.
The ques­tion, nat­u­ral­ly, is why?
Main­stream media out­lets duti­ful­ly offered seem­ing­ly plau­si­ble expla­na­tions. The Wash­ing­ton Post report­ed that ​"In exchange for eas­ing restric­tions on ZTE, U.S. offi­cials are press­ing Chi­na to relax tar­iffs on agri­cul­tur­al prod­ucts and allow a U.S. tech­nol­o­gy com­pa­ny, Qual­comm, to acquire NXP Semi­con­duc­tors." So per­haps it was a sim­ple con­ces­sion in hopes of get­ting a bet­ter deal?
NPR, mean­while, quot­ed an expert who sug­gest­ed that ban­ning U.S. microchip exports to ZTE would only encour­age Chi­na to devel­op its own advanced tech­nol­o­gy, which wor­ried some nation­al secu­ri­ty folks. Zhe­jiang University's Dou­glas Fuller explained that the ban was ​"antag­o­niz­ing Chi­na to dou­ble down on more tech­no-nation­al­ist import sub­sti­tu­tion poli­cies," which (I guess) sounds like a problem.
Oth­ers spec­u­lat­ed that it was an attempt to get Chi­nese help with the upcom­ing North Korea sum­mit, which Trump sub­se­quent­ly made a big show of canceling.
Per­haps all of these accounts were too gen­er­ous. In fact, there might be a far sim­pler expla­na­tion for the rever­sal, one much more on-brand with Trump prac­tices to date: plain old self-dealing.
Just 72 hours pri­or to Trump's rever­sal on ZTE, The Huff­in­g­ton Post reports, the Chi­nese gov­ern­ment — which, recall, also owns enti­ties con­trol­ling at least a third of ZTE — made a $500 mil­lion loan to some Trump-brand­ed prop­er­ties in Indone­sia. And Chi­nese banks promised anoth­er $500 mil­lion to the same. The Trump Orga­ni­za­tion has acknowl­edged the deal but refused to com­ment, while a White House spokesman asked about the deal said sim­ply, ​"I'll have to refer you to the Trump Organization."
It also prob­a­bly did­n't hurt that dur­ing the very same week, Chi­na approved sev­en new trade­marks for Ivan­ka Trump, Trump's daugh­ter and White House advisor.
Viewed in this light, Trump's ZTE deal feels like far less of a rever­sal. It's per­fect­ly con­sis­tent for a pres­i­dent who's praised Pres­i­dent Rodri­go Duterte of the Philip­pines — whose drug war has killed over 20,000 peo­ple, yet whose cap­i­tal also hosts an upcom­ing Trump Tow­er (the devel­op­er, in turn, is Duterte's spe­cial envoy to Trump). Or for a pres­i­dent with exten­sive poten­tial con­flicts in the Unit­ed Arab Emi­rates, which hap­pens to be enjoy­ing U.S. sup­port as it con­ducts (with Sau­di Ara­bia) a dev­as­tat­ing U.S.-backed war in near­by Yemen.
Or, for that mat­ter, a pres­i­dent who signed a tax plan seem­ing­ly tai­lor-made to save him­self bil­lions of dollars.
For­mer White House ethics lawyer Richard Painter calls the ZTE episode ​"yet anoth­er vio­la­tion of the emol­u­ments clause of the Con­sti­tu­tion," which bans the pres­i­dent from tak­ing mon­ey from for­eign gov­ern­ments. If that feels quaint to point out at this point, it's no less quaint to recall that Trump first pledged to divest him­self of his Trump Orga­ni­za­tion hold­ings, and then back­tracked. (And then pledged not to open any new for­eign busi­ness while he was in office, and then back­tracked on that too.)
The ZTE case is ripe with Trump's favorite punch­ing bags — Chi­na, Iran, North Korea. It's low-hang­ing fruit for his com­plaints about trade as well as nation­al secu­ri­ty. So if Trump's not look­ing out for Amer­i­can indus­try in this polit­i­cal­ly eas­i­est of cas­es, or even heed­ing his own leery mil­i­tary, you can bet he's not look­ing out for out-of-work fac­to­ry line­men in Michi­gan, Ohio, or Penn­syl­va­nia either.
He's look­ing out, as always, for the gaudy let­ters embla­zoned on the front of his tacky hotels.
This arti­cle was joint­ly pro­duced by In These Times and For­eign Pol­i­cy In Focus.
Peter Cer­to
is the edi­to­r­i­al man­ag­er of the Insti­tute for Pol­i­cy Stud­ies. He edits its For­eign Pol­i­cy In Focus and Oth­er­Words ser­vices and coach­es writ­ing in the New Econ­o­my Mary­land Fel­low­ship pro­gram. He's a for­mer asso­ciate edi­tor of Right Web, a project that mon­i­tors efforts to influ­ence U.S. for­eign pol­i­cy, and helped coor­di­nate the first annu­al Glob­al Day of Action on Mil­i­tary Spending.