Here's How Trump's Labor Department Quietly Gave Bosses Even More Power Over Their Workers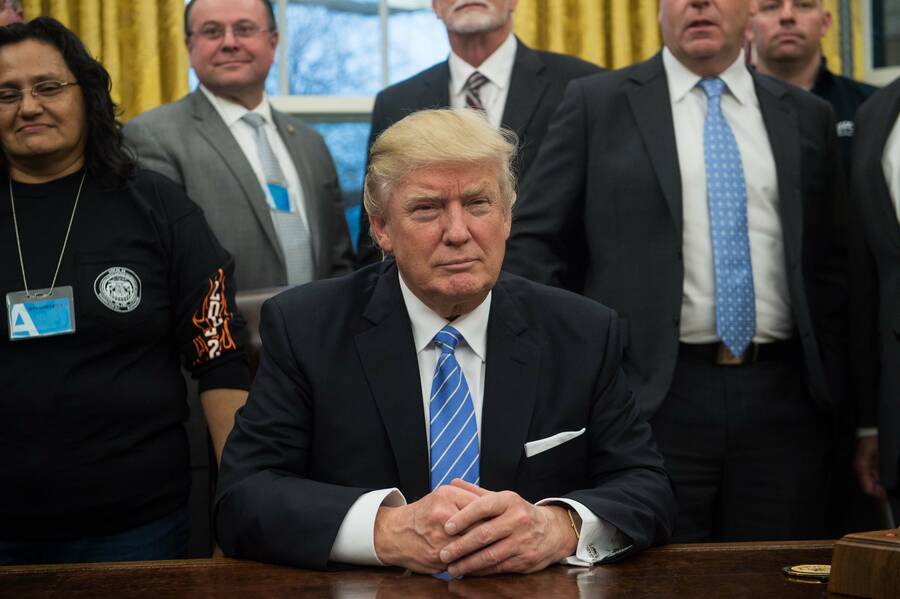 On Jan­u­ary 5, the Depart­ment of Labor (DOL) qui­et­ly took a step to bol­ster the legal pow­er of boss­es over their work­ers by reis­su­ing 17 pre­vi­ous­ly with­drawn opin­ion let­ters. Devel­oped at the end of George W. Bush's final term, the let­ters had been with­drawn by the Oba­ma admin­is­tra­tion, which dis­con­tin­ued the prac­tice of issu­ing opin­ion let­ters altogether.
Opin­ion let­ters address spe­cif­ic ques­tions sub­mit­ted to the DOL by either employ­ees or employ­ers. The par­ty then receives an offi­cial inter­pre­ta­tion from the DOL Wage and Hour Divi­sion (WHD) detail­ing how the Fair Labor Stan­dards Act (FLSA) and/​or the Fam­i­ly and Med­ical Leave Act is impli­cat­ed in their case. That opin­ion can then be used as guid­ance in future lit­i­ga­tion. Oth­er employ­ers can also rely on an opin­ion let­ter, even if they didn't request it them­selves, as long as the facts are similar.
Crit­ics of opin­ion let­ters point out that they take a long time for the labor depart­ment to craft (the George W. Bush admin­is­tra­tion aver­aged just 28 a year), and they only address one company's spe­cif­ic sit­u­a­tion — despite the fact that they can be used to the advan­tage of oth­er employ­ers in future cases.
There's anoth­er big cri­tique of opin­ion let­ters: They make it eas­i­er for employ­ers to fight labor vio­la­tion claims in court.
"Employ­ers love opin­ion let­ters," Patri­cia Smith, for­mer Oba­ma admin­is­tra­tion solic­i­tor of labor, told In These Times. ​"They're viewed by many as Get-Out-of-Jail Free cards."
This sen­ti­ment was echoed by Michael Han­cock, who man­aged the WHD opin­ion process for Bush's final term. ​"It's no secret that the opin­ion let­ter process large­ly serves the inter­est of employ­ers; it gives them a legal defense if their prac­tices com­port with what the opin­ion let­ter says, even if the Depart­ment of Labor was wrong in what the opin­ion states," he told Bloomberg last March. ​"It offers a seri­ous and real sig­nif­i­cant defense to employers."
Employ­ers typ­i­cal­ly have the resources to pay their attor­neys to talk with WHD offi­cials before they request an opin­ion, so they can make sure they only ask if they are going to get a favor­able result. The process is fur­ther skewed toward employ­ers if the admin­is­tra­tion they're request­ing opin­ion from is employ­er-friend­ly — a fact that is cer­tain­ly true of the Trump administration.
The Oba­ma admin­is­tra­tion end­ed the estab­lished prac­tice of issu­ing opin­ion let­ters and decid­ed to issue a small amount of infor­mal guid­ance doc­u­ments instead. Last June, Trump's labor sec­re­tary Alexan­der Acos­ta announced that he was with­draw­ing two of the infor­mal guid­ance doc­u­ments, a move that was hailed by busi­ness groups, as the doc­u­ments both ben­e­fit­ed work­ers. One of the let­ters dic­tat­ed that sub­con­trac­tors could be held liable if they failed to com­ply with FLSA require­ments. The oth­er offered an inter­pre­ta­tion of ​"joint employ­ers" and required some busi­ness­es to com­ply with the FLSA's over­time rules. That same month Acos­ta announced that opin­ion let­ters were returning.
Lawyers who say that they received favor­able opin­ions for employ­ers dur­ing the George W. Bush admin­is­tra­tion explained to Bloomberg how the process worked. Christo­pher A. Par­lo, who rep­re­sents man­age­ment clients, said, ​"In the past you could go to DOL and lay out a sce­nario for them and they would give you their infor­mal view on how that sit­u­a­tion might play out. And if you didn't believe that the result was one that would help your client or indus­try, you could choose not to ask for for­mal opin­ion. I thought that was a great process."
The 17 Bush admin­is­tra­tion opin­ions that are being revived refer to a vari­ety of top­ics, from year-end non-dis­cre­tionary bonus­es to salary deduc­tions for full-day absences. Smith told In These Times that it was hard to know exact­ly what kind of impact these spe­cif­ic opin­ions would have, but said she thought that the move was at least par­tial­ly sym­bol­ic: a sig­nal to employ­ers that the pro-busi­ness poli­cies of Bush's labor depart­ment have offi­cial­ly returned. ​"The mes­sage is, ​'We're back,'" she said.
Nation­al Employ­ment Law Project exec­u­tive direc­tor Chris­tine Owens issued a strong state­ment regard­ing the move, call­ing it ​"anoth­er exam­ple of how this admin­is­tra­tion is sid­ing with big busi­ness to make it hard­er to get paid for work­ing over­time and to make it eas­i­er for com­pa­nies to reap the ben­e­fits of young work­ers' labor with­out pay­ing a cent for it."
There's a good chance that the WHD, which issues the opin­ion let­ters, will be soon be run by Trump nom­i­nee Cheryl Stan­ton, who is expect­ed to be con­firmed by the GOP-con­trolled Sen­ate ear­ly this year. Stan­ton served as the White House's prin­ci­pal legal liai­son to the Labor Depart­ment under George W. Bush and spent years defend­ing com­pa­nies in labor cas­es. She's also had an unpaid wage scan­dal of her own: In 2016 she was sued for alleged­ly fail­ing to pay her house cleaners.
For the first time in over eight years, employ­ers will be able to ask the White House for advice when they get tied up in legal bat­tles. It seems quite prob­a­ble that the pro-busi­ness forces dom­i­nat­ing the Trump admin­is­tra­tion will have a lot to give.
"
Michael Arria
is the U.S. cor­re­spon­dent for Mon­doweiss. Fol­low him on Twit­ter: @michaelarria.