Trump's Order Says Immigrant Families Can Be Jailed Together, But What They Deserve Is Freedom
The president's new executive order is clear: The incarceration of parents and children will continue--and likely expand.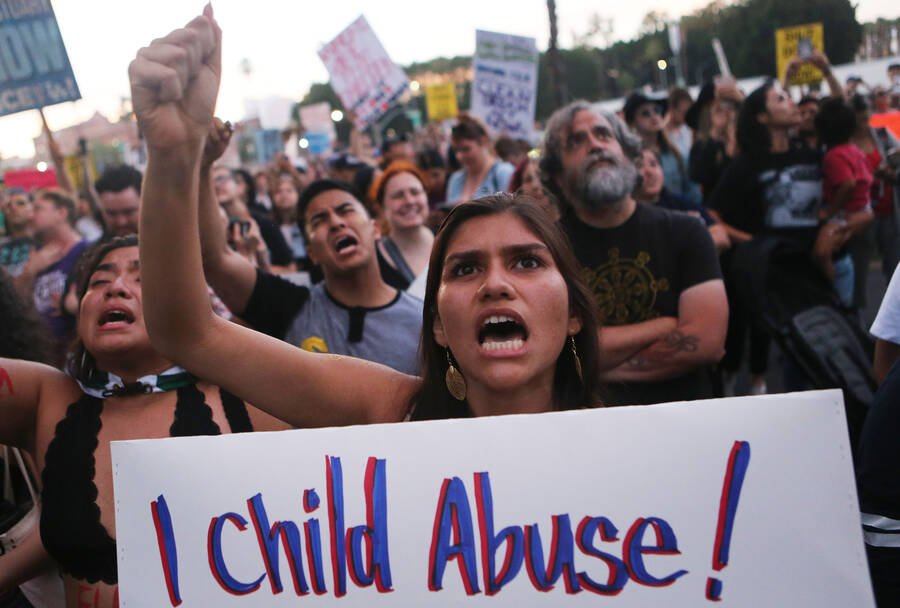 Fol­low­ing nation­wide protests against immi­grant deten­tion and child sep­a­ra­tion — includ­ing a block­ade of an Immi­gra­tion and Cus­toms Enforce­ment (ICE) facil­i­ty in Port­land, Ore. — on June 20 Pres­i­dent Don­ald Trump signed an exec­u­tive order to incar­cer­ate fam­i­lies togeth­er in immi­grant pris­ons. While the decree allows chil­dren to be jailed with their par­ents, it still green­lights the incar­cer­a­tion of entire fam­i­lies, calls for more immi­grant deten­tion cen­ters and rein­forces the insti­tu­tions that over­saw child sep­a­ra­tion: the Depart­ments of Jus­tice (DOJ) and Home­land Secu­ri­ty (DHS) and ICE.
"Children belong with their families and in their communities, not in cages or behind bars."
For this rea­son, Tania Unzue­ta, an orga­niz­er with the immi­grant jus­tice group Mijente, respond­ed to Trump's announce­ment with cau­tion. ​"We need to be talk­ing about Jeff Ses­sions and his role crim­i­nal­iz­ing par­ents, and the role of ICE in putting peo­ple in deten­tion to begin with," she told In These Times. ​"Peo­ple need to shift from say­ing keep fam­i­lies togeth­er to talk­ing about dis­man­tling ICE."
The order states that fam­i­ly incar­cer­a­tion will con­tin­ue under Trump and instructs the DOJ to attempt to ​"mod­i­fy" the 1997 Flo­res set­tle­ment, which says that the fed­er­al gov­ern­ment is legal­ly oblig­at­ed to seek alter­na­tives to the jail­ing of chil­dren in immi­grant deten­tion cen­ters. ​"The Sec­re­tary of Home­land Secu­ri­ty (Sec­re­tary), shall, to the extent per­mit­ted by law and sub­ject to the avail­abil­i­ty of appro­pri­a­tions, main­tain cus­tody of alien fam­i­lies dur­ing the pen­den­cy of any crim­i­nal improp­er entry or immi­gra­tion pro­ceed­ings involv­ing their mem­bers," the order states.
How­ev­er, the order con­tains an ill-defined stip­u­la­tion that some chil­dren might be exempt: ​"The Sec­re­tary shall not, how­ev­er, detain an alien fam­i­ly togeth­er when there is a con­cern that deten­tion of an alien child with the child's alien par­ent would pose a risk to the child's wel­fare." It is unclear under what cir­cum­stances the pres­i­dent believes incar­cer­a­tion would not pose a risk to a child's welfare.
The order also instructs the Sec­re­tary of Defense — i.e. the U.S. mil­i­tary — to con­struct new facil­i­ties to jail par­ents with their chil­dren, ​"if nec­es­sary and con­sis­tent with law." In addi­tion, the decree con­stricts the def­i­n­i­tion of fam­i­ly to par­ents and chil­dren, exclud­ing aunts, grand­par­ents and oth­er loved ones.
It does noth­ing to change Ses­sions' ​"zero-tol­er­ance" pol­i­cy, announced in April, requir­ing more crim­i­nal pros­e­cu­tions of peo­ple apre­hend­ed attempt­ing to enter the Unit­ed States with­out autho­riza­tion. This rule has led to harsh­er pros­e­cu­tions and the fur­ther ero­sion of due process — and it helped lay the ground­work for fam­i­ly separation.
Per­haps most urgent­ly, the order does not address the imme­di­ate needs of the 2,300 chil­dren forcibly sep­a­rat­ed from their parents.
Pho­tographs of chil­dren ware­housed in cages and tapes of them sob­bing have pro­voked wide­spread out­rage in recent weeks. On Tues­day, Trump echoed the rhetoric of Nazi Ger­many to declare that Democ­rats want migrants to ​"infest our coun­try." The order comes on the heels of repeat­ed efforts by the Trump admin­is­tra­tion to dou­ble down on its ​"zero-tol­er­ance" pol­i­cy aimed of sep­a­rat­ing chil­dren from their par­ents at the bor­der, which Ses­sions claimed is jus­ti­fied in the Bible — earn­ing him wide­spread rebuke.
Yet, the prac­tice of incar­cer­at­ing chil­dren in immi­grant deten­tion goes back fur­ther. For­mer Pres­i­dent Barack Oba­ma, who has been con­spic­u­ous­ly silent dur­ing the child sep­a­ra­tion cri­sis, made fam­i­ly incar­cer­a­tion the main­stay of his response to mass dis­place­ment from Cen­tral Amer­i­ca. Fam­i­ly deten­tion has been con­demned by the U.S. government's own Com­mis­sion on Civ­il Rights, as well as Sat­su­ki Ina, a sur­vivor of a Japan­ese-Amer­i­can intern­ment camp, who com­pared the prac­tice to her own expe­ri­ence. Since at least 2015, moth­ers incar­cer­at­ed with their chil­dren have staged protests and hunger strikes with­in immi­grant pris­ons — and tes­ti­fied to the hor­rif­ic con­di­tions they have faced.
In August 2016, 22 moth­ers incar­cer­at­ed in ​"Berks Fam­i­ly Res­i­den­tial Cen­ter" with their chil­dren wrote a let­ter to Jeh John­son — then-Sec­re­tary of DHS — stat­ing, ​"Our chil­dren, who range in age from 2 to 16, have been deprived of a nor­mal life. We are already trau­ma­tized from our coun­tries of ori­gin. We risked our own lives and those of our chil­dren so we could arrive on safe ground."
"While here our chil­dren have con­sid­ered com­mit­ting sui­cide, made des­per­ate from con­fine­ment," they con­tin­ued. ​"The teenagers say that being here, life makes no sense. One of our chil­dren said he want­ed to break the win­dow to jump out and end this nightmare."
Fol­low­ing the Trump administration's fam­i­ly sep­a­ra­tions, it appears that more chil­dren are sui­ci­dal. On June 14, Mol­ly Hen­nessy-Fiske report­ed for the Los Ange­les Times on har­row­ing con­di­tions at the Tuc­son shel­ter, Estrel­la del Norte, where chil­dren were being incar­cer­at­ed: ​"Sev­er­al [chil­dren] were being mon­i­tored this week because they were at risk of run­ning away, self-harm and sui­cide, records show."
On Mon­day, Sen. Ted Cruz intro­duced new leg­is­la­tion propos­ing to build more ​"tem­po­rary shel­ters" — i.e. jails — to hold par­ents with their children.
Amid Trump's sig­nif­i­cant increase of depor­ta­tion arrests and a harsh bor­der crack­down, orga­niz­ers warn that move­ments should not set a bar so low that they allow for the con­tin­ued jail­ing of chil­dren. For this rea­son, the Nation­al Domes­tic Work­ers Alliance is call­ing for peo­ple across the coun­try to mobi­lize ​"like nev­er before" for planned nation­wide protest against the Trump administration's fam­i­ly sep­a­ra­tion pol­i­cy on June 30.
"Chil­dren belong with their fam­i­lies and in their com­mu­ni­ties, not in cages or behind bars," said Jess Morales Rock­et­to, polit­i­cal direc­tor of the Nation­al Domes­tic Work­ers Alliance and chair of the We Belong Togeth­er cam­paign, in a state­ment released Wednes­day. ​"Fam­i­lies seek­ing safe­ty need pro­tec­tion and oppor­tu­ni­ty, not deten­tion. To pre­tend that keep­ing chil­dren togeth­er with their par­ents in fam­i­ly jails will stop this human­i­tar­i­an cri­sis and calm the pub­lic out­rage is wrong and unac­cept­able, full stop."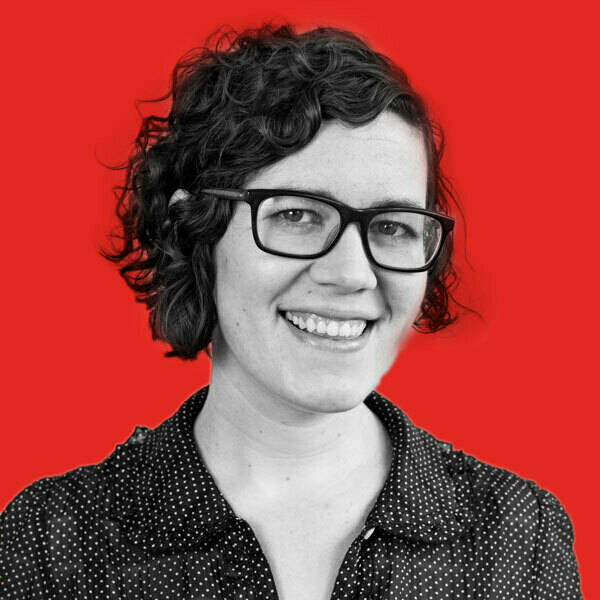 Sarah Lazare is web edi­tor at In These Times. She comes from a back­ground in inde­pen­dent jour­nal­ism for pub­li­ca­tions includ­ing The Inter­cept, The Nation, and Tom Dis­patch. She tweets at @sarahlazare.