Never Mind the Wall—They're Building Warehouses for Immigrant Children
The newest plank of immigration enforcement? Piling children into overcrowded detention centers.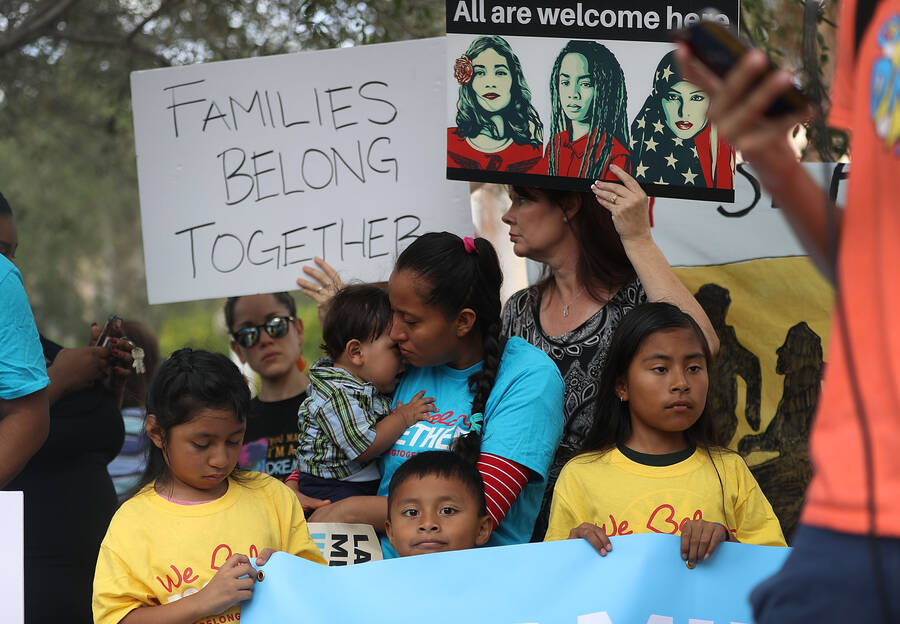 Most morn­ings late­ly, I've wok­en up to two things. First I hear my tod­dler, sound­ing off that it's time to get up. Then I see the news sto­ries about oth­er tod­dlers our immi­gra­tion author­i­ties ripped away from their parents.
These detention facilities are no place for kids.
For weeks, I've felt the gnaw­ing need to write some­thing, any­thing, about it. But God, where even to begin?
First, there are the sto­ries. The Con­golese asy­lum seek­er who heard her six year old scream, ​"Don't take me away from my mom­my!" and couldn't reach her. The woman forced to put her 18 month old in a car seat in an ICE van, the door slam­ming shut before she could even say good­bye. The man who hasn't seen his son in six months.
Then there are the pho­tos. The rows of chil­dren sleep­ing on thin mats behind chain-linked fences. The kids being led by guards to make phone calls, hands tied behind their backs. The prison van full of infant car seats.
These are just the ear­li­est fruits of the Trump administration's ghast­ly new pledge to pros­e­cute every last undoc­u­ment­ed immi­grant who cross­es our bor­der. If immi­grant par­ents have their chil­dren with them, the kids are seized and ware­housed in some over­flow­ing deten­tion facility.
The New York Times count­ed over 700 kids who'd been sep­a­rat­ed from their par­ents this way from Octo­ber to April. But in the first two weeks of May alone, author­i­ties dis­closed that they'd tak­en near­ly 700 more — an aston­ish­ing­ly rapid increase. Already the ware­hous­es are fill­ing up, leav­ing author­i­ties to pre­pare hold­ing pens on mil­i­tary bases for the inevitable over­flow. The ACLU puts the sec­ond wave at 1,000 over five weeks.​
In the­o­ry, the chil­dren should be released to oth­er fam­i­ly mem­bers with­in 72 hours. But with the admin­is­tra­tion essen­tial­ly threat­en­ing to deport any undoc­u­ment­ed care­tak­ers who come forth to claim them, more and more chil­dren are lan­guish­ing in cells for months. NBC report­ed recent­ly that over half the kids cur­rent­ly detained had been held past the lim­it, and that half of those were under 12.
"It appears we're set­ting up a long-term incar­cer­a­tion sys­tem for chil­dren," a for­mer immi­gra­tion offi­cial told VICE. Chil­dren whose only crime was hav­ing par­ents who tried to take them to safety.
The jack­boots orches­trat­ing this plot open­ly admit they're will­ing to harm chil­dren to scare off parents.
"If you don't want your child sep­a­rat­ed, then don't bring them across the bor­der ille­gal­ly," men­aced Attor­ney Gen­er­al Jeff Ses­sions. ​"A big name of the game is deter­rence," chimed in Trump chief of staff John Kel­ly, who promised the cap­tured chil­dren ​"will be put into fos­ter care — or whatever."
The admin­is­tra­tion isn't just arrest­ing ordi­nary migrants. It's also arrest­ing asy­lum seek­ers who legal­ly present them­selves at ports of entry — peo­ple flee­ing war, crime, and trau­ma few Amer­i­cans could under­stand — and tak­ing their kids, too.
These deten­tion facil­i­ties are no place for kids. Even going back to the Oba­ma era, immi­gra­tion agents have been report­ed rap­ing, beat­ing and threat­en­ing kids in their care. When U.S. Sen­a­tor Jeff Merkley tried to inspect a hold­ing site this month, oper­a­tors locked him out and called the police. What were they hiding?
The Unit­ed Nations has warned these deten­tions con­sti­tute ​"a child rights vio­la­tion" and should be ​"halt­ed imme­di­ate­ly." Sen­a­tor Dianne Fein­stein has intro­duced a bill to end fam­i­ly sep­a­ra­tions for asy­lum seek­ers, while Sen­a­tor Kamala Har­ris and Rep. Prami­la Jaya­pal want to halt the expan­sion of new deten­tion facilities.
Those would be wel­come steps. But if you ask the dad in me, they should shut down the whole agency.
This arti­cle was joint­ly pub­lished by In These Times and For­eign Pol­i­cy In Focus.
Peter Cer­to
is the edi­to­r­i­al man­ag­er of the Insti­tute for Pol­i­cy Stud­ies. He edits its For­eign Pol­i­cy In Focus and Oth­er­Words ser­vices and coach­es writ­ing in the New Econ­o­my Mary­land Fel­low­ship pro­gram. He's a for­mer asso­ciate edi­tor of Right Web, a project that mon­i­tors efforts to influ­ence U.S. for­eign pol­i­cy, and helped coor­di­nate the first annu­al Glob­al Day of Action on Mil­i­tary Spending.