Trump's Hometown Teaches a Lesson in How to Resist His Workplace Immigration Crackdown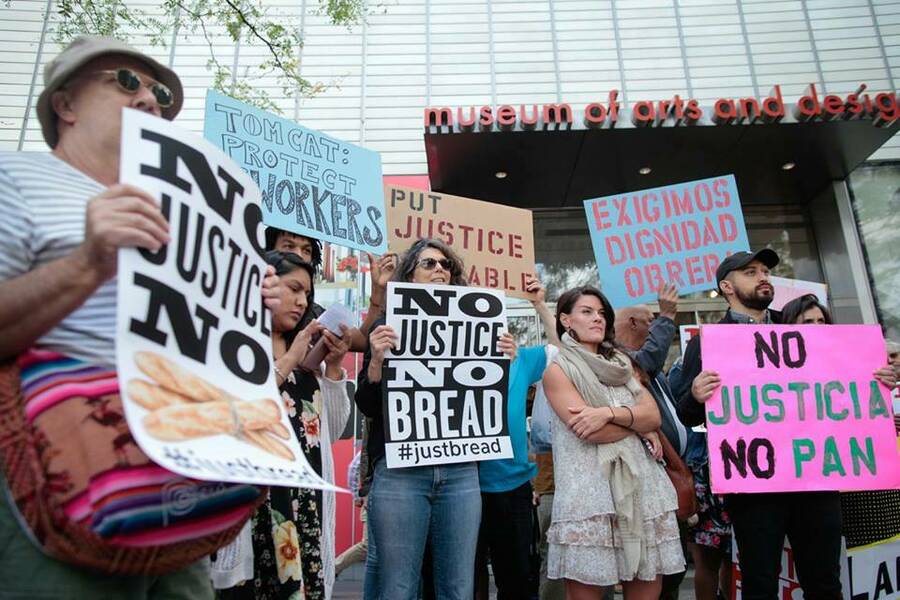 Dur­ing the ear­ly morn­ing hours of Jan­u­ary 10, Immi­gra­tion and Cus­toms Enforce­ment (ICE) agents raid­ed 98 7‑Eleven con­ve­nience stores across the Unit­ed States, demand­ing that man­agers pro­vide paper­work for their employ­ees. ICE ulti­mate­ly arrest­ed 21 work­ers, but pub­licly declared that they were just get­ting start­ed. ​"This is what we're gear­ing up for this year, and what you're going to see more and more of is these large-scale com­pli­ance inspec­tions, just for starters," act­ing head of ICE's Home­land Secu­ri­ty Inves­ti­ga­tions Derek Ben­ner told the Asso­ci­at­ed Press. ​"It's not going to be lim­it­ed to large com­pa­nies or any par­tic­u­lar indus­try, big medi­um and small. It's going to be inclu­sive of every­thing that we see out there."
Activists search­ing for effec­tive ways to fight back against these kinds of sweeps might draw inspi­ra­tion from a cam­paign that has emerged from Trump's home­town of Queens. In Decem­ber 2016, the Depart­ment of Home­land Secu­ri­ty launched an inves­ti­ga­tion into Tom Cat Bak­ery — which appears to be the first wide-scale audit to hit New York City in 11 years. Accord­ing to employ­ees, more than 30 work­ers were called into pri­vate meet­ings to dis­cuss the audit. They were informed by man­age­ment that if they didn't pro­duce the nec­es­sary work autho­riza­tion paper­work with­in 10 days, they would lose their jobs.
Brand­work­ers, a non­prof­it group that has fought for the ter­mi­nat­ed employ­ees, claims that Tom Cat was ini­tial­ly unwill­ing to share details of the audit and offered the employ­ees no sev­er­ance pack­age. Accord­ing to the group, an orga­nized cam­paign ulti­mate­ly forced the bak­ery to extend the paper­work dead­line and offer work­ers a sev­er­ance pack­age if they chose to leave. How­ev­er, the cam­paign was ulti­mate­ly unable to stop the fir­ings — although protests did suc­ceed in gal­va­niz­ing sup­port­ers to ral­ly behind the workers.
In April 2017, at least 25 of the work­ers were fired. Some employ­ees opt­ed for the sev­er­ance plan, which includ­ed a week of salary for every year they worked at the bak­ery. Tom Cat's CEO sent a let­ter to the work­ers, stat­ing: ​"While Tom Cat regrets los­ing val­ued mem­bers of our work­force, we must of course ensure that Tom Cat is in com­pli­ance with all applic­a­ble employ­ment laws."
Yet the sev­er­ance offer and let­ter did not stop pro­test­ers from mobi­liz­ing against the ter­mi­na­tions. After the fir­ings, more than 100 pro­test­ers showed up in front of the bak­ery, hold­ing signs, march­ing and chant­i­ng. Some even chained them­selves to com­pa­ny trucks to obstruct morn­ing deliv­er­ies. Four were arrested.
Activists and work­ers called on New York eater­ies through­out the city to go a ​"Day With­out Bread" to draw atten­tion to the cam­paign. As part of that coor­di­nat­ed action, the Suss­man broth­ers' Same­sa restau­rant donat­ed 50 cents of every pita-bread-item sale to a fund for the fired work­ers, and Har­vest & Rav­el Cater­ing donat­ed a por­tion of every sand­wich sale to the cause. After a let­ter-writ­ing cam­paign led by the fired work­ers, the French restau­rant Le Bernadin became the first cus­tomer to stop buy­ing Tom Cat's bread alto­geth­er. Brand­work­ers says that three addi­tion­al cus­tomers have stopped buy­ing from the bakery.
Jeanne Baron, an activist with the direct-action group Rise and Resist, tells In These Times she believes the Tom Cat fight is con­nect­ed to the wider strug­gle against Trump's immi­gra­tion poli­cies. ​"When I stand out on the street hand­ing out fliers and telling peo­ple Tom Cat Bak­ery can and should do the right thing by its immi­grant work­ers, I assume there are many would-be sup­port­ers among the pedes­tri­ans around me," says Baron. ​"That's who I am after. Immi­grants are being ter­ror­ized by an admin­is­tra­tion that demon­strates total antipa­thy for them."
For­mer Tom Cat employ­ees echoed these sen­ti­ments to In These Times, explain­ing what lessons they hoped oth­er work­ers would pick up from their fight.
"My rec­om­men­da­tion would be that [oth­er work­ers] con­tin­ue to fight with their com­pañeros, to remain unit­ed as a team, and to con­tin­ue fight­ing for their goal," says Elias Rojas, who also worked at Tom Cat for 12 years. ​"It is not easy, but we have to con­tin­ue and fight for our families."
"The main thing is to form a group between col­leagues," says Hec­tor Solis, a for­mer work­er at Tom Cat Bak­ery for 12 years, ​"to join an organization…start a cam­paign and fight for [your] rights, and not let [your­selves] be tram­pled by some employ­ers who sim­ply close the doors on you with­out giv­ing you one oppor­tu­ni­ty or any compensation."
Sabi­no Mil­ian, who worked at Tom Cat for 11 years, hopes their cam­paign will inspire work­ers through­out the coun­try ​"so that they do not remain silent and fight for their rights not to be abused."
Tom Cat claims that the cam­paign against its busi­ness has been over­hyped, point­ing out that the major­i­ty of fired work­ers took the sev­er­ance pack­age — and that only eight ex-employ­ees are seek­ing con­tin­ued nego­ti­a­tions. How­ev­er, as pre­vi­ous­ly men­tioned, Brand­work­ers says that Tom Cat kept news of the audit hid­den from work­ers for months and orig­i­nal­ly offered no sev­er­ance for the work­ers. In These Times reached out to Tom Cat Bak­ery for a com­ment, but the busi­ness did not respond by the time of publication.
In addi­tion to its work with the fired employ­ees, Brand­work­ers is fight­ing to estab­lish an immi­grant-pro­tec­tion pol­i­cy for busi­ness­es that would noti­fy work­ers about audits and pro­vide safe­guards against war­rant­less raids. The blue­print for such leg­is­la­tion has already emerged in Cal­i­for­nia, where the Immi­grant Work­er Pro­tec­tion Act just took effect. The new law pro­hibits employ­ers from allow­ing ICE agents to enter non-pub­lic areas or obtain records with­out a war­rant. It also requires warn­ings before and after audits take place. California's Attor­ney Gen­er­al Xavier Becer­ra has even warned that he will pros­e­cute busi­ness­es that vol­un­tar­i­ly hand employ­ee infor­ma­tion over to ICE.
These efforts couldn't come at a more cru­cial time. The 7‑Eleven sweeps mark a shift back to the poli­cies of the George W. Bush admin­is­tra­tion in regards to unau­tho­rized employ­ees. In 2006, six meat­pack­ing plants — most of them in the Mid­west — were raid­ed and about 1,300 work­ers were arrest­ed as part of ICE's ​"Oper­a­tion Wag­on Train." In May of 2008, the Bush admin­is­tra­tion car­ried out what was the largest work­place raid in U.S. his­to­ry, arrest­ing almost 400 work­ers at a kosher slaugh­ter­house in Iowa. Just a few months lat­er, that record was bro­ken when almost 600 Mis­sis­sip­pi work­ers were arrest­ed dur­ing a fac­to­ry raid. Major work­place sweeps didn't take place under Oba­ma at the same scale, with the admin­is­tra­tion over­see­ing a more low-key approach to work­place enforce­ment while step­ping up efforts against bor­der crossers and peo­ple with crim­i­nal con­vic­tions. The Trump admin­is­tra­tion has dou­bled down on the sta­ples of Obama's depor­ta­tion strat­e­gy as well, effec­tive­ly com­bin­ing the most dra­con­ian aspects of his pre­de­ces­sors' immi­gra­tion plans.
Baron says she hopes that the Tom Cat cam­paign can also serve as a blue­print for activists and work­ers fight­ing work­place raids around the coun­try. ​"I want to demon­strate resis­tance to Trump's immi­grant-hat­ing poli­cies and Tom Cat's com­plic­i­ty, and I want to give sym­pa­thiz­ers some­thing con­crete to do that would actu­al­ly make a dif­fer­ence," she says. ​"If Tom Cat Bak­ery wakes up to the moral and eco­nom­ic imper­a­tive to find ways to pub­li­cal­ly stand by their immi­grant work­ers, it will rep­re­sent a mod­el for busi­ness every­where. If a few high-pro­file busi­ness­es get it, that's lever­age. That's a move­ment. That's resistance."
"
Michael Arria
is the U.S. cor­re­spon­dent for Mon­doweiss. Fol­low him on Twit­ter: @michaelarria.