Trump's Speech Shows His Dark But Compelling Vision of America. We Need To Offer Something Better.
His potent blend of populist rhetoric and right-wing nationalism is effective among his base—and terrifying.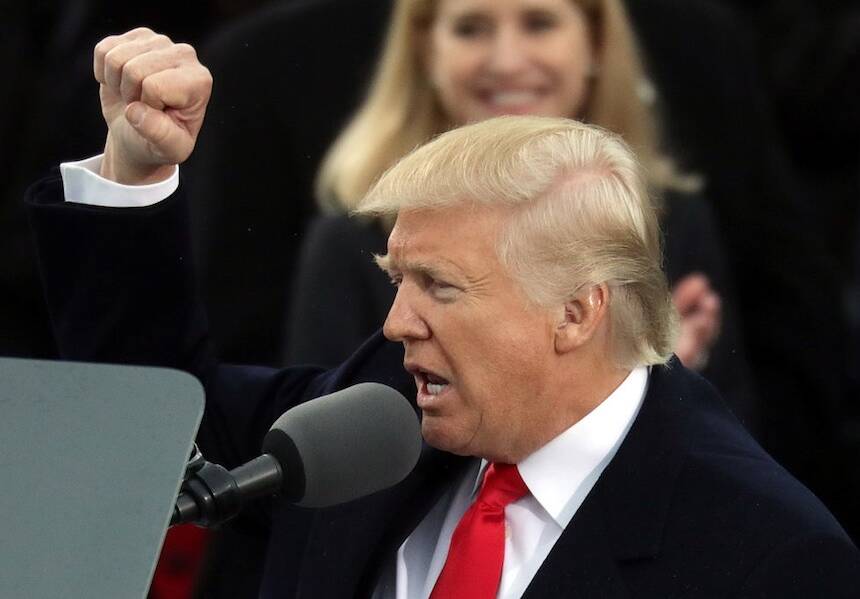 If you need­ed anoth­er rea­son to think of Don­ald Trump's new­ly chris­tened admin­is­tra­tion an author­i­tar­i­an régime, his inau­gur­al address just gave you one. It's not enough to just call it an author­i­tar­i­an régime either. As he made clear today, we have to treat it like one, too.
If the resistance becomes a project of elites, to hold on to how things were, the resistance is dead.
Now offi­cial­ly sworn in as the 45th pres­i­dent of the Unit­ed States, Trump's faux pop­ulism was on full dis­play in his inau­gur­al speech, derid­ing how ​"the estab­lish­ment pro­tect­ed itself, but not the cit­i­zens of our coun­try." Trump, of course, is the estab­lish­ment embod­ied: ​"The for­got­ten men and women of our coun­try" he claims to rep­re­sent have nev­er had the good for­tune of a mil­lion-dol­lar loan from their father, let alone gen­er­ous tax breaks or a per­son­al empire built on stolen wealth. They also like­ly wouldn't choose a cab­i­net of oil and bank­ing executives.
But the issue with Trump's speech isn't that it was hyp­o­crit­i­cal, regard­ing his claim to speak for the down­trod­den or the asym­me­try with his actu­al pol­i­cy pro­pos­als. The Hillary Clin­ton cam­paign spent months point­ing out incon­sis­ten­cies between Trump's words and his actions, fact-check­ing hor­rif­ic things he'd done and said on the cam­paign trail and in years past. It didn't work.
For pro­gres­sives, then, the uncom­fort­able thing about Trump's speech today — the most hor­ri­fy­ing thing about it, in fact — is that it was effec­tive and engag­ing, brim­ming with appeals to uni­ver­sal val­ues and a straight­for­ward sto­ry about where the coun­try is now and where it could go. ​"Wash­ing­ton flour­ished," he declared, ​"but the peo­ple did not share in its wealth. … We will bring back our wealth, and we will bring back our dreams." Trump won because he speaks to what both Clin­ton and a gen­er­a­tion of Davos Democ­rats could not, what­ev­er inves­ti­ga­tions into Russ­ian inter­fer­ence man­age to surface.
The speech was also a cru­el lie, and a sev­er­al min­utes-long dog whis­tle to white nation­al­ism. A bright future reserved for men like Trump is a dark future for the rest of us. Almost as a threat, Trump promised to ​"get our peo­ple off of wel­fare and back to work."
As has been the case all along, this vision for Amer­i­ca Trump spelled out today calls to mind some of the ugli­est parts of this country's his­to­ry and oth­ers', when any­one with­out the ben­e­fit of white skin and a penis was con­sid­ered a sec­ond-class cit­i­zens — or not human at all. ​"This day for­ward a new vision will gov­ern our land. It's going to be only Amer­i­ca First. Amer­i­ca First," Trump told the crowd, repeat­ing a slo­gan he used through­out the cam­paign. In the 1940s, Amer­i­ca First was an anti-semit­ic group that called on the U.S. gov­ern­ment to appease Adolf Hitler in World War II. Today, it's become the de fac­to tagline of Amer­i­can policy.
"This is your day," he thun­dered. ​"This is your cel­e­bra­tion." That's a bold state­ment for a pres­i­dent with­out the back­ing of pop­u­lar vote or — con­se­quent­ly — a man­date. And if Repub­li­can-con­trolled state gov­ern­ments are any indi­ca­tion, the GOP will move at blind­ing pace to strip away even basic demo­c­ra­t­ic and eco­nom­ic rights. In short order, every­thing from repro­duc­tive rights to vot­ing rights could be under assault. Already, the White House has removed any men­tion of cli­mate change from its website.
Fight­ing the onslaught to come will mean get­ting beyond a focus on Trump alone, or his hypocrisy or his kinks or his tweets. It'll also mean spelling out anoth­er and more com­pelling vision for what Amer­i­ca can be, and not ced­ing either patri­o­tism or the man­tle of the anti-estab­lish­ment to Trump and his para­noid, auto­crat­ic nation­al­ism. If the resis­tance becomes a project of elites, to hold on to how things were, the resis­tance is dead.
For many, this coun­try has nev­er been great, and Trump's swear­ing in today might seem like a sign that it nev­er will be. With­out a doubt, today marks the begin­ning of a dis­turb­ing new era in Amer­i­can pol­i­tics, where bare­ly cod­ed dog whis­tles will be backed up by regres­sive and destruc­tive pol­i­cy: to bor­row a phrase from today's speech, this is the real ​"Amer­i­can Carnage."
Under­es­ti­mat­ing just how bad things could get could prove dead­ly, as could lean­ing back onto the smug right­eous­ness of bro­ken belt­way pol­i­tics. But thou­sands in the streets—and hun­dreds of thou­sands more tomor­row — are inau­gu­rat­ing some­thing else today: A new era of resis­tance. If you want some­thing to cel­e­brate this after­noon, it's the peo­ple who'll fight Trump's agen­da every step of the way, and go back home after this week­end to keep up that work in their own backyards.
In reject­ing Don­ald Trump's patri­o­tism over the next four years, let's take up that of Langston Hugh­es, as described his 1935 poem ​"Let Amer­i­ca Be Amer­i­ca Again":
Let Amer­i­ca be the dream the dream­ers dreamed—
Let it be that great strong land of love
Where nev­er kings con­nive nor tyrants scheme
That any man be crushed by one above.

(It nev­er was Amer­i­ca to me.)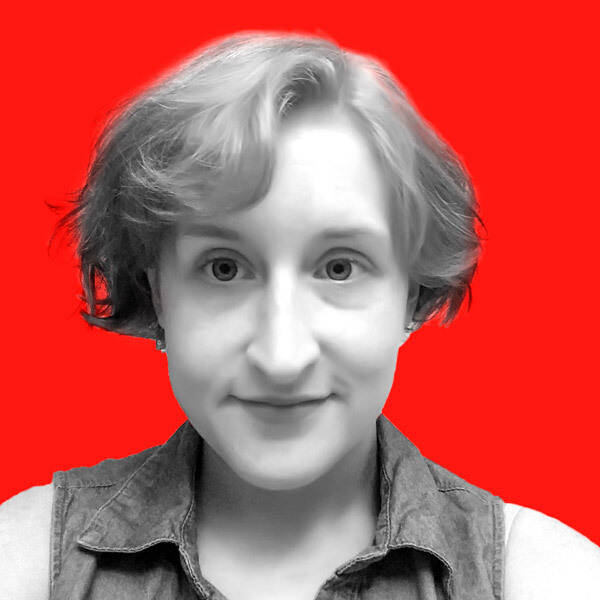 Kate Aronoff
is a Brook­lyn-based jour­nal­ist cov­er­ing cli­mate and U.S. pol­i­tics, and a con­tribut­ing writer at The Inter­cept. Fol­low her on Twit­ter @katearonoff.