Why Far-Right Presidents Trump and Bolsonaro Are Backing the Attempted Venezuelan Coup
The United States and Brazil are coordinating with right-wing governments across Latin America to declare Juan Guaidó president.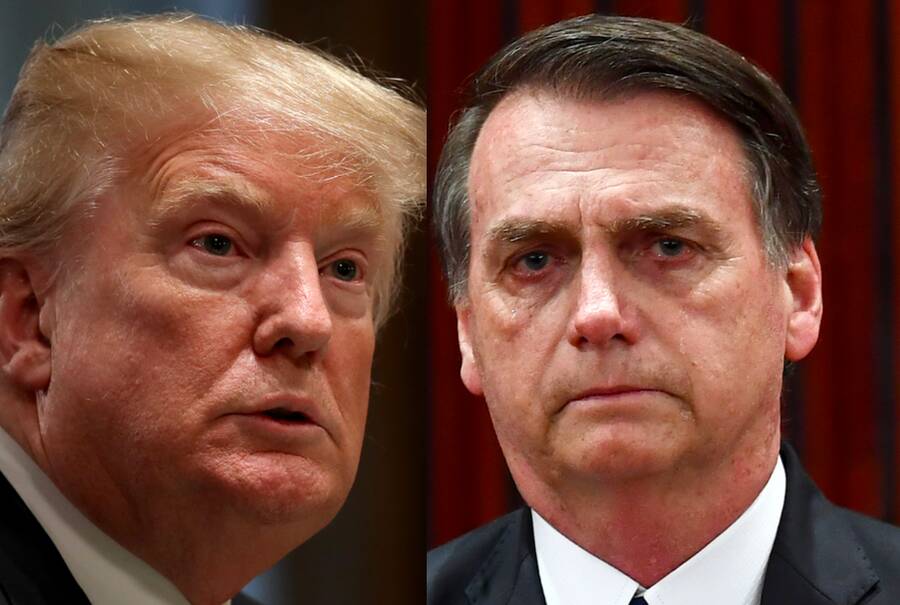 Venezuela is fac­ing its most seri­ous polit­i­cal cri­sis in years. The Unit­ed States and Brazil — both head­ed by far-right pres­i­dents — are help­ing to push the coun­try to the brink.
The call to replace Maduro has become a rallying cry for the Latin American right.
On Wednes­day, the head of Venezuela's Nation­al Assem­bly, Juan Guaidó, declared him­self the country's inter­im pres­i­dent before thou­sands of sup­port­ers. In a clear sign of coor­di­nat­ed action, U.S. pres­i­dent Don­ald Trump quick­ly rec­og­nized Guaidó as Venezuela's legit­i­mate leader, along with Brazil, Colom­bia, Chile, Peru, Argenti­na and most of the Lima Group, a mul­ti­lat­er­al body that includes Cana­da and a dozen large­ly con­ser­v­a­tive Latin Amer­i­can countries.
The prob­lem is that Venezuela already has a pres­i­dent. Nico­las Maduro was sworn in for a sec­ond term ear­li­er this month, after win­ning a reelec­tion vote last year. Because of low vot­er turnout and an oppo­si­tion boy­cott, the Orga­ni­za­tion of Amer­i­can States (OAS) and the Unit­ed States called the last elec­tion invalid.
After the Unit­ed States rec­og­nized Guaidó on Wednes­day, Maduro broke off diplo­mat­ic rela­tions and ordered the with­draw­al of all U.S. per­son­nel with­in 72 hours. Guaidó called for them to remain. In an unprece­dent­ed move, the Unit­ed States is set to defy the order and keep the embassy open.
"The Unit­ed States will take appro­pri­ate actions to hold account­able any­one who endan­gers the safe­ty and secu­ri­ty of our mis­sion and its per­son­nel," U.S. Sec­re­tary of State Mike Pom­peo told CNN. The Trump admin­is­tra­tion has refused to rule out mil­i­tary inter­ven­tion, and announced Wednes­day that ​"all options are on the table."
Brazil's Bol­sonaro: ​"fight­ing communism"
The lev­el of the cur­rent polit­i­cal cri­sis in Venezuela would have been hard to imag­ine only a few years ago dur­ing the Pink Tide era, when region­al blocs of pro­gres­sive gov­ern­ments promised to back each country's self-deter­mi­na­tion against coup threats and U.S. destabilization.
Brazil's left-wing Work­ers Par­ty gov­ern­ments — which gov­erned from 2003 through 2016 — backed the region's pro­gres­sive left and vocal­ly sup­port­ed Venezuela, among oth­er rad­i­cal coun­tries. Right-wing con­gress­es still pushed through U.S.-backed coups in Hon­duras, Paraguay and Brazil. But the threat of U.S. mil­i­tary inter­ven­tion in the region was large­ly off the table. Not anymore.
Since the 2016 impeach­ment of Brazil's pres­i­dent Dil­ma Rouss­eff, in a move that was con­sid­ered by many to be a con­gres­sion­al coup, U.S.-Brazilian rela­tions have warmed. Under Brazil's new pres­i­dent, far-right for­mer mil­i­tary cap­tain Jair Bol­sonaro, the ties have grown even tighter. Trump and Bol­sonaro have trad­ed acco­lades over Twit­ter. Trump's top secu­ri­ty offi­cial John Bolton met with Bol­sonaro at his home in Rio de Janeiro in Novem­ber, where they dis­cussed Venezuela, among oth­er things. U.S. Sec­re­tary of State Mike Pom­peo attend­ed Bolsonaro's inau­gu­ra­tion in Brasilia.
The call to replace Maduro has become a ral­ly­ing cry for the Latin Amer­i­can right. When Argen­tine pres­i­dent Mauri­cio Macri vis­it­ed Bol­sonaro last week, Venezuela was high on the agen­da, just after dis­cus­sions of their com­mer­cial ties.
More than 10 days before Guaidó declared him­self pres­i­dent, the Brazil­ian gov­ern­ment under Bol­sonaro had already issued a state­ment rec­og­niz­ing Guaidó as Venezuela's legit­i­mate ruler. Guaidó spoke with Bolsonaro's son Eduar­do, him­self a con­gres­sion­al rep­re­sen­ta­tive, and thanked them for the support.
High-pro­file oppo­si­tion Venezue­lans who are liv­ing abroad trav­eled to Brazil last week and met with pres­i­dent Bol­sonaro and Jus­tice Min­is­ter Ser­gio Moro — the judge who con­vict­ed and jailed for­mer pres­i­dent Luiz Ina­cio Lula a Sil­va on flim­sy evi­dence.
Bol­sonaro has mul­ti­ple rea­sons to want to push hard against Maduro. Like Trump, the new Brazil­ian pres­i­dent stands to gain sup­port for the harsh stance on Venezuela. As anachro­nis­tic as it may sound — 30 years after the fall of the Berlin Wall — Bol­sonaro waged a sub­stan­tial por­tion of his elec­toral cam­paign last year on the fight against com­mu­nism. ​"Today is the day that the peo­ple begin to free them­selves from social­ism," Bol­sonaro said dur­ing his inau­gur­al address on Jan­u­ary 1.
Bol­sonaro pinned the com­mu­nist threat on Brazil's Work­ers Par­ty, which he and his sup­port­ers blame for every­thing from cor­rup­tion to the finan­cial cri­sis and even youth pornog­ra­phy. But for Bol­sonaro, Venezuela is the king­pin of evil — a specter he proph­e­sied would hap­pen in Brazil, if the left returned to power.
U.S. Secu­ri­ty Offi­cial John Bolton took it yet to anoth­er lev­el, ele­vat­ing Venezuela, along with Cuba and Nicaragua, to mem­bers of what he called called the ​"Troi­ka of Tyran­ny." Bolton said in ear­ly Novem­ber, ​"This Troi­ka of Tyran­ny, this tri­an­gle of ter­ror stretch­ing from Havana to Cara­cas to Man­agua, is the cause of immense human suf­fer­ing, the impe­tus of enor­mous region­al insta­bil­i­ty, and the gen­e­sis of a sor­did cra­dle of com­mu­nism in the West­ern Hemisphere."
Under Bol­sonaro, Brazil is will­ing to do what­ev­er nec­es­sary to back the Unit­ed States and strength­en its hand in the region. The two coun­tries have even dis­cussed the pos­si­bil­i­ty of a U.S. base on Brazil­ian soil, although Brazil's mil­i­tary has long been reluc­tant to hand over Brazil­ian sov­er­eign­ty to the Unit­ed States or any for­eign country.
Brazil is a pow­er­ful coun­try in the region: Its mil­i­tary, while dwarfed by the Unit­ed States, is by far the largest in Latin Amer­i­ca, with over 330,000 active mil­i­tary per­son­nel, and more than 1.6 mil­lion indi­vid­u­als in the reserve.
Brazil­ian Vice Pres­i­dent Hamil­ton Mourão, him­self a for­mer army gen­er­al, told the press on Wednes­day that Brazil would not par­tic­i­pate in any future mil­i­tary inter­ven­tion in Venezuela. Bol­sonaro, how­ev­er, has pre­vi­ous­ly said that noth­ing was off the table — and so has the Unit­ed States.
Unit­ed States: Flex­ing Its Muscles
For sev­er­al months, Trump has been float­ing the idea of a pos­si­ble mil­i­tary inter­ven­tion. Now, with most of the coun­tries in the region clos­ing ranks behind it, and the Guaidó-forced polit­i­cal cri­sis in full swing, the Unit­ed States, may be look­ing for an excuse to act.
This is not the first time the Unit­ed States has tried to influ­ence Venezue­lan pol­i­tics. For the last 20 years — since the elec­tion of Hugo Chavez in 1998 — the Unit­ed States has backed many oppo­si­tion attempts to over­throw the Venezue­lan gov­ern­ment, be it by sup­port­ing the oil lock­out, the opposition's boy­cotting of elec­tions and the 2002 coup. The U.S. State Depart­ment has propped up numer­ous oppo­si­tion groups with mil­lions of dol­lars, through the Nation­al Endow­ment for Democ­ra­cy and oth­er U.S. gov­ern­ment-fund­ed organizations.
There is much at stake with this lat­est coup attempt. Venezuela is home to the largest oil reserves in the world. Though pro­duc­tion is down from ear­li­er years, the South Amer­i­can coun­try still pro­duces rough­ly 1.4 mil­lion bar­rels of crude oil a day, ship­ping more than a third of it to refiner­ies in the Unit­ed States.
Venezuela has long fun­neled oil rev­enues into social pro­grams for the country's poor, lift­ing mil­lions from pover­ty and rais­ing stan­dards of liv­ing. It led the charge to reor­ga­nize OPEC, unite the Latin Amer­i­can left and stand up to the Unit­ed States.
"Venezuela is not just an out­lier in polit­i­cal terms in the region now, but it is a coun­try that rep­re­sents a real threat to the right region­al­ly, to the extent that if they recov­er eco­nom­i­cal­ly, if oil prices go up again, it can become once again a region­al pow­er­house as it was under Chavez," Alex Main, from the Cen­ter for Eco­nom­ic and Pol­i­cy Research, said on Wednes­day. ​"So, I think what's going on, in part, is a real fear that Venezuela could make a come­back, so to speak."
Of course, Venezuela is, and has been, in tur­moil for many years. Infla­tion is through the roof, many food items are scarce and prod­ucts hard to find. The cri­sis has led to a mass exo­dus of Venezue­lans, with thou­sands attempt­ing to leave across bor­ders to neigh­bor­ing coun­tries. The Maduro gov­ern­ment has not been effec­tive at com­bat­ting the mul­ti­ple lay­ers of prob­lems. But it has also faced tough U.S. sanc­tions and an inter­nal eco­nom­ic war that has imped­ed its abil­i­ty to function.
Guaidó's self-procla­ma­tion, in coor­di­na­tion with U.S.-backed inter­na­tion­al inter­ests, is push­ing the coun­try to the edge — and dan­ger­ous­ly fuel­ing ten­sions. The high com­mand of Venezuela's mil­i­tary reaf­firmed its sup­port for Maduro as the country's legit­i­mate pres­i­dent on Thurs­day. Rus­sia, Chi­na, Iran, Mex­i­co, Uruguay and Cuba have all rec­og­nized Maduro as Venezue­lan pres­i­dent. In par­tic­u­lar, on Thurs­day, Rus­sia warned the Unit­ed States against inter­ven­ing in Venezuela, say­ing it would trig­ger a ​"cat­a­stro­phe."
As many have observed, decades of bloody inva­sions and U.S.-backed coups have taught us that régime change always ends bad­ly. In the case of Venezuela, it could lead to civ­il war and a com­plete desta­bi­liza­tion of the region.
"
Michael Fox
is a free­lance reporter and video jour­nal­ist based in Brazil. He is the for­mer edi­tor of the NACLA Report on the Amer­i­c­as and the author of two books on Latin Amer­i­ca. He tweets at @mfox_us.