Muslim Ban 3.0 Is Here. And So Is the Anti-Racist Resistance.
Communities under siege are planning a mass mobilization on October 18.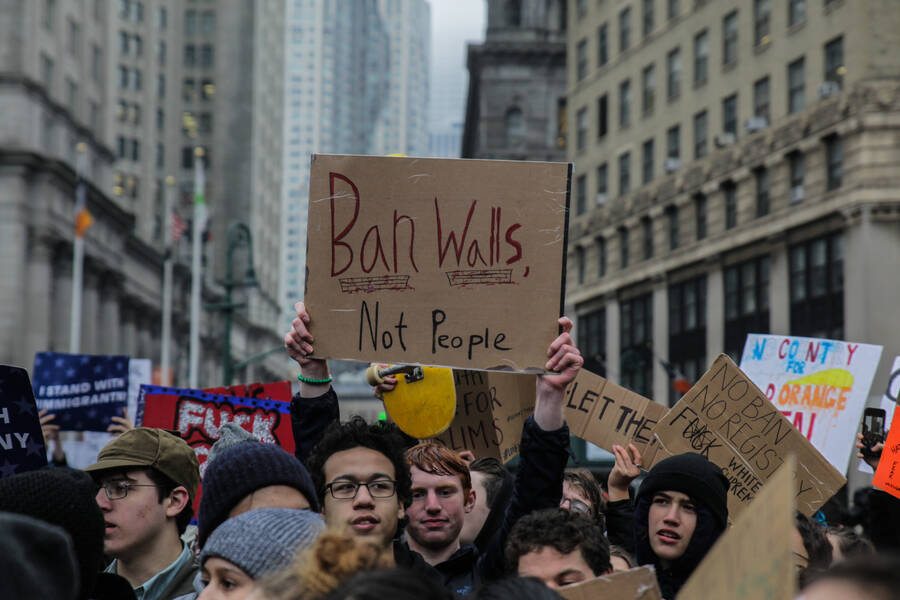 Before he took his oath, Pres­i­dent Don­ald Trump vowed to launch a war on Mus­lims. Now, that threat is becom­ing real­i­ty, with the new ver­sion of his sig­na­ture ​"Mus­lim Ban" — a slight­ly tweaked attempt to ram through unprece­dent­ed trav­el restric­tions on refugees and trav­el­ers from sev­er­al Mus­lim-major­i­ty nations. As con­sti­tu­tion­al chal­lenges are in lim­bo until a full Supreme Court review in ear­ly Octo­ber, the bat­tle now returns to the streets, with a mass mobi­liza­tion slat­ed for Octo­ber 18 coined ​"No Mus­lim Ban Ever."
The upshot of the controversy is that Trump's ruthless demagoguery has exposed the country's embedded structural racism.
The nation­al day of protest links the defense of the Mus­lim com­mu­ni­ty with an incip­i­ent sol­i­dar­i­ty move­ment rep­re­sent­ing all com­mu­ni­ties besieged by the Trump administration.
The event is pri­mar­i­ly coor­di­nat­ed by Coun­cil on Islam­ic Rela­tions' (CAIR) San Fran­cis­co-Bay Area Chap­ter, Mpow­er­Change, MASA Orga­niz­ing Team, Nation­al Immi­gra­tion Law Cen­ter and Asian Amer­i­cans Advanc­ing Jus­tice-Asian Law Cau­cus. These groups are part­ner­ing with an array of allies includ­ing immi­grant rights orga­ni­za­tions, Black Lives Mat­ter and post-elec­tion activist net­works like Indivisible.
The coali­tion's state­ment of prin­ci­ples reflects a ris­ing con­scious­ness of the coun­try's lega­cy of migrant exclu­sion and racial oppres­sion: ​"The Mus­lim and refugee bans are dis­crim­i­na­to­ry, uncon­sti­tu­tion­al and inhu­mane in the same vein as the Chi­nese Exclu­sion Act, the Japan­ese Amer­i­can incar­cer­a­tion and spe­cial reg­is­tra­tion after 9⁄11 … It also affirms the white suprema­cist, exclu­sion­ary poli­cies of the Trump admin­is­tra­tion that dis­crim­i­nate on the basis of faith, nation­al ori­gin and immi­gra­tion status."
CAIR senior lit­i­ga­tion attor­ney Gadeir Abbas says the Octo­ber 18 mobi­liza­tion is not just a reac­tion to the ban, but a vital sig­nal to the judiciary.
"There's real­ly three checks on the exec­u­tive branch," he told In These Times. ​"There's Con­gress, there's courts and there's peo­ple." So far, Con­gress has been reluc­tant to deci­sive­ly act to thwart Trump's poli­cies, but low­er courts have effec­tive­ly put the brakes on the Mus­lim ban and oth­er hard­line exec­u­tive actions.
Between the Supreme Court and the street, how­ev­er, ​"all those things hap­pen in a con­text of what peo­ple want," says Abbas. As con­sti­tu­tion­al law­suits snow­balled around the coun­try after the first Mus­lim Ban order was issued in Jan­u­ary, Abbas says, ​"Courts took note that the air­ports were filled with peo­ple [protest­ing], cour­t­hous­es were attract­ing thou­sands of pro­test­ers and demon­stra­tors, and that's critical."
From a legal stand­point, how­ev­er, Mus­lim Ban 3.0 seems more expan­sive and more tar­get­ed in its frame­work for racial exclu­sion. The revi­sion includes more coun­tries, with North Korea among them. Although it employs the same dra­con­ian anti-ter­ror­ist pre­text, the new ban includes some legal cov­er. For exam­ple, the ban applies dif­fer­ent restric­tions to coun­tries depend­ing on their spe­cif­ic secu­ri­ty cir­cum­stances and allows for some coun­tries to be removed if con­di­tions change. This alleged focus on shut­ting out ​"nation­al secu­ri­ty" threats might be care­ful­ly word­ed enough to pass con­sti­tu­tion­al muster.
But the Octo­ber 18 orga­niz­ers are not deterred: Eli­ca Vafaie, staff attor­ney at Asian Amer­i­cans Advanc­ing Jus­tice, declared in a state­ment that the basic premise of the order remains intrin­si­cal­ly hos­tile to Mus­lims and civ­il rights gen­er­al­ly. ​"Despite the President's attempt to obscure this lat­est Mus­lim Ban's dis­crim­i­na­to­ry intent, the newest pol­i­cy remains dis­crim­i­na­to­ry, unlaw­ful, and uncon­sti­tu­tion­al at its core and deeply impacts our com­mu­ni­ties," Vafaie declared.
The upshot of the con­tro­ver­sy is that Trump's ruth­less dem­a­goguery has exposed the country's embed­ded struc­tur­al racism.
"Anti-Mus­lim big­otry was a pil­lar of Trump's cam­paign for pres­i­dent," Abbas says, ​"and his gen­er­al agen­da is to send a sig­nal that it's okay to com­mit acts of vio­lence against the Mus­lim com­mu­ni­ty … and that Islam is some type of aggres­sive fea­ture of US soci­ety that needs to be exclud­ed, mar­gin­al­ized and oth­er­wise punished."
While Trump's pop­ulist brand­ing enables the nor­mal­iza­tion of right-wing extrem­ism, activists see him as a fig­ure­head for a more mon­strous ide­o­log­i­cal move­ment that fueled his rise. Abbas notes that ​"reli­gious pro­fil­ing has been allowed for a very, very long time to flour­ish in [immi­gra­tion pol­i­cy]. While the Trump admin­is­tra­tion has exac­er­bat­ed the prob­lem … he did not invent it."
But despite the admin­is­tra­tion's polit­i­cal inco­her­ence, Trump is no emp­ty ves­sel. Abbas believes that the president's poli­cies embody a clear world­view, dis­play­ing ​"a lev­el of inten­tion­al­i­ty around cul­ti­vat­ing this white suprema­cist agen­da … as a way of prop­ping up and pleas­ing his base."
Address­ing a media con­fer­ence about the Octo­ber 18 event, Michi­gan-based activist Adel Mozip said Trump's rhetoric has con­cretized Mus­lim com­mu­ni­ties' worst fears. ​"The truth is that this ban sends a pow­er­ful mes­sage, not just to me as a Yemeni Amer­i­can, but to all of us who prac­tice the Islam­ic faith, that we are not wel­come," Mozip empha­sized. ​"Since Trump has announced the Mus­lim Ban, I have noticed how it has instilled a fear fac­tor in my com­mu­ni­ty, many of whom have been try­ing to get their imme­di­ate fam­i­lies to the [Unit­ed States]."
Fol­low­ing bru­tal­i­ty against pro­test­ers from police and right-wing activists at protests, the hos­tile cli­mate has stoked fears of inten­si­fy­ing vio­lence at ral­lies. CAIR and oth­er com­mu­ni­ty orga­ni­za­tions are run­ning ​"Know Your Rights" train­ings to pre­pare com­mu­ni­ty mem­bers for risks of vio­lent encoun­ters in pub­lic. Abbas acknowl­edges, how­ev­er, ​"Protest­ing has gen­er­al­ly not been the most safe activ­i­ty … the chal­lenges of the day do require folks to have courage and be will­ing to sac­ri­fice their time and bring risk to them­selves." Abbas added, ​"That goes for my moth­er-in-law [who] wears hijab, and my col­league that has a bushy beard."
The risks aren't lim­it­ed to demon­stra­tions. Anti-Mus­lim attacks have risen to stag­ger­ing lev­els this year. Reports of anti-Mus­lim hate crime inci­dents, includ­ing vio­la­tions involv­ing harass­ment or tar­get­ing by law enforce­ment, increased 91 per­cent dur­ing the first half of 2017 com­pared to the same time peri­od dur­ing the pre­vi­ous year, accord­ing to CAIR. Abbas says he hopes the hos­tile cli­mate doesn't dis­cour­age peo­ple from par­tic­i­pat­ing, because ​"ulti­mate­ly that's the only thing that will change this vicious dynamic."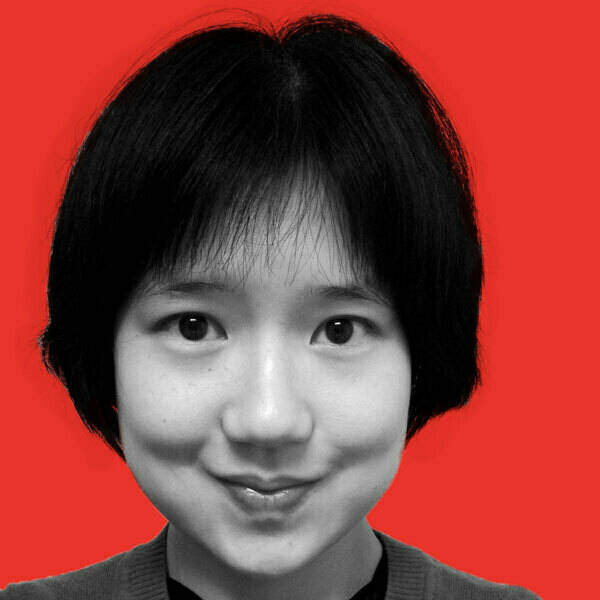 Michelle Chen is a con­tribut­ing writer at In These Times and The Nation, a con­tribut­ing edi­tor at Dis­sent and a co-pro­duc­er of the ​"Bela­bored" pod­cast. She stud­ies his­to­ry at the CUNY Grad­u­ate Cen­ter. She tweets at @meeshellchen.