Muslim Ban 3.0 Is Here. And So Is the Anti-Racist Resistance.
Communities under siege are planning a mass mobilization on October 18.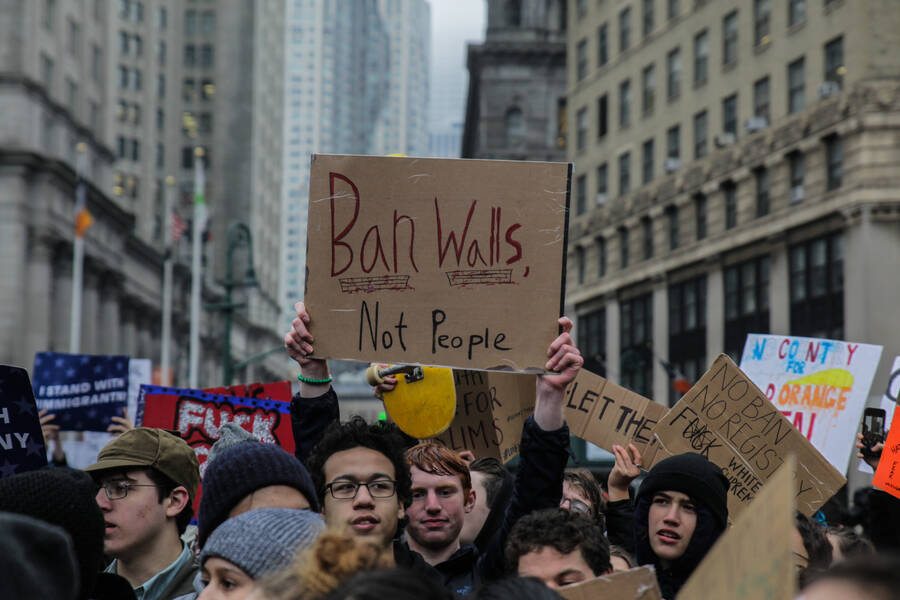 Before he took his oath, President Donald Trump vowed to launch a war on Muslims. Now, that threat is becoming reality, with the new version of his signature ​"Muslim Ban" — a slightly tweaked attempt to ram through unprecedented travel restrictions on refugees and travelers from several Muslim-majority nations. As constitutional challenges are in limbo until a full Supreme Court review in early October, the battle now returns to the streets, with a mass mobilization slated for October 18 coined ​"No Muslim Ban Ever."
The upshot of the controversy is that Trump's ruthless demagoguery has exposed the country's embedded structural racism.
The national day of protest links the defense of the Muslim community with an incipient solidarity movement representing all communities besieged by the Trump administration.
The event is primarily coordinated by Council on Islamic Relations' (CAIR) San Francisco-Bay Area Chapter, MpowerChange, MASA Organizing Team, National Immigration Law Center and Asian Americans Advancing Justice-Asian Law Caucus. These groups are partnering with an array of allies including immigrant rights organizations, Black Lives Matter and post-election activist networks like Indivisible.
The coalition's statement of principles reflects a rising consciousness of the country's legacy of migrant exclusion and racial oppression: ​"The Muslim and refugee bans are discriminatory, unconstitutional and inhumane in the same vein as the Chinese Exclusion Act, the Japanese American incarceration and special registration after 9/11 … It also affirms the white supremacist, exclusionary policies of the Trump administration that discriminate on the basis of faith, national origin and immigration status."
CAIR senior litigation attorney Gadeir Abbas says the October 18 mobilization is not just a reaction to the ban, but a vital signal to the judiciary.
"There's really three checks on the executive branch," he told In These Times. ​"There's Congress, there's courts and there's people." So far, Congress has been reluctant to decisively act to thwart Trump's policies, but lower courts have effectively put the brakes on the Muslim ban and other hardline executive actions.
Between the Supreme Court and the street, however, ​"all those things happen in a context of what people want," says Abbas. As constitutional lawsuits snowballed around the country after the first Muslim Ban order was issued in January, Abbas says, ​"Courts took note that the airports were filled with people [protesting], courthouses were attracting thousands of protesters and demonstrators, and that's critical."
From a legal standpoint, however, Muslim Ban 3.0 seems more expansive and more targeted in its framework for racial exclusion. The revision includes more countries, with North Korea among them. Although it employs the same draconian anti-terrorist pretext, the new ban includes some legal cover. For example, the ban applies different restrictions to countries depending on their specific security circumstances and allows for some countries to be removed if conditions change. This alleged focus on shutting out ​"national security" threats might be carefully worded enough to pass constitutional muster.
But the October 18 organizers are not deterred: Elica Vafaie, staff attorney at Asian Americans Advancing Justice, declared in a statement that the basic premise of the order remains intrinsically hostile to Muslims and civil rights generally. ​"Despite the President's attempt to obscure this latest Muslim Ban's discriminatory intent, the newest policy remains discriminatory, unlawful, and unconstitutional at its core and deeply impacts our communities," Vafaie declared.
The upshot of the controversy is that Trump's ruthless demagoguery has exposed the country's embedded structural racism.
"Anti-Muslim bigotry was a pillar of Trump's campaign for president," Abbas says, ​"and his general agenda is to send a signal that it's okay to commit acts of violence against the Muslim community … and that Islam is some type of aggressive feature of US society that needs to be excluded, marginalized and otherwise punished."
While Trump's populist branding enables the normalization of right-wing extremism, activists see him as a figurehead for a more monstrous ideological movement that fueled his rise. Abbas notes that ​"religious profiling has been allowed for a very, very long time to flourish in [immigration policy]. While the Trump administration has exacerbated the problem … he did not invent it."
But despite the administration's political incoherence, Trump is no empty vessel. Abbas believes that the president's policies embody a clear worldview, displaying ​"a level of intentionality around cultivating this white supremacist agenda … as a way of propping up and pleasing his base."
Addressing a media conference about the October 18 event, Michigan-based activist Adel Mozip said Trump's rhetoric has concretized Muslim communities' worst fears. ​"The truth is that this ban sends a powerful message, not just to me as a Yemeni American, but to all of us who practice the Islamic faith, that we are not welcome," Mozip emphasized. ​"Since Trump has announced the Muslim Ban, I have noticed how it has instilled a fear factor in my community, many of whom have been trying to get their immediate families to the [United States]."
Following brutality against protesters from police and right-wing activists at protests, the hostile climate has stoked fears of intensifying violence at rallies. CAIR and other community organizations are running ​"Know Your Rights" trainings to prepare community members for risks of violent encounters in public. Abbas acknowledges, however, ​"Protesting has generally not been the most safe activity … the challenges of the day do require folks to have courage and be willing to sacrifice their time and bring risk to themselves." Abbas added, ​"That goes for my mother-in-law [who] wears hijab, and my colleague that has a bushy beard."
The risks aren't limited to demonstrations. Anti-Muslim attacks have risen to staggering levels this year. Reports of anti-Muslim hate crime incidents, including violations involving harassment or targeting by law enforcement, increased 91 percent during the first half of 2017 compared to the same time period during the previous year, according to CAIR. Abbas says he hopes the hostile climate doesn't discourage people from participating, because ​"ultimately that's the only thing that will change this vicious dynamic."
Be one of the first
Help kick off the new era of In These Times! Without a media that brings people together and creates a written record of the struggles of workers, their voices will be fragmented and forgotten.
The mission of In These Times is to be that written record, and to guide and grow those movements.
We have a lot of work ahead of us, and that work starts today. Early support is the most valuable support, and that's why we're asking you to pitch in now. If you are excited for this new era of In These Times, please make a donation today.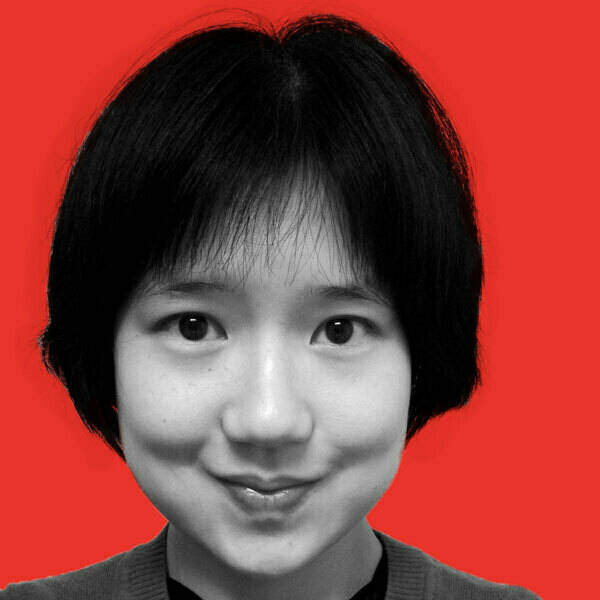 Michelle Chen is a contributing writer at In These Times and The Nation, a contributing editor at Dissent and a co-producer of the ​"Belabored" podcast. She studies history at the CUNY Graduate Center. She tweets at @meeshellchen.