Trump and the Neocons Are Exploiting an Iran Protest Movement They Know Nothing About
Iranians are protesting conditions worsened by U.S. policies, but Washington's hawks see only an opportunity for regime change.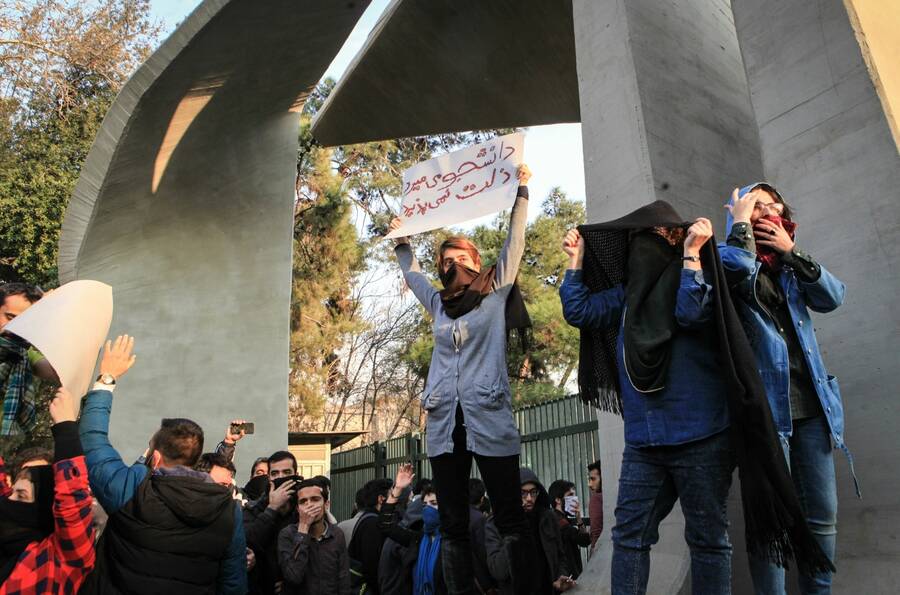 This arti­cle was pro­duced in part­ner­ship with For­eign Pol­i­cy in Focus.
The current unrest reflects the thwarted economic ambitions of a falling working class, not the thwarted political ambitions of a rising middle class.
The last time Ira­ni­ans went out onto the streets in large num­bers, they were protest­ing what they thought was a stolen election.
It was 2009, and hard­lin­er Mah­moud Ahmadine­jad had con­vinc­ing­ly won the pres­i­den­cy with rough­ly 63 per­cent to reformer Mir-Hos­sein Mousavi's approx­i­mate­ly 34 per­cent. Adopt­ing their campaign's green col­or, Mousavi's sup­port­ers thronged the streets in protest.
These Green Move­ment adher­ents were most­ly mid­dle class and con­cen­trat­ed in the major cities. Ahmadine­jad, by con­trast, attract­ed the sup­port of the more reli­gious, the less well-off and the rur­al — a siz­able con­stituen­cy that the Green Move­ment rou­tine­ly underestimated.
Now it's their turn to take to the streets: these mem­bers of the Iran­ian work­ing class who live in the boonies, who have not ben­e­fit­ed from the eco­nom­ic changes of the reformists. This is a group that ana­lyst Esfand­yar Bat­manghe­lidj calls the ​"for­got­ten men and women" of mod­ern Iran.
The cur­rent demon­stra­tions are lead­er­less, and the demands are all over the map. In gen­er­al, how­ev­er, today's pro­test­ers seem more con­cerned with eco­nom­ic issues than polit­i­cal ones, though the two are inex­tri­ca­bly linked. For instance, unlike in 2009, the most recent demon­stra­tions have noth­ing to do with elec­tion fraud. After all, the last pres­i­den­tial elec­tion went off with­out a hitch, and some of the same peo­ple who protest­ed in 2009 returned to the streets in May 2017 to cel­e­brate the reelec­tion of reformer Has­san Rouhani.
On the eco­nom­ic side, mean­while, the reform­ers around Rouhani promised a big boost as a result of the nuclear deal with the Unit­ed States, the Euro­pean Union and oth­er coun­tries. And, indeed, the econ­o­my has grown, most­ly as a result of an uptick in oil exports. The growth rate in 2016 was 6.4 per­cent — a remark­able turn­about from the near­ly 2 per­cent con­trac­tion in 2015. That cer­tain­ly helped Rouhani win reelec­tion in May last year.
But this wealth has not trick­led down fast enough. Unem­ploy­ment has been ris­ing from around 10 per­cent in 2015 to over 12 per­cent today. The youth unem­ploy­ment rate, mean­while, hov­ers around 30 per­cent, which mir­rors the con­di­tions in a num­ber of Mid­dle East­ern coun­tries on the eve of the Arab Spring. More­over, large price increas­es in sta­ples like eggs and gas have hit the poor­er seg­ments of soci­ety hard, and the pop­u­la­tion is brac­ing for more of the same in 2018.
Iran­ian soci­ety is sharply divid­ed between haves and have-nots, its rate of eco­nom­ic inequal­i­ty com­pa­ra­ble to that of the Philip­pines. The cur­rent unrest reflects the thwart­ed eco­nom­ic ambi­tions of a falling work­ing class, not the thwart­ed polit­i­cal ambi­tions of a ris­ing mid­dle class.
Ira­ni­ans are also protest­ing cor­rup­tion, which has long been a cen­tral fea­ture of eco­nom­ic and polit­i­cal life in the coun­try. There have been the pre­dictable scan­dals asso­ci­at­ed with fraud in the oil indus­try. The earth­quake in Novem­ber top­pled many hous­es built by the state, reveal­ing cor­rup­tion in the con­struc­tion indus­try. The under­ground econ­o­my encour­aged by the sanc­tions régime has also gen­er­at­ed a per­va­sive cul­ture of bribery. And many Ira­ni­ans view the high salaries that go to some gov­ern­ment employ­ees as a form of cor­rup­tion as well.
Ini­tial­ly, it seems, the protests orig­i­nat­ed not with reformists, like the Green Move­ment, but with hard­lin­ers hop­ing to focus anger on Rouhani. The protests broke out, for instance, in reli­gious cen­ters Qom and Mash­had. Writes Ahmad Sadri, ​"The right-wing pow­er­ful duo of the city of Mash­had, Ebrahim Raisi (the embit­tered rival of Rouhani in the recent elec­tions) and his famous­ly sim­ple-mind­ed father-in-law, Ahmad Alam­ol­ho­da, struck the first match by stag­ing a small anti-Rouhani demon­stra­tion, blam­ing the high price of con­sumer goods on the Rouhani government."
The con­ser­v­a­tives opened a Pandora's box of resent­ments. Pro­test­ers in oth­er cities have sub­se­quent­ly denounced the Aya­tol­lah Khamenei and the Rev­o­lu­tion­ary Guard. They've even sung the prais­es of the deposed shah and called for the return of his son.
This is a protest of pro­found disillusionment.
Washington's Response
The Rouhani gov­ern­ment banked on a big div­i­dend com­ing from the 2015 nuclear deal.
It need­ed this infu­sion of cap­i­tal from out­side because, in real­i­ty, Rouhani has rather nar­row room for maneu­ver on eco­nom­ic issues. The reli­gious estab­lish­ment holds all the trump cards when it comes to gov­er­nance. A large state-owned sec­tor and exten­sive pub­lic ser­vices absorb a large chunk of the gov­ern­ment bud­get. Wages and salaries take up around 40 per­cent of the bud­get — and social secu­ri­ty a lit­tle over 30 per­cent. In a ​"semi-state sec­tor" bol­stered by an opaque pri­va­ti­za­tion process, con­ser­v­a­tive insti­tu­tions like the Rev­o­lu­tion­ary Guards hold con­sid­er­able sway and are often resis­tant to any reform.
Rouhani need­ed lever­age from out­side the sys­tem because he con­trolled so few levers with­in the sys­tem. The nuclear deal was sup­posed to reduce sanc­tions, expand Iran­ian exports and attract a new wave of for­eign invest­ment. Some sanc­tions have been lift­ed (but not all). Some exports have spiked (most­ly oil). But the for­eign invest­ment has been slow to materialize.
True, some Euro­pean firms, such as the French ener­gy firm Total, have dipped their toes into the Iran­ian mar­ket. And Boe­ing secured a major civil­ian air­plane deal.
But oppo­si­tion to eco­nom­ic engage­ment with Iran was strong in Wash­ing­ton, even dur­ing the Oba­ma admin­is­tra­tion. In the wake of their defeat on the nuclear deal, hard­lin­ers in Con­gress were eager to apply new sanc­tions against Iran and reduce what lit­tle invest­ment was flow­ing toward the coun­try. Grant­ed, it's not easy to nav­i­gate the busi­ness envi­ron­ment inside Iran. But the Unit­ed States didn't make it any easier.
The Trump admin­is­tra­tion has­n't been shy about voic­ing its oppo­si­tion to the Iran nuclear deal. Even before the lat­est protests broke out, the admin­is­tra­tion was also explor­ing ways of killing the Boe­ing air­craft deal, as well as the Total invest­ment. Suf­fice it to say, Trump is not inter­est­ed in any kind of engage­ment with the Iran­ian government.
As soon as the protests broke out in Iran in Decem­ber, Trump glee­ful­ly took to Twit­ter to sup­port the peo­ple in the streets and cas­ti­gate the Rouhani gov­ern­ment. ​"The peo­ple of Iran are final­ly act­ing against the bru­tal and cor­rupt Iran­ian régime," Trump tweet­ed. ​"All of the mon­ey that Pres­i­dent Oba­ma so fool­ish­ly gave them went into ter­ror­ism and into their ​'pock­ets.' The peo­ple have lit­tle food, big infla­tion and no human rights. The U.S. is watching!"
For Trump, the protests vin­di­cate his argu­ment that the gov­ern­ment in Tehran is ille­git­i­mate. That the protests have result­ed at least in part from U.S. poli­cies to squeeze Iran is imma­te­r­i­al to Trump and his sup­port­ers in Congress.
This has been their strat­e­gy all along. ​"The pol­i­cy of the Unit­ed States should be régime change in Iran," Sen. Tom Cot­ton (R‑Ark.) has said. ​"I don't see how any­one can say Amer­i­ca can be safe as long as you have in pow­er a theo­crat­ic despo­tism." Sanc­tions are not designed to extract a ​"bet­ter deal" from Tehran or even to dis­suade it from engag­ing in ​"bad behav­ior" in the region. That's a canard to make the Unit­ed States appear to be play­ing by the rules of respect­ing sovereignty.
The pun­di­toc­ra­cy, mean­while, has large­ly come out in sup­port of the protests, with peo­ple on both sides of the nuclear deal lay­ing down their dif­fer­ences to side with the street. Here's Daniel Shapiro and Mark Dubowitz in Politi­co:
We are long-time friends who have dis­agreed vehe­ment­ly on the wis­dom of Pres­i­dent Barack Obama's nuclear deal with Iran; Dan is Obama's for­mer ambas­sador to Israel, and Mark is one of that agreement's most per­sis­tent crit­ics. But we agree with equal pas­sion that Amer­i­cans, regard­less of par­ty or posi­tion on the nuclear deal, should be sup­port­ing the aspi­ra­tions of Ira­ni­ans to be free from their bru­tal and cor­rupt rulers.
But what are Shapiro and Dubowitz sup­port­ing exact­ly? By all means, the Iran­ian gov­ern­ment should per­mit free­dom of assem­bly. It should not respond to the protests with vio­lence. And who can­not sym­pa­thize with peo­ple who are fed up with unem­ploy­ment and cor­rup­tion and want to exer­cise their right of self-determination?
But these protests are not the Green Move­ment. The cur­rent demon­stra­tors don't have a sin­gle, coher­ent pro­gram. They don't appear to have ral­lied behind any­thing to replace the cur­rent gov­ern­ment. They are, like the groundswell of sup­port for Don­ald Trump, a move­ment defined by oppo­si­tion to the sta­tus quo. It's not imme­di­ate­ly clear what alter­na­tive sys­tem such pro­test­ers would sup­port, but it's just as like­ly to be some­thing reli­gious­ly pop­ulist along the lines of Ahmadine­jad as any­thing resem­bling sec­u­lar liberalism.
Barack Oba­ma received crit­i­cism from the Left and the Right for not throw­ing U.S. sup­port behind the Green Move­ment. The stakes were clear­er then — a hard­line pres­i­dent with dubi­ous legit­i­ma­cy on one side ver­sus a mass move­ment with lead­ers and a pro­gram. Today, the stakes are con­sid­er­ably mud­di­er. But Trump, who cares so lit­tle about Ira­ni­ans that he's blocked them from enter­ing the Unit­ed States regard­less of their affil­i­a­tions, is inter­est­ed only in the larg­er game: scor­ing points against Oba­ma and the Iran­ian lead­er­ship and scor­ing points for Sau­di Ara­bia and Israel.
Come Jan­u­ary 13, when Trump has anoth­er oppor­tu­ni­ty to can­cel U.S. par­tic­i­pa­tion in the nuclear agree­ment, he will like­ly do so in the name of the Iran­ian peo­ple, the very ones who have tak­en to the streets because Trump and oth­ers like him are deter­mined to make sure that the agree­ment ulti­mate­ly doesn't pro­vide any real eco­nom­ic ben­e­fits to the Iran­ian peo­ple. His sup­port­ers on the Right are already giv­ing him the ammu­ni­tion to gun down the deal in this way.
What Goes Around
Trump imme­di­ate­ly iden­ti­fied the pro­test­ers as his kind of peo­ple — angry at polit­i­cal elites, upset that eco­nom­ic ​"reforms" have not ben­e­fit­ed them, dis­gust­ed with the cor­rup­tion of the sys­tem. Trump knows a ​"throw the elites out" kind of move­ment when he sees one.
The groundswell of anger in Iran match­es the rage felt by peo­ple all over the world at the greed and clue­less­ness of their lead­ers. So far, manip­u­la­tive so-called pop­ulists have man­aged to trans­late this anger into elec­toral suc­cess — in Hun­gary, Rus­sia, the Philip­pines and the Unit­ed States. The most like­ly polit­i­cal actor to take advan­tage of this anger in Iran would walk and talk like Ahmadine­jad and embrace posi­tions that are more anti-Amer­i­can, anti-Sau­di and anti-Israel than those of the cur­rent government.
Trump should be care­ful when he sup­ports a move­ment in Iran like that, and not just because it prob­a­bly wouldn't pro­duce a more U.S.-friendly régime. Trump is already fac­ing some­thing sim­i­lar. After all, the pres­i­dent is now unde­ni­ably a mem­ber of the polit­i­cal elite. He's the one imple­ment­ing eco­nom­ic reforms that don't ben­e­fit the vast major­i­ty. He's the one mak­ing gobs of mon­ey off of the sys­tem. And, as in Iran, he's the one backed by pow­er­ful reli­gious fanatics.
In short, Trump is now the elite that a grow­ing move­ment wants to throw out of the White House. When the time comes, will Mark Dubowitz and his con­ser­v­a­tive brethren sim­i­lar­ly defend Amer­i­can cit­i­zens who aspire ​"to be free from their bru­tal and cor­rupt rulers"?