If Nixon Went to China, Trump Can Go to North Korea
As a candidate, Trump promised a new policy toward North Korea—but now he's beating the drums of war.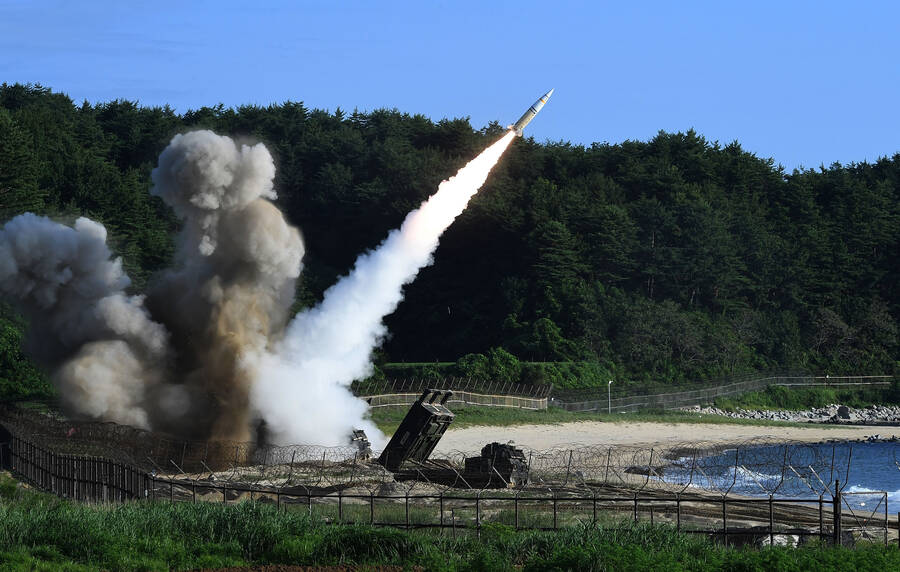 This piece first appeared at TomDis​patch​.com.
Despite all their promises to overhaul North Korea policy, Trump's top officials have closely followed the same headache-inducing pattern as their predecessors.
The Unit­ed States has beat­en its head against the wall of North Korea for more than 70 years, and that wall has changed lit­tle indeed as a result. The Unit­ed States, mean­while, has suf­fered one headache after another.
Over the last sev­er­al weeks, the head bang­ing has inten­si­fied. North Korea has test­ed a cou­ple of pos­si­ble inter­con­ti­nen­tal bal­lis­tic mis­siles. In response, Don­ald Trump has threat­ened that coun­try with ​"fire and fury," one-upping the rhetoric com­ing out of Pyongyang. And North Kore­an leader Kim Jong-un is debat­ing whether to fire a mis­sile or two into the waters around the Amer­i­can island of Guam as a warn­ing of what his coun­try is capa­ble of doing.
Ignore, for the moment, Trump's off-the-cuff bel­liger­ence. Despite all their promis­es to over­haul North Korea pol­i­cy, his top offi­cials have close­ly fol­lowed the same headache-induc­ing pat­tern as their predecessors.
Threat­en that all options are on the table? Check.
Apply more sanc­tions, even tighter ones, fiercer inter­na­tion­al ones? Check.
Try to twist China's arm to rein in its erst­while ally? Check.
As Trump flirts with the same default posi­tion of ​"strate­gic patience" adopt­ed by the Oba­ma admin­is­tra­tion, two oth­er options beck­on: talk or attack.
So far, the prospects for nego­ti­a­tions have been rather dim. True, Trump has direct­ed some back­hand­ed com­pli­ments at Kim Jong-un (a ​"smart cook­ie") and broached the pos­si­bil­i­ty of talk­ing per­son-to-per­son with the North Kore­an leader. Backchan­nel dis­cus­sions with that country's U.N. mis­sion in New York have made mod­est head­way over the last sev­er­al months on issues like the deten­tion of Amer­i­can cit­i­zens. But Pres­i­dent Trump is, by nature, errat­ic, and a pur­pose­ful­ly under­staffed State Depart­ment and dis­tinct­ly under-informed Nation­al Secu­ri­ty Coun­cil are not exact­ly fir­ing on all diplo­mat­ic cylinders.
Then, of course, there's the oth­er alter­na­tive (an option also con­sid­ered by pre­vi­ous admin­is­tra­tions): launch­ing a more con­cert­ed effort at régime change. That approach clear­ly has some trac­tion both with the impetu­ous man in the Oval Office and with­in his admin­is­tra­tion. CIA chief Mike Pom­peo has, for instance, spo­ken of an imper­a­tive to ​"sep­a­rate" the régime from its nuclear weapons (and he didn't mean through nego­ti­a­tions). Nation­al Secu­ri­ty Advi­sor Gen­er­al H.R. McMas­ter has open­ly dis­cussed a ​"pre­ven­tive war" option against North Korea that sounds omi­nous­ly like what the Unit­ed States had in place for Iraq back in 2003. U.S. Ambas­sador to the Unit­ed Nations Nik­ki Haley even declared at one point that ​"the time for talk is over." (Pre­sum­ably she meant the time for talk with, not at, since Don­ald Trump con­tin­ues to excel at the latter.)
The fever dream of régime change has per­sist­ed in Wash­ing­ton for decades like a bad case of polit­i­cal malar­ia that repeat­ed dos­es of real­ism have nev­er quite erad­i­cat­ed. The irony is that North Korea is indeed chang­ing, just not in response to what the Unit­ed States is doing. As with Chi­na in the 1970s, Wash­ing­ton could encour­age those changes by giv­ing up its aggres­sive ambi­tions, step­ping away from the luke­warm option of ​"strate­gic patience," and actu­al­ly sit­ting down to talk seri­ous­ly with Pyongyang with­out preconditions.
Lest you think it's too late for nego­ti­a­tions, remem­ber that the U.S. was on the verge of bomb­ing Pyongyang in 1994 just before Jim­my Carter went to North Korea and nego­ti­at­ed what would even­tu­al­ly become an agree­ment to freeze the country's nuclear pro­gram. (Yes, once upon a time at least, the Kim fam­i­ly was will­ing to put that pro­gram on hold.) Maybe it's the moment for the pur­port­ed ​"adults" in the Trump admin­is­tra­tion to per­suade the pres­i­dent to refo­cus on his golf game, while some qui­et diplo­ma­cy gets under way.
Only then will Amer­i­cans get what Sec­re­tary of State Rex Tiller­son assures us is our birthright: a good night's sleep.
The Dan­gers of Régime Change
Cuba had a dis­grun­tled for­mer elite. Iraq had its rebel­lious Shi­ites and Kurds. Libya had the unset­tling tail­wind of the Arab Spring, not to men­tion a whole lot of peo­ple who deeply hat­ed its rul­ing auto­crat Muam­mar Gaddafi.
North Korea has nothing.
Unlike those oth­er tar­gets of régime change, North Korea lacks any sig­nif­i­cant domes­tic oppo­si­tion that could — at least in Washington's ver­sion of a dream world — rush into a new­ly cre­at­ed vac­u­um of author­i­ty and set up a more Amer­i­ca-friend­ly gov­ern­ment. Indeed, North Korea is a ver­i­ta­ble desert of civ­il soci­ety. For­get oppo­si­tion par­ties and non­govern­men­tal orga­ni­za­tions. It doesn't even have a few coura­geous fig­ures like Russ­ian nuclear physi­cist Andrei Sakharov or Czech play­wright Vaclav Hav­el, who open­ly dis­sent­ed from their government's poli­cies dur­ing the Cold War.
The only con­ceiv­able alter­na­tive to Kim Jong-un at the moment might be the North Kore­an mil­i­tary, the sole insti­tu­tion with suf­fi­cient author­i­ty to nudge aside the rul­ing Work­ers Par­ty. But it's not clear that there's any gen­uine day­light between the Kim fam­i­ly and that mil­i­tary. More­over, were the gen­er­als to take over, they might prove more hos­tile toward out­side pow­ers and even more deter­mined in their oppo­si­tion to domes­tic reform than the cur­rent leadership.
In Cuba, Iraq, and Libya, the Unit­ed States imag­ined that régime change would flow from the bar­rel of a gun — from, to be exact, the guns of the U.S. mil­i­tary and its para­mil­i­tary allies on the ground. How­ev­er, with North Korea, even the most die-hard régime-change enthu­si­asts, like con­ser­v­a­tive New York Times colum­nist Bret Stephens, are aware of the poten­tial­ly dis­as­trous con­se­quences of a U.S. strike.
Pyongyang has a dis­persed nuclear com­plex, as well as mobile mis­sile launch­ers and sub­marines. Its deeply entrenched artillery and rock­et posi­tions near the Demil­i­ta­rized Zone, long pre­pared, could dev­as­tate the South Kore­an cap­i­tal, Seoul, only 35 miles from the bor­der, and the 25 mil­lion inhab­i­tants in its met­ro­pol­i­tan area. If Wash­ing­ton struck pre­emp­tive­ly, the Chi­nese have been very clear that they would sup­port the North Kore­ans, which could raise a grim and poten­tial­ly dev­as­tat­ing region­al war to the lev­el of a super­pow­er conflict.
No mat­ter how it played out, this would be no ​"cake­walk" (to use a word once asso­ci­at­ed with the 2003 inva­sion of Iraq). Hun­dreds of thou­sands, if not mil­lions, of peo­ple — North Kore­ans, South Kore­ans, Japan­ese, even U.S. sol­diers and civil­ians — would be at risk. For­mer Sec­re­tary of Defense William Per­ry, who con­sid­ered the option of a pre­emp­tive strike dur­ing the Clin­ton admin­is­tra­tion, now insists that, ​"whether or not this was a good idea in those days, I am per­suad­ed, I am con­vinced it's not a good idea today."
For all these rea­sons, the top offi­cials in the Pen­ta­gon have been risk-averse in dis­cussing mil­i­tary sce­nar­ios, with Sec­re­tary of Defense James Mat­tis por­tray­ing the con­se­quences of war in the region as ​"cat­a­stroph­ic" and Marine Corps Gen. Joseph Dun­ford acknowl­edg­ingthat a mil­i­tary solu­tion would be ​"hor­rif­ic." In fact, the Trump administration's strate­gic review of North Korea pol­i­cy explic­it­ly advised against any mil­i­tary option, pre­fer­ring instead to go with ​"max­i­mum pres­sure and engagement."
In the back of any régime-changer's mind has to be a sin­gle obvi­ous sce­nario: a replay of Germany's 1990 reuni­fi­ca­tion in which South Korea swal­lows the North in a sin­gle gulp. As it hap­pens, how­ev­er, South Korea has shown lit­tle inter­est in copy­ing the Ger­man exam­ple, cer­tain­ly not under the lead­er­ship of its new pro­gres­sive pres­i­dent, Moon Jae-In. The cur­rent gov­ern­ment has, in fact, explic­it­ly reject­ed any war on the Kore­an penin­su­la. Moon instead favors the sort of increased eco­nom­ic and social engage­ment with the North that might some­day lead to some kind of slow-motion reuni­fi­ca­tion rather than an overnight absorp­tion of that coun­try (which would also hor­ri­fy the Chinese).
Such régime-change sce­nar­ios always over­look the deeply felt nation­al­ism of most North Kore­ans. They may not like Kim Jong-un or have much faith in the gov­ern­ment, but decades of nation­al­ist edu­ca­tion and pro­pa­gan­da have turned that country's cit­i­zens into true believ­ers in the North's right to inde­pen­dence and self-deter­mi­na­tion. Vir­tu­al­ly every­one there has served in the mil­i­tary, and there can be lit­tle doubt that the pop­u­la­tion is ready to fight to defend their home­land against out­side aggres­sors. As in Cuba cir­ca 1961, régime-change efforts in North Korea already have the stink of fail­ure to them.
And even were such efforts to suc­ceed, with a cat­a­stroph­ic region­al war some­how being avert­ed, the results would undoubt­ed­ly rival the cat­a­clysms that engulfed Bagh­dad in 2003 and Tripoli in 2011. Mil­lions of North Kore­ans would poten­tial­ly stream across the bor­ders of both Chi­na and South Korea, cre­at­ing a mas­sive refugee cri­sis. The economies of north­east Asia would take a major hit, which might send glob­al mar­kets into a tail­spin. And don't for­get North Korea's nuclear weapons and mate­r­i­al, which could elude the search-and-secure efforts of U.S. and South Kore­an Spe­cial Forces and fall into the hands of who knows whom.
You'd think that the exam­ples of Cuba, Iraq, and Libya — not to men­tion Afghanistan, Syr­ia, and Yemen — would have cured Washington's régime-change enthu­si­asts of their recur­ring illu­sions. But no such luck, espe­cial­ly since those hawks deeply believe that any nego­ti­a­tions with North Korea will prove utter­ly futile, mere­ly allow­ing that coun­try to fur­ther strength­en its nuclear program.
His­to­ry, how­ev­er, does not bear out that par­tic­u­lar prejudice.
Nego­ti­at­ing with Crazy
If you think North Korea is too crazy to nego­ti­ate with the Unit­ed States — or that the Trump admin­is­tra­tion is too crazy to talk with Pyongyang — think again.
Back in the 1970s, Chi­na was a much cra­zier place than North Korea, so crazy in fact that thou­sands of Chi­nese escaped the mad­ness by flee­ing… to North Korea! Dur­ing the Cul­tur­al Rev­o­lu­tion that began in 1966 and last­ed for rough­ly a decade, China's leader, Mao Zedong, lost con­trol of his coun­try as teenage Rev­o­lu­tion­ary Guards unseat­ed sea­soned Com­mu­nist Par­ty offi­cials. Up to two mil­lion peo­ple died in the nation­wide upheaval. The tur­moil in that coun­try was matched by tur­moil with­in Mao him­self. In the 1970s, he was over­tak­en by delu­sions of grandeur as he began a descent into senil­i­ty. And yet despite such inaus­pi­cious cir­cum­stances, the Chi­na of that era nego­ti­at­ed quite rea­son­ably with the Unit­ed States to get the inter­na­tion­al recog­ni­tion it so dear­ly wanted.
In 1970, when Pres­i­dent Richard Nixon and Hen­ry Kissinger, his nation­al secu­ri­ty advis­er, decid­ed to orches­trate a diplo­mat­ic open­ing to that coun­try, it wasn't because Chi­na had shown any eager­ness for nego­ti­a­tions. The White House was instead attempt­ing to put pres­sure on Moscow by play­ing nice with Bei­jing. In this peri­od, Nixon cul­ti­vat­ed a ​"mad­man the­o­ry" in which his aides were to claim that he was act­ing in a deranged fash­ion, lead­ing his adver­saries, fear­ing being nuked, to think twice about chal­leng­ing him. Even so, Nixon has gone down in his­to­ry as America's great deal­mak­er thanks to his suc­cess­ful ​"open­ing" to China.
In 1972, crazy nego­ti­at­ed with crazy and détente was born.
In con­trast to Chi­na in those years, North Korea is not in a state of chaos. What­ev­er else you might think about Kim Jong-un, he's not senile. The country's for­eign pol­i­cy has been rel­a­tive­ly con­sis­tent over the decades. The devel­op­ment of a nuclear pro­gram has, in its own fash­ion, been a ratio­nal response both to the North's loss of an edge in con­ven­tion­al mil­i­tary pow­er to South Korea and to U.S. régime-change threats. (Remem­ber, for instance, the way Pres­i­dent George W. Bush tossed the North Kore­ans into the ​"axis of evil" with soon-to-be-invad­ed Iraq and peren­ni­al­ly threat­ened Iran in his 2002 State of the Union address.) In fact, build­ing a nuclear deter­rent may be one of the least crazy things that Pyongyang has done over the years.
And don't for­get that the Unit­ed States has suc­cess­ful­ly nego­ti­at­ed with North Korea on a range of issues from find­ing and repa­tri­at­ing the remains of Amer­i­can sol­diers who died dur­ing the Kore­an War to agree­ments on nuclear weapons. The 1994 Agreed Frame­work last­ed near­ly a decade and effec­tive­ly froze the North's plu­to­ni­um-pro­cess­ing capa­bil­i­ties. In an agree­ment nego­ti­at­ed dur­ing the Bush years, that coun­try actu­al­ly began to destroyele­ments of its nuclear pro­gram. The nuclear deals even­tu­al­ly fell apart because of vio­la­tions and bad faith on both sides, but they demon­strate that talk­ing with Pyongyang is fea­si­ble and can pro­duce con­crete results.
Begin­ning in 1979, aid­ed in part by détente with the Unit­ed States, Chi­na embarked on a series of major domes­tic reforms. If Amer­i­can offi­cials paid more atten­tion to what's actu­al­ly going on inside North Korea (aside from its nuclear pro­gram), they would see that the coun­try is chang­ing — in spite of, not thanks to, U.S. policy.
The Change That Matters
I vis­it­ed North Korea three times in the late 1990s and ear­ly 2000s. There were very few cars on the streets and high­ways. Cell phones were prac­ti­cal­ly nonex­is­tent. A few semi-pri­vate restau­rants had just opened in its cap­i­tal, Pyongyang. Pri­vate mar­kets had final­ly appeared in cities nation­wide in response to the break­down of the government's food dis­tri­b­u­tion sys­tem, but they seemed more like stop­gap mea­sures the state tol­er­at­ed than a per­ma­nent fea­ture of the economy.
Today, North Korea's polit­i­cal sys­tem remains vir­tu­al­ly intact (minus a cou­ple hun­dred offi­cials purged by Kim Jong-un). Its wide­spread sur­veil­lance sys­tem is still in place. There's nei­ther free­dom of speech nor assem­bly and tens of thou­sands of its cit­i­zens con­tin­ue to suf­fer grim fates in its wide­spread penal camp system.
But North Korea is chang­ing. Pri­vate mar­kets have become a per­ma­nent fea­ture of the land­scape, and a ris­ing nou­veau riche and an expand­ing mid­dle class are trans­form­ing the DNA of the coun­try. Out of a pop­u­la­tion of 25 mil­lion, as many as three mil­lion peo­ple now own cell phones and there are enough cars in Pyongyang these days to gen­er­ate the occa­sion­al traf­fic jam. Those who have become wealthy from mar­ket activ­i­ties are buy­ing and installing solar pan­els to pow­er upscale appli­ances like wall-mount­ed televisions.
Cap­i­tal­ism, in oth­er words, has begun to bub­ble up from below, even though the Unit­ed States has gone to great lengths to pre­vent the coun­try from hav­ing any inter­ac­tion with the glob­al econ­o­my. It's a del­i­cate bal­ance for the North Kore­an state. The mar­kets relieve the author­i­ties of the respon­si­bil­i­ty for meet­ing cer­tain cit­i­zens' needs and tax­ing the new entre­pre­neurs brings mon­ey into gov­ern­ment cof­fers. But the mar­kets also are a venue for chan­nel­ing more infor­ma­tion from the out­side world, as North Kore­an traders inter­act with their Chi­nese coun­ter­parts and movies and music from South Korea make their way in via USB drives.
This ongo­ing trans­for­ma­tion of North Kore­an soci­ety has been not­ed by a few fig­ures in Wash­ing­ton as an oppor­tu­ni­ty to pur­sue a kinder, gen­tler ver­sion of régime change. ​"We wor­ry about the minia­tur­iza­tion of North Kore­an nukes; what threat­ens the Kim régime is the minia­tur­iza­tion of infor­ma­tion tech­nol­o­gy," writes for­mer Clin­ton admin­is­tra­tion offi­cial Tom Mali­nows­ki in Politi­co. ​"By shar­ing media with fam­i­ly, friends, and broad­er net­works, and by learn­ing to avoid detec­tion, North Kore­ans are also gain­ing skills and con­nec­tions essen­tial to inde­pen­dent polit­i­cal organization."
It's not clear that the mar­ket and greater access to infor­ma­tion will, in fact, push North Kore­ans to orga­nize against the state or embrace Amer­i­can-style democ­ra­cy. But sup­port­ing such changes makes sense any­way. The expe­ri­ence of Chi­na sug­gests that such reforms, even when imple­ment­ed with­in a non-demo­c­ra­t­ic sys­tem, can reduce the threat of war and con­flict. ​"It has worked before in oth­er coun­tries," econ­o­mist Rudi­ger Frank wrote in Glob­al Asia after a recent vis­it to North Korea. ​"It will work again."
In 1960, a U.S. Nation­al Intel­li­gence Esti­mate warned that China's ​"arro­gant self-con­fi­dence, rev­o­lu­tion­ary fer­vor, and dis­tort­ed view of the world may lead [Bei­jing] to mis­cal­cu­late risks. This dan­ger would be height­ened if Com­mu­nist Chi­na achieved a nuclear weapons capa­bil­i­ty." Four years lat­er, Chi­na test­ed its first nuclear weapon.
More than half a cen­tu­ry has passed since that moment and Chi­na is still no paragon of democ­ra­cy or human rights. Ten­sions per­sist across the Tai­wan Strait and in the South Chi­na Sea, and Bei­jing pos­sess­es a small but sig­nif­i­cant arse­nal of deliv­er­able nuclear weapons. Few peo­ple in the Unit­ed States, how­ev­er, wor­ry that Chi­na will launch an attack against Guam, Alas­ka, Hawaii, or the White House. Chi­na has too much of a stake in the inter­na­tion­al sys­tem to risk los­ing every­thing by act­ing with the ​"rev­o­lu­tion­ary fer­vor" that so wor­ried U.S. offi­cials in 1960. A com­bi­na­tion of inter­nal reforms and suc­cess­ful nego­ti­a­tions with Wash­ing­ton trans­formed that coun­try into a more or less respon­si­ble glob­al player.
Embed­ding North Korea in a sim­i­lar way in the inter­na­tion­al sys­tem of eco­nom­ic and geopo­lit­i­cal nego­ti­a­tions, not to men­tion human rights con­ven­tions, will reduce the threat it cur­rent­ly pos­es to its south­ern brethren, its Asian neigh­bors, and more dis­tant­ly the Unit­ed States. Eco­nom­ic sanc­tions, mil­i­tary pres­sure, and intem­per­ate threats, on oth­er hand, will ulti­mate­ly prove coun­ter­pro­duc­tive, doing lit­tle but to inten­si­fy the noth­ing-to-lose men­tal­i­ty of the régime, while fail­ing to encour­age the changes already ongo­ing. By con­tin­u­ing to iso­late an already iso­lat­ed land, the Unit­ed States is only strength­en­ing the very wall against which it's been bang­ing its head for so many years.
It's way past time for the Trump admin­is­tra­tion to take a few aspirin and a few deep breaths, and seize this oppor­tu­ni­ty to talk with the North Kore­ans before both head and wall sus­tain irrepara­ble damage.