What Russiagate Skeptics Get Wrong
The Left can call for military deescalation while still holding Putin accountable for electoral meddling.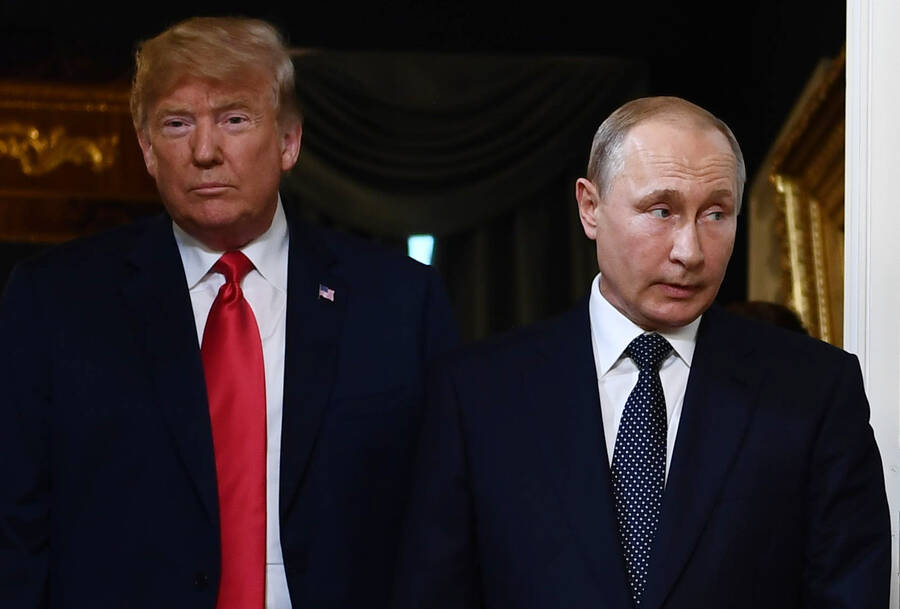 Imag­ine if the rightwing gov­ern­ment of Shin­zo Abe in Japan had inter­fered in the 2016 elec­tion in sup­port of Don­ald Trump. Fol­low­ing which, Trump held a sum­mit with Abe to endorse Japan­ese ter­ri­to­r­i­al claims in Asia as well as Abe's efforts to remil­i­ta­rize his country.
Putin's movement is founded on "traditional" values of Christianity, homophobia, and anti-feminist and anti-immigrant sentiment. OR "What Putin is really guilty of is calling for a multipolar world, not one dominated by the U.S."
The Amer­i­can Left would nev­er coun­te­nance a rightwing Japan­ese nation­al­ist inter­fer­ing in Amer­i­can pol­i­tics. But, of course, it wasn't Japan that hacked into U.S. com­put­ers and weaponized the infor­ma­tion with the help of Wik­iLeaks. Nor did Japan make a big social media buy or direct an army of inter­net trolls to help make Trump's unlike­ly vic­to­ry happen.
It was Rus­sia, where Pres­i­dent Vladimir Putin, a rightwing mil­i­tarist, aspires to lead a glob­al con­ser­v­a­tive move­ment with Moscow at its hub. Putin's move­ment is found­ed on ​"tra­di­tion­al" val­ues of Chris­tian­i­ty, homo­pho­bia, and anti-fem­i­nist and anti-immi­grant sen­ti­ment. Yet some on the Left give the Krem­lin a pass on its inter­fer­ence in U.S. elec­tions (now com­mon­ly referred to as Rus­si­a­gate), due to the mis­tak­en belief that Putin rep­re­sents a check on U.S. hege­mo­ny. ​"What Putin is real­ly guilty of is call­ing for a mul­ti­po­lar world, not one dom­i­nat­ed by the U.S.," writes Col­in Tod­hunter in Coun­ter­Punch.
In the pages of The Nation, the report­ing of Glenn Green­wald, the analy­sis of Con­sor­tium News and the alter­na­tive TV broad­casts of the Real News Net­work — not to men­tion Moscow's own RT (for­mer­ly Rus­sia Today) and Sput­nik — cer­tain pro­gres­sives sought to debunk Russiagate.
The ​"core nar­ra­tive" of Rus­si­a­gate, as Stephen Cohen has writ­ten in The Nation, is an exam­ple of ​"rub­bish in, rub­bish out," a fab­ri­ca­tion by the U.S. intel­li­gence community.
The skep­tics men­tioned here effec­tive­ly agreed with Trump that the news media and lib­er­als every­where had launched a ​"witch hunt" against Trump (and Putin). They dis­put­ed claims like the iden­ti­ty of the hack­ers who broke into the Demo­c­ra­t­ic Nation­al Com­mit­tee (DNC) servers and the con­nec­tions between the Krem­lin and far-right polit­i­cal move­ments. But their debunk­ing efforts relied on mis­read­ing, mis­in­ter­pre­ta­tion and out­right fal­si­fi­ca­tion. In a June com­men­tary in Con­sor­tium News, for­mer CIA ana­lyst Ray McGov­ern was still try­ing to prove that Guc­cifer 2.0, the DNC hack­er, was not Russ­ian. One month lat­er, the indict­ments from Spe­cial Coun­sel Robert Mueller pro­vid­ed copi­ous infor­ma­tion on the Russ­ian hack­ers behind the Guc­cifer 2.0 avatar.
Much of the reams of non­sense pub­lished over the last 18 months has veered into the ter­ri­to­ry of con­spir­a­cy the­o­ry. Real­ly, how could you pos­si­bly believe that DNC staffer Seth Rich gave all that mate­r­i­al to Wik­iLeaks on the basis of a sin­gle, unsub­stan­ti­at­ed Julian Assange claim to that effect? The evi­dence that Mueller has com­piled — result­ing in the recent indict­ments of 12 Russ­ian mil­i­tary offi­cers—should have sat­is­fied skeptics.
Yet Rus­si­a­gate skep­tics con­tin­ue their cru­sade, albeit shift­ing focus in the wake of July's Trump-Putin Helsin­ki sum­mit. Even if Rus­sia did inter­fere in the elec­tion, they argue, there's no proof of col­lu­sion. More impor­tant­ly — and here the skep­tics are joined by sen­si­ble advo­cates of for­eign pol­i­cy real­ism in a call pub­lished by The Nation—the val­ue of improv­ing U.S.-Russian rela­tions over­rides all oth­er considerations.
A con­tin­u­a­tion of the Rus­si­a­gate inquiry and an improve­ment in U.S.-Russian rela­tions are not mutu­al­ly exclu­sive. It's essen­tial to keep inves­ti­gat­ing Trump's links to Rus­sia, includ­ing the mon­ey laun­der­ing that Trump may have done for Russ­ian clients close to the Krem­lin, because these links reveal how Rus­sia strength­ens the polit­i­cal influ­ence of oli­garchs and boosts the for­tunes of far­right politi­cians. At the same time, we must sup­port U.S.-Russian coop­er­a­tion, par­tic­u­lar­ly on arms control.
At the Helsin­ki sum­mit, Putin showed inter­est in extend­ing the New START Treaty, con­clud­ing the Inter­me­di­ate Range Nuclear Forces Treaty, end­ing the con­flict in Syr­ia and sup­port­ing the nuclear deal with Iran.
Trump, how­ev­er, did not. He has ridiculed the New START Treaty, pledged to expand the U.S. nuclear arse­nal, con­tin­ued — along with Putin — to bomb Syr­ia, and reneged on the Iran nuclear deal.
The Unit­ed States needs to address Rus­sia diplo­mat­i­cal­ly to solve prob­lems of mutu­al and glob­al inter­est, despite Trump's obvi­ous lack of inter­est. But let's not delude our­selves into think­ing that Putin is any­thing more than a ruth­less, cor­rupt auto­crat who uses nation­al­ism to pro­mote his own interests.