In the Age of Trump, Progressive Jews Can Learn From the 20th Century's Radical Yiddish Tradition
Our forebears' struggles against capitalism, fascism and Zionism—carefully chronicled in Revolutionary Yiddishland—resonate more than ever now that the the far right is once more taking power.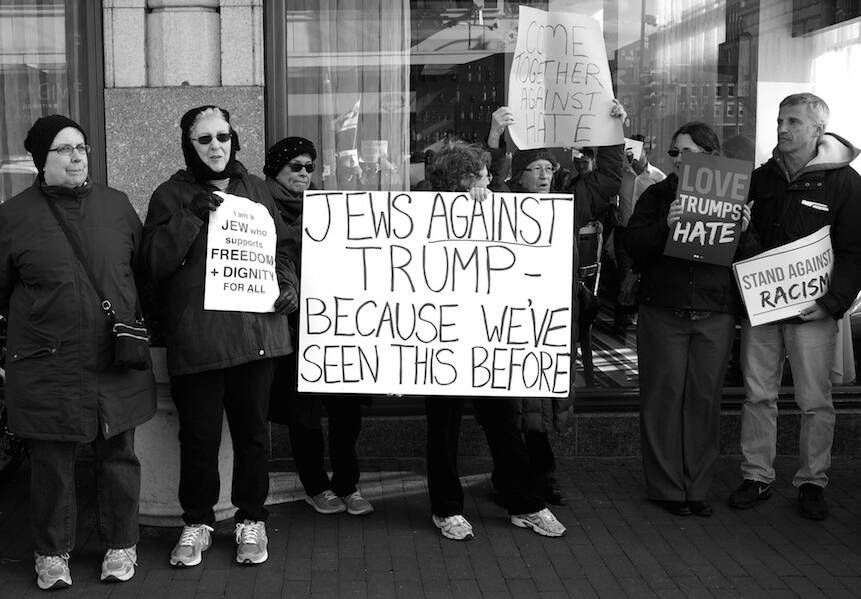 The offi­cial, text­book his­to­ry of any nation or group of peo­ple, writes rad­i­cal his­to­ri­an Howard Zinn in A People's His­to­ry of the Unit­ed States, can be sure to con­ceal ​"the fierce con­flicts of inter­ests, some­times explod­ing, often repressed, between con­querors and con­quered, mas­ters and slaves, cap­i­tal­ists and work­ers, dom­i­na­tors and dom­i­nat­ed. … In such a world of vic­tims and exe­cu­tion­ers, it is the job of think­ing peo­ple not to be on the side of the executioners."
While Yiddishland tells a specifically Jewish story, it opens a first-hand window into the larger movements for political emancipation, working-class empowerment and resistance to fascism that made the 20th century so momentous, and terrifying, for the whole human race.
Acord­ing to Zinn, it is the task of the rad­i­cal his­to­ri­an not mere­ly to recount the events of the past with the dis­in­ter­est­ed, depoliti­cized gaze of an ​"objec­tive" aca­d­e­m­ic. We need a his­to­ry, rather, that lets the mar­gin­al­ized and oppressed voic­es of the past speak, that lis­tens to these voic­es so as to dis­till new lessons, per­spec­tives and imper­a­tives urgent­ly need­ed to face the polit­i­cal real­i­ty of the present.
Rev­o­lu­tion­ary Yid­dish­land: A His­to­ry of Jew­ish Rad­i­cal­ism, writ­ten by Alain Brossat and Sylvie Kling­berg, attempts to write such a sub­ver­sive and rel­e­vant his­to­ry. First pub­lished as Le Yid­dish­land révo­lu­tion­naire in 1983 and re-released this Novem­ber in a first-ever Eng­lish trans­la­tion by Ver­so with new edi­to­r­i­al notes, ref­er­ences and an intro­duc­tion by the trans­la­tor David Fern­bach, the book deals with the gen­er­a­tion of Jew­ish rad­i­cals in East­ern Europe who, in the first half of the 20th cen­tu­ry, helped raise the ban­ner of world rev­o­lu­tion against the ter­ri­fy­ing forces of cap­i­tal­ism and fas­cism. A haunt­ing, inspir­ing and often trag­ic book, Rev­o­lu­tion­ary Yid­dish­land uses first-hand inter­views, deep archival research and sharp analy­sis to bring to life a com­plex land­scape of fac­to­ry work­ers, par­ti­sans, poets, par­ty lead­ers, refugees, ghet­to fight­ers and move­ment intellectuals.
Released on the day of Don­ald Trump's elec­tion, the book's tim­ing of could not be more appro­pri­ate. Today, we see clouds of fas­cism dis­turbing­ly anal­o­gous to those of a cen­tu­ry ago dark­en­ing our own polit­i­cal land­scape, dri­ven by a tox­ic and too-famil­iar col­lu­sion of xeno­pho­bia and scape­goat­ing, author­i­tar­i­an­ism and far-right nation­al­ism, lib­er­al capit­u­la­tion and cor­po­rate mega-profit.
The Rad­i­cal Jews of Yiddishland
In the late 1800s, mil­lions of Jews liv­ing across East­ern Europe left their rur­al vil­lages, called shtetls, and sought work in the new indus­tri­al fac­to­ries crowd­ing cities like Min­sk and Vil­na. Before long, this Jew­ish pro­le­tari­at birthed a mil­i­tant trade union move­ment with mes­sian­ic inten­si­ty. The largest of these mass orga­ni­za­tions, the Alge­meyn­er Yidish­er Arbeter Bund, or the Jew­ish Work­ers Bund, sought to unite all Jew­ish work­ers into a social­ist par­ty that demand­ed, in a revi­tal­ized Yid­dish tongue, equal civ­il rights and free­dom from dis­crim­i­na­tion for Jews and all work­ers, an end to class oppres­sion, and a new Rus­sia found­ed upon demo­c­ra­t­ic social­ism and cul­tur­al and reli­gious freedom.
As the book recounts, these rad­i­cal Jews cre­at­ed a new, social­ist Jew­ish cul­ture that brought sec­u­lar Yid­dish the­atre, lit­er­a­ture, dis­cus­sion groups, edu­ca­tion­al sys­tems and oth­er vibrant and demo­c­ra­t­ic insti­tu­tions to a Jew­ish world in upheaval. This is the beat­ing heart of Yid­dish­land — a word which, for the authors, con­jures at once the region of East­ern Europe, the Yid­dish cul­ture and rad­i­cal spir­it of the Jews who lived there, and the his­tor­i­cal moment itself, the dynam­ic and ter­ri­fy­ing 20th-cen­tu­ry arc upon which their lives unfolded.
Rev­o­lu­tion­ary Yid­dish­land traces how, as the Russ­ian Rev­o­lu­tion over­threw the tsar and brought the Bol­she­viks to pow­er in 1917, many Yid­dish­land rad­i­cals helped dri­ve the wave of rev­o­lu­tion­ary enthu­si­asm that swept West­ern and East­ern Europe. They helped build left par­ties, social­ist gov­ern­ments and, in many cas­es, Jew­ish wings of these and oth­er move­ments across the continent.
Mean­while, the nation­al­ist ide­ol­o­gy of Zion­ism, pop­u­lar among mid­dle-class Jews in West­ern Europe, also began to make inroads in Yid­dish­land. The book unearths the pas­sion­ate argu­ments between, on the one hand, those Jew­ish Com­mu­nists and Bundists who insist­ed on stay­ing and fight­ing as part of broad-based grass­roots move­ments in Europe, and, on the oth­er hand, those left-wing Zion­ists who strug­gled to fuse their aim of world rev­o­lu­tion with their attrac­tion toward a Jew­ish nation­al home in Palestine.
Lat­er, the book shows how, as fas­cism spread across Europe, the rev­o­lu­tion­ar­ies of Yid­dish­land fought falangists in 1930s Spain, formed self-defense mili­tias in Nazi-occu­pied coun­tries like France, orga­nized under­ground net­works of resis­tance in ghet­tos like War­saw, and launched covert cam­paigns of sab­o­tage and attack as par­ti­sans hid­ing deep behind ene­my lines. Final­ly, we wit­ness the utter liq­ui­da­tion of Yid­dish­land in the ovens, bat­tle­fields and mass graves of Nazi ter­ror. We see its few sur­vivors strug­gle, and often fail, to main­tain their rev­o­lu­tion­ary spir­it in a post-war world that was too quick to sup­press and stig­ma­tize the trau­ma of their destruc­tion, and too eager to denounce their rad­i­cal­ism in the name of real­ism, or Zion­ism, or liberalism.
Though Yid­dish­land traces dense polit­i­cal tra­jec­to­ries across a broad his­tor­i­cal arc, it is ground­ed in a fab­ric of human expe­ri­ence that makes these nar­ra­tives any­thing but abstract. The authors, who in the 1980s con­duct­ed exten­sive inter­views with sur­vivors, offer vivid, inti­mate glimpses into the beat­ing heart of a van­ished world.
In the gru­el­ing sweat of the fac­to­ry, we see young work­ers replace Torah and Tal­mud with the Com­mu­nist Man­i­festo, and con­vince their reli­gious par­ents to join them in the fight for a new Mes­si­ah. In the crowd­ed work­ing-class neigh­bor­hoods of Białys­tok, we see strug­gling Jew­ish fam­i­lies rejoice in the dis­cov­ery of new lit­er­a­ture and the­atre that speaks to their own trou­bles and aspi­ra­tions, in their own proud Yid­dish tongue. On the fren­zied streets of rev­o­lu­tion­ary Rus­sia, we watch patrols of Jew­ish work­ers bat­tle tsarist sol­diers and chase spies away from meet­ing hous­es. On a Yom Kip­pur night in ear­ly 1940s Moscow, we lis­ten as wor­ried Jew­ish refugees from Poland hud­dle with their Russ­ian Jew­ish com­rades out­side a syn­a­gogue, trad­ing ter­ri­fy­ing rumors of the ovens at Auschwitz, nar­rat­ing hero­ic tales of resis­tance from the War­saw Ghetto.
These sto­ries, and so many oth­ers, jos­tle togeth­er in the crowd­ed pages of Yid­dish­land, the faces of the pro­tag­o­nists gaz­ing from the past ask­ing us, if not to avenge their death, at least to remem­ber their life. And Yid­dish­land does just that, in a stark, refresh­ing prose that does not glo­ri­fy these fight­ers in any ​"cult of great Heroes," or ide­al­ize them as larg­er-than-life martyrs.
Rather, the book por­trays what it calls a ​"resis­tance of the shad­ows" made of ordi­nary peo­ple who, in extra­or­di­nary times, ded­i­cate them­selves ​"with­out hes­i­ta­tion" to a grit­ty, uncer­tain strug­gle to sur­vive with dig­ni­ty. The tex­ture of their resis­tance is not roman­tic but bru­tal, often marked by ​"hunger and fear, missed encoun­ters, tire­some tasks, bore­dom and grey­ness, pain and anguish." And while Yid­dish­land tells a specif­i­cal­ly Jew­ish sto­ry, it opens a first-hand win­dow into the larg­er move­ments for polit­i­cal eman­ci­pa­tion, work­ing-class empow­er­ment and resis­tance to fas­cism that made the 20th cen­tu­ry so momen­tous, and ter­ri­fy­ing, for the whole human race.
Why Study Yid­dish­land Today?
As the authors of Yid­dish­land detail, a vast, seem­ing­ly unbridge­able gulf sep­a­rates the world of these rad­i­cals from our world today. Put sim­ply, Ger­man fas­cism erased their exis­tence from the face of the plan­et, and uproot­ed the lan­guage, cus­toms, his­to­ry, cui­sine, insti­tu­tions, reli­gion and eco­nom­ic life of the world that they called home.
How does the Left as a whole view its own past today, nine­ty-nine years after the Russ­ian Rev­o­lu­tion helped ush­er in a near-cen­tu­ry of pow­er­ful social­ist, left­ist, anti-impe­ri­al­ist and oth­er move­ments that shook the plan­et? We view these move­ments most­ly as anachro­nisms of a bygone era — flawed and failed, if well-inten­tioned and inspiring.
But we have yet to find new forms of resis­tance capa­ble of chal­leng­ing and dis­man­tling a rapa­cious and ram­pant 21st cen­tu­ry glob­al cap­i­tal­ism. As the authors of Yid­dish­land make clear in their intro­duc­tion, the larg­er Left today, like rad­i­cal Jews, has yet to process and mourn the twists and turns of its recent his­to­ry. We can­not help but look upon the pas­sion­ate, almost mes­sian­ic opti­mism of ear­ly-20th cen­tu­ry rad­i­cals with a strange sense of dis­lo­ca­tion and longing.
In the Jew­ish imag­i­na­tion today, the mem­o­ry of the rev­o­lu­tion­ary Jews of Yid­dish­land is sup­pressed, or at most, con­sumed as a pale imi­ta­tion. In its absence, the ide­ol­o­gy and his­to­ri­og­ra­phy of Zion­ism places the cre­ation of Israel at the pin­na­cle of Jew­ish his­to­ry, and por­trays the mil­len­nia that Jews lived in dias­po­ra, amongst the peo­ples of the world, as a cycle of per­ma­nent suf­fer­ing, plagued by an eter­nal anti-Semitism.
In the hege­mon­ic nar­ra­tive shared and co-cre­at­ed, to some extent, by most Jew­ish com­mu­ni­ties in both Amer­i­ca and Israel, the mem­o­ry of the rev­o­lu­tion­ary Jew of Yid­dish­land is an image held dim­ly, and with warmth and pride. But, so the nar­ra­tive con­tin­ues, this history's bit­ter les­son is that Yid­dish­land val­ues of sol­i­dar­i­ty and rev­o­lu­tion did not pro­tect even these Jews from Hitler, and that only the Jew­ish state of Israel can pro­vide the haven of safe­ty, secu­ri­ty and iden­ti­ty need­ed for Jews to exist in the world today.
Even most Jews on the rad­i­cal left today scarce­ly remem­ber the names of the rad­i­cal Jews of Yid­dish­land. With mere traces of remem­brance, we have yet to give them a prop­er bur­ial, to learn what they yearn to teach us, to know exact­ly what we, today, have inher­it­ed or have yet to inher­it from them. Mean­while, the state of Israel's 68-year old assault on Pales­tin­ian land and life con­tin­ues at a dizzy­ing rate, and Amer­i­can Jew­ish sup­port for the Israeli régime con­tin­ues to lure us onto the wrong side of his­to­ry, like a col­lec­tive night­mare from which our com­mu­ni­ty can­not yet awaken.
A New Yiddishland?
It is high­ly fit­ting that Rev­o­lu­tion­ary Yid­dish­land appears today in Eng­lish, just as a new rad­i­cal Jew­ish move­ment is emerg­ing here in Amer­i­ca, the largest glob­al Jew­ish pop­u­la­tion cen­ter since Yid­dish­land itself (slight­ly edg­ing out Israel by some esti­mates). Today, more Amer­i­can Jews than ever are join­ing and build­ing move­ments against Israel's occu­pa­tion and apartheid. Mean­while, across a thou­sand spheres of Jew­ish com­mu­nal life, pro­gres­sive move­ments are form­ing which seek to hold our many insti­tu­tions and lead­ers account­able to the racial and eco­nom­ic jus­tice strug­gles around and with­in which we as Jews live. In my work as Cam­pus Coor­di­na­tor with Jew­ish Voice for Peace, a nation­al orga­ni­za­tion inspired by Jew­ish tra­di­tion to stand for jus­tice in Pales­tine and against all forms of racism, I see this new Jew­ish iden­ti­ty being built by stu­dent activists on col­lege cam­pus­es every day.
One hun­dred years lat­er, with the state of Israel and its right-wing allies in the U.S. find­ing clear com­mon ground with Don­ald Trump and neo­fas­cist forces world­wide, lit­tle has changed since the rad­i­cals of Yid­dish­land orga­nized against cap­i­tal­ists and fas­cist col­lab­o­ra­tors in their own com­mu­ni­ty, and denounced Zion­ism as a bour­geoisie, nation­al­ist move­ment that allied itself with impe­r­i­al inter­ests and rul­ing elites, and cared lit­tle for the real strug­gles of poor and oppressed Jews and non-Jews around the world.
But if this bur­geon­ing move­ment may be sym­bol­i­cal­ly called here a ​"new Yid­dish­land," it must be stat­ed that this new move­ment is hard­ly Yid­dish. In a porous, mul­ti­cul­tur­al Amer­i­ca, while many Jew­ish rad­i­cals trace their roots to the shtetl, many oth­ers inher­it tra­di­tions from the many non-Euro­pean Jew­ish com­mu­ni­ties of the Mid­dle East, North Africa, Asia and else­where, and from non-Jew­ish ances­tors as well. There are oth­er impor­tant dif­fer­ences between past and present: While the rad­i­cal Jew­ish iden­ti­ty of Yid­dish­land was forged in direct strug­gle against class exploita­tion and vio­lent anti-Semi­tism, many, though cer­tain­ly not all, Amer­i­can Jews today ben­e­fit from some degree of race and/​or class priv­i­lege. While yesterday's Jew­ish rad­i­cals were staunch athe­ists, today many of us embrace prayer, rit­u­al and spir­i­tu­al iden­ti­ty infused with, and insep­a­ra­ble from, our rad­i­cal pol­i­tics and lives.
It is also appro­pri­ate that Rev­o­lu­tion­ary Yid­dish­land appears today as a resource for the Left as a whole. As neolib­er­al cap­i­tal­ism main­tains its destruc­tive grip and deliv­ers mis­ery to most inhab­i­tants on the plan­et, the Left faces a ter­ri­fy­ing fas­cist threat unseen since the era of Yid­dish­land, with the rapid embrace of far-right pol­i­tics engulf­ing Europe and cul­mi­nat­ing, last week, with the star­tling seizure by Don­ald Trump of the most pow­er­ful polit­i­cal posi­tion in the world. As we com­bat mount­ing attacks on Mus­lim and Arab com­mu­ni­ties, black folks, immi­grants, Jews, women, LGBTQ folks and more, we have much to learn from the bound­less opti­mism, the fear­less advances and the ter­ri­fy­ing retreats of those who strug­gled before.
We need to draw hope from this pre­vi­ous gen­er­a­tion of rad­i­cals who believed, against all odds, that a new sun was dawn­ing in the sky of his­to­ry. Rev­o­lu­tion­ary Yid­dish­land lets this gen­er­a­tion speak, and helps us to lis­ten. Through this rad­i­cal act of remem­brance — and through con­tin­u­ing, in our own time, the strug­gles they were not able to see to vic­to­ry — we inher­it their fight, we redeem their loss, we ensure their death was not in vain. And we relearn, in a new way, that vital les­son expressed in a say­ing of the ancient rab­bis: ​"It is not incum­bent upon you to com­plete the task, but nei­ther are you free to desist from it."
Ben Lor­ber
is Cam­pus Coor­di­na­tor for Jew­ish Voice for Peace.