Trump May Not Be a Russian Pawn—But That Doesn't Make His Putin-philia Any Less Concerning
Putin has a characteristic and consistent way of making trouble for the United States: backing the far right.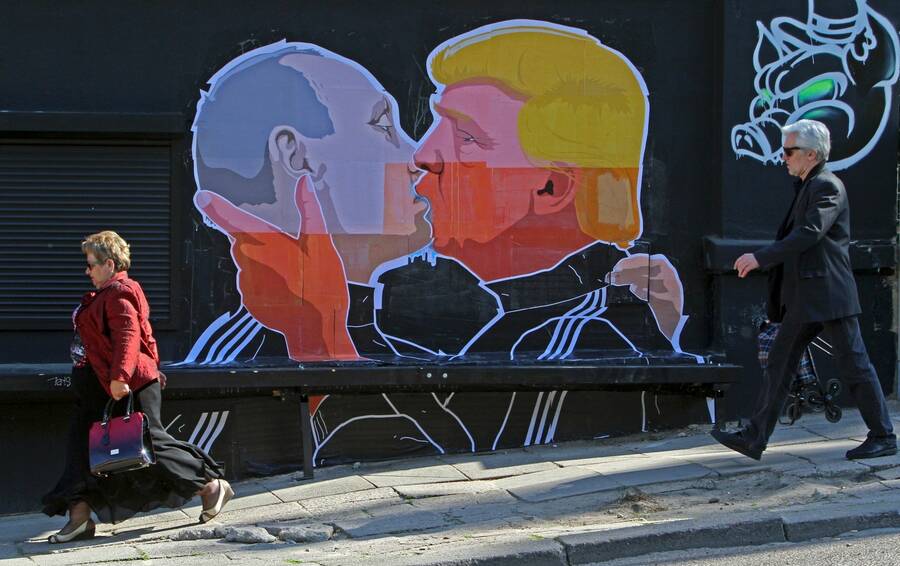 This post first appeared at Moy­ers & Company.
The ideological affinity between the Kremlin and the nativist right extends beyond foreign policy.
For months now, jour­nal­ists have not­ed the wrestler Vladimir Putin's not-so-fun­ny entan­gle­ment with Don­ald Trump. Newsweek, along with USA Today and The New York Times have writ­ten about what The Times described as a he-man ​"bro­mance" between the Repub­li­can pres­i­den­tial nom­i­nee (bet­ter known in Amer­i­ca for wrestling oth­er peo­ple out of their mon­ey) and the max­i­mum leader Rus­sians know to be no slouch at palling with oli­garchs.
Some Democ­rats think there's more to it than sex­ting. Sen­ate Minor­i­ty Leader Har­ry Reid (D‑NV) goes so far as to say, in a let­ter this week to FBI Direc­tor James Comey:
In my com­mu­ni­ca­tions with you and oth­er top offi­cials in the nation­al secu­ri­ty com­mu­ni­ty, it has become clear that you pos­sess explo­sive infor­ma­tion about close ties and coor­di­na­tion between Don­ald Trump, his top advi­sors and the Russ­ian government….
What needs fur­ther explo­ration is anoth­er con­ver­gence between the crazy right and the Russ­ian. They share crack­pot ideas.
In August, I wrote about Trump sur­ro­gate Lt. Gen. Michael Flynn's adven­ture in cozy­ing up to Putin and RT. It's not news, exact­ly, that Trump's admi­ra­tion for Putin is bound­less. In Decem­ber, when Joe Scar­bor­ough told Trump that Putin ​"kills jour­nal­ists that don't agree with him," Trump replied:
Well, I think our coun­try does plen­ty of killing also, Joe. You know. There's a lot of stuff going on in the world right now, Joe. A lot of killing going on and a lot of stupidity…I've always felt fine about Putin. I think he is a strong leader, he's a pow­er­ful leader, he's rep­re­sent­ed his coun­try the way — the coun­try is being rep­re­sent­ed. He's got pop­u­lar­i­ty with­in his coun­try. They respect him as a leader, cer­tain­ly the last cou­ple of years they've respect­ed him as the leader. Obama's in the low 30s, upper 40s, and he's in the 80s.
Moth­er Jones's David Corn now reports that Russ­ian intel­li­gence has been cul­ti­vat­ing Trump. This is not hard and fast. What does the FBI have to say? An FBI spokes­woman told Corn, ​"Nor­mal­ly, we don't talk about whether we are inves­ti­gat­ing anything."
Nor­mal­ly. Except when agency Direc­tor James Comey decides oth­er­wise. Comey has been known to make insin­u­a­tions about the con­tent of emails with­out hav­ing read them.
Whether or not it ​"becomes clear" what ​"explo­sive infor­ma­tion" Reid refers to, if indeed it exists, it's worth more atten­tion that Rus­sia is med­dling in the pol­i­tics of the still-demo­c­ra­t­ic West.
It's been bruit­ed about that Putin's strat­e­gy is to make trou­ble for the West in the inter­est of neu­tral­iz­ing NATO as he goes about his expan­sion­ist schemes. It's a plau­si­ble notion on the face of it, but there might be many ways to dis­rupt the West. Fun­ny thing, though, is the par­tic­u­lar method to their med­dling. Putin has a char­ac­ter­is­tic and con­sis­tent way of mak­ing trou­ble: back­ing the far right.
Some­times that's with mon­ey. In 2014, Marine Le Pen's nativist Nation­al Front received an €11 mil­lion loan from the Moscow-based First Czech Russ­ian Bank. This year they're ask­ing for €27 mil­lion more.
Germany's neo-fas­cist leader Jür­gen Elsäss­er has likened Russia's bomb­ing of Alep­po to the suc­cess­ful wartime defense of Stal­in­grad, but what Germany's nativist far right gets from Rus­sia in return for com­pli­ments is not so clear.
Rus­sia and its allies share not only con­tempt for lib­er­al democ­ra­cy but, increas­ing­ly, the same ene­mies list.
Which makes you won­der about Wik­iLeaks' email dump before the Demo­c­ra­t­ic Con­ven­tion. Why did par­ty or par­ties unknown hack into the Democ­rats' mail and not the Republicans?
In June after the dump, a British reporter spoke to Wik­iLeaks chief Julian Assange: ​"Plain­ly, what you are say­ing, what you are pub­lish­ing, hurts Hillary Clin­ton. Would you pre­fer Trump to be pres­i­dent?" Assange told the reporter ​"that what Mr. Trump would do as pres­i­dent was ​'com­plete­ly unpre­dictable.' By con­trast, he thought it was pre­dictable that Mrs. Clin­ton would wield pow­er in…ways he found problematic."
Assange has refused to say where he got the emails, but he has denied any Russ­ian hand in the hack. There is some cir­cum­stan­tial evi­dence of Russ­ian hack­er tac­tics, but noth­ing conclusive.
The ide­o­log­i­cal affin­i­ty between the Krem­lin and the nativist right extends beyond for­eign pol­i­cy. These days the Moscow pro­pa­gan­da net­work RT sounds like a head start on the hypo­thet­i­cal Trump TV, or like Glenn Beck dur­ing one of his dia­gram days where all arrows on the white­board led to George Soros.
Here's the lat­est: a head­line on a new col­umn by one of their reg­u­lars, the Amer­i­can Robert Bridge: ​"And the Wein­er is! Hillary Clin­ton and the obe­di­ent lap­dog media."
For­get the bad pun. It gets worse. Bridge writes: "[T]he US main­stream media is on a mis­sion to prove, despite all indi­ca­tions to the con­trary, that Hillary Rod­ham Clin­ton would make a squeaky clean polit­i­cal queen." Here's Bridge on the main­stream media's ​"dis­as­trous effort to pro­tect Hillary Rod­ham Clin­ton come hell or high water." In case you haven't noticed, the main­stream media have been, in Bridge's view, neglect­ing the all-time grand scan­dal of — wait for it — Clin­ton emails. And here's Bridge's bot­tom line:
[S]o long as the main­stream media has gained almost total pur­chase of the elec­tion process, heav­i­ly con­trol­ling what the vot­ers see and hear, we will con­tin­ue dis­cussing the Rus­sians, Wik­iLeaks and Antho­ny Weiner's unhealthy sex­ting habit.
Bridge is liv­ing in an ear­li­er cen­tu­ry, when America's main­stream media were as con­trol­ling as, say, Prav­da. Patent­ly, Trump would not object to such a media régime as long as he gets to con­trol TV and the tabloids. If his fan mobs can't get the job done point­ing fin­gers and scream­ing at reporters, they'll be look­ing for bludgeons.
Todd Gitlin
is a pro­fes­sor of jour­nal­ism, soci­ol­o­gy and Amer­i­can stud­ies and chair of the Ph.D. pro­gram in com­mu­ni­ca­tions at Colum­bia Uni­ver­si­ty. He is the author of
16
books, includ­ing sev­er­al on jour­nal­ism and politics.