Shutting Down Donald Trump's Rallies Isn't the Way To Defeat Him
Anti-Trump protesters should focus their efforts on countering his messages, not preventing him from speaking..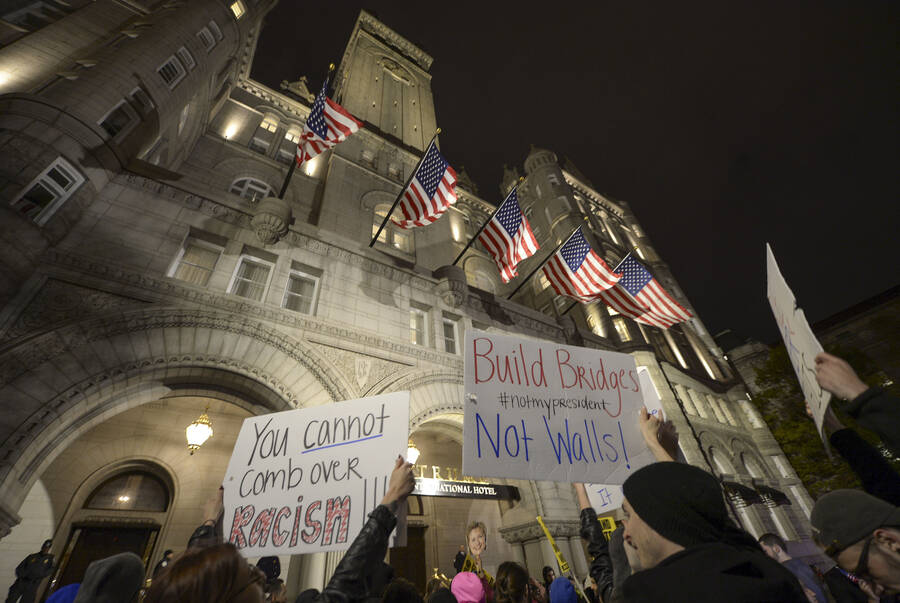 Was the protest inside and out­side a planned, then dis­band­ed, Don­ald Trump ral­ly in Chica­go just a few days before the March 15 Illi­nois pri­ma­ry a great suc­cess for progressives?
Progressives should try to use such an event to communicate a counter-message to the large audience available, stretching far beyond Trump fans.
Mar­i­lyn Katz, a long­time orga­niz­er on the left and a pub­lic rela­tions and strate­gic con­sul­tant, thinks that it was, writ­ing for In These Times that ​"Chica­go has giv­en us a glimpse of how…to change the course of this elec­tion" through a ​"polit­i­cal rev­o­lu­tion — of the peo­ple, by the peo­ple and for the people."
I was hap­py to see large crowds of peo­ple protest­ing Don­ald Trump's mes­sage and can­di­da­cy and cheered the orga­niz­ing efforts of var­ied cit­i­zen groups. Although work­ing as a jour­nal­ist inter­view­ing par­tic­i­pants, I joined in spir­it with the protest. But I came away with caveats about how many peo­ple on the left envi­sion these protests advanc­ing pro­gres­sive goals.
Many Trump oppo­nents, from peti­tion sign­ers try­ing to deny Trump use of the venue to pro­test­ers at the ral­ly, want­ed to stop Trump from speak­ing. That's always a tempt­ing when some­one is say­ing things as stu­pid and insult­ing as Trump does on a reg­u­lar basis.
But it's the wrong response. Pro­gres­sives should try to use such an event to com­mu­ni­cate a counter-mes­sage to the large audi­ence avail­able, stretch­ing far beyond Trump fans. That mes­sage is, first of all, that Trump — as a leader and through imple­men­ta­tion of his ideas — would be bad for you and bad for the coun­try. Sec­ond, there are bet­ter choic­es for lead­ers and bet­ter ways of iden­ti­fy­ing the real prob­lems of the coun­try and their solu­tions (tax­ing rich peo­ple like Trump more and more humane­ly adopt a steady flow of immi­grants, just to start).
This polit­i­cal counter-mes­sage is being deliv­ered dur­ing an impor­tant elec­tion. For those who see Trump as embody­ing the threat of fas­cism, or per­haps just being a bad man with bad ideas, the best way of block­ing him is to defeat him in the elec­tion process. Oth­er Repub­li­cans are not like­ly to do so short of a tumul­tuous con­ven­tion bat­tle. Street protests will not stop Trump, though some could be part of an effec­tive mul­ti-front attack. But just talk­ing to peo­ple in their homes and com­mu­ni­ties would prob­a­bly accom­plish more.
Any great­ly dis­rup­tive protests at the Cleve­land Repub­li­can Con­ven­tion would only feed into Trump's plans. It is worth remem­ber­ing the protests at the 1968 Demo­c­ra­t­ic con­ven­tion in Chica­go (where both Katz and I were par­tic­i­pants) end­ed up los­ing pop­u­lar sup­port for both the Demo­c­ra­t­ic par­ty and for the pro­test­ers. It was a turn­ing point in the even­tu­al unrav­el­ing of the New Left.
A repeat of Chica­go 1968 out­side the Cleve­land Repub­li­can con­ven­tion could sim­ply rein­force Trump's image as the strong man need­ed to con­trol chaos at home and abroad.
Ulti­mate­ly, Trump will win or lose through elec­tions. (No putsch seems in the wings.) When peo­ple act in the streets they must con­ceive those actions in terms of how that will hurt him at the polls.
It is impor­tant that the mes­sage of anti-Trump pro­test­ers not be seen as deny­ing free­dom of speech, even to some­one who can buy his way to greater free­dom to speak than most peo­ple. I am hap­py to see a bois­ter­ous crowd chal­lenge Trump, even dis­rupt his speech, even resort to self-defense if attacked by pro-Trump thugs that the lit­tle would-be dic­ta­tor incites.
But the main goal of the pro­test­ers should not be to silence him, but to exer­cise polit­i­cal jiu-jit­su that takes advan­tage of his noto­ri­ety to com­mu­ni­cate the pro­gres­sive counter-mes­sage, a mes­sage that includes the strong sup­port of free speech, equal­i­ty, democ­ra­cy and oth­er val­ues of both the left and of Amer­i­can cul­ture as a whole. The left should not embrace an approach that could be seen as mim­ic­k­ing in any way Trump's hos­til­i­ty to free speech and incite­ment to vio­lence or sup­pres­sion of opponents.
But that's dif­fer­ent from try­ing to ​"still the voice and vit­ri­ol of Don­ald Trump," as Katz said the Chica­go protest suc­ceed­ed in doing. Sim­i­lar­ly, Kel­ly Hayes, an orga­niz­er, direct action train­er and writer in Chica­go, wrote in Truthout that peo­ple should (and this was the head­line, which she may not have writ­ten) ​"stop whin­ing about Trump's right to ​'free speech.'"
I'm not so wor­ried (and I'm not even whin­ing) about Trump's right to speak as much as I am con­cerned that the left, or pro­gres­sives, in this coun­try con­tin­u­al­ly stand up on behalf of free speech, even of our ene­mies, as a part of what we advo­cate for a good soci­ety. It is a vital part of our tra­di­tions, exem­pli­fied in the free speech fights of the Wob­blies and Emma Gold­man, among many oth­ers (and the edi­to­r­i­al pol­i­cy of In These Times through­out its exis­tence). Also, it is impor­tant to pro­tect free speech, free assem­bly (includ­ing protests) and oth­er demo­c­ra­t­ic rights for the sake of both a strong pro­gres­sive polit­i­cal move­ment and the kind of soci­ety that it hopes to cre­ate, even when it is uncomfortable.
In the recent Chica­go case, Trump did not suc­ceed in blam­ing the pro­test­ers for the clash­es that erupt­ed. Not only reporters but also his Repub­li­can oppo­nents nailed him as respon­si­ble for the scuf­fling that broke out by using provoca­tive lan­guage and encour­ag­ing vio­lence by his sup­port­ers against pro­test­ers. But if most of his par­ty backs him in gen­er­al elec­tions, he may be able to twist the sto­ry against protesters.
That should not stop protests. But it should remind those in the streets, first, that their argu­ments are part of an argu­ment, a com­mu­ni­ca­tion with Amer­i­cans (vot­ers espe­cial­ly) that con­veys our deeply held val­ues (includ­ing free­dom of speech). Sec­ond, the protests can take many forms and be more effec­tive, for exam­ple, with humor — employed by many in the Chica­go protests — in addi­tion to con­fronta­tion. Third, they should remem­ber that their own speech, in the streets or else­where, is part of the demo­c­ra­t­ic elec­toral con­test for pow­er as well.
What­ev­er the lim­i­ta­tions of elec­tions, they remain one of the most crit­i­cal levers for change we have, and we should use our speech and actions to make those elec­tions more demo­c­ra­t­ic and pow­er­ful, even as we com­mu­ni­cate our views to fel­low cit­i­zens in the most effec­tive way possible.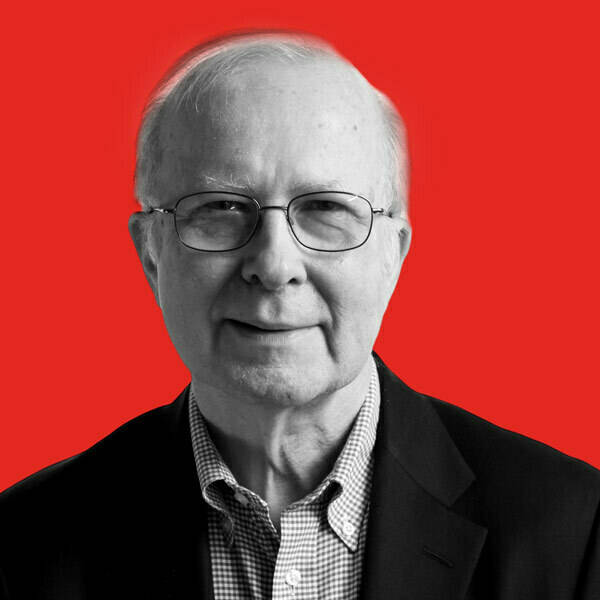 David Moberg, a senior edi­tor of In These Times, has been on the staff of the mag­a­zine since it began pub­lish­ing in 1976. Before join­ing In These Times, he com­plet­ed his work for a Ph.D. in anthro­pol­o­gy at the Uni­ver­si­ty of Chica­go and worked for Newsweek. He has received fel­low­ships from the John D. and Cather­ine T. MacArthur Foun­da­tion and the Nation Insti­tute for research on the new glob­al economy.