We Need a Truth and Reconciliation Process for the Trump Era
When the post-Trump moment comes, there will be a temptation to turn the page. Instead, we need deep reflection.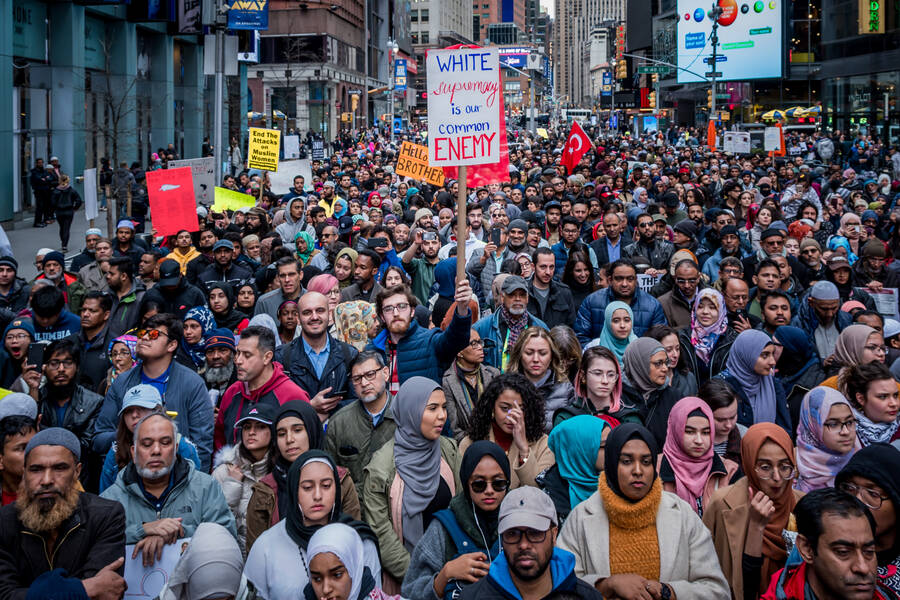 Ever since the Sen­ate declined to remove Don­ald Trump from office, the pres­i­dent has con­tin­ued his vic­to­ry lap, kick­ing off his reelec­tion pitch with the State of the Union address and launch­ing retal­ia­to­ry fir­ings and pres­sure on the offi­cials who tes­ti­fied against him. Trump will face his next test at the bal­lot box in Novem­ber. Soon­er or lat­er, Don­ald Trump will cease to be pres­i­dent. But whether we emerge from the Trump era as a true democ­ra­cy depends on more than his removal; it depends on whether we tran­scend Trump­ism as an ide­ol­o­gy and a pol­i­cy agenda.
For Americans to truly emerge from the Trump years and free ourselves from their malignance, we will have to engage in a similar national conversation.
The impeach­ment inquiry did not touch on the many moral atroc­i­ties of this admin­is­tra­tion, from fam­i­ly sep­a­ra­tion and the caging of chil­dren at the bor­der to the expand­ed ​"Mus­lim ban." It didn't touch the weaponiza­tion of immi­gra­tion enforce­ment against Black and brown peo­ple. It did not address the slash­ing of food stamps, cuts to health care and edu­ca­tion, or the delib­er­ate and cru­el dis­man­tling of civ­il rights pro­tec­tions. The nar­row charges ignored the myr­i­ad poli­cies that have direct­ly con­tributed to the destruc­tion of so many fam­i­lies and liveli­hoods, par­tic­u­lar­ly in Black, brown, and indige­nous com­mu­ni­ties. To move past the Trump era, we must first have an hon­est reck­on­ing with these harms, and the racial vio­lence they represent.
Even open­ing this con­ver­sa­tion will be, for many, a stretch. Our polit­i­cal and pop­u­lar dis­course tends to assume the unique genius of Amer­i­can democ­ra­cy. But in real­i­ty, we have more in com­mon with coun­tries strug­gling to build demo­c­ra­t­ic soci­eties in the wake of civ­il war, eth­nic con­flict, and the lega­cies of colo­nial sub­ju­ga­tion and vio­lence. To acknowl­edge that real­i­ty is not to dis­par­age the hope of Amer­i­can democ­ra­cy; it is to hon­or those aspi­ra­tions by hon­est­ly fac­ing the ways in which our soci­ety con­tin­ues to be unde­mo­c­ra­t­ic. When the post-Trump moment comes, there will be a temp­ta­tion, as is in oth­er post-con­flict soci­eties, to return to a sem­blance of nor­mal­cy and the rule of law, even at the cost of per­pet­u­at­ing repres­sive poli­cies and sweep­ing the vio­lence of poli­cies like fam­i­ly sep­a­ra­tion under the rug in the inter­est of ​"turn­ing the page."
But if we are to build a shared and inclu­sive democ­ra­cy after Trump, we will have to cre­ate a col­lec­tive, pub­lic nar­ra­tive that resists these easy outs, and have an hon­est con­ver­sa­tion that tes­ti­fies to the truth of what we as a coun­try have endured — and in par­tic­u­lar, the kinds of vio­lence on Black, brown, and indige­nous com­mu­ni­ties that so many Amer­i­cans were will­ing to tol­er­ate if not cham­pi­on. After the col­lapse of the apartheid régime, South Africa cre­at­ed a Truth and Rec­on­cil­i­a­tion Com­mis­sion (TRC). While there is some debate about the effi­ca­cy and impact of the TRC process, at a min­i­mum it pro­vid­ed a forum for pow­er­ful sto­ry­telling, forg­ing a shared nar­ra­tive of how the régime had enabled and per­pet­u­at­ed vio­lence. For Amer­i­cans to tru­ly emerge from the Trump years and free our­selves from their malig­nance, we will have to engage in a sim­i­lar nation­al conversation.
First, we must resist easy frames of ​"for­give­ness" that too often pres­sure affect­ed com­mu­ni­ties to ​"move on," eras­ing what philoso­pher Myisha Cher­ry calls the ​"jus­ti­fied rage" of com­mu­ni­ties under threat. We as a coun­try are well-versed in moral era­sure. Civ­il War his­to­ri­ans spent decades sup­plant­i­ng the his­to­ries of the strug­gle for Black free­dom and the vio­lent impo­si­tion of Jim Crow with the nar­ra­tive of fra­ter­nal reunion between North and South, and the val­oriza­tion of the Confederacy's ​"Lost Cause." We con­tin­ue to evade accounts of how the Amer­i­can found­ing was premised on the vio­lent destruc­tion of Native people's rights and com­mu­ni­ties. More recent­ly, we avoid­ed any real moral account­ing for the lives lost under the false pre­tens­es of the Iraq and Afghanistan wars, while the Oba­ma admin­is­tra­tion delib­er­ate­ly chose to avoid pros­e­cut­ing per­pe­tra­tors of Bush-era tor­ture, or the 2008 finan­cial cri­sis.
Sec­ond, we will have to over­come the chal­lenges of our cur­rent media and nar­ra­tive envi­ron­ment. The TRC process in South Africa achieved much of its impact due to the per­ceived legit­i­ma­cy and wide­spread media cov­er­age of the events. But today our frag­ment­ed media ecosys­tem, from Fox News to Face­book, breeds echo cham­bers, polar­iza­tion and mutu­al dis­trust across com­mu­ni­ties. Trump and Trump­ism thrive in this media envi­ron­ment, and gains more polit­i­cal force, as mis­in­for­ma­tion and polit­i­cal con­flict are weaponized to cap­ture view­ers' atten­tion. Even our longer-term cul­tur­al and polit­i­cal nar­ra­tives are skewed by the often-hid­den pol­i­tics shap­ing every­thing from school his­to­ry books to pop culture.
Third, we must back up any shared con­ver­sa­tion with real change. Sto­ry­telling by itself does not cre­ate account­abil­i­ty or progress unless paired with struc­tur­al reforms that trans­form the insti­tu­tions and con­di­tions that led to the moral harms in the first place. Rec­on­cil­i­a­tion need not bar actu­al con­se­quences; indeed, it must stem from a gen­uine com­mit­ment to jus­tice, and a will­ing­ness to name and then active­ly dis­man­tle the deep struc­tur­al roots of racial vio­lence. That means we must take seri­ous­ly the need to tear down our own sys­tems of state-spon­sored, unac­count­able vio­lence — sys­tems that were built by lead­ers of both par­ties before they were weaponized by Trump: ICE, the mass incar­cer­a­tion com­plex, and the con­cen­tra­tion of untram­meled war pow­ers in the exec­u­tive branch, not to men­tion the more sub­tle racial­ized vio­lence of our envi­ron­men­tal and eco­nom­ic poli­cies, which cre­ate such dam­age in com­mu­ni­ties of color.
To do all this is a tall order. But we have some pow­er­ful expe­ri­ences of pub­lic reck­on­ing to draw upon. The launch of the Nation­al Memo­r­i­al for Peace and Jus­tice is a com­pelling exam­ple of how we can grap­ple with the vio­lence of lynch­ing and Jim Crow and the per­sis­tence of white suprema­cy. The push to make repa­ra­tions a seri­ous pol­i­cy dis­cus­sion, the bat­tles over Con­fed­er­ate mon­u­ments, and The New York Times' 1619 Project all rep­re­sent inter­ven­tions that force us to bet­ter under­stand the real his­to­ry of racial vio­lence — and chal­lenge us to affirm our shared aspi­ra­tions for an antiracist, inclu­sive demo­c­ra­t­ic future. If it's a democ­ra­cy we want, we have to do more than just vote Trump out of office. Ulti­mate­ly, we will have to also reck­on with the racial vio­lence of the past four years, and build a shared com­mit­ment to dis­man­tle those ide­olo­gies and insti­tu­tions that pre­clude democracy's future.