To Defeat Trump, We Must Make Ourselves Ungovernable
A grassroots organizer on noncompliance with Trump and how to build an eco-socialist alternative from the ground up.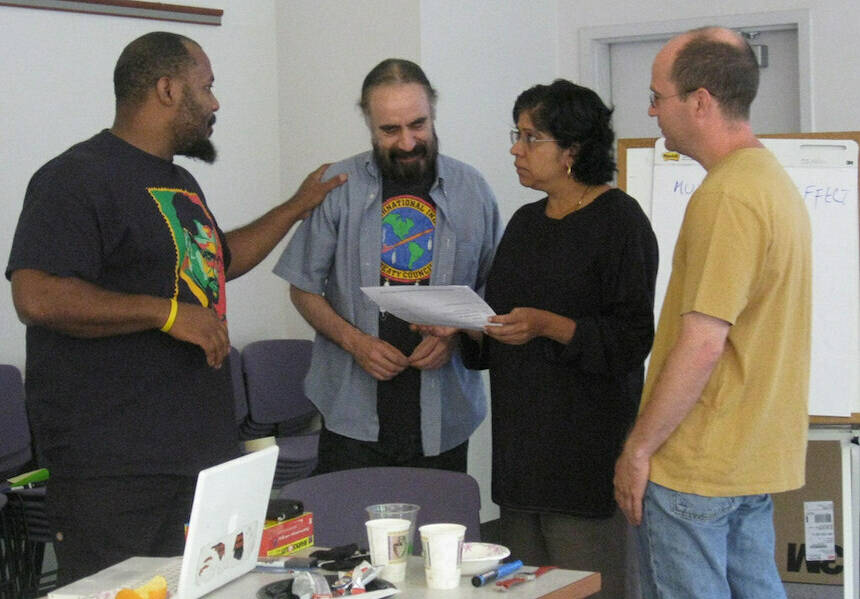 This piece first appeared on Alter​Net​.org
Strategies for large-scale disobedience should be buttressed by local plans that simultaneously prepare us for survival and orient us towards social transformation.
"We can­not and should not legit­imize the trans­fer of author­i­ty to a right-wing pop­ulist who has neo-fas­cist ori­en­ta­tions," Kali Akuno told Alter­Net over the phone. ​"We shouldn't legit­imize that rule in any form or fash­ion. We need to build a pro­gram of being ungovernable."
As the co-direc­tor of the Mis­sis­sip­pi-based group Coop­er­a­tion Jack­son and an orga­niz­er with the nation­wide Mal­colm X Grass­roots Move­ment, Akuno is one of count­less peo­ple across the coun­try work­ing dili­gent­ly to build a plat­form stur­dy enough to con­front Trump's America.
Movimien­to Cosecha, led by undoc­u­ment­ed peo­ple and immi­grants, is plan­ning to go on the offen­sive to orga­nize a migrant boy­cott and gen­er­al strike demand­ing ​"per­ma­nent pro­tec­tion, dig­ni­ty, and respect of immi­grants." Groups includ­ing Desis Ris­ing Up and Mov­ing (DRUM) are already strik­ing pre­emp­tive blows against a poten­tial Mus­lim reg­istry under Trump by suc­cess­ful­ly demand­ing that the Oba­ma admin­is­tra­tion elim­i­nate the reg­u­la­to­ry frame­work for a Bush-era reg­istry. The New Sanc­tu­ary Move­ment, mean­while, is get­ting ready to mobi­lize large num­bers of peo­ple to inter­vene against a poten­tial esca­la­tion of raids tar­get­ing immigrants.
For Akuno, whose orga­ni­za­tions strive for self-deter­mi­na­tion for peo­ple of African descent and the eco-social­ist trans­for­ma­tion of soci­ety as a whole, now is an impor­tant time for move­ments to be talk­ing to each oth­er and strate­giz­ing how to unfold a pro­gram of non­com­pli­ance and non­co­op­er­a­tion on both the fed­er­al and state lev­els. ​"We are not going to legit­imize this régime, and we are going to try to draw a deep­er lev­el of crit­i­cism to the entire sys­tem," he empha­sized. ​"If Trump and Clin­ton were the best the sys­tem could offer, there is some­thing wrong with the sys­tem. There always has been. We need to start envi­sion­ing what kind of future we want and need."
A call for civ­il ser­vants to resist
"A core com­po­nent of resis­tance is to get the class of civ­il ser­vants, par­tic­u­lar­ly on the fed­er­al but also the state lev­el, to not com­ply with arbi­trary laws and poli­cies that are going to be cre­at­ed," said Akuno. ​"To not rec­og­nize the laws we know are com­ing that will dis­crim­i­nate against Black peo­ple, Lati­nos, immi­grants and queer peo­ple. There is no need for any­one to com­ply. Let's not give it legit­i­ma­cy just because it's the law. We need to be pre­pared to dis­obey and engage in civ­il dis­obe­di­ence. We need to get ready for that now."
Akuno said there are already encour­ag­ing signs that such resis­tance is build­ing among civ­il ser­vants. Con­cerned that crit­i­cal cli­mate data will van­ish under a cli­mate-change deny­ing Trump admin­is­tra­tion, sci­en­tists and mete­o­rol­o­gists are work­ing to copy and safe­ly store pub­lic data using inde­pen­dent servers. Ear­li­er this month, the Uni­ver­si­ty of Toron­to held a ​"Guer­ril­la Archiv­ing" event invit­ing vol­un­teers to ​"join in a full day of hackathon activ­i­ties in prepa­ra­tion for the Trump pres­i­den­cy." The web­site ​"Cli­mate Mir­ror" was erect­ed as part of an effort to ​"mir­ror pub­lic cli­mate datasets before the Trump Admin­is­tra­tion takes office to make sure these datasets remain freely and broad­ly accessible."
Mean­while, media reports are emerg­ing that some Depart­ment of Ener­gy offi­cials are refus­ing to com­ply with a Trump admin­is­tra­tion demand to hand over the names of all of the agency's con­trac­tors and employ­ers who have worked on key cli­mate poli­cies under Pres­i­dent Barack Oba­ma. The request elicit­ed con­cerns of a witch hunt and purge orches­trat­ed by the incom­ing admin­is­tra­tion. But The Inde­pen­dent report­ed ear­li­er this month, ​"The US Depart­ment of Ener­gy (DOE) has refused to answer ques­tions issued to them by Don­ald Trump's tran­si­tion team."
In a let­ter dat­ed Decem­ber 28, attor­ney gen­er­al offices from 13 states threat­ened lit­i­ga­tion against Trump if he dis­cards the Clean Pow­er Plan, as he has vowed to do.
Such resis­tance, of course, con­trasts with the nar­ra­tive of a ​"peace­ful tran­si­tion of pow­er" at times embraced by the Oba­ma admin­is­tra­tion and much of the Demo­c­ra­t­ic par­ty. But among low­er-lev­el work­ers, oppor­tu­ni­ties for resis­tance are man­i­fold. Accord­ing to Akuno, ​"it is impres­sive to see a cer­tain lev­el of resis­tance that mem­bers of civ­il soci­ety are already engag­ing in. I don't think this should be tak­en light­ly. A broad alliance can be made, with a clear artic­u­la­tion of a call for resistance."
Akuno empha­sized that such resis­tance is just one prong of a broad­er strat­e­gy that he says entails ​"not going to work, not par­tic­i­pat­ing in your run-of-the-mill eco­nom­ic activ­i­ties, with the hope and aim that we can build pro­longed acts of civ­il dis­obe­di­ence that lead to a gen­er­al strike." While such plans are not ful­ly fleshed out, he not­ed orga­ni­za­tions across the coun­try are active­ly dis­cussing such a possibility.
"

Build and fight"

Strate­gies for large-scale dis­obe­di­ence should be but­tressed by local plans that simul­ta­ne­ous­ly pre­pare us for sur­vival and ori­ent us towards social trans­for­ma­tion, he argued. ​"Coop­er­a­tion Jack­son is in the midst of a piv­ot that we're call­ing, ​'Build and Fight,' " said Akuno, explain­ing that the ini­tia­tive is premised on the assump­tion that ​"the Left's infra­struc­ture domes­ti­cal­ly and inter­na­tion­al­ly is pro­found­ly weak. There needs to be a build­ing piece in our view. This has to be a pri­ma­ry focus, and we want to build some­thing that leans in an anti-cap­i­tal­ist ori­en­ta­tion, like com­mu­ni­ty-pro­duc­tion based, coop­er­a­tive­ly-owned dig­i­tal fabrication."

For inspi­ra­tion, Coop­er­a­tion Jack­son looks to Black free­dom orga­niz­ers like Fan­nie Lou Hamer, who, in 1969, helped found the Free­dom Farm Coop­er­a­tive in Sun­flower Coun­ty, Miss., which was aimed at boost­ing food secu­ri­ty and inde­pen­dence for Black com­mu­ni­ty mem­bers who faced sys­tem­at­ic dis­pos­ses­sion. The Fed­er­a­tion of South­ern Coop­er­a­tives, mean­while, has played a crit­i­cal role in pro­tect­ing those com­mu­ni­ties on the front­lines of Black free­dom and civ­il rights movements.

Accord­ing to Akuno, now is a time to for­ti­fy infra­struc­ture for auton­o­my and resis­tance. ​"That's where co-ops, land trusts, time bank­ing, mutu­al exchange, com­mu­ni­ty pro­duc­tion and oth­er new social rela­tion­ships come in," he said. ​"We want to build soci­ety in a pre­fig­u­ra­tive way. We want a guar­an­teed lev­el of food secu­ri­ty and ener­gy secu­ri­ty. We need bot­tom-up solu­tions to sus­tain our­selves and trans­form the world."

Towards this end, Coop­er­a­tion Jack­son is build­ing three green coop­er­a­tives, as well as an eco-vil­lage, pro­tect­ed by a com­mu­ni­ty land trust. These bot­tom-up alter­na­tives are cou­pled with a push for poli­cies aimed at a ​"just tran­si­tion" away from poli­cies that wors­en cli­mate change and envi­ron­men­tal racism.

In mate­ri­als emailed to Alter­Net, the orga­ni­za­tion explained that its approach is ​"premised on end­ing our sys­temic depen­dence on the hydro-car­bon indus­try and the cap­i­tal­ist-dri­ven need for end­less growth on a plan­et with lim­it­ed resources, while cre­at­ing a new, demo­c­ra­t­ic econ­o­my that is cen­tered around sus­tain­able meth­ods of pro­duc­tion and dis­tri­b­u­tion that are more local­ized and coop­er­a­tive­ly owned and controlled."

"We need to be build­ing par­tic­i­pa­to­ry demo­c­ra­t­ic struc­tures from below," Akuno empha­sized. ​"We should be build­ing people's assem­blies, not as a sub­sti­tute of the state, but to deal with areas where the neolib­er­al state is fail­ing to pro­vide basic social services."
Learn­ing from history
"This moment calls us to real­ly look at our col­lec­tive his­to­ry crit­i­cal­ly," said Akuno. ​"In real­i­ty, this is not a demo­c­ra­t­ic soci­ety, nev­er has been. But, it's based on demo­c­ra­t­ic myths, not the con­crete prac­tice of democ­ra­cy. We can look at the strug­gles of indige­nous, Black, Xican@, Puer­to Rican com­mu­ni­ties and draw new lessons. We can win gen­uine mul­tira­cial class uni­ty that can ben­e­fit us dur­ing this time of struggle."
Akuno empha­sized that there are plen­ty of lessons to be learned from strug­gles around the world. ​"In the 1950s through ​'80s, move­ments fought the right-wing neo-fas­cist dic­ta­tor­ships of Argenti­na and Chile," he said. ​"It took decades to turn the tide, peo­ple were orga­niz­ing on an under­ground basis after most of the Left was liq­ui­dat­ed. How folks orga­nized and dele­git­imized the régime — I think there's a lot to be learned from that."
From South Africa's anti-apartheid move­ment to Spain's civ­il war to 1930s-era Ger­many, Akuno empha­sized that we need to ​"use his­to­ry as a guide." But he also under­scored that we have to rec­og­nize what is unique about this moment, which he says emerges from a unique­ly Amer­i­can lega­cy of ​"white suprema­cy in its seg­re­ga­tion­ist apartheid form."
"The ori­en­ta­tion we're tak­ing is not just about sur­viv­ing Trump, but draw­ing atten­tion to the fact that the sys­tem was already head­ing towards more severe types of repres­sion, sur­veil­lance and aus­ter­i­ty," he said. ​"We're also look­ing at the glob­al dynam­ics as to why right-wing pop­ulism and fas­cism is spread­ing internationally."
What is clear, says Akuno, is that the right-wing pop­ulism of the Trump admin­is­tra­tion will not be defeat­ed by civ­il dis­course and lib­er­al democ­ra­cy. He empha­sized, ​"If we are seri­ous and stead­fast, we can cre­ate a clear and com­pre­hen­sive mes­sage around being ungovernable."
Sarah Lazare is web edi­tor for In These Times. She comes from a back­ground in inde­pen­dent jour­nal­ism for pub­li­ca­tions includ­ing The Nation, Tom Dis­patch, YES! Mag­a­zine, The Inter­cept and Al Jazeera Amer­i­ca. A for­mer staff writer for Alter­Net and Com­mon Dreams, Sarah coedit­ed the book About Face: Mil­i­tary Resisters Turn Against War. Fol­low her on Twit­ter at @sarahlazare.