Trump's Immigration Raids May Be Targeting Sanctuary Cities
Organizers see a pattern in escalating ICE raids.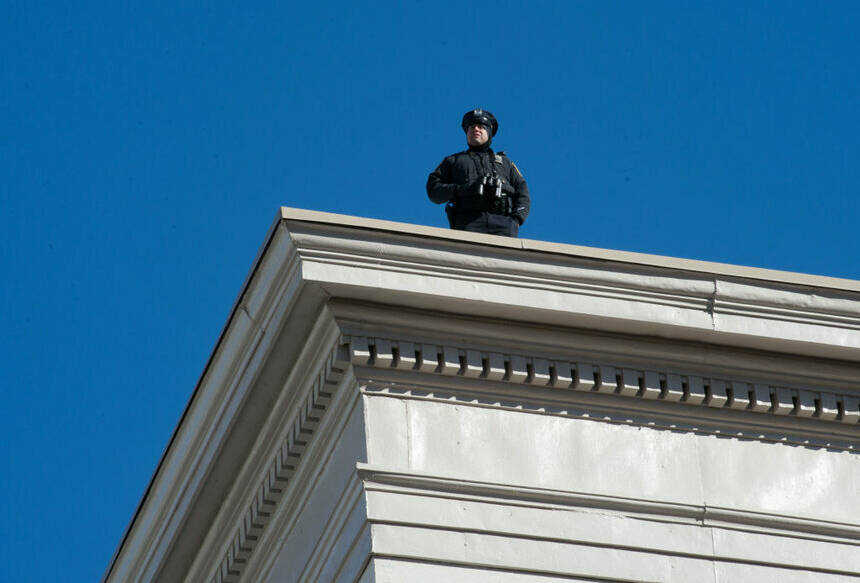 This post first appeared at Alter­Net.
"They were pulling people over on the side of the road, apprehending them at their homes, knocking on doors and profiling people."
As Attor­ney Gen­er­al Jeff Ses­sions dou­bles down on Pres­i­dent Don­ald Trump's threats to crack down on sanc­tu­ary cities, evi­dence is mount­ing that the admin­is­tra­tion has already made them the tar­get of retal­ia­to­ry immi­gra­tion raids as part of a back­door effort to force compliance.
The term ​"sanc­tu­ary city" refers to the hun­dreds of juris­dic­tions across the Unit­ed States that, to one degree or anoth­er, lim­it coop­er­a­tion with fed­er­al immi­gra­tion authorities.
CNN report­ed on March 25 that an unnamed ​"senior U.S. immi­gra­tion offi­cial with direct knowl­edge of ongo­ing ICE actions" tes­ti­fied that fed­er­al author­i­ties have descend­ed upon sanc­tu­ary cities to pres­sure them to coop­er­ate. Jour­nal­ist Maria San­tana wrote, ​"High-rank­ing ICE offi­cials have dis­cussed in inter­nal meet­ings car­ry­ing out more raids on those loca­tions [sanc­tu­ary cities]."
While Santana's source did not reveal his or her iden­ti­ty, a fed­er­al judge pro­claimed in open court on March 20 that he was told first­hand by fed­er­al agents that aggres­sive immi­gra­tion raids in Austin this Feb­ru­ary were orches­trat­ed in direct retal­i­a­tion for sanc­tu­ary poli­cies adopt­ed by a local sher­iff. U.S. Mag­is­trate Judge Andrew Austin's asser­tion was first report­ed by Tony Plo­het­s­ki of the Austin American-Statesman.
In ear­ly Feb­ru­ary, Immi­gra­tion and Cus­toms Enforce­ment (ICE) car­ried out aggres­sive sweeps through­out Austin, arrest­ing at least 51 peo­ple, as part of coor­di­nat­ed raids across the coun­try. ​"They were pulling peo­ple over on the side of the road, appre­hend­ing them at their homes, knock­ing on doors and pro­fil­ing peo­ple," Cristi­na Park­er, an orga­niz­er with Grass­roots Lead­er­ship, told AlterNet.
On Jan­u­ary 20, the same day Don­ald Trump was inau­gu­rat­ed, Travis Coun­ty Sher­iff Sal­ly Her­nan­dez announced a plan to reduce vol­un­tary com­pli­ance with fed­er­al immi­gra­tion detain­er requests at the coun­ty jail. The ini­tia­tive con­sti­tut­ed a direct response to years of Austin-area grass­roots orga­niz­ing led by immi­grant com­mu­ni­ties, which mobi­lized sus­tained resis­tance to a surge in depor­ta­tions stem­ming from the imple­men­ta­tion of a Secure Com­mu­ni­ties pro­gram in 2009.
While Hernandez's plan, which went into effect Feb­ru­ary 1, was cheered by immi­grant jus­tice groups as a ​"step for­ward," it falls short of orga­ni­za­tions' calls for a com­plete end to col­lab­o­ra­tion between local law enforce­ment and ICE, as it allows for con­tin­ued coop­er­a­tion for indi­vid­u­als charged with cer­tain crimes.
Nonethe­less, Judge Austin said he has first­hand infor­ma­tion that the raids were con­duct­ed in direct retal­i­a­tion against Hernandez's policy.
Address­ing ICE agent Laron Bryant dur­ing a hear­ing, Austin not­ed that he, along with anoth­er fed­er­al mag­is­trate, was briefed in late Jan­u­ary that ​"we could expect a big oper­a­tion, agents com­ing in from out of town, that it was going to be a spe­cif­ic operation…It was relat­ed to us in that meet­ing that it was the result of the sheriff's new pol­i­cy that this was going to happen."
"My under­stand­ing is," Austin con­tin­ued, ​"one of the rea­sons that hap­pened was because the meet­ings that occurred with the field office direc­tor and the sher­iff didn't go very well."
This asser­tion direct­ly con­flicts with claims made by Depart­ment of Home­land Secu­ri­ty spokesper­son Gillian Chris­tensen that sweeps across the coun­try — includ­ing Atlanta, Chica­go, New York, the Los Ange­les area, North Car­oli­na and South Car­oli­na — were ​"rou­tine" enforce­ment actions.
"This retal­i­a­tion was a venge­ful tac­tic by ICE for all the progress the immi­grant com­mu­ni­ty has gained in this coun­ty in the last four years," said the Travis Coun­ty cam­paign, ICE Out of Austin. ​"This is as much an attack on the local demo­c­ra­t­ic process, the immi­grant com­mu­ni­ty and their lead­er­ship as it is on our sher­if­f's pol­i­cy. We fought too hard and too long to let ICE intim­i­date us back into accept­ing our depor­ta­tions. We will con­tin­ue to strug­gle and fight to end deportations."
Roksana Mun, direc­tor of strat­e­gy and train­ing for the New York-based group, Desis Ris­ing Up and Mov­ing, told Alter­Net, ​"We've seen a pat­tern of the admin­is­tra­tion tar­get­ing sanc­tu­ary cities and cities that have sanc­tu­ary poli­cies with­out using that word."
But some grass­roots orga­niz­ers empha­size that esca­la­tion is occur­ring across the board, and every juris­dic­tion faces increased threat.
Tania Unzue­ta, an orga­niz­er with the Chica­go-based orga­ni­za­tion Orga­nized Com­mu­ni­ties Against Depor­ta­tion (OCAD) and the nation­al group Mijente, told Alter­Net, ​"We've been see­ing more raids all over the coun­try, whether the city is sanc­tu­ary or not. We're see­ing felony charges where peo­ple are get­ting picked up in raids and hit with felony reen­try charges. The num­ber of raids and the pun­ish­ments are more severe. We're see­ing more shame­less stuff, like pick­ing up some­one at domes­tic vio­lence court, going after peo­ple doing com­mu­ni­ty ser­vice, going to pro­ba­tion offi­cers and street raids."
"Things are get­ting more intense, and there is no account­abil­i­ty," Unzue­ta con­tin­ued, not­ing: ​"I think the polit­i­cal mes­sag­ing of the Trump admin­is­tra­tion is to under­mine sanc­tu­ary cities and pun­ish the cities politically."
This mes­sag­ing was in full effect at a White House brief­ing on March 27, where Attor­ney Gen­er­al Jeff Ses­sions echoed Trump's pri­or threats to with­hold up to $4.1 bil­lion in fed­er­al grants from so-called sanc­tu­ary cities, pro­claim­ing: ​"Such poli­cies can­not continue."
Ses­sions' state­ments repeat­ed threats issued in a Jan­u­ary 25 exec­u­tive order, offer­ing no new pol­i­cy pre­scrip­tions. They came just one week after DHS released its first ever report on juris­dic­tions that do not com­ply with fed­er­al requests to detain indi­vid­u­als so that they can be placed in immi­gra­tion and poten­tial depor­ta­tion pro­ceed­ings (the list was rid­dled with errors).
Ses­sions' threats to with­hold fund­ing were imme­di­ate­ly assailed by legal experts, who say the Trump admin­is­tra­tion lacks the author­i­ty to take such action. ​"Despite the Trump administration's blus­ter and threats, the fed­er­al gov­ern­ment can­not coerce local police into becom­ing depor­ta­tion agents, and should not try to scare local author­i­ties into tak­ing ille­gal actions that under­mine pub­lic safe­ty and sub­ject them to lia­bil­i­ty," Omar Jad­wat, direc­tor of the Amer­i­can Civ­il Lib­er­ties Union's Immi­grants' Rights Project, said in a state­ment.
The Cen­ter for Tax and Bud­get Account­abil­i­ty argued in Decem­ber that the Trump admin­is­tra­tion may not have the author­i­ty to strip such funds with­out the con­sent of Congress.
Whether or not the Trump admin­is­tra­tion has the author­i­ty to pun­ish sanc­tu­ary cities finan­cial­ly, orga­niz­ers say now is an impor­tant time to defend — and expand—local sanc­tu­ary poli­cies. The Move­ment for Black Lives is team­ing up with Mijente to advance sanc­tu­ary cam­paigns across the Unit­ed States that defend pro­tec­tions from crim­i­nal­iza­tion at the hands of police and immi­gra­tion authorities.
"ICE has been behav­ing so bad­ly," said Unzue­ta. ​"It's the rea­son there needs to be pro­tec­tions for people."
Sarah Lazare is web edi­tor for In These Times. She comes from a back­ground in inde­pen­dent jour­nal­ism for pub­li­ca­tions includ­ing The Nation, Tom Dis­patch, YES! Mag­a­zine, The Inter­cept and Al Jazeera Amer­i­ca. A for­mer staff writer for Alter­Net and Com­mon Dreams, Sarah coedit­ed the book About Face: Mil­i­tary Resisters Turn Against War. Fol­low her on Twit­ter at @sarahlazare.