Donna Brazile's DNC Revelations Are a Sign the Left Is Winning the War in the Democratic Party
The centrist establishment is discredited—and party insiders like Brazile can tell which way the winds are blowing.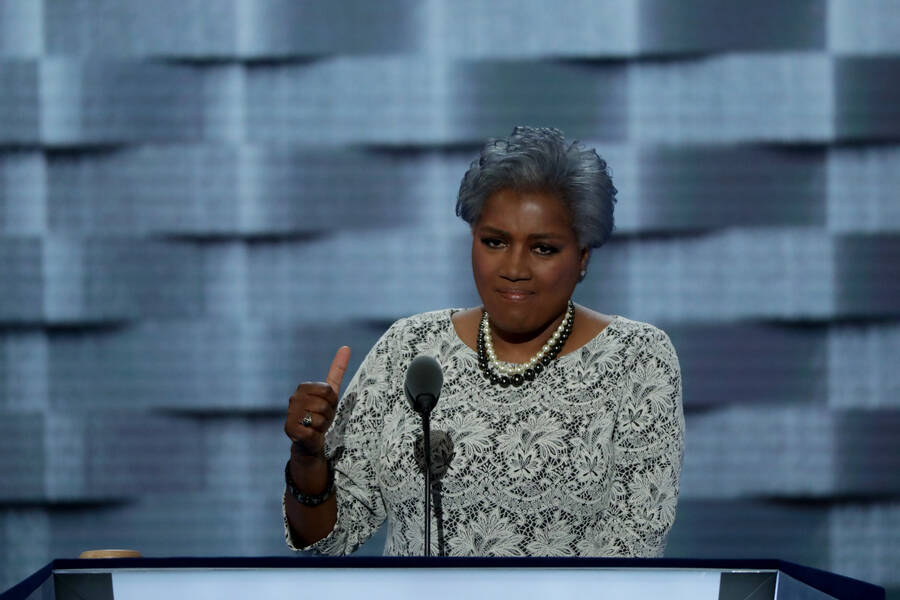 Last Thurs­day saw a news cycle in which the president's Twit­ter account tem­porar­i­ly van­ished, the GOP unveiled their newest tax cut bill for the wealthy, and bil­lion­aire hedge fund man­ag­er Robert Mer­cer half-heart­ed­ly attempt­ed to dis­tance him­self from the white nation­al­ists he's been bankrolling — includ­ing for­mer Bre­it­bart tech edi­tor Milo Yiannopou­los. But one of the day's most shock­ing sto­ries was also, ulti­mate­ly, one of the least sur­pris­ing: For­mer inter­im Demo­c­ra­t­ic Nation­al Com­mit­tee (DNC) Chair Don­na Brazile charges that the DNC and Hillary Clinton's pres­i­den­tial cam­paign were essen­tial­ly one and the same, and that Clin­ton was the pre-ordained Demo­c­ra­t­ic can­di­date from the very start of the race.
Democrats do this not because they necessarily like Sanders, or even agree with his policy positions, but because Sanders' standing with grassroots Democrats means they're forced to go along with it.
In a piece for Politi­co excerpt­ed from her upcom­ing book, Brazile describes how she stum­bled upon a fundrais­ing agree­ment between the DNC, Hillary for Amer­i­ca (a.k.a. the Clin­ton cam­paign), and the Hillary Vic­to­ry Fund (its fundrais­ing arm), which revealed that the Clin­ton cam­paign offered a share of its con­sid­er­able reserves of cash in return for the abil­i­ty to essen­tial­ly con­trol the DNC.
The alle­ga­tions of yet anoth­er thumb on the scale in favor of Clinton's cam­paign match up with infor­ma­tion gleaned last year from leaked emails. The batch includes mem­os from ear­ly 2015 that refer to Clin­ton as the nom­i­nee and out­line ways to set up debates to be most advan­ta­geous to her. Emails also show the DNC chair nix­ing an addi­tion­al debate and sug­ges­tions from var­i­ous par­ty insid­ers for how to attack Clinton's then-oppo­nent, Bernie Sanders.
Oth­er excerpts from the book reveal that, last Sep­tem­ber, Brazile briefly con­sid­ered replac­ing Clin­ton with Joe Biden as the party's nom­i­nee, sens­ing that the Clin­ton cam­paign had become ​"ane­mic" and tak­en on ​"the odor of failure."
Brazile's choice to go pub­lic with this infor­ma­tion, which she's known for more than a year, may appear cal­cu­lat­ed and self-serv­ing. She not only has an upcom­ing book to hawk, but a rep­u­ta­tion to reha­bil­i­tate after she was caught using her posi­tion at CNN to sur­rep­ti­tious­ly feed the Clin­ton cam­paign debate ques­tions in advance.
But that doesn't real­ly mat­ter. More impor­tant than whether or not she's act­ing cyn­i­cal­ly is the way she has cho­sen to re-var­nish her stand­ing: engag­ing in the Great Amer­i­can Pas­time of dunk­ing on the DNC and 2016 Clin­ton cam­paign while rein­forc­ing charges of col­lu­sion made by many Bernie Sanders supporters.
Just take a look at how Brazile's rhetoric has changed. Back in July 2016, she was con­cil­ia­to­ry toward embat­tled for­mer DNC Chair Deb­bie Wasser­man Schultz, defend­ing her as ​"the fire­wall between activists in the par­ty and elect­ed lead­ers. And when you're the fire­wall, you're a tar­get." Now, Brazile says that Wasser­man Schultz ​"was not a good man­ag­er" and ​"had not been the most active chair in fundrais­ing at a time when Pres­i­dent Barack Obama's neglect had left the par­ty in sig­nif­i­cant debt."
This is quite the depar­ture from busi­ness-as-usu­al. Brazile is a par­ty loy­al­ist who, over the past three decades, has patient­ly climbed the rungs of the Demo­c­ra­t­ic Par­ty lad­der. She's been a sta­ple of the par­ty infra­struc­ture since at least as far back as 1988, when she worked on the Michael Dukakis pres­i­den­tial cam­paign. Since then, she's served as a top aide to Mis­souri Rep. Dick Gephardt, the co-founder of the right-lean­ing Demo­c­ra­t­ic Lead­er­ship Coun­cil, worked as Al Gore's cam­paign man­ag­er and, in 2011, became the inter­im DNC chair. Brazile was also the Wash­ing­ton, D.C. cam­paign direc­tor for Bill Clinton's 1996 re-elec­tion campaign.
If we know any­thing about ris­ing up through the ranks of a polit­i­cal par­ty, it's that you typ­i­cal­ly don't do it by vocif­er­ous­ly crit­i­ciz­ing the par­ty and its lead­er­ship. The fact that Brazile now appears to have cho­sen to side with the grass­roots activists who loathe the very par­ty estab­lish­ment she has spent her career with­in, sug­gests a sig­nif­i­cant shift.
It's one thing to win over nom­i­nal­ly sym­pa­thet­ic but over­ly cau­tious politi­cians to your cause. It's quite anoth­er to try to con­vince the reflex­ive­ly cen­trist par­ty appa­ratchiks and office-hold­ers who prize their careers over polit­i­cal prin­ci­ple. That Brazile appears to have thrown in her lot with the dis­grun­tled ​"Bernie Sanders wing" of the par­ty shows that, despite cen­trist Democ­rats' best efforts to main­tain insti­tu­tion­al con­trol, cracks are begin­ning to show in the party's estab­lish­ment consensus.
There have been signs of these cracks ever since the plush patron­age jobs many Demo­c­ra­t­ic oper­a­tives had been eye­ing failed to mate­ri­al­ize after Clinton's defeat. Sanders' pri­ma­ry cam­paign was cen­tered on a bold pro­gres­sive agen­da fea­tur­ing pol­i­cy posi­tions that had pre­vi­ous­ly been far out­side the Demo­c­ra­t­ic Par­ty main­stream. After 2016, a num­ber of these posi­tions have now been tak­en up by the wider party.
The $15 min­i­mum wage has trans­formed from a fringe demand to a pol­i­cy sup­port­ed by a major­i­ty of Sen­ate Democ­rats. And sin­gle-pay­er health­care — once writ­ten off by Clin­ton as a pol­i­cy that would ​"nev­er, ever hap­pen" — is now sup­port­ed by a third of Sen­ate Democ­rats, many of whom are up for re-elec­tion next year.
One of these new sin­gle-pay­er con­verts is New Jer­sey Sen. Cory Book­er. Book­er, a dar­ling of the phar­ma­ceu­ti­cal and finance indus­tries, has been crit­i­cized for appear­ing to do the bid­ding of the mon­eyed inter­ests that fill his cam­paign cof­fers. In 2012, he defend­ed GOP pres­i­den­tial can­di­date Mitt Romney's preda­to­ry pri­vate equi­ty firm Bain Cap­i­tal, like­ly owing to the fact that a quar­ter of his cam­paign fund­ing for his 2002 Newark may­oral run came from finan­cial firms in Man­hat­tan. More recent­ly, he vot­ed against an amend­ment that would have allowed the impor­ta­tion of cheap­er drugs from Cana­da after receiv­ing more mon­ey from phar­ma­ceu­ti­cal man­u­fac­tur­ers than almost every oth­er Demo­c­ra­t­ic senator.
Booker's pedi­gree is hard­ly a pro­file in pro­gres­sive courage. Yet even he has moved left on the issue of health­care, co-spon­sor­ing Sanders' recent­ly released Medicare for All bill. The fact that a cau­tious careerist awash in Big Phar­ma cash like Book­er thinks it's in his best inter­est to be seen as a pro­gres­sive cham­pi­on, and now pub­licly sup­ports a form of social­ized health insur­ance, is no small thing.
This Demo­c­ra­t­ic left­ward lurch can also be seen in the party's cau­tious treat­ment of Sanders. Democ­rats may anony­mous­ly grum­ble to Capi­tol Hill reporters about Sanders, but pub­licly they make a (some­what uneasy) show of kin­ship with him.
Sanders, while still offi­cial­ly an Inde­pen­dent, reg­u­lar­ly appears in tele­vi­sion debates osten­si­bly rep­re­sent­ing the Democ­rats. The DNC's ​"uni­ty tour" this spring fea­tured not only defeat­ed DNC chair can­di­date Kei­th Elli­son and Tom Perez, the man who beat him, but Sanders as well. When Hillary Clin­ton recent­ly attacked Sanders for doing ​"last­ing dam­age" to her cam­paign, few Democ­rats joined her, and most seemed annoyed she had done so. As for­mer Demo­c­ra­t­ic aide Brent Budowsky put it, ​"vir­tu­al­ly all of the most respect­ed Democ­rats in Amer­i­ca would rather have root canal work done by a sadis­tic den­tist than watch Hillary Clin­ton attack Bernie Sanders."
Democ­rats do this not because they nec­es­sar­i­ly like Sanders, or even agree with his pol­i­cy posi­tions, but because Sanders' stand­ing with grass­roots Democ­rats means they're forced to go along with it. Like it or not, Sanders is cur­rent­ly the most pop­u­lar politi­cian in the Unit­ed States. As Politi­co put it: ​"Sanders holds the whip hand. He push­es the par­ty. Then the par­ty, ter­ri­fied of los­ing his vot­ers, gets pushed."
Jere­my Corbyn's con­sol­i­da­tion of pow­er over the U.K. Labour par­ty is per­haps the purest dis­til­la­tion of this phe­nom­e­non. It's no hyper­bole to say the Labour estab­lish­ment hat­ed Cor­byn: They thought he was a joke, cease­less­ly leaked unflat­ter­ing and dam­ag­ing infor­ma­tion about his lead­er­ship to under­mine him, obstruct­ed his pol­i­cy pro­gram, pub­licly crit­i­cized and mocked him, occa­sion­al­ly yelled at him in Par­lia­ment, and open­ly plot­ted to remove him, which they failed to do mul­ti­ple times.
Yet when Cor­byn, run­ning on an ambi­tious­ly left­ist plat­form, achieved the biggest elec­toral turn­around for Labour in 70 years, the Labour MPs who had been siz­ing him up were forced to pub­licly eat their words. Past Cor­byn crit­ics were sud­den­ly eager to serve under him. This was not just because they were gen­uine­ly impressed with his elec­tion per­for­mance (some doubt­less were), but because they now had an irrefutable elec­toral incen­tive to do so. Per­haps more impor­tant­ly, they had very real fears about what Corbyn's new­found pow­er means for their polit­i­cal futures.
Ambi­tious Demo­c­ra­t­ic insid­ers are not typ­i­cal­ly prone to tak­ing posi­tions crit­i­cal of the par­ty. So when some­one like Don­na Brazile starts sound­ing like a Bernie­crat, you know something's changed. First you win over the careerists — then you win the war.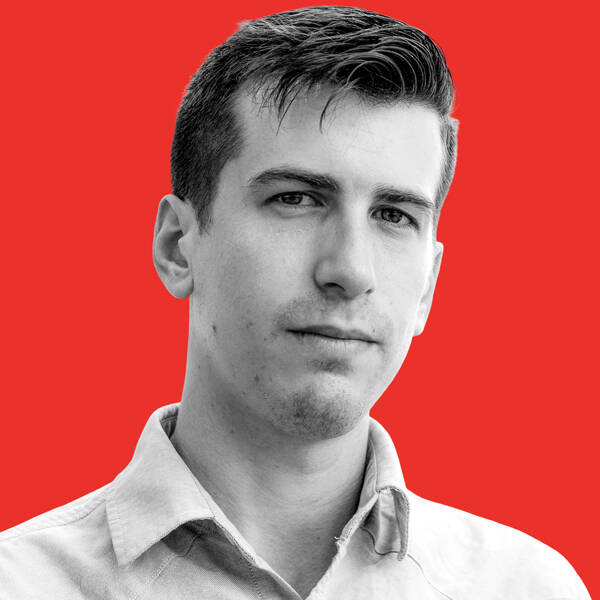 Branko Marcetic
is a staff writer at Jacobin mag­a­zine and a
2019
 – 
2020
Leonard C. Good­man Insti­tute for Inves­tiga­tive Report­ing fel­low. He is work­ing on a forth­com­ing book about Joe Biden.