How Ordinary Americans Can Welcome Migrants and Refugees With Open Arms
In 2015, ordinary Europeans welcomed refugees with open arms. Will we do the same with the caravan from Central America?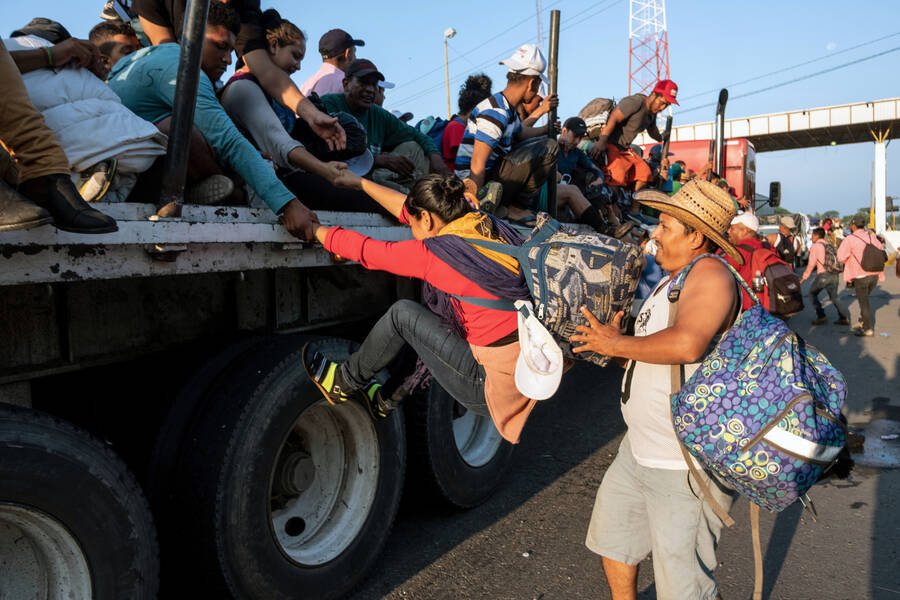 Thou­sands of peo­ple from Cen­tral Amer­i­ca are coura­geous­ly mak­ing their way north to seek refuge and com­pas­sion. What awaits them is a hos­tile U.S. bor­der, the U.S. mil­i­tary and a nation­al­ist fren­zy whipped up by right-wing politicians.
The migrants' heroic decision to band together and move as one isn't without precedent.
It's worth look­ing briefly at how we got here — and how we might get some­where better.
Pres­i­dent Don­ald Trump has framed the migrants' entire jour­ney as a plot of the Demo­c­ra­t­ic Par­ty and lib­er­al donor George Soros. That's an obvi­ous lie — and one shared by dan­ger­ous anti-Semi­tes and white suprema­cists like the Pitts­burgh shooter.
The notion that the peo­ple in the car­a­van are ​"crim­i­nals" attempt­ing to enter the Unit­ed States to do harm to Amer­i­cans is also false and offen­sive. First, giv­en the vio­lence car­ried out by Amer­i­can white suprema­cist ter­ror­ists in the last week alone, the notion that the threat to the safe­ty of peo­ple here lies out­side of the coun­try — among refugees — is bit­ter­ly absurd. But sec­ond­ly, there is actu­al­ly noth­ing ille­gal about approach­ing the U.S. bor­der and pur­su­ing asy­lum or refuge.
The case for Cen­tral Amer­i­cans receiv­ing asy­lum or refugee sta­tus is clear when one looks at the sit­u­a­tion that they are flee­ing — which the Unit­ed States bears tremen­dous respon­si­bil­i­ty for cre­at­ing. In 2009, for exam­ple, the Oba­ma admin­is­tra­tion legit­imized a right-wing coup in Hon­duras, which sparked a wave of repres­sion and vio­lence that con­tin­ues to dev­as­tate Hon­duran soci­ety today.
This came amid decades of fund­ing and arm­ing right-wing gov­ern­ments and forces in the region, nego­ti­at­ing free trade agree­ments and oth­er eco­nom­ic poli­cies that have made it impos­si­ble for many to earn a liv­ing. The Domini­can Repub­lic-Cen­tral Amer­i­ca Free Trade Agree­ment (CAF­TA-DR) with the Unit­ed States, which was passed under the Bush admin­is­tra­tion in 2004, has led to wide­spread aus­ter­i­ty and the loss of jobs through­out the region, forc­ing peo­ple to leave.
Through cycles of oppres­sion, incar­cer­a­tion and depor­ta­tion between U.S. and Cen­tral Amer­i­can cities, the Unit­ed States has played a key role in pro­duc­ing the noto­ri­ous gangs that many Cen­tral Amer­i­cans are fleeing.
So the real­i­ties of des­per­a­tion and dis­place­ment in the present — and hope for bet­ter futures — shap­ing the migra­tion from Cen­tral Amer­i­ca are more com­pli­cat­ed than most U.S. politi­cians let on. But the out­come need­n't be more repres­sion, nor a boon to the right.
Europe's Shin­ing Hour
The migrants' hero­ic deci­sion to band togeth­er and move as one isn't with­out precedent.
In 2015, peo­ple dis­placed from as far south as Cen­tral Africa and as far east as Cen­tral Asia streamed across the Mediter­ranean and into Europe through Greece and Italy. With migrants drown­ing in the sea in shock­ing num­bers year after year, the world watched as those who sur­vived the jour­ney walked togeth­er in their thou­sands toward Europe's urban centers.
It was mov­ing and inspir­ing. And then in the fall came more inspi­ra­tion: Ordi­nary Euro­peans gath­ered to wel­come the refugees.
They mobi­lized and arrived at train sta­tions in Vien­na and Munich with clothes, toys and food, applaud­ing and embrac­ing migrants as they exit­ed the trains. They ral­lied in Copen­hagen and Lon­don, rais­ing words of wel­come for refugees and protest against the gov­ern­ments that had resolved to turn them away.
These were the most vis­i­ble acts of sol­i­dar­i­ty, but there were count­less, less vis­i­ble ones. In Aus­tria, rail work­ers vowed to trans­port refugees to where they need­ed to go, even if it meant work­ing with­out pay. In Greece, which was reel­ing from dis­as­trous lev­els of aus­ter­i­ty, res­i­dents and vaca­tion­ers received migrants on the islands, shar­ing what they had, build­ing com­mu­ni­ty and assist­ing them — in some cas­es in vio­la­tion of the law.
In all of these cas­es, ordi­nary peo­ple did­n't wait for gov­ern­ments to open bor­ders or treat refugees with decen­cy. In many cas­es, ordi­nary peo­ple — refugees and res­i­dents of Europe — act­ed in defi­ance of governments.
Get­ting Ahead of the Right
Unfor­tu­nate­ly, the sit­u­a­tion for refugees try­ing to get into Europe today is grim.
One could, then, see the shin­ing and hope­ful moment of 2015 as a fleet­ing one that mere­ly gave way to the resur­gence of far-right, anti-migrant racism. After all, the news out of Europe is dom­i­nat­ed by ris­ing fas­cist and fas­cist-adja­cent politi­cians and parties.
An inte­ri­or and deputy prime min­is­ter in Italy is mak­ing racist poli­cies tar­get­ing shops owned by immi­grants and designed to humil­i­ate them. A pol­i­cy in Den­mark sep­a­rates chil­dren as young as one year old from fam­i­lies that live in large­ly migrant ​"ghet­tos" (the government's term) and enrolls them in manda­to­ry ​"Dan­ish val­ues" classes.
And then there are, of course, the walls and fences. Mace­do­nia and Hun­gary, which noto­ri­ous­ly cracked down on refugees in 2015, used the migra­tion as an oppor­tu­ni­ty to build bar­ri­ers on their bor­ders. Bul­gar­ia, Slove­nia and Latvia built fences in the same peri­od, fol­lowed by Britain and France build­ing a bar­ri­er at Calais to pre­vent migra­tion across the Eng­lish Channel.
While anti-migrant pol­i­tics are hard­ly new in Europe, right-wing politi­cians seized upon the 2015 sit­u­a­tion to turn the tide. But it did­n't have to go that way.
In Europe, the right wing and the forces of repres­sion were bet­ter orga­nized than those in sol­i­dar­i­ty with refugees. They were able to take advan­tage of the sit­u­a­tion for their purposes.
As thou­sands of refugees from Cen­tral Amer­i­ca approach the Unit­ed States, those of us who want to wel­come them face the chal­lenge of build­ing the net­works of sup­port to receive them, and of rais­ing our voic­es in sol­i­dar­i­ty with them. The pub­lic con­ver­sa­tion is dom­i­nat­ed by the pres­i­dent and the right-wing media, and des­per­ate­ly needs an inter­ven­tion from those of us who believe that the free­dom to migrate is a human right.
Though the past few years have seen a racist back­lash sweep Europe, over 1 mil­lion refugees were able to enter the con­ti­nent in 2015 and begin new lives there. That's a vic­to­ry, and was due to both the hero­ism of the refugees them­selves and the sol­i­dar­i­ty of Euro­peans who stood with them. And despite Trump's out­right lies, the migrants haven't pro­duced ram­pant crime in places like Ger­many. For what it's worth, crime has actu­al­ly declined in Ger­many since 2015.
The out­pour­ing of sol­i­dar­i­ty in Europe in 2015 has been eclipsed by anti-migrant reac­tion. But just because things played out that way then does­n't mean they will again. We don't have to sur­ren­der to history's past events; instead we should learn from them.
This time, let's be bet­ter orga­nized than the right. With Trump threat­en­ing to deploy the mil­i­tary to the bor­der, it is time to speak out.
This arti­cle was pro­duced in part­ner­ship with For­eign Pol­i­cy In Focus.
Khury Peter­son-Smith
is the Michael Rat­ner Mid­dle East Fel­low at the Insti­tute for Pol­i­cy Studies.