Dozens of Energy Regulators Applied for Industry Jobs in 2014
Documents obtained by Greenwire show that FERC employees are actively and frequently seeking employment with the companies they regulate.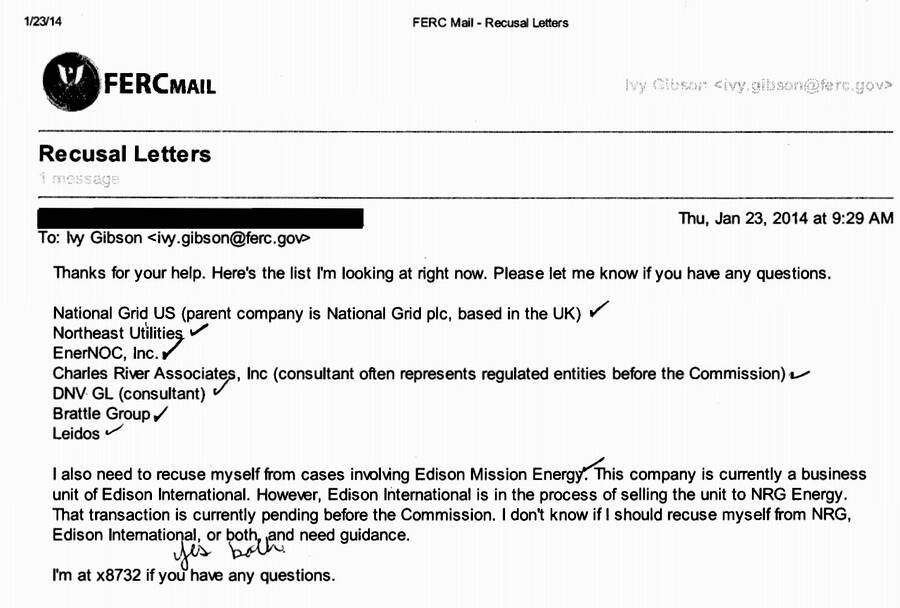 Appar­ent­ly, much like an Ivy League busi­ness or law degree, hav­ing FERC (Fed­er­al Ener­gy Reg­u­la­to­ry Com­mis­sion) on your resume makes you a hot com­mod­i­ty on the job mar­ket, espe­cial­ly in the very indus­tries — pow­er util­i­ties, oil and gas com­pa­nies and nat­ur­al gas exporters — that FERC reg­u­lates. And FERC appears to have no prob­lem with you active­ly seek­ing employ­ment with com­pa­nies in these indus­tries while still on the FERC pay­roll, as long as you inform FERC and recuse your­self from cas­es involv­ing those companies.
The reality is that the conflict of interest may come post facto: FERC employees are being hired for the value of the FERC relationships they can leverage in their new jobs.
In These Times pre­vi­ous­ly described FERC's rela­tion­ship with indus­try as a ​"revolv­ing door," but based on infor­ma­tion recent­ly received by ener­gy and envi­ron­men­tal web­site Green­wire in response to a Free­dom of Infor­ma­tion Act request, per­haps revolv­ing door isn't the cor­rect term. It is more like there is no door at all, and FERC is just a spring­board to lucra­tive pri­vate-sec­tor employment.
The doc­u­ments Green­wire received includ­ed let­ters of recusal filed by FERC employ­ees noti­fy­ing their supe­ri­ors that they were active­ly seek­ing work with cor­po­ra­tions that FERC reg­u­lat­ed. While the prac­tice of noti­fy­ing your boss that you are apply­ing for jobs else­where might seem for­eign to pri­vate sec­tor employ­ees, these let­ters are required at gov­ern­ment agen­cies if there may be a con­flict of interest.
Accord­ing to the new­ly released doc­u­ments, more than 70 of these let­ters were filed in 2014 (FERC employs approx­i­mate­ly 1,300 peo­ple). Most of the names of the employ­ees on the doc­u­ments are redact­ed, but it is like­ly that some of the let­ters are from the same employ­ee seek­ing mul­ti­ple oppor­tu­ni­ties. In one let­ter, an ambi­tious employ­ee dis­closed seek­ing employ­ment with eight com­pa­nies reg­u­lat­ed by FERC.
And while the recusals are seen as a way to avoid con­flicts of inter­est, the real­i­ty is that the con­flict of inter­est can emerge lat­er: FERC employ­ees are being hired for the val­ue of the FERC rela­tion­ships they can lever­age in their new jobs.
Green­wire inter­viewed Travis Fish­er, a for­mer FERC employ­ee, to learn why the ener­gy indus­try is so keen to hire peo­ple like him. Fish­er now works for the Insti­tute for Ener­gy Research, fund­ed in part by the Koch broth­ers and Exxon Mobil, a think tank that pub­lish­es anti-renew­able-ener­gy arti­cles like ​"Solar Pan­els: Anoth­er Tax­pay­er Rip-Off."
"Some­one fresh out of FERC is extra valu­able because of their knowl­edge of the pol­i­tics of the orga­ni­za­tion," Fish­er told Greenwire.
This would indi­cate that instead of being an impar­tial reg­u­la­to­ry agency, FERC is a polit­i­cal envi­ron­ment where who you know mat­ters. And thus hir­ing a FERC employ­ee with inti­mate knowl­edge of orga­ni­za­tion­al pol­i­tics is a smart invest­ment for a cor­po­ra­tion seek­ing approval from FERC.
This envi­ron­ment was described to In These Times by for­mer FERC employ­ee Car­olyn Elefant.
"Nobody breaks the rules," says Ele­fant. ​"But rules are one thing and per­son­al rela­tion­ships are anoth­er. …It's small­er things like being able to get a meet­ing with a com­mis­sion­er or talk to some­body on staff. … And it's also know­ing the kinds of things that FERC will do. So, those things can all give you an advantage."
Cor­po­ra­tions, it appears, are lin­ing up to pay for that advan­tage. It's the free mar­ket at work. Need help deal­ing with reg­u­la­tions? What bet­ter way than to hire a for­mer regulator.
Justin Mikul­ka
is a free­lance writer and video pro­duc­er focused on issues relat­ing to the ener­gy indus­try. He is a con­tribut­ing writer at DeSmog­blog and his writ­ing has appeared in
Alter­net, Truthout
and Nation of Change. Justin has a degree in Civ­il and Envi­ron­men­tal engi­neer­ing from Cor­nell Uni­ver­si­ty. E‑mail him at mikul­ka at gmail​.com, fol­low him on Twit­ter @justinmikulka or vis­it his web­site at
www​.justin​mikul​ka​.com
.