For FERC's Sake, Regulate
The most important government agency you've never heard of has never met a fracking lobbyist it didn't like.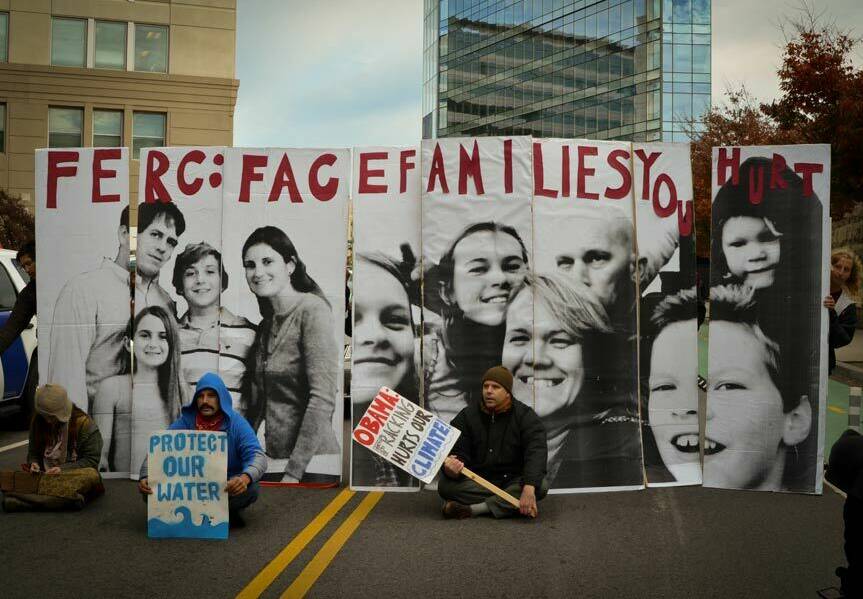 "In the ener­gy world, FERC reg­u­lates ​'mid­stream everything.' "
Joe Lieberman observed, 'Oftentimes, FERC seemed to view itself not as a regulator but as a facilitator—not as a market cop, but as a market cheerleader.'
So said Alas­ka Sen. Lisa Murkows­ki ® in a July 2014 floor speech, answer­ing her own ques­tion about why nom­i­na­tions to the lit­tle-known Fed­er­al Ener­gy Reg­u­la­to­ry Com­mis­sion mat­tered. ​"Mid­stream," in ener­gy par­lance, is the busi­ness of get­ting ener­gy from where it is pro­duced to where it is used. FERC's purview of ​"mid­stream every­thing" includes oil and gas pipelines and stor­age facil­i­ties — infra­struc­ture that is expe­ri­enc­ing rapid growth, thanks to the shale oil and gas boom dri­ven by hydraulic frac­tur­ing, aka frack­ing. There is a lot more ener­gy to move around, and if you want to build new infra­struc­ture to move it, you need FERC's permission.
FERC has a long­stand­ing rep­u­ta­tion as an indus­try-friend­ly agency. As then-Gov­ern­men­tal Affairs Com­mit­tee Chair­man Joe Lieber­man observed in a scathing report after the Enron col­lapse in 2002, ​"Often­times, FERC seemed to view itself not as a reg­u­la­tor but as a facil­i­ta­tor — not as a mar­ket cop, but as a mar­ket cheer­leader." As the main gov­ern­ment body charged with reg­u­lat­ing Enron, FERC exhib­it­ed ​"a shock­ing absence of reg­u­la­to­ry vig­i­lance," the report con­clud­ed, as well as an iron­ic fail­ure ​"to meet the demands of the new, mar­ket-based sys­tem that the agency itself has championed."
The make­up of today's FERC sug­gests lit­tle has changed. Two of the five com­mis­sion­ers, Cheryl LaFleur and Philip Moeller, are for­mer ener­gy com­pa­ny exec­u­tives — at Nation­al Grid and Alliant Ener­gy, respec­tive­ly. Two oth­ers, Colette Hon­or­able and Tony Clark, are for­mer heads of state pub­lic ser­vice com­mis­sions, bod­ies that are noto­ri­ous­ly cap­tive to the pub­lic util­i­ty com­pa­nies they over­see. (A for­mer head of Florida's Pub­lic Ser­vice Com­mis­sion once described it as ​"a whol­ly-owned sub­sidiary of the state's biggest pow­er com­pa­nies.") The only com­mis­sion­er with­out a his­to­ry of indus­try con­nec­tions is Nor­man Bay, pre­vi­ous­ly direc­tor of FERC's Office of Enforce­ment and before that, a law professor.
Murkows­ki, a long­time cham­pi­on of the oil and gas indus­try (and now chair of the Ener­gy and Nat­ur­al Resources Com­mit­tee) has made it her busi­ness to keep on top of FERC nom­i­na­tions. In 2013, she led GOP efforts against Ron Binz, Pres­i­dent Obama's nom­i­nee for an open seat. A Wall Street Jour­nal edi­to­r­i­al oppos­ing the nom­i­na­tion called Binz ​"the most impor­tant and rad­i­cal Oba­ma nom­i­nee you've nev­er heard of." What were the rad­i­cal views that Binz espoused? Bloomberg report­ed that the sen­a­tors lead­ing the charge were ​"con­cerned Binz would sup­port renew­able ener­gy at the expense of coal." He was also on the record say­ing he believes in cli­mate change. He end­ed up with­draw­ing his name.
Cli­mate-change avoiders
While cur­rent FERC Chair Cheryl LaFleur (for­mer act­ing CEO of Nation­al Grid) hasn't denied the exis­tence of cli­mate change, she has told the ener­gy web­site E&E News that there's no good way to mea­sure the envi­ron­men­tal effects of green­house gas­es from pipelines or liq­ue­fied nat­ur­al gas (LNG) export ter­mi­nals. EPA spokesper­son Mon­i­ca Lee dis­agreed, not­ing the exis­tence of ​"many well-devel­oped tools for esti­mat­ing green­house gas emis­sions from projects, which agen­cies, includ­ing FERC, can draw on in con­sid­er­ing envi­ron­men­tal impacts."
FERC's unwill­ing­ness to look at cli­mate impacts — despite being required to do so by the Nation­al Envi­ron­men­tal Pol­i­cy Act — is what con­cerns envi­ron­men­tal groups who are try­ing to stem a tide of pro­posed mul­ti-bil­lion-dol­lar LNG export facil­i­ties to han­dle all the fracked shale gas. While indus­try touts nat­ur­al gas as a clean alter­na­tive ener­gy, oppo­nents cite a Depart­ment of Ener­gy study that found the cli­mate impact of export­ing U.S. nat­ur­al gas to Asian mar­kets the same as if those mar­kets con­tin­ue to use coal. A total of 14 pro­pos­als for LNG export ter­mi­nals had been sub­mit­ted to FERC as of Feb­ru­ary. Before con­struc­tion can begin, how­ev­er, they require FERC's stamp of approval. So far, FERC has approved four and has yet to deny any.
In Octo­ber, FERC approved a con­tro­ver­sial gas stor­age facil­i­ty to be built in a for­mer salt mine cav­ern along Seneca Lake in the town of Read­ing in upstate New York. What wor­ries activists is the prospect of salt cav­ern col­laps­es, like the one in Bay­ou Corne, Louisiana, that caused a 32-acre sink­hole. Activists believe that stor­ing methane in crum­bling salt cav­erns along the lake could result in a cav­ern col­lapse or in leaks that could con­t­a­m­i­nate the lake, a source of drink­ing water for 100,000 people.
"With­out ques­tion, [FERC is] refus­ing to do any kind of seri­ous analy­sis on the green­house gas impli­ca­tions or the cli­mate impli­ca­tions of these deci­sions," says Ted Glick, nation­al cam­paign coor­di­na­tor for the Chesa­peake Cli­mate Action Net­work (CCAN). In Sep­tem­ber, FERC green­lit Domin­ion Resources' con­tro­ver­sial expan­sion to its Cove Point LNG export facil­i­ty on the shores of the Chesa­peake Bay in Maryland.
Like oth­er anti-frack­ing groups, CCAN is des­per­ate to shine a light on the role played by FERC. CCAN and oth­er groups mak­ing up the Beyond Extreme Ener­gy net­work block­ad­ed the entrance to FERC's offices in Wash­ing­ton, D.C. last sum­mer and fall, result­ing in the arrest of more than 90 protesters.
In the courts, CCAN plans to join Earth­jus­tice in a law­suit chal­leng­ing the Cove Point approval. How­ev­er, Car­olyn Ele­fant, a one-time FERC employ­ee and now an inde­pen­dent lawyer who has rep­re­sent­ed clients chal­leng­ing FERC deci­sions, is blunt in assess­ing the odds of such suits: ​"The cas­es are very dif­fi­cult to win."
What­ev­er the mar­ket wants
FERC is unusu­al among reg­u­la­to­ry agen­cies in con­sid­er­ing itself a boost­er of eco­nom­ic growth. The commission's 2014 strate­gic plan includes ​"foster[ing] eco­nom­ic and envi­ron­men­tal ben­e­fits for the nation through approval of nat­ur­al gas and hydropow­er projects."
To show the eco­nom­ic ben­e­fits of a project, a peti­tion­er need only present FERC with buy­ers. As Chair­man LaFleur has said, ​"We eval­u­ate the need for the project based on mar­ket demand. Do they have peo­ple sign­ing up for the gas?" In the case of Cove Point, those con­tracts were with com­pa­nies in Japan and India eager to import nat­ur­al gas.
Ele­fant says that FERC tends to assume from the out­set that projects are jus­ti­fied. ​"They pre­sume, ​'Why else would a com­pa­ny pur­sue a project if they didn't think they could make mon­ey off of it?' And that is the bot­tom line," Ele­fant tells In These Times. ​"The pre­sump­tion is that a pipeline com­pa­ny or a larg­er com­pa­ny is going to have resources and smart peo­ple that are going to get the right results."
A revolv­ing door
FERC's faith in the ener­gy indus­try is ground­ed in its cozy rela­tion­ships. Ted Glick of CCAN, who has attend­ed five FERC meet­ings since 2013, describes an ​"old boys' club" atmos­phere in which oil and gas indus­try reps joke and chat with com­mis­sion­ers. ​"It's just pal­pa­ble," he says.
Some of the com­mis­sion­ers may be chat­ting with future employ­ers. ​"Any­one who is a com­mis­sion­er can have their pick of what they want to do next," explains Ele­fant. For for­mer FERC com­mis­sion­er Suedeen Kel­ly, that meant leav­ing FERC for mega­law firm Pat­ton Bog­gs LLP, which advis­es clients on FERC com­pli­ance, before join­ing the high-pro­file D.C. lob­by­ing firm Akin Gump (dubbed K Street's ​"top dog" last year by Politi­co). Kelly's two terms as a FERC com­mis­sion­er are men­tioned many times on the Akin Gump web­site, and she leads an ener­gy team that includes sev­er­al oth­er for­mer FERC employees.
Like­wise, Van Ness Feld­man, the firm rep­re­sent­ing Domin­ion on the Cove Point project, is home to Robert Nord­haus, a for­mer FERC gen­er­al coun­sel. Nex­tEra, one of the util­i­ty com­pa­nies cit­ed in a Forbes arti­cle about the reg­u­la­to­ry cap­ture of the Flori­da Pub­lic Ser­vice Com­mis­sion, employs a for­mer FERC chair­man. The list goes on and on. The most recent FERC alum to make the jump was Robin Lunt, who left the com­mis­sion in Feb­ru­ary to join the ener­gy giant Inno­vari as a gen­er­al counsel.
Fur­ther evi­dence of the tight rela­tion­ship between FERC and the nat­ur­al gas indus­try emerged in March when FERC hired Tetra Tech, a mem­ber of the gas indus­try lob­by­ing group Mar­cel­lus Shale Coali­tion, to do the envi­ron­men­tal analy­sis for the pro­posed Pen­nEast nat­ur­al gas pipeline. The coalition's whole­sale sup­port of nat­ur­al gas projects is expressed in a Jan­u­ary 2013 let­ter from Mar­cel­lus Shale CEO Kathryn Klaber to U.S. Sec­re­tary of Ener­gy Steven Chu, which sug­gests ​"mov­ing for­ward with approval of all pend­ing LNG export applications."
The hir­ing of Tetra Tech to con­duct the review has under­stand­ably angered activists. New Jer­sey Sier­ra Club Direc­tor Jeff Tit­tel described the choice as ​"an out­ra­geous con­flict of interest."
Accus­tomed to being close to indus­try but dis­tant from the pub­lic, FERC seems dis­com­fit­ed at the atten­tion from envi­ron­men­tal­ists. In Jan­u­ary, Chair LaFleur told the Nation­al Press Club, ​"These groups are active in every FERC dock­et, as they should be, as well as in my email inbox sev­en days a week, in my Twit­ter feed, at our open meet­ings demand­ing to be heard, and lit­er­al­ly at our door clos­ing down First Street so FERC won't be able to work. We have a sit­u­a­tion here."
Pro­test­ers and mem­bers of the Beyond Extreme Ener­gy net­work are push­ing for that sit­u­a­tion to change — to one in which FERC gives as much con­sid­er­a­tion to cit­i­zens and the envi­ron­ment as it cur­rent­ly does to industry.
Justin Mikul­ka
is a free­lance writer and video pro­duc­er focused on issues relat­ing to the ener­gy indus­try. He is a con­tribut­ing writer at DeSmog­blog and his writ­ing has appeared in
Alter­net, Truthout
and Nation of Change. Justin has a degree in Civ­il and Envi­ron­men­tal engi­neer­ing from Cor­nell Uni­ver­si­ty. E‑mail him at mikul­ka at gmail​.com, fol­low him on Twit­ter @justinmikulka or vis­it his web­site at
www​.justin​mikul​ka​.com
.