"We Won't Let Him Sleep": The Dreamers Hounding Chuck Schumer.
Talking immigrant justice with a DACA recipient taking the fight to Schumer's doorstep.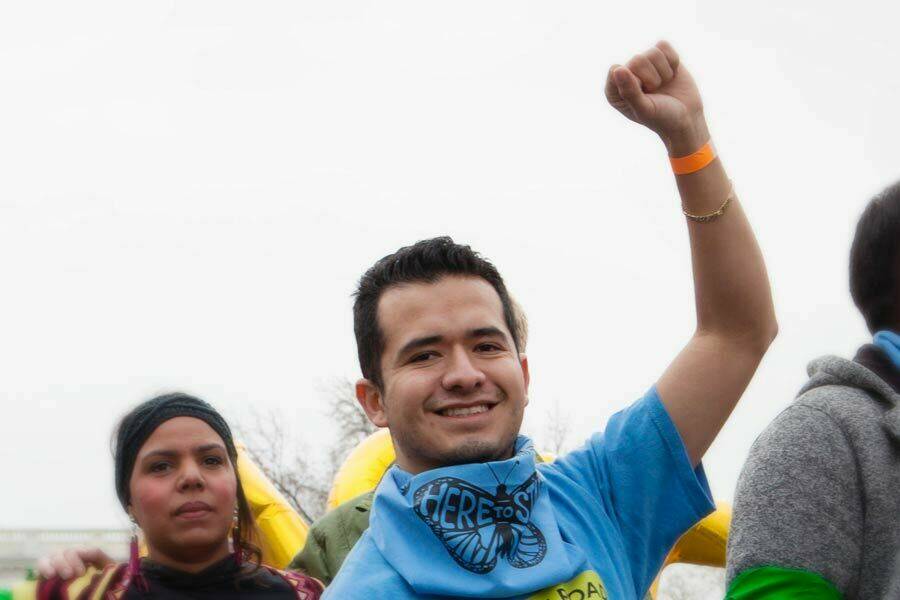 Pro­test­ers head­ed to Demo­c­ra­t­ic Sen­ate Minor­i­ty Leader Chuck Schumer's New York home Jan­u­ary 23 after Democ­rats agreed to end a gov­ern­ment shut­down with­out secur­ing DACA pro­tec­tions. In These Times spoke with Ricar­do Aca, a 27-year-old stu­dent at Baruch Col­lege with DACA sta­tus, who took part in the protest.
For Republicans or Democrats to say that they need more time is very frustrating. People have waited 17 years and it's not fair that we constantly have to be out there pushing for something. We're angry.
Tell me about what moti­vat­ed the action.
The name of that ral­ly was ​"Our Lives Are On The Line, Chuck!" because that's the real­i­ty. Many of us can't return to our coun­tries because of nat­ur­al dis­as­ters or civ­il strife.
I'm from a Mex­i­can state called Puebla known for being very reli­gious. I'm open­ly gay here in New York and I wouldn't be able to go back to my coun­try and feel safe. There are many peo­ple who are in that sit­u­a­tion. We're angry with Schumer for not hold­ing firm. He con­stant­ly promis­es us there's going to be a fix.
But it's 2018 and the Dream Act was intro­duced in 2001. So for Repub­li­cans or Democ­rats to say that they need more time is very frus­trat­ing. Peo­ple have wait­ed 17 years and it's not fair that we con­stant­ly have to be out there push­ing for some­thing. We're angry.
What's most con­cern­ing about the present debate?
It's emo­tion­al­ly drain­ing to have your life played with like a foot­ball. There's all this back and forth on these deals. On Twit­ter, Trump says he loves the Dream­ers. That there's noth­ing to wor­ry about and DACA's going to be fixed. But he's the one who caused this chaos, right? He's set on get­ting fund­ing for the wall and I don't think he'll stop until he gets that.
For undoc­u­ment­ed immi­grants like myself, who have undoc­u­ment­ed par­ents, it's very scary to accept a deal that does not include pro­tec­tions for my peo­ple. I think that's why many of us are fight­ing. This fight is not even about peo­ple with DACA sta­tus. This fight is about respect, jus­tice and dig­ni­ty for all our families.
How many years of school do you have left?
I have one year left. If there's no fix on DACA or the Dream Act, then by the time I grad­u­ate I'm not going to be able to legal­ly get a job. I will be at risk for depor­ta­tion if there's no fix for this.
How are immi­grants you know deal­ing with the fear of immi­gra­tion raids or hav­ing their sta­tus report­ed to ICE by neighbors?
Our par­ents are afraid of going out and doing day-to day things. My mom watch­es TV and she's up to date on every­thing that involves immi­gra­tion. When she hears that there are these ICE raids in places like Stat­en island, Long Island or at 7‑Eleven stores she freaks out. She's not able lead a nor­mal life for her­self in New York.
She always feels like she has to stay in the apart­ment because any­time she steps out she's at risk of being deport­ed or com­ing into con­tact with an ICE agent. I'm pret­ty sure that if I want­ed to be like, ​"Hey mom let's go to Philadel­phia on a bus, if you'd like to take a day trip," she's going to be scared. She's going to be con­cerned on the whole ride that at some point an ICE agent is going to stop us. That's no way to live our lives.
What does true immi­gra­tion reform look like for you?
I under­stand every coun­try wants to defend their bor­ders. But we don't see the Unit­ed States build­ing a $25 bil­lion bor­der wall next to Cana­da. Trump's poli­cies are attack­ing immi­grants of col­or most­ly. Peo­ple who are Mus­lim, Mex­i­cans and oth­er Lati­nos — peo­ple from places he con­sid­ers ​"shit­hole" countries.
Democ­rats should con­sid­er the work that we do for this coun­try. I'm proud to say that I've cleaned toi­lets grow­ing up to be able to go to school. I've served at restau­rants. I even worked at one of Trump's hotels before he ran for pres­i­dent. My step­fa­ther has been a serv­er for twen­ty years. My mom cleaned hous­es. We do the jobs that not many peo­ple want to do. But we also know that we're just as impor­tant as any oth­er per­son who is American.
We take pride in these jobs because this is ulti­mate­ly how we're able to pro­vide for our fam­i­lies. These jobs are how our undoc­u­ment­ed par­ents are able to send their chil­dren to school. We take a lot of pride in that. We're not tak­ing any of the ben­e­fits that many Repub­li­cans say we are. I'm a stu­dent and can't receive state or finan­cial aid. I don't even have health insur­ance. I think that's the same sto­ry for the 11 mil­lion undoc­u­ment­ed immi­grants who are here and who have jobs.
Immi­gra­tion reform should be acknowl­edged our con­tri­bu­tions to the Unit­ed States. That means giv­ing us a path to cit­i­zen­ship. It also means that our com­mu­ni­ties need to be able to feel safe. That they don't have to live with the fear of being sep­a­rat­ed from their families.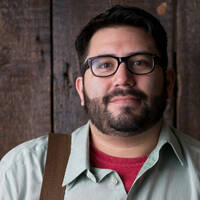 Alex V. Her­nan­dez
is orig­i­nal­ly from Chica­go and has bylines in the
Chica­go Tri­bune
,
Chica­go Read­er
,
Chica­go Mag­a­zine
,
City Bureau
,
In These Times
and
90

Days,

90

Voic­es
. He was also a
2017
Peter Lis­agor Watch­dog Award final­ist for his work on an inter­ac­tive
Chica­go Reporter
data­base
that shows where, how and when police mis­con­duct hap­pens in the city of Chica­go. He tweets at
@AVHndz
.