Undocumented Youth Are Here Through No Fault of Their Own. But It's Not Their Parents' Fault, Either
Using the phrase "no fault of their own" in discussing undocumented young people does not encourage us to look at the roots of the poverty and violence their families experience.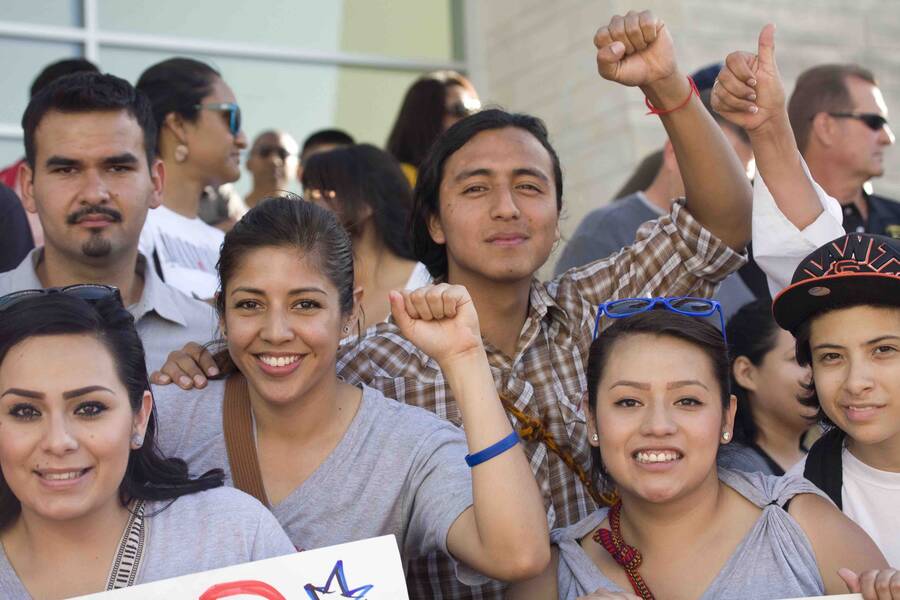 When Pres­i­dent Oba­ma intro­duced his exec­u­tive order in 2012 to defer depor­ta­tion for young peo­ple (Deferred Action for Child­hood Arrivals, or DACA), the White House web­site said it would ​"stop pun­ish­ing inno­cent young peo­ple brought to the coun­try through no fault of their own by their parents."
Blaming undocumented youths' parents avoids assigning responsibility for their displacement and migration beyond the families themselves.
Last year, in the Repub­li­can assault on the Pres­i­den­t's next order that would have extend­ed DACA to include oth­er fam­i­ly mem­bers (Deferred Action for Par­ents of Amer­i­cans, DAPA), Jeff Den­ham, a right-wing Repub­li­can Con­gress­man from Cal­i­for­ni­a's San Joaquin Val­ley, used the same phrase. Tak­ing pains to explain that oppos­ing Pres­i­dent Oba­ma did not mean he sup­port­ed deport­ing young peo­ple, he explained, ​"I have vot­ed repeat­ed­ly in Con­gress to pro­tect chil­dren who were brought into this coun­try by their par­ents or guardians through no fault of their own."
The phrase ​"no fault of their own" sounds sym­pa­thet­ic. Using it to jus­ti­fy halt­ing depor­ta­tions implies good inten­tions towards at least some young peo­ple with­out papers. Yet the idea has oth­er trou­bling impli­ca­tions as well.
If young peo­ple came here ​"through no fault of their own," then whose fault was it? Den­ham and Oba­ma both say, ​"by their par­ents [and guardians]." Moth­ers and fathers made the deci­sion to cross the bor­der with­out papers. There­fore the par­ents are respon­si­ble for their chil­dren's lack of legal immi­gra­tion sta­tus. The fault is the parents'.
This is also the argu­ment pre­sent­ed by the admin­is­tra­tion to jus­ti­fy build­ing two new deten­tion cen­ters in Texas to hold moth­ers and chil­dren from Cen­tral Amer­i­ca. Two sum­mers ago the Pres­i­dent warned par­ents in Guatemala and El Sal­vador that they were endan­ger­ing their chil­dren by bring­ing them north. Don't come, he said. If you do, you will be detained and deported.
Of course, peo­ple came despite the warn­ing. The pres­sures to leave home are much more pow­er­ful than even the cer­tain knowl­edge that impris­on­ment in a deten­tion cen­ter awaits them once they cross the border.
Immi­grant chil­dren do not come to the Unit­ed States because their par­ents are neg­li­gent. They come because pover­ty and vio­lence make sur­vival dif­fi­cult and dan­ger­ous in their com­mu­ni­ties of ori­gin. Many are join­ing fam­i­ly mem­bers who are already here, hav­ing fled Cen­tral Amer­i­can civ­il wars or hav­ing come to find work and estab­lish a base for reunit­ing divid­ed families.
Many of the young peo­ple who tell their sto­ries in Dreams Deport­ed, a new book edit­ed by Kent Wong and Nan­cy Guarneros, describe the mem­o­ry of the expe­ri­ence, as it is retold in their fam­i­lies. Vick­y's fam­i­ly in Mex­i­co ​"was too poor to pay for her mother's med­ica­tion and Vicky could­n't find a job to sup­port her par­ents." Rena­ta Teodoro says, ​"My father had been work­ing in the Unit­ed States for many years, and we sur­vived on the mon­ey he sent us."
The book para­phras­es oth­er accounts. ​"The Gon­za­lez fam­i­ly left behind a life that Adri­an does not remem­ber. What he does remem­ber is that his par­ents came to this coun­try with hope for eco­nom­ic secu­ri­ty." The par­ents of Steve Li ​"expe­ri­enced the extreme pover­ty, vio­lence and cor­rup­tion of Peru. Con­di­tions for Steve's fam­i­ly went from bad to worse when their restau­rant was van­dal­ized and their fam­i­ly was threatened."
The phrase ​"no fault of their own" does not encour­age us to look at the roots of the pover­ty and vio­lence these fam­i­lies expe­ri­ence. It espe­cial­ly avoids assign­ing respon­si­bil­i­ty for their dis­place­ment and migra­tion beyond the fam­i­lies them­selves. Yet indi­vid­ual fam­i­lies togeth­er make up huge move­ments of peo­ple respond­ing to eco­nom­ic changes over which they have no control.
After the North Amer­i­can Free Trade Agree­ment (NAF­TA) went into effect, for instance, the num­ber of Mex­i­can migrants in the U.S. went from 4.5 to 12.5 mil­lion in 20 years. The new immi­grants were farm­ers dri­ven off the land after being under­cut by cheap U.S.-subsidized corn flood­ing the Mex­i­can mar­ket, or work­ers sud­den­ly job­less after waves of pri­va­ti­za­tion. Like Rena­ta Teodor­o's father, once they arrived in the Unit­ed States, they made up the back­bone work­force sus­tain­ing agri­cul­ture, meat­pack­ing, jan­i­to­r­i­al ser­vices and oth­er indus­tries, labor­ing at the low­est wages.
The com­pa­nies that dumped the corn in Oax­a­ca, and those that paid ille­gal­ly low wages to Oax­a­can farm­ers to pick straw­ber­ries in Wat­sonville, cer­tain­ly share some of the ​"fault." And they def­i­nite­ly reaped most of the ben­e­fits. But when Oba­ma and Den­ham say chil­dren came through ​"no fault of their own," they are not point­ing at the prof­i­teers who ben­e­fit from this immi­gra­tion, much less at the treaties and poli­cies that make dis­place­ment and exploita­tion pos­si­ble and profitable.
In read­ing the tes­ti­mo­ny of the young peo­ple in Dreams Deport­ed, it's clear that par­ents had lit­tle alter­na­tive to com­ing north, and bring­ing their chil­dren with them. Yet they are not vic­tims. They are sim­ply peo­ple strug­gling to sur­vive and make a place in the world for their fam­i­lies. As Rox­anne Dun­bar-Ortiz says, in the con­text of Native Amer­i­can geno­cide in North Amer­i­ca, ​"sur­vival is dynam­ic, not pas­sive. Sur­viv­ing geno­cide, by what­ev­er means, IS resistance."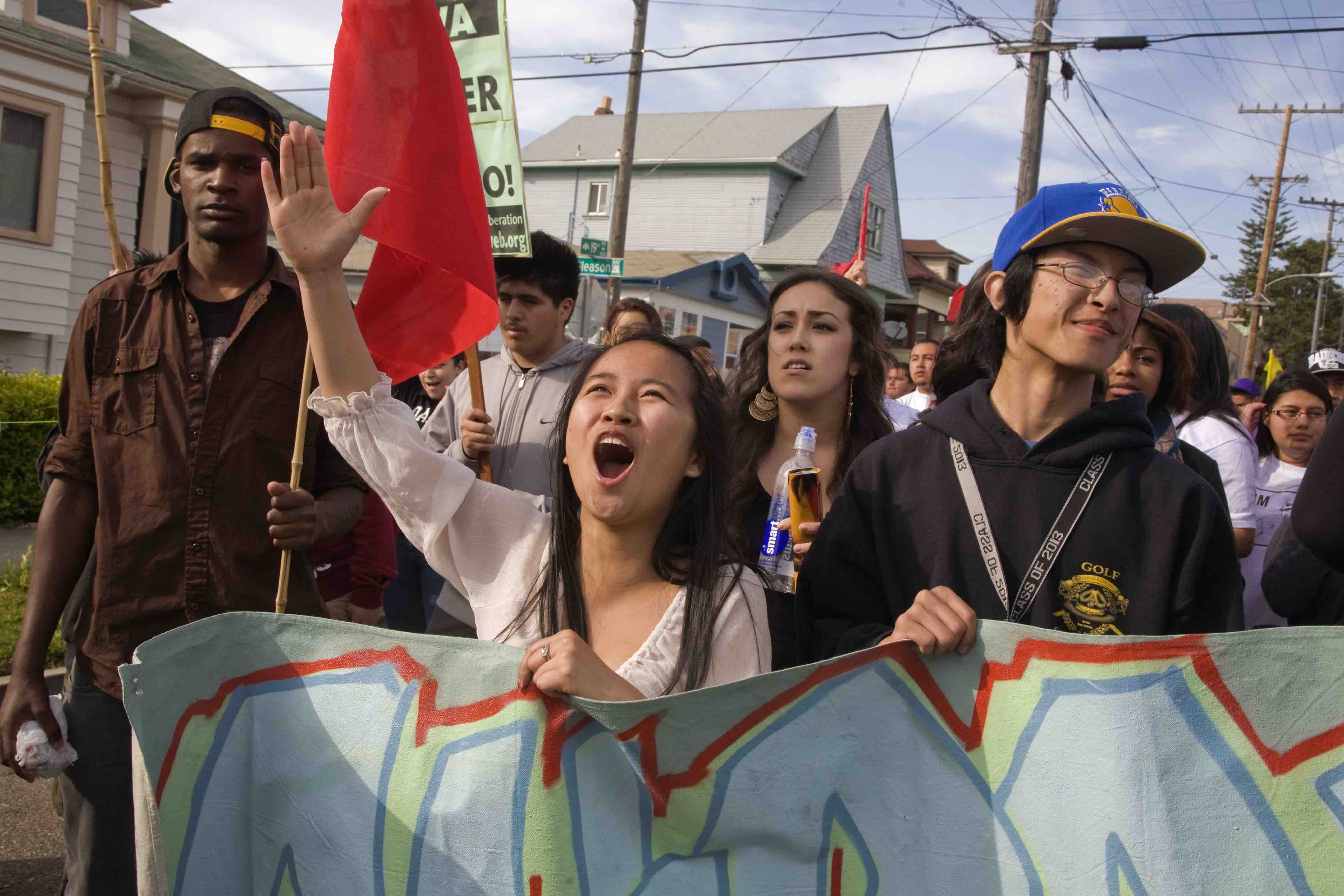 Ser­gio Sosa, a Guatemalan migrant who now directs Oma­ha's Heart­land Work­ers' Cen­ter, says the same thing: ​"Mams and Qan­jobales" — two indige­nous groups in Guatemala — ​"face pover­ty and iso­la­tion, even the pos­si­ble dis­ap­pear­ance of their iden­ti­ty. But they didn't choose this fate. Peo­ple from Europe and the U.S. crossed our bor­ders to come to Guatemala, and took over our land and econ­o­my. Migra­tion is a form of fight­ing back. Now it's our turn to cross borders."
Dreams Deport­ed presents migrants as social actors, as resis­tors rather than vic­tims. The phrase ​"no fault of their own" casts young peo­ple as inno­cent vic­tims of their par­ents' actions. The real­i­ty is that the young peo­ple who have built the move­ment of the DREAM­ers, fight­ing for the right to go to school, for legal sta­tus and for change in immi­gra­tion pol­i­cy, are any­thing but vic­tims. The book recounts the fam­i­ly expe­ri­ences of migra­tion, life in the U.S., and then the shock of con­fronta­tion with immi­gra­tion author­i­ties lead­ing to depor­ta­tion. Then it tells sto­ries of resis­tance, doc­u­ment­ing the ways young peo­ple pio­neered a move­ment that suc­cess­ful­ly res­cued fam­i­ly and friends from jails and deten­tion centers.
This is the third book in a series pro­duced by activists in the Dream­ers move­ment, pub­lished by the UCLA Cen­ter for Labor Research and Edu­ca­tion. The first, Under­ground Under­grads, was pub­lished in 2008, when the pos­si­bil­i­ty of immi­gra­tion reform with some degree of legal­iza­tion seemed pos­si­ble to many peo­ple. It was a ​"com­ing out" moment, in which the first of the move­men­t's orga­niz­ers sought to make vis­i­ble a gen­er­a­tion of undoc­u­ment­ed young peo­ple who were begin­ning to assert their rights. It was fol­lowed four years lat­er by Undoc­u­ment­ed and Unafraid, which pro­filed the grow­ing move­ment in the wake of the huge effort to pass the DREAM Act. Now Dreams Deport­ed chron­i­cles the dif­fi­cult strug­gle against deportations.
First intro­duced in 2003, the DREAM Act would have allowed undoc­u­ment­ed stu­dents grad­u­at­ing from a U.S. high school to apply for per­ma­nent res­i­dence if they com­plet­ed two years of col­lege or served two years in the U.S. mil­i­tary. The act would have enabled an esti­mate 800,000-plus young peo­ple to gain legal sta­tus and even­tu­al cit­i­zen­ship. In 2010 the Act failed in Con­gress, but for the sev­en years before that, undoc­u­ment­ed young peo­ple marched, sat-in, wrote let­ters and mas­tered every civ­il rights tac­tic in the book to get their bill onto the Wash­ing­ton DC agenda.
Many of them gave new mean­ing to ​"com­ing out," declar­ing open­ly their lack of legal immi­gra­tion sta­tus in media inter­views — and defy­ing author­i­ties to detain them. Three were arrest­ed in 2010 when they sat-in at the office of Ari­zona Sen­a­tor John McCain, demand­ing that he sup­port the bill while defy­ing immi­gra­tion author­i­ties to come get them. They were arrest­ed and held in deten­tion overnight. The fol­low­ing morn­ing a judge rec­og­nized the obvi­ous: These were not ​"aliens" who might flee if they were released from deten­tion, but polit­i­cal activists who were doing their best not only to stay in the coun­try, but to do so as vis­i­bly as possible.
DREAM Act cam­paign­ers did more than try to get a vote in Wash­ing­ton. They used their activism to stop depor­ta­tions, in an era that has seen 400,000 peo­ple deport­ed each year from 2009 to 2014. By stop­ping depor­ta­tions even in the absence of Con­gres­sion­al action, DREAM Activists made pos­si­ble what polit­i­cal insid­ers held to be impos­si­ble: show­ing that peo­ple in the streets can change the con­di­tions in their own com­mu­ni­ties. Con­gress and Washington's polit­i­cal class can be forced to respond to social move­ments out­side the capitol.
Dreams Deport­ed tells some of the sto­ries of how they did it. In San Fran­cis­co, activists won free­dom for Shing Ma ​"Steve" Li, a nurs­ing stu­dent at City Col­lege of San Fran­cis­co. Immi­gra­tion author­i­ties detained him in 2010, ignit­ing a light­en­ing effort to stop his depor­ta­tion. Li's par­ents had emi­grat­ed from Chi­na to Peru, where Li was born. They lat­er came to the U.S., where their peti­tion for polit­i­cal asy­lum was denied.
That made Li an undoc­u­ment­ed immi­grant, although as he went through San Fran­cis­co pub­lic schools, he had no knowl­edge of his sta­tus. As the net of immi­gra­tion enforce­ment was cast more wide­ly than ever, Li and his moth­er were arrest­ed. She was bailed out of deten­tion, but Steve Li was shipped to a deten­tion cen­ter in Flo­rence, Ari­zona. From there he would have been flown to Peru, where he has no rel­a­tives or fam­i­ly con­nec­tions at all.
The case became a cause cele­bre for the Asian Law Cau­cus, the Chi­nese Pro­gres­sive Asso­ci­a­tion and oth­er orga­ni­za­tions in the city's Asian com­mu­ni­ty. The San Fran­cis­co Board of Super­vi­sors and the city col­lege Board of Trustees both passed res­o­lu­tions oppos­ing the depor­ta­tion. Final­ly, Sen­a­tor Diane Fein­stein intro­duced a pri­vate bill to grant Li per­ma­nent res­i­dence sta­tus. Li was then freed by ICE, and returned to San Francisco.
For Li and his sup­port­ers, how­ev­er, the pri­vate bill was not the answer. Recall­ing the oth­er young peo­ple he met in the Ari­zona deten­tion cen­ter, he said, ​"Their sto­ries and faces will be with me for the rest of my life." In his poem ​"Traf­fic Lights," he describes the being locked up in the pri­vate­ly-run Flo­rence deten­tion center:
Today
I am
Lying still in this cold hard bed
despised by soci­ety for try­ing to fit into the mold that they want­ed me to be
trapped behind an impen­e­tra­ble door
A door with­out a door knob
with dents and scratch­es of pre­vi­ous pris­on­ers who tried to escape
A door that sep­a­rates the desir­ables from the undesirables
Steve Li became one of the founders of ASPIRE, a San Fran­cis­co orga­ni­za­tion of undoc­u­ment­ed Asian youth. Anoth­er mem­ber, Ju Hong, spoke out dur­ing a press con­fer­ence held by Pres­i­dent Oba­ma, in which Asian young peo­ple were placed behind him to give a (silent) image of youth­ful sup­port for admin­is­tra­tion immi­gra­tion proposals.
Hong did not remain silent, call­ing out to the Pres­i­dent to stop depor­ta­tions. ​"There are thou­sands of peo­ple, undoc­u­ment­ed immi­grants, fam­i­lies that are being torn apart every sin­gle day," Hong shout­ed out. ​"Please use your exec­u­tive order to halt the depor­ta­tions for all 11.5 mil­lion undoc­u­ment­ed immi­grants right now!" To his cred­it, the Pres­i­dent stopped his secu­ri­ty detail from throw­ing the young peo­ple out, but nev­er­the­less claimed he could not act on his own. His own actions lat­er showed that claim to be false.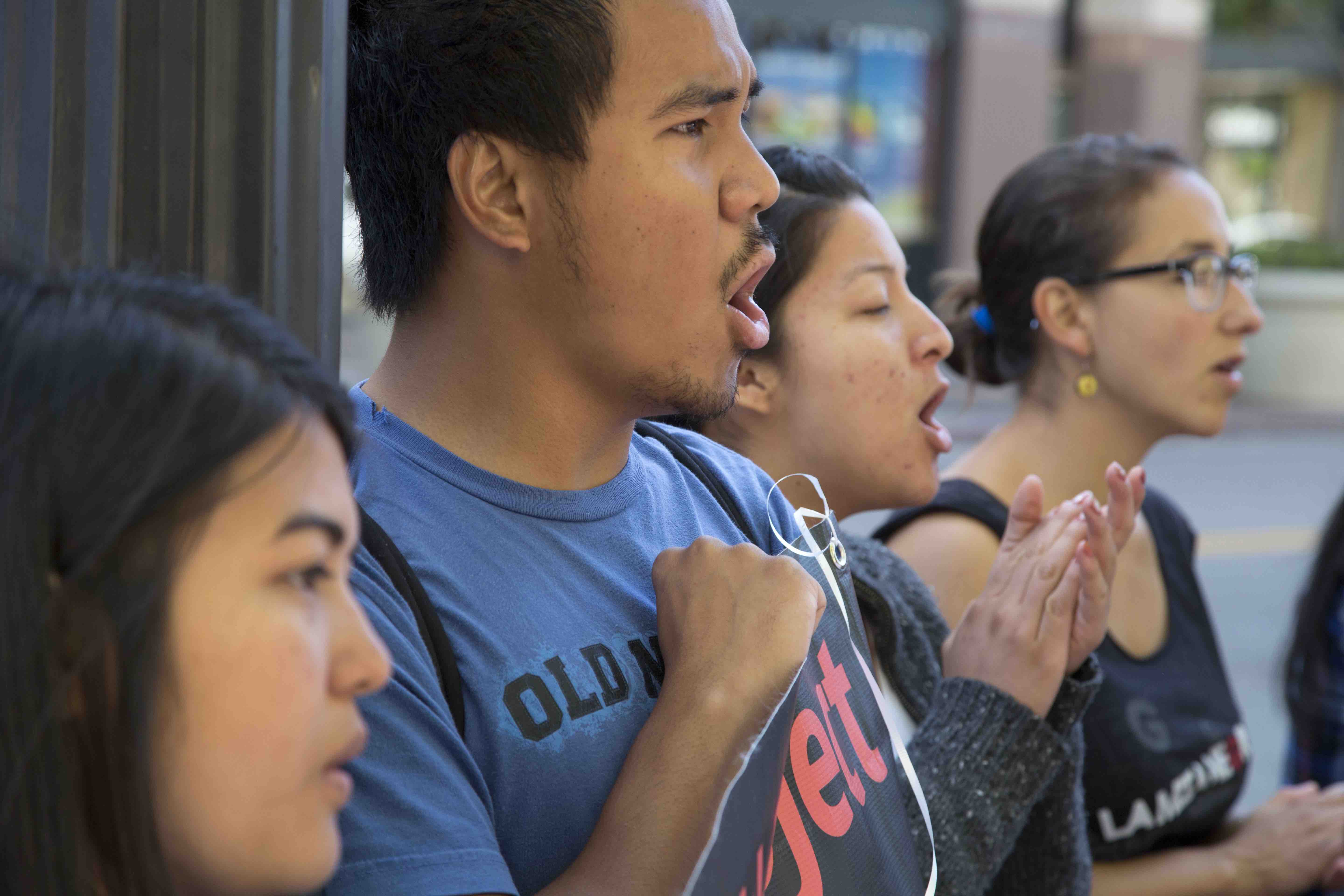 Dreams Deport­ed recounts oth­er exam­ples. Undoc­u­ment­ed activists in the Cal­i­for­nia Immi­grant Youth Jus­tice Alliance chained them­selves to lad­ders, block­ing the entrance to the Los Ange­les Met­ro­pol­i­tan Deten­tion Cen­ter. Oth­er undoc­u­ment­ed youth went to the U.S./Mexico bor­der, crossed it to meet their fam­i­lies, and then demand­ed the right to return to their homes in the Unit­ed States. Eric­ka Andi­o­la, whose activism pro­pelled her into a job in a con­gres­sion­al office in Wash­ing­ton, D.C., used her orga­niz­ing skills to pry her moth­er loose from deten­tion in Arizona.
Hareth Andrade sim­i­lar­ly won her father's release. She wrote a poem, ​"amer­i­ca," and read it before the nation­al con­ven­tion of the AFL-CIO:
Let's go and tell them,
While they who have the pow­er sit
Sep­a­rat­ing us as they see fit
While my father's hands blis­ter from work all day
and he does­n't feel like he has a say
[In] this nation ded­i­cat­ed to the proposition
that all men are cre­at­ed equal
There were oth­er vic­to­ries as well. In 2010 Fredd Reyes was picked up as he was study­ing for exams at Guil­ford Tech­ni­cal Com­mu­ni­ty Col­lege, and tak­en first to the North Geor­gia Deten­tion Cen­ter, and then to the Stew­art Cen­ter in Lump­kin, Geor­gia. Reyes' par­ents had fled the mas­sacres of Guatemala's coun­terin­sur­gency war. In the 1980s, Pres­i­dent Ronald Rea­gan gave guns to that coun­try's mil­i­tary, which were used against indige­nous com­mu­ni­ties seek­ing social justice.
DREAM Act stu­dents under­stood why Reyes was in the U.S. — what ​"through no fault of their own" meant in a Qan­jobal town in the Guatemalan high­lands. They mobi­lized and even­tu­al­ly helped spring him loose.
Jen­nifer Abreu came to the U.S. with her par­ents when she was 13. She grad­u­at­ed from Lafayette High School in Lex­ing­ton, Ken­tucky, where she became an activist. She per­formed Brazil­ian and Colom­bian dances at fies­tas and dreamt of life as a jour­nal­ist. After ICE picked her up, a cam­paign by DREAM Act stu­dents and sup­port­ers set her free too.
Ulti­mate­ly, the big achieve­ment of the DREAM­ers was the deci­sion by Pres­i­dent Oba­ma to issue the DACA exec­u­tive order in 2012, defer­ring the depor­ta­tion of young peo­ple. Many activists in the move­ment cred­it­ed this to a deci­sion to sit in at his Chica­go office at the height of that year's elec­tion cam­paign. Yet one sin­gle action, dra­mat­ic and well-timed as it was, would nev­er have been pow­er­ful enough alone to win an exec­u­tive order. The depor­ta­tion defense move­ment not only saved activists who played impor­tant roles, but it pro­duced the polit­i­cal pres­sure to find a way to slow down the detention/​deportation juggernaut.
That pres­sure did not end with DACA. By 2014, it was pow­er­ful enough to force anoth­er exec­u­tive order, DAPA, despite Pres­i­dent Oba­ma's claim to Ju Hong that he could­n't act. The DREAM­ers' depor­ta­tion defense tac­tics, and their use of civ­il dis­obe­di­ence, had spread well beyond their own ranks. In a wave of activ­i­ty around the coun­try, com­mu­ni­ty and labor activists, and depor­tees them­selves, refused to qui­et­ly endure increased immi­gra­tion enforcement.
Hun­dreds of peo­ple inside the Taco­ma Deten­tion Cen­ter launched a hunger strike against its pri­vate oper­a­tor, Geo Cor­po­ra­tion, demand­ing bet­ter con­di­tions and a mora­to­ri­um on depor­ta­tions. Activists, who had held vig­ils out­side the cen­ter for years, gath­ered every day to sup­port those inside. The strike spread to anoth­er Geo prison in Texas. Accord­ing to Maru Mora Vil­la­pan­do of Lati­no Advo­ca­cy in Taco­ma, in both loca­tions the com­pa­ny iso­lat­ed the strik­ers and in Taco­ma threat­ened to force-feed them.
In Tuc­son, San Fran­cis­co, Phoenix, Chica­go and oth­er cities, peo­ple sat down in front of ICE bus­es and vans, and chained them­selves to vehi­cles, to block depor­ta­tions. In Tuc­son, they stopped the Oper­a­tion Stream­line anti-immi­grant court, which every day sen­tences dozens of young bor­der crossers, brought before a judge in chains, to months in prison.
This wave of activ­i­ty not only demand­ed a mora­to­ri­um on depor­ta­tions — it also exposed the cost of the fail­ure of the Wash­ing­ton, D.C.-based com­pre­hen­sive immi­gra­tion reform strat­e­gy advo­cat­ed by belt­way groups. Even though Con­gress was par­a­lyzed and unable to pass any legal­iza­tion pro­gram for the undoc­u­ment­ed, the enforce­ment and con­tract labor pro­grams con­tained in the big com­pre­hen­sive reform bills were imple­ment­ed anyway.
The Bor­der Patrol has grown to over 20,000 agents, and steel walls and heli­copters have trans­formed the U.S./Mexico bor­der into a heav­i­ly armed fron­tier. In addi­tion to the hun­dreds of thou­sands deport­ed every year, untold thou­sands more have been fired from their jobs sim­ply because they lack legal immi­gra­tion sta­tus. Many work­ers have even gone to prison because they invent­ed Social Secu­ri­ty num­bers in order to get a job
The U.S. now spends more mon­ey on immi­gra­tion enforce­ment, includ­ing the noto­ri­ous Oper­a­tion Stream­line courts, than all oth­er Fed­er­al law enforce­ment pro­grams com­bined. And while enforce­ment against bor­der crossers and the undoc­u­ment­ed has grown expo­nen­tial­ly, the num­ber of guest work­ers brought to the U.S. by cor­po­ra­tions and labor con­trac­tors, at low wages and with reduced labor rights, is also expand­ing. One report, Visas, Inc. puts the annu­al num­ber at 900.000.
Mean­while, the admin­is­tra­tion insists on a new trade treaty, the Trans Pacif­ic Part­ner­ship (the text of which was released on Novem­ber 5), guar­an­teed to cause more pover­ty in oth­er coun­tries, lead­ing to yet more undoc­u­ment­ed migra­tion. Nei­ther Con­gress nor the admin­is­tra­tion have dis­cussed this impact. That's hard­ly a sur­prise, since a debate would reveal that NAF­TA, adopt­ed 23 years ago, led to the forced migra­tion of 8 mil­lion peo­ple from Mexico.
Dreams Deport­ed focus­es on the human sto­ry of the impact of this rise in enforce­ment, and the way it sub­verts the val­ues of work­ing class fam­i­lies, whether immi­grant or native born. ​"We have to remem­ber that for every case like Steve Li's, there are hun­dreds of oth­er young peo­ple who are deport­ed," empha­sizes Alisa Mess­er, past pres­i­dent of the union at City Col­lege of San Fran­cis­co, where Li was going to school. ​"These are our stu­dents. They're doing every­thing we want young peo­ple to do. So we have to fight for their right to get an edu­ca­tion, to sup­port their fam­i­lies, and to par­tic­i­pate in society."
Most DREAM­ers view their move­ment as part of a larg­er strug­gle for a more basic reform of the coun­try's immi­gra­tion laws. Twelve mil­lion undoc­u­ment­ed peo­ple live in the U.S., and most of them work for a liv­ing. Stu­dents not only need to stay in school, but then need the abil­i­ty to work and use their edu­ca­tion after grad­u­a­tion. Their par­ents need the same right, not just to pay for stu­dents' school­ing, but for the sur­vival of their families.
The DREAM­ers have shown that fight­ing deten­tion and depor­ta­tion is not only pos­si­ble but the first step towards win­ning deep­er changes. As they've marched and demon­strat­ed, they've point­ed out over and over that stop­ping the enforce­ment wave and chang­ing immi­gra­tion law are so con­nect­ed that one can't be fought with­out fight­ing for the oth­er. In the end, the basic require­ment for both is the same: a social move­ment of mil­lions of peo­ple, will­ing to take to the streets and the halls of Congress.
David Bacon
is a writer, pho­tog­ra­ph­er and for­mer union orga­niz­er. He is the author of The Right to Stay Home: How US Pol­i­cy Dri­ves Mex­i­can Migra­tion (
2013
), Ille­gal Peo­ple: How Glob­al­iza­tion Cre­ates Migra­tion and Crim­i­nal­izes Immi­grants (
2008
), Com­mu­ni­ties With­out Bor­ders (
2006
), and The Chil­dren of NAF­TA: Labor Wars on the US/​Mexico Bor­der (
2004
). His web­site is at dba​con​.igc​.org.