Death from Above, Remotely Controlled: Obama's Drone Wars
History will view drone warfare as the Obama administration's signature approach to military engagement.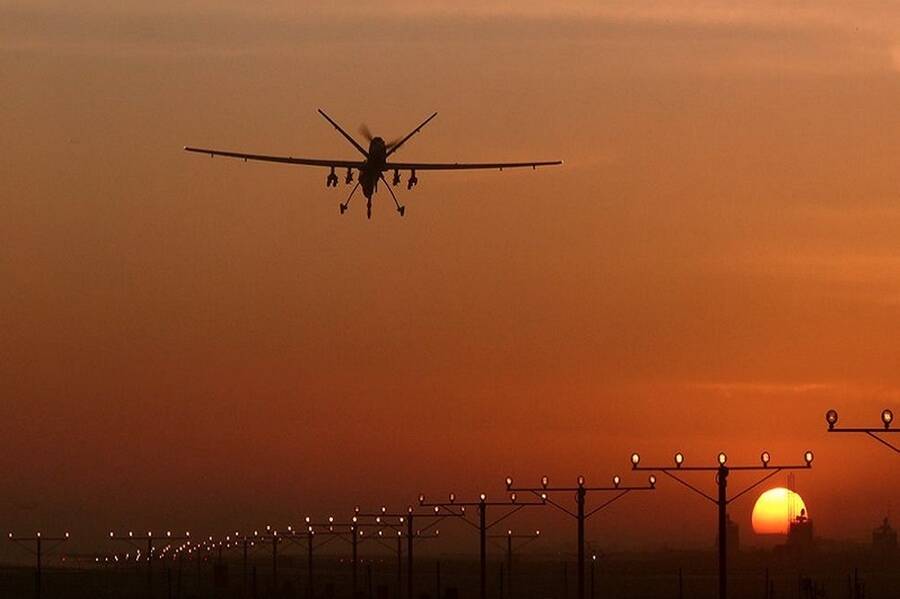 On Jan­u­ary 23, 2009, his third day in office, Pres­i­dent Barack Oba­ma ordered a drone strike on the small vil­lage of Gan­gi Khel in South Waziris­tan, a semi-autonomous region along Pakistan's north­west­ern fron­tier. The pres­i­dent, accord­ing to jour­nal­ist Daniel Klaid­man, had been briefed by the CIA direc­tor Michael Hay­den on ​"the geom­e­try of the oper­a­tion, the intel­li­gence it was based on, and the risk of col­lat­er­al dam­age." The quar­ry was a High Val­ue Tar­get (HVT) and the pres­i­dent gave his assent. With laser-guid­ed pre­ci­sion, an AGM-114 Hell­fire mis­sile blew up the com­pound where the tar­get hid. Three hours ear­li­er, anoth­er drone had struck a vil­lage in North Waziristan.
Why has the Obama administration embraced a military strategy that has yielded so little at such a high cost in prestige?
The attacks killed up to 25 peo­ple, but the admin­is­tra­tion made no pub­lic com­ment. Offi­cial­ly, it main­tained a pol­i­cy of denial: the drone pro­gram didn't exist. And media reports were far from dis­com­fit­ing. ABC News report­ed the next day that the strikes had ​"killed at least eight al Qae­da lead­ers, includ­ing Usama al Kini, plan­ner of the 1998 US embassy bomb­ings in Africa."
The real­i­ty, how­ev­er, was less seem­ly. Oba­ma soon learned from Hay­den that nei­ther strike had killed its intend­ed tar­get. The ​"com­pound" struck by the first drone was the home of 18-year-old stu­dent Faheem Qureshi — it killed his cousins and guests, frac­tured his skull and put out his eye. The sec­ond belonged to Malik Guk­istan Khan, a pro-gov­ern­ment leader of a local peace com­mit­tee, who per­ished along­side his nephew and three sons, the youngest aged 3.
The pres­i­dent had drawn first blood — and he wasn't hap­py. He quick­ly con­vened a meet­ing of the Nation­al Secu­ri­ty Coun­cil to dis­cuss the impli­ca­tions of these blun­ders. After con­sult­ing his advi­sors, Oba­ma did what most world lead­ers do when their expec­ta­tions are con­found­ed: he dou­bled down.
The year end­ed the way it began: on Decem­ber 17, 2009, a cruise mis­sile packed with clus­ter muni­tions (whose use is pro­scribed in much of the world) slammed into the small Yemeni vil­lage of al-Majalah, killing 59, includ­ing 21 chil­dren and nine women, five of them pregnant.
Yet this kind of remote war­fare would become the Oba­ma administration's sig­na­ture approach to mil­i­tary engage­ment. Less than a decade after a US ambas­sador had chid­ed Israel for its pol­i­cy of ​"tar­get­ed assas­si­na­tions" — describ­ing them as ​"extra­ju­di­cial killings" — Oba­ma would not only sanc­tion assas­si­na­tions, he would take them to anoth­er level.
In clear breach of inter­na­tion­al human­i­tar­i­an law, the U.S. would expand the use of ​"sig­na­ture strikes," killing peo­ple based on remote­ly observed ​"pat­terns of life" rather than actu­al intel­li­gence. Worse, they would tar­get funer­als and first respon­ders, lead­ing UN spe­cial rap­por­teurs to open war crimes inves­ti­ga­tions against the U.S.
Such lethal tools and author­i­ty with­out strict over­sight make abus­es inevitable, but the secre­cy sur­round­ing the pol­i­cy has cre­at­ed what Human Rights Watch calls an ​"account­abil­i­ty black­hole." Fur­ther­more, the admin­is­tra­tion has per­se­cut­ed or defamed those who have tried to uncov­er the scope and con­se­quences of the program.
When the Yemeni gov­ern­ment was on the verge of releas­ing jour­nal­ist Abd­ule­lah Haider Shaye, who was arrest­ed for reveal­ing the U.S.'s role in the afore­men­tioned al-Majalah bomb­ing, Pres­i­dent Oba­ma per­son­al­ly inter­vened to dis­suade it. When researchers from the Bureau of Inves­tiga­tive Jour­nal­ism (BIJ) con­firmed that drones were killing large num­bers of civil­ians, admin­is­tra­tion offi­cials tried to paint them as al Qae­da sympathisers.
Oba­ma's drone policy
Pres­i­dent Oba­ma has defend­ed his pol­i­cy of ​"very pre­cise pre­ci­sion strikes" as a ​"tar­get­ed focused effort at peo­ple who are on a list of active ter­ror­ists who are try­ing to go in and harm Amer­i­cans, hit Amer­i­can facil­i­ties, Amer­i­can bases, and so on." In a major 2013 speech, he also announced that in response to grow­ing crit­i­cism of such strikes, he was nar­row­ing tar­get­ing cri­te­ria: ​"Before any strike is tak­en, there must be near-cer­tain­ty that no civil­ians will be killed or injured."
The gap between admin­is­tra­tion rhetoric and action, how­ev­er, remains unbridged. After a drone strike last Jan­u­ary acci­den­tal­ly killed west­ern aid work­ers War­ren Wein­stein and Gio­van­ni Lo Por­to, the admin­is­tra­tion admit­ted that it did not know whom it was targeting.
"It has become clear," the New York Times con­clud­ed, ​"that when oper­a­tors in Neva­da fire mis­siles into remote trib­al ter­ri­to­ries on the oth­er side of the world, they often do not know who they are killing, but are mak­ing an imper­fect best guess." The BIJ cal­cu­lates that of the near­ly 4,000 peo­ple killed by drones in Pak­istan, few­er than 4 per­cent were al Qae­da. Only 2 per­cent were ​"high val­ue targets."
Why has the Oba­ma admin­is­tra­tion embraced a strat­e­gy that has yield­ed so lit­tle at such a high cost in pres­tige? The ques­tion con­founds many.
Two recent books offer com­pelling answers. Sud­den Jus­tice: Amer­i­ca's Secret Drone Wars is Chris Woods's metic­u­lous account of the rise of the armed drones, the scope of their deploy­ment, and the human­i­tar­i­an and polit­i­cal con­se­quences of their use. Andrew Cockburn's Kill Chain: The Rise of the High-Tech Assas­sins gives a broad­er view, sit­u­at­ing drones with­in the long Amer­i­can his­to­ry of assas­si­na­tions and the country's gen­er­al fas­ci­na­tion with lethal tech­nol­o­gy. Both books lift the veil on the oper­a­tional and tech­no­log­i­cal sides of this secre­tive cam­paign — and cast doubt on their strate­gic val­ue as a coun­tert­er­ror­ism tool.
A sub­sti­tute for boots on the ground
If there are doubts about the strate­gic val­ue of drones in fight­ing ter­ror­ism, their polit­i­cal val­ue is beyond reproach. Drone attacks play well domestically.
The U.S. is the only coun­try besides Israel and Kenya where the drone war enjoys major­i­ty sup­port by cit­i­zens (though, as polit­i­cal sci­en­tist Sarah Kreps notes, these fig­ures may have been inflat­ed by poor­ly for­mu­lat­ed sur­vey ques­tions). A suc­cess­ful drone strike earns Oba­ma kudos and shields him from the Repub­li­can charge of weak­ness; an unsuc­cess­ful one only angers out­siders, whose dis­ap­proval is of lit­tle consequence.
Even abroad, peo­ple are will­ing to excuse Obama's infrac­tions so long as he isn't launch­ing all-out wars like his pre­de­ces­sor. Indeed, he was reward­ed with a Nobel Peace Prize for the sole achieve­ment of not being George W. Bush. And Oba­ma received the prize with suit­able con­tempt: even as he accept­ed the prize, notes Woods, a drone struck Waziris­tan, killing six. A week lat­er, Oba­ma would inau­gu­rate a new cam­paign in Yemen with the assault on al-Majalah.
Killing a large num­ber of peo­ple in the hope that some of them might turn out to be ter­ror­ists may deliv­er occa­sion­al vic­to­ries, but it also inflames the sen­ti­ments that cre­at­ed the threat in the first place. Research by the human rights organ­i­sa­tion Reprieve has shown that the U.S. has killed 28 unknown peo­ple for every one of its intend­ed tar­gets. Most of these were killed in Pakistan's remote FATA region. They posed lit­tle or no threat to the U.S. But every inno­cent that is killed adds to the reser­voir of resent­ment that occa­sion­al­ly over­flows in the form of the Tsar­naev broth­ers, the Boston Marathon bombers, or a Faisal Shahzad, the would-be Times Square bomber.
But where Oba­ma has embraced drones as a con­ve­nient sub­sti­tute for boots on the ground, there is no rea­son to believe that his approach is some­how unique, or that anoth­er leader would have act­ed dif­fer­ent­ly. As Cock­burn notes, the ​"unswerv­ing faith that the vagaries of con­flict can be over­come by tech­nol­o­gy" has a longer history.
The Man­hat­tan Project and the atom­ic bomb had rein­forced the con­vic­tion that tech­nol­o­gy can dra­mat­i­cal­ly alter the bal­ance of pow­er. But, as Cock­burn notes, dur­ing the Viet­nam War, the U.S. also attempt­ed a fan­ci­ful plan to defeat the ene­my by build­ing an elec­tron­ic fence along the infa­mous Ho Chi Minh trail.
The cost­ly exper­i­ment failed as the Viet­namese guer­ril­las quick­ly fig­ured out ways to defeat the sen­sors. But the fail­ure only whet­ted the appetite of mil­i­tary lead­ers for bet­ter tech­no­log­i­cal fix­es. Cock­burn quotes a 1969 speech by the com­man­der of the US forces in Viet­nam Gen­er­al William West­more­land that sounds like the wish that drones have answered:
On the bat­tle­field of the future, ene­my forces will be locat­ed, tracked and tar­get­ed almost instan­ta­neous­ly through the use of data links, com­put­er assist­ed intel­li­gence eval­u­a­tion, and auto­mat­ed fire con­trol. With first round kill prob­a­bil­i­ties approach­ing cer­tain­ty, and with sur­veil­lance devices that can con­tin­u­al­ly track the ene­my, the need for large forces to fix the oppo­si­tion will be less important.
This vision was incor­po­rat­ed into what lat­er came to be known as the Rev­o­lu­tion in Mil­i­tary Affairs (RMA), a new approach to war­fare that empha­sized long-range pre­ci­sion weapons, net­worked com­mand and con­trol, bat­tle­field sur­veil­lance and satel­lite com­mu­ni­ca­tions. Cock­burn pro­vides a detailed account of the wind­ing path that led up to the RMA, with its myr­i­ad prophets, fan­tas­tic visions, spec­tac­u­lar fail­ures, inter-agency rival­ries and the even­tu­al tri­umph. It was the 1991 Gulf War that cement­ed the belief that air­pow­er alone could deliv­er victory.
Less than precise
But what is true for a con­ven­tion­al war is not near­ly as applic­a­ble to guer­ril­la con­flict. Tech­nol­o­gy has doubt­less made advances, but the accu­ra­cy of a weapon is only as good as the intel­li­gence its tar­get­ing is based on. In 1991, with laser-guid­ed pre­ci­sion, the U.S. blew up the Al Amiriya air raid shel­ter in Bagh­dad, believ­ing it to be a ​"com­mand and con­trol" cen­tre. Over 400 civil­ians were incinerated.
In the drone war, the U.S. has tried to cir­cum­vent human intel­li­gence alto­geth­er by rely­ing on dubi­ous tools such as social net­work analy­sis (SNA), a social sci­ence method that focus­es on the rela­tions between actors rather than their indi­vid­ual attrib­ut­es, and ​"pat­tern of life" intel­li­gence that picks tar­gets based on remote­ly observed behav­iour­al pat­terns instead of actu­al evidence.
In an infa­mous inci­dent in Uruz­gan, a U.S. drone blew up 23 mem­bers of a fam­i­ly based on such ​"pat­terns of life" fac­tors as the ablu­tions that all prac­tic­ing Mus­lims car­ry out ahead of prayers. In oth­er instances, even modes of uri­nat­ing have been used to deter­mine guilt or innocence.
Like­wise, the drone war has shown the lim­its of social net­work analy­sis. In Afghanistan, the NSA has been record­ing every tele­phone con­ver­sa­tion, and the CIA and JSOC have some­times used Inter­na­tion­al Mobile Sub­scriber Iden­ti­ty (IMSI) num­bers to track tar­gets. Cock­burn describes an inci­dent where, after asso­ci­at­ing an IMSI with insur­gent leader Mohammed Amin, pro­longed drone sur­veil­lance helped track him down along with five of his com­pan­ions, lead­ing to a tar­get­ed strike.
Except the man they killed wasn't Amin, but the anti-Tal­iban leader Zabet Aman­ul­lah, along with five of his rel­a­tives, one of them 77 years old. The ini­tial intel­li­gence was defective.
Beyond intel­li­gence fail­ures, how­ev­er, are also pure abus­es of author­i­ty. Con­fi­dent of the immu­ni­ty guar­an­teed by gov­ern­ment secre­cy, the CIA and JSOC have been less than cau­tious in exer­cis­ing their license to kill.
In one inci­dent in 2009, described by both Cock­burn and Woods, the CIA killed Khwaz Wali Mehsud, a mid-lev­el mil­i­tant, in the hope that the Pak­istani Tal­iban chief Bait­ul­lah Mehsud would attend his funer­al. Near­ly 5,000 peo­ple attend­ed the funer­al and the CIA duly fired three mis­siles into it. Eighty-three peo­ple were killed, includ­ing 10 chil­dren — Bait­ul­lah wasn't among them. In anoth­er inci­dent, after the Amer­i­can mer­ce­nary Ray­mond Davis was briefly arrest­ed in Pak­istan for a dou­ble mur­der, the CIA retal­i­at­ed by hit­ting a gath­er­ing of pro-gov­ern­ment trib­al elders, killing 42.
In the lat­ter case, Woods notes, the attack was car­ried out over the objec­tions of the U.S. ambas­sador in Islam­abad Cameron Munter; he was over­ruled by CIA direc­tor Leon Panet­ta. Munter wasn't the first ambas­sador to be side­lined. His pre­de­ces­sor Anne Patterson's warn­ings were also ignored. In a Sep­tem­ber 23, 2009 cable to Wash­ing­ton, uncov­ered by Wik­ileaks, the vet­er­an diplo­mat had issued a blunt warning:
Increased uni­lat­er­al oper­a­tions in these areas risk desta­bil­is­ing the Pak­istani state, alien­at­ing both the civil­ian gov­ern­ment and mil­i­tary lead­er­ship, and pro­vok­ing a broad­er gov­er­nance cri­sis in Pak­istan with­out final­ly achiev­ing the goal.
But the admin­is­tra­tion ignored the advice and, under Panet­ta, vast­ly expand­ed the drone pro­gram, con­fi­dent that the blow­back would be borne most­ly by oth­ers. Since the begin­ning of the war, Pak­istan has lost over 30,000 civil­ians to ter­ror­ist attacks, a large num­ber of them killed in retal­i­a­tion for U.S. drone strikes.
The drone-indus­tri­al complex
These con­cerns are unlike­ly to sway polit­i­cal opin­ion in Wash­ing­ton — in part because drones also rep­re­sent an unholy nexus of polit­i­cal expe­di­en­cy and com­mer­cial opportunity.
Politi­cians like drones because they don't have to wor­ry about the poten­tial scan­dal of sol­diers left behind ene­my lines. The arms indus­try likes them because high-tech R&D is a reli­able cash cow. The drones may be unmanned, but it takes 168 indi­vid­u­als to keep one aloft for 24 hours, many of whom are employed through pri­vate contractors.
While the orig­i­nal Preda­tor was attrac­tive for its low price tag, the per-unit cost of new­er drones now exceeds those of planes with a pilot in the cock­pit. The Reaper is more expen­sive than the F‑16, Cock­burn notes, and twice as like­ly to crash. The Glob­al Hawk is more expen­sive than the F‑35 and has remained in pro­duc­tion even though a 2011 Pen­ta­gon test office report declared it ​"not oper­a­tional­ly effec­tive." Yet despite their increas­ing­ly high price, the drones now have a 7,500-strong lob­by on the Capi­tol that will con­tin­ue to find uses for them.
Nei­ther book, how­ev­er, is a techno­pho­bic jere­mi­ad. Woods makes clear that as a weapon of war, a Preda­tor drone is no worse than an F‑16; indeed, poten­tial­ly a drone, armed with a Hell­fire mis­sile, with its lim­it­ed blast radius, can be a more dis­crim­i­nat­ing weapon. The prob­lem is not so much with their bat­tle­field deploy­ment as with their use as cheap cross-bor­der assas­si­na­tion tools.
But drones do take much away in the way of human judg­ment. Woods high­lights this with a study by Lawrence Lewis of the Cen­ter for Naval Analy­ses who, after analysing clas­si­fied data from U.S. airstrikes car­ried out in Afghanistan from mid-2010 to mid-2011, con­clud­ed that drone attacks were 10 times more like­ly to result in civil­ian casu­al­ties than attacks by non-remote­ly con­trolled air­craft. Cock­burn cites instances in which, dur­ing com­bat oper­a­tions in Afghanistan, pilots fly­ing A10s showed bet­ter judg­ment in the heat of bat­tle than drone oper­a­tors did from the safe­ty of their air-con­di­tioned trail­ers in the Neva­da desert.
Drones also place a cer­tain emo­tion­al dis­tance between the tar­get and the exe­cu­tion­er that seems to make killing eas­i­er. The mil­i­tary fur­ther eas­es moral con­straints by assign­ing dehu­man­iz­ing labels such as MAM ("mil­i­tary-aged males"), which turns a whole cat­e­go­ry of humans into accept­able tar­gets. The dan­gers were made dra­mat­i­cal­ly clear in a New York Times rev­e­la­tion that the Oba­ma admin­is­tra­tion had ​"embraced a dis­put­ed method for count­ing civil­ian casu­al­ties" that, accord­ing to sev­er­al admin­is­tra­tion offi­cials, ​"in effect counts all mil­i­tary-age males in a strike zone as com­bat­ants … unless there is explic­it intel­li­gence posthu­mous­ly prov­ing them innocent."
Cock­burn high­lights this empa­thy deficit with the afore­men­tioned Uruz­gan inci­dent. Thanks to a sub­se­quent inves­ti­ga­tion, we have access to the tran­scripts of the chat­ter among the oper­a­tors that pre­ced­ed the killing of the fam­i­ly. The atti­tude is not just cav­a­lier; it is callous.
Pilot: Our screen­ers are cur­rent­ly call­ing 21 MAMs, no females, and two pos­si­ble chil­dren. How copy?

Jaguar 25: Roger, and when we say chil­dren, are we talk­ing teenagers or toddlers?

Sen­sor: I would say about 12. Not tod­dlers; some­thing more towards ado­les­cents or teens.

Pilot: Yeah, adolescents.
Appar­ent­ly sat­is­fied with the assess­ment that the chil­dren were ​"not tod­dlers," drone oper­a­tors con­tin­ued with the strike. A lit­tle while lat­er, all the ​"ado­les­cents" were dead.
These deaths weren't unusu­al. As Woods notes, in Iraq, the U.S. had set the non-com­bat­ant casu­al­ty val­ue (NCV) at 30 — i.e., US forces could car­ry out an oper­a­tion as long as it killed no more than 30 civil­ians. For an NCV high­er than 30, an attack would require the per­son­al autho­ri­sa­tion of the sec­re­tary of defence. Cock­burn notes that accord­ing to Gen­er­al Michael Mose­ley, then-vice chief of staff of the U.S. Air Force, such author­i­ty was sought on at least 50 occa­sions after the inva­sion — and not once denied. The first suc­cess­ful attack of the drone war killed Al Qae­da deputy Mohammed Atef along with his sev­en com­pan­ions; it also killed 100 others.
Drones: less messy than jail
But nowhere has the administration's pol­i­cy been more cyn­i­cal than in its adop­tion of assas­si­na­tions as a less messy alter­na­tive to deten­tion. On sev­er­al occa­sions, accord­ing to Woods (and cor­rob­o­rat­ed by jour­nal­ists Mark Mazzetti and Daniel Klaid­man), the admin­is­tra­tion has avoid­ed the polit­i­cal com­pli­ca­tions of detain­ing ter­ror­ism sus­pects by hav­ing them killed instead.
As a for­mer law pro­fes­sor, Oba­ma is per­haps con­scious that the Gene­va con­ven­tions for­bid tor­ture under any cir­cum­stances but per­mit killing in war. Killing is his way of pre-empt­ing fraught ques­tions of deten­tion, juris­dic­tion and torture.
But Woods reveals an even more dis­turb­ing real­i­ty: ​"One for­mer offi­cer with ISAF lat­er recount­ed for the author an inci­dent in which an Afghan sus­pect­ed insur­gent was being held in cus­tody. It was decid­ed that, while there was not enough evi­dence to hold the man, there were suit­able grounds to assas­si­nate him."
The CIA, Woods argues, impli­cat­ed the admin­is­tra­tion in its assas­si­na­tion pol­i­cy ear­ly, mak­ing it impos­si­ble for it to dis­avow it with­out incrim­i­nat­ing itself. But if the CIA is cyn­i­cal, the admin­is­tra­tion is hard­ly blame­less. Bush had restored the CIA's license to kill, but Oba­ma for­mal­ized and expand­ed it.
'

Nev­er seen, nev­er known, nev­er hated'

In their dif­fer­ent ways, Woods and Cock­burn have made impor­tant con­tri­bu­tions to a sub­ject that is oth­er­wise mired in secre­cy, dis­in­for­ma­tion and polem­i­cal excess. To be sure, Cock­burn has sharp polem­i­cal chops, but his wit­ti­cisms don't come at the expense of facts. He takes a more his­tor­i­cal­ly informed view and adds sub­stan­tial orig­i­nal report­ing to it.

Woods, by con­trast, takes a more focused approach: His book is per­haps the most com­pre­hen­sive and scrupu­lous treat­ment of the sub­ject. (Though it also is over­ly cau­tious, some­times to a fault. For exam­ple, on the two occa­sions he men­tions casu­al­ties of the Iraq War, he ignores exten­sive peer-reviewed sur­veys in favour of the method­olog­i­cal­ly dubi­ous, estab­lish­ment-friend­ly Iraq Body Count figures).

For stu­dents of the sub­ject, both books are indis­pens­able; but for cit­i­zens con­cerned with the polit­i­cal and human­i­tar­i­an con­se­quences of the drone war, Woods, with his sys­tem­at­ic approach, will prove more useful.

Mean­while, as the U.S. monop­oly on drones slips, the men­ace is like­ly to grow. Ben­jamin Netanyahu has already embraced U.S. ratio­nales in car­ry­ing out drone strikes in Gaza and over­seas in the Sinai and the Sudan. But the tor­tured ratio­nales that were offered for U.S. drone assas­si­na­tions will look even less con­vinc­ing once a leader like Vladimir Putin adopts them.

It is per­haps time to vis­it the warn­ing (quot­ed by Cock­burn) that Viet­nam War vet­er­an Eric Hert­er had issued at an anti-war sol­diers' meet­ing in Boston long before the age of drones:
The new forms of war that are to replace the unpop­u­lar strug­gle of infantry and patrol against guer­ril­la bands … This new war will not pro­duce My Lais. It will be a war not of men at arms, but of com­put­ers and weapons sys­tems against whole pop­u­la­tions. Even the tor­tured bond of human­i­ty between ene­mies at war will be elim­i­nat­ed. Under its aus­pices, the peo­ple of the vil­lages have gone from being ​"gooks" and ​"dinks" to being grid-coor­di­nates, blips on scan screens, dots of light on infrared film. They are nev­er seen, nev­er known, nev­er even hat­ed. … It is hard to feel respon­si­ble for this type of war, even for those who were close to it. There is lit­tle per­son­al involve­ment. The atroc­i­ty is the result of a chain of events in which no man plays a sin­gle deci­sive part."
With deci­sion-mak­ing obscured by pro­ce­dur­al secre­cy, and with pub­lic cen­sure pre-empt­ed by dis­in­for­ma­tion, moral con­straints on killing are lift­ed. The act of killing becomes casu­al, even banal. Respon­si­bil­i­ty is deferred. If there is any les­son to be drawn from these books, it's that trans­paren­cy is the nec­es­sary first step to repair­ing chains of respon­si­bil­i­ty and ensur­ing accountability.