ISIS: Managers of Savagery
The sectarian brutality of ISIS has allowed Syrian President Bashar al-Assad to disingenuously play the victim: the arsonist masquerading as a firefighter.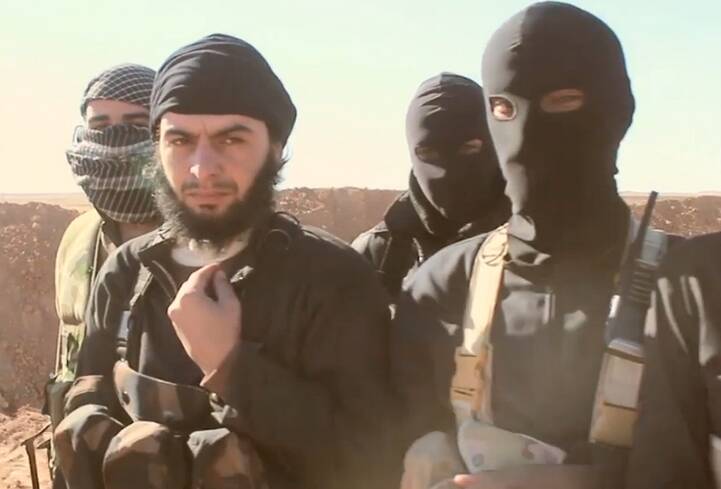 Two par­al­lel devel­op­ments have con­tributed to the rise of the Islam­ic State (IS): the U.S. inva­sion of Iraq and con­se­quent mar­gin­al­iza­tion of its Sun­ni minor­i­ty, and the aban­don­ment of the people's upris­ing in Syr­ia by the inter­na­tion­al community.
For the Assad regime, the IS has proved a godsend. Since the beginning, the regime has tried to paint the uprising as an extremist revolt against a secular government. The IS confirms this stereotype. Cruelty is central to its operational logic.
Pri­or to the inva­sion, the Jor­dan­ian mil­i­tant Abu Mus'ab al Zar­qawi was a mar­gin­al fig­ure. The war gave him a foothold: He stepped into the secu­ri­ty vac­u­um and launched Al Qae­da in Iraq (AQI). Zarqawi's project was aid­ed by the ham-fist­ed­ness of the occu­py­ing author­i­ties. Viceroy Paul Bremer's dis­band­ing of the Iraqi nation­al army and purg­ing of Baathists from state bureau­cra­cies cre­at­ed a large pool of dis­af­fect­ed Sun­nis. With lit­tle to lose, many of them put their arms and mil­i­tary train­ing in the ser­vice of the insur­gency. The alien­ation was com­plete when, in its attempt to divide the nation­al­ist upris­ing, the U.S. empow­ered sec­tar­i­an death squads and deployed Shia and Kur­dish forces to the restive Sun­ni strong­hold of Fallujah.
After the new Iraqi gov­ern­ment launched an assault on the Sun­ni town of Tal Afar in Sep­tem­ber 2005, Zar­qawi declared war on Iraq's Shia Mus­lim pop­u­la­tion, and AQI became a home for Sun­nis fear­ful of Shia dom­i­na­tion. But the major­i­ty of Iraq's Sun­nis remained wary of its motives: The scope of AQI's ambi­tions — estab­lish­ing a pan-Islam­ic Sun­ni caliphate — tran­scend­ed Iraq's bor­ders, and, with its legions of for­eign fight­ers, it remained an alien presence.
Con­scious that the wel­come might not last, Zar­qawi decid­ed to give his oper­a­tion an Iraqi veneer. In Jan­u­ary 2006, he formed the Mujahideen Shu­ra Coun­cil (MSC), bring­ing togeth­er six most­ly local Salafi (puri­tan Sun­ni) groups with an Iraqi as its nom­i­nal head. Three months lat­er, Zar­qawi was killed in a U.S. airstrike and MSC fold­ed short­ly there­after. It was super­seded in Octo­ber 2006 by the Islam­ic State of Iraq (ISI).
But Sun­nis resent­ed inter­lop­ers like Zar­qawi turn­ing their polit­i­cal mar­gin­al­iza­tion into an excuse for sec­tar­i­an strife. They want­ed a stake in Iraq's future, not the end­less inse­cu­ri­ty that ISI guar­an­teed. Nei­ther did they care for ISI's provo­ca­tions — the bomb­ing of Shia shrines, the slaugh­ter of civil­ians — which turned them into unwit­ting tar­gets of Shia ret­ri­bu­tion. (Even al-Qaeda's cen­tral lead­er­ship was leery of its brand being asso­ci­at­ed with a nar­row­ly sec­tar­i­an agen­da.) An upris­ing of Iraqi Sun­ni tribes, with encour­age­ment and sup­port from the U.S., even­tu­al­ly drove ISI out of Iraq's cities and towns, and in April 2010, its two lead­ers were killed in a raid by the U.S. Joint Spe­cial Oper­a­tions Com­mand (JSOC).
It was the upris­ing in Syr­ia, which began in March 2011, and Bashar al Assad's bru­tal response to it that revived ISI's for­tunes. It start­ed as a peace­ful, non-sec­tar­i­an and pop­u­lar move­ment for demo­c­ra­t­ic rights and dig­ni­ty. But under the régime's relent­less assault, some régime oppo­nents were forced to pick up arms. The jihadis did not enter the fray until a year lat­er, though even then they remained a mar­gin­al force: By August 2012, the CIA could count no more than 200 in the opposition's ranks. Nation­al­ists seek­ing the régime's over­throw dom­i­nat­ed the insur­gency. But starved of inter­na­tion­al sup­port, the main­stream rebel­lion withered.
August 2013 proved a turn­ing point. The Assad régime had called America's bluff and launched a sarin attack on the neigh­bor­hoods of East­ern Ghou­ta, delib­er­ate­ly cross­ing the ​"red line" that Pres­i­dent Barack Oba­ma had promised would trig­ger an inter­ven­tion. Oba­ma failed to match tough words with action, and an embold­ened régime esca­lat­ed the war. Main­stream rebels aligned with the West were dis­cred­it­ed. The jihadis' star rose.
Under its new leader Abu Bakr al Bagh­da­di, ISI had expand­ed its oper­a­tions into Syr­ia. In April 2013, it offi­cial­ly rebrand­ed itself the Islam­ic State of Iraq and the Lev­ant (al-Shaam) — ISIS. Its oper­a­tional coher­ence was bol­stered by the many for­mer Iraqi sol­diers in its ranks; its num­bers were swelled by jihadis released from Assad's pris­ons in 2011. Many of these men had in the past been infil­trat­ed into Iraq by the Assad régime to keep the U.S. in check. But, as the occu­pa­tion wound down, the jihadis found them­selves arrest­ed on return.
Care­ful to avoid direct con­fronta­tion with the régime where it could, ISIS expand­ed its pres­ence main­ly by seiz­ing ter­ri­to­ry from Syr­i­an rebel groups. It used this ter­ri­to­ry to impose its medieval rule and con­tin­ue its war of attri­tion against the anti-Assad rebel­lion. ISIS assas­si­nat­ed its lead­ers and harassed its fight­ers; it also intim­i­dat­ed or dis­ap­peared civ­il soci­ety activists.
With ISIS's pres­ence grow­ing increas­ing­ly intol­er­a­ble, the Syr­i­an resis­tance struck back. Begin­ning on New Year's Day 2014, rebel groups includ­ing the Free Syr­ia Army (FSA), the Islam­ic Front (IF), Ahrar al-Sham (AS) and even the offi­cial al-Qae­da affil­i­ate Jab­hat al-Nus­ra (JAN) unit­ed to dri­ve ISIS out of Idlib, Deir Ezzor, much of Alep­po and the envi­rons of Damascus.
But by 2013, the dynam­ics in Iraq had shift­ed. Fol­low­ing the U.S. with­draw­al, the remain­ing checks on Iraqi Prime Min­is­ter Nouri al-Maliki's sec­tar­i­an rule had been lift­ed. Inspired by the Arab Spring, the dis­af­fect­ed and vul­ner­a­ble Sun­ni pop­u­la­tion protest­ed. But like Assad, Mali­ki respond­ed with repres­sion and bar­rel bombs; his forces act­ed like occupiers.
Sun­ni anger grew. In sum­mer 2014, ISIS and the for­mer Iraqi gen­er­al Izzat Ibrahim al-Duri's Naqsh­ban­di Army final­ly rode the wave of mount­ing resent­ments for a light­ning advance across north­ern Iraq. Caught by sur­prise, the numer­i­cal­ly supe­ri­or Iraqi army dis­in­te­grat­ed. It aban­doned its Amer­i­can-sup­plied arms to the ISIS spear­head. Mosul fell, Sun­nis cel­e­brat­ed. And, with its enhanced fire­pow­er, ISIS returned to Syr­ia in triumph.
Assert­ing its broad­er aspi­ra­tions, ISIS dropped the geo­graph­i­cal ref­er­ence from its name. The Islam­ic State (IS), as it is now called, declared a glob­al ​"caliphate" and, through a series of grue­some atroc­i­ties, suc­cess­ful­ly bait­ed the U.S. into inter­ven­ing mil­i­tar­i­ly. Its vic­tims were jour­nal­ists and aid work­ers, all well-wish­ers of the Syr­i­an peo­ple. Its blood­lust even made Al Qae­da recoil. Al Qae­da had always had an uneasy rela­tion­ship with its Zar­qawi­ite off­shoot. But the mutu­al antipa­thy final­ly burst into the open when Al Qae­da chief Ayman al Zawahiri ordered ISIS dis­band­ed, and Bagh­da­di refused. In Feb­ru­ary 2014, Al Qae­da offi­cial­ly repu­di­at­ed ISIS.
These devel­op­ments are recount­ed in painstak­ing detail in Michael Weiss and Has­san Hassan's indis­pens­able ISIS: Inside the Army of Ter­ror. Beyond his­to­ry, the book presents a gran­u­lar analy­sis of the IS's orga­ni­za­tion, ide­ol­o­gy, fund­ing and recruit­ment. The book explains the strate­gic log­ic of the group's spec­tac­u­lar cru­el­ty while giv­ing read­ers a glimpse of the IS mind­set through a series of inter­views with its cadre. It also describes the com­mon expe­ri­ences that set its lead­ers on the path of jihad (Zar­qawi was rad­i­cal­ized in a Jor­dan­ian prison; Bagh­da­di at the Amer­i­can Camp Buc­ca). It also shows how the IS secured the loy­al­ty of tribes under its rule by buy­ing or blud­geon­ing them, using coer­cion or cooptation.
By con­trast, Patrick Cockburn's The Rise of Islam­ic State: ISIS and the New Sun­ni Rev­o­lu­tion is a high-alti­tude polemic that blames the IS's rise on U.S. and Sau­di sup­port for the anti-Assad rebel­lion. It has lit­tle or noth­ing to say about IS ide­ol­o­gy or com­po­si­tion. Act­ing more as an advo­cate than an observ­er, Cock­burn argues for rap­proche­ment with the Assad régime.
But to make his case, Cock­burn dis­pens­es with pro­por­tion and dis­tinc­tion. Though in suc­ces­sive reports the U.N., Amnesty Inter­na­tion­al and Human Rights Watch have indict­ed the Assad régime as by far the lead­ing per­pe­tra­tor of vio­lence in the con­flict, Cockburn's account is devot­ed almost entire­ly to oppo­si­tion atroc­i­ties. (He reports exclu­sive­ly from régime-held areas.) Régime repres­sion does receive cur­so­ry men­tion, but Nazi analo­gies are reserved for the opposition.
Cock­burn makes no men­tion of the diver­gent inter­ests and active rival­ries between IS and Syria's nation­al­ist oppo­si­tion. For him, to assist the oppo­si­tion is to assist the IS.
To sup­port this claim, he quotes ​"an intel­li­gence offi­cer from a Mid­dle East­ern coun­try neigh­bor­ing Syr­ia" who told him ​"ISIS mem­bers ​'say they are always pleased when sophis­ti­cat­ed weapons are sent to anti-Assad groups of any kind because they can always get the arms off them by threats of force or cash pay­ments.'" (Cock­burn quotes many anony­mous intel­li­gence offi­cials in the book but on no oth­er occa­sion does he grant the coun­try anonymi­ty. Might it be because the ​"coun­try neigh­bor­ing Syr­ia" is Iraq, a key Assad ally?)
Yet this bias is the least of the prob­lems in Cock­burn's report­ing — he also embell­ish­es. On page 89 of his book, he writes about Adra: ​"I wit­nessed JAN forces storm a hous­ing com­plex by advanc­ing through a drainage pipe which came out behind gov­ern­ment lines, where they pro­ceed­ed to kill Alaw­ites and Chris­tians." This would be the first inde­pen­dent ver­i­fi­ca­tion of a sto­ry that had briefly sur­faced before dis­ap­pear­ing in a swirl of con­tra­dic­to­ry claims. The Russ­ian broad­cast­er RT had even used fake pic­tures in its report on the inci­dent.
Yet Cock­burn was nowhere near Adra. This is con­firmed by an unim­peach­able source: Patrick Cock­burn. He first report­ed on the inci­dent in his Jan­u­ary 28, 2014 col­umn for The Inde­pen­dent. But instead of being per­son­al­ly present, the sto­ry about rebels advanc­ing through a drainage pipe is attrib­uted to ​"a Syr­i­an sol­dier, who gave his name as Abu Ali." Cock­burn appears to have pulled a Bri­an Williams.
Pace Cockburn's insis­tence that the Assad régime and the Kurds are the only forces capa­ble of defeat­ing the IS, Weiss and Has­san adduce evi­dence show­ing that the régime has delib­er­ate­ly avoid­ed con­fronta­tion with the IS. The authors cite a study from the Carter Cen­ter that con­firms that the régime has spared the IS in 90 per­cent of its attacks. An IHS Jane's Ter­ror­ism and Insur­gency Cen­ter (JTIC) study is even more damn­ing. It reveals that in 2014, only 13 per­cent of the IS attacks were direct­ed at the régime; in turn, the régime tar­get­ed the IS in only 6% of its attacks. The brunt of both groups' furies has been direct­ed at the Syr­i­an people.
None of this is acknowl­edged in Cockburn's analy­sis. Ear­li­er in Feb­ru­ary, as the régime launched a par­tic­u­lar­ly sav­age series of bomb­ings against the Syr­i­an town of Douma, killing up to 250 civil­ians, Cock­burn reprised his crit­i­cism of the West for ​"try­ing to over­throw Pres­i­dent Bashar al-Assad whose army is the main mil­i­tary oppo­nent of ISIS." The IS can be defeat­ed, Cock­burn argued, if west­ern pow­ers unit­ed with the régime. But if the crit­i­cal fac­tor is west­ern pow­er, he doesn't say why it should­n't back Syr­i­an rebels, who actu­al­ly have a record of fight­ing and defeat­ing the IS.
Cockburn's pre­scrip­tions notwith­stand­ing, this is what the U.S. appears to be doing for now. In its assault on the IS, it has act­ed in coor­di­na­tion with the Assad régime — func­tion­ing, in effect, as its air force — and, like the régime, made no dis­tinc­tion between var­i­ous rebel groups, tar­get­ing the IS as well as its Islamist adver­saries in JAN and AS.
For the Assad régime, the IS has proved a godsend.
Since the begin­ning, the régime has tried to paint the upris­ing as an extrem­ist revolt against a sec­u­lar gov­ern­ment. The IS con­firms this stereo­type. Cru­el­ty is cen­tral to its oper­a­tional log­ic. The IS prac­tices a doc­trine expound­ed in a text called Man­age­ment of Sav­agery by a jiha­di ide­o­logue with the nom de guerre Abu Bakr Naji. It pre­scribes a form of war­fare to which ​"vio­lence, crude­ness, ter­ror­ism, [deter­rence] and mas­sacring" are central.
The IS has ele­vat­ed sec­tar­i­an revan­chism into a polit­i­cal project. And this has allowed Assad — who delib­er­ate­ly used a sec­tar­i­an strat­e­gy to divide a cross-denom­i­na­tion­al revolt — to disin­gen­u­ous­ly play the vic­tim: the arson­ist mas­querad­ing as a firefighter.
Cock­burn echoes and ampli­fies this line. This inver­sion of cause and effect has led to a sit­u­a­tion where west­ern pow­ers are now inflam­ing the very fac­tors that led to the rise of the IS. In Iraq, the US is arm­ing Iran­ian-backed Shia mili­tias whose excess­es engen­dered the IS back­lash; in Syr­ia the U.S. is coor­di­nat­ing airstrikes with the still-ram­pag­ing régime, even rely­ing on its intel­li­gence. (The only excep­tion was Kobane, where air­pow­er helped the Kurds and the FSA repel an IS offensive.)
But on any giv­en day one has to do no more than sur­vey the pre­vi­ous week's events for per­spec­tive. On Feb­ru­ary 19, the BBC report­ed that the Kur­dish YPG and three Syr­i­an rebel groups — the groups that Cock­burn insists don't exist– advanced into the IS strong­hold of Raqqa to cap­ture 19 villages.
The ​"main mil­i­tary oppo­nent of ISIS" was mean­while busy else­where. On Feb­ru­ary 17, dur­ing their brief occu­pa­tion of the town of Ret­ian in Alep­po, régime forces exe­cut­ed at least 21 civil­ians, accord­ing to the Vio­la­tions Doc­u­men­ta­tion Cen­tre. (The Syr­i­an Obser­va­to­ry for Human Rights places the fig­ure at 49.) Four days lat­er, on the first anniver­sary of the U.N. Res­o­lu­tion 2139, which demand­ed an end to the indis­crim­i­nate bomb­ing of civil­ians, Syr­i­an Civ­il Defence work­ers record­ed 15 bar­rel bombs dropped on Alep­po. None of this reg­is­ters in Cockburn's invert­ed ide­o­log­i­cal portrait.
The virtue of Weiss and Hassan's book is that it places the peo­ple of Syr­ia front and cen­ter; Cock­burn, on the oth­er hand, views every­thing through the prism of state rival­ries. Deduc­tive ide­o­log­i­cal rea­son­ing allows him to treat Assad's slaugh­ter of his own peo­ple as an act of resis­tance to impe­ri­al­ism. Cockburn's pre­scrip­tions are aimed at rem­e­dy­ing symp­toms with­out address­ing the cause; they guar­an­tee per­pet­u­al war. Heed­ing Weiss and Has­san would put the U.S. on the side of Syria's major­i­ty and poten­tial­ly bring sta­bil­i­ty to Iraq.
COR­REC­TION: This review orig­i­nal­ly cit­ed a quote as appear­ing on page 76 of Patrick Cock­burn's book The Rise of Islam­ic State. This referred to an ear­li­er ver­sion of the book pub­lished by OR Books; in the Ver­so edi­tion, the quote was on page 89, not page 76.