If You Support the Durham Freedom Fighters, Now Is the Time to Have Their Backs
Organizer Angaza Laughinghouse on the wave of retaliation following the toppling of a Confederate monument.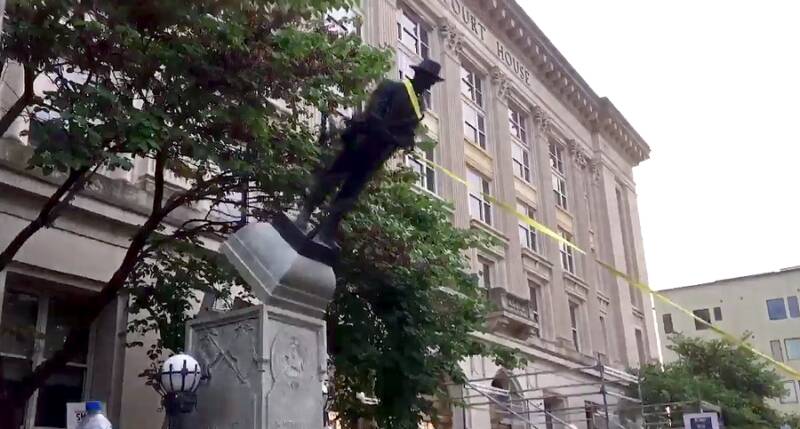 In the wake of the white suprema­cist attacks on Char­lottesville, Va. this week­end, protests sprang up around the coun­try. In North Car­oli­na, a place laden with its own his­to­ry of white suprema­cist vio­lence, pro­test­ers pulled down a stat­ue of a Con­fed­er­ate sol­dier out­side of the Durham Coun­ty Cour­t­house. Arrests and raids on activists' homes fol­lowed — so have fur­ther protests in sol­i­dar­i­ty with those who took down the stat­ue. On Thurs­day morn­ing, hun­dreds attempt­ed to march on the jail and turn them­selves in to protest the arrests and call for charges to be dropped.
There is a long history of white supremacist violence, since that is what they have always done.
I spoke with Angaza Laugh­ing­house, long-time orga­niz­er in the area. He talks about the protests, the long fight against white suprema­cy in the South, and work­ers' role in that struggle.
Angaza Laugh­ing­house: My name is Angaza Laugh­ing­house. I am a long-time com­mu­ni­ty activist and labor union leader. I'm the for­mer pres­i­dent of North Car­oli­na Pub­lic Ser­vice Work­ers Union. I was a found­ing mem­ber of Black Work­ers for Jus­tice. I am from North Car­oli­na. My par­ents are from Greenville, North Car­oli­na. I grew up around the main streets where the demar­ca­tion line for apartheid is: Line Street and Bound­ary Street.
We had no pub­lic libraries in Greenville for the black com­mu­ni­ty. We couldn't cross over the line on Bound­ary Street to get to any of the facil­i­ties. There was no equal access to pub­lic facil­i­ties at all when I was grow­ing up for part of my life in Greenville, North Carolina.
Sarah: In North Car­oli­na, fol­low­ing the events in Char­lottesville this week­end, peo­ple took it upon them­selves to remove the Con­fed­er­ate stat­ue in Durham. Tell us a lit­tle bit about what hap­pened and the after­math of that.
Angaza: Obvi­ous­ly, peo­ple were angered Fri­day night when they saw those peo­ple march­ing around with those torch­es — shout­ing those racist, white suprema­cist chants. We knew right then and there that that couldn't hap­pen with­out more peo­ple being engaged in this dis­cus­sion and this fight to chal­lenge this grow­ing right-wing pop­u­lar move­ment — this white suprema­cist move­ment. Dis­cus­sion start­ed that week­end. By the time Sat­ur­day rolled around, every­body was on the phone and send­ing emails and texts com­mu­ni­cat­ing that this can­not stand with­out us respond­ing to the death of our com­rade there who was mur­dered and the peo­ple who were injured.
Then, lat­er on, peo­ple were com­mu­ni­cat­ing about the young black man who was beat­en when he went to the park­ing garage to retrieve his car. In that moment, peo­ple began say­ing that we'd have to mobi­lize across the state of North Car­oli­na to tell them, to tell the world, that we weren't going to let these fas­cist Nazis, white suprema­cists and white nation­al­ists just mur­der and injure and ral­ly their forces to push this his­toric white suprema­cist outlook.
That Sun­day, we began plan­ning the activ­i­ty in Durham. We began plan­ning, also, anoth­er activ­i­ty in Raleigh. In Raleigh, we had a can­dle­light vig­il in front of the Dr. Mar­tin Luther King Jr. stat­ue in the heart of the black com­mu­ni­ty. About 900 peo­ple gath­ered to mourn the death of our com­rade who was mur­dered and rec­og­nize the 19 peo­ple who were injured.
Durham, as you know, had the oth­er activ­i­ty. Ini­tial­ly we ral­lied to show some sol­i­dar­i­ty in action in terms of the free­dom fight­ers that were attacked. It had a great impact on the com­mu­ni­ty here. We talked about it.
Sarah: After the ral­ly in Durham and the stat­ue being pulled down, I under­stand there have been arrests and that the police have been raid­ing people's homes. Can you tell us a lit­tle bit about what has been happening?
Angaza: At the press con­fer­ence held the fol­low­ing day after the stat­ue was pulled down, there was a press con­fer­ence and two under­cov­er agents approached Takiyah Thomp­son of North Car­oli­na Cen­tral Uni­ver­si­ty — a black stu­dent and long-time activist with sev­er­al of the lead­ing orga­ni­za­tions that are a part of build­ing a broad­er people's assem­bly. They just came and they asked her, ​"Are you Takiyah Thomp­son?" She said, ​"Yes." They arrest­ed her for the inci­dent that had occurred. There was a group of peo­ple who sur­round­ed her imme­di­ate­ly after the press con­fer­ence, and they walked with her and told her, ​"We love you and we have got your back" as she approached the under­cov­er car that they put her in after they hand­cuffed her.
The fol­low­ing day they con­tin­ued to round up indi­vid­u­als. One is a lawyer, Peter Gilbert, and one is a union orga­niz­er, Dante Strobi­no, and oth­ers. They are con­tin­u­ing to round up as we speak, pick­ing them up. We are for­tu­nate that we have a long his­to­ry of work­ing togeth­er in this com­mu­ni­ty. We were able to acquire the legal ser­vices of a well-known social jus­tice and crim­i­nal lawyer by the name of Scott Holmes. He is help­ing us get them out and process them as we try to pull togeth­er a team of lawyers to rep­re­sent these free­dom fight­ers that took down the statue.
Sarah: The gov­er­nor, who is now a Demo­c­rat, said that these stat­ues should come down in the wake of this, right?
Angaza: Yes. Yes­ter­day, Gov­er­nor Roy Coop­er came out with an actu­al press state­ment out­lin­ing steps for the removal of all Con­fed­er­ate stat­ues from state prop­er­ty. The for­mer Repub­li­can admin­is­tra­tion of Pat McCro­ry passed a law that states that they can­not move, replace or relo­cate any of these his­tor­i­cal con­fed­er­ate stat­ues from any state prop­er­ty. The gov­er­nor wants to repeal this law that was passed by the major­i­ty-Repub­li­can state leg­is­la­ture. The state leg­is­la­ture pushed through the North Car­oli­na House of Rep­re­sen­ta­tives a bill that states that they will not hold liable any dri­ver dri­ving a vehi­cle through any these protests. The gov­er­nor is urg­ing the State Sen­ate not to pass this bill and said that we need to make sure peo­ple don't dri­ve through demonstrations.
Sarah: You were telling me that you have expe­ri­enced that, when you are orga­niz­ing, peo­ple try to run you down with a car.
Angaza: As a union, we often go to work­places, whether it is street main­te­nance sites or the san­i­ta­tion yard, usu­al­ly in areas where peo­ple have to dri­ve down a road to get into their work­places or pick up their trucks. While we are hand­ing out the fly­ers, often­times some of the peo­ple who have white suprema­cist ideas and are union haters will say, ​"You god­damned union com­mu­nist organizer."
It is not just a ques­tion of protests and ral­lies. In the ​"right-to-work" South, where less than 3 per­cent of all work­ers in North Car­oli­na are union­ized, there is a lot of anti-union feel­ing. This white suprema­cist think­ing is insti­tu­tion­al­ized. It is every­where: in his­to­ry, in the work­place. Part of the anti-union right to work cli­mate. White suprema­cists are now call­ing the coun­ty gov­ern­ment and telling them to pros­e­cute these folks who pulled down the stat­ue to the fullest extent of the law. It is not just a few cra­zies as some peo­ple want to write it off.
Sarah: Could you tell us a lit­tle bit more about your his­to­ry in North Car­oli­na? You have been con­fronting this stuff for a long time.
Angaza: Well, I haven't been con­fronting it for a long time, but black peo­ple cer­tain­ly have been con­fronting this for hun­dreds and hun­dreds of years. Whether it was lynch­ings or whether it was the Wilm­ing­ton Riots of 1898, where the white suprema­cists came and they burned down a black news­pa­per, black busi­ness­es and mur­dered and slaugh­tered black peo­ple in Wilm­ing­ton, North Carolina.
There is a long his­to­ry of white suprema­cist vio­lence, since that is what they have always done. I think back to those sto­ries my grand­moth­er told me, about how they robbed my great-grandfather's store way back in the ear­ly 1900s. It was around 1920s and 1930s down in Greenville, North Car­oli­na when white suprema­cists threw the safe on my father's chest. My dad had a big scar on his chest. He was miss­ing a whole pec­toral mus­cle. As I reflect upon that, peace and bless­ings be on my dad who passed in 2007. There is a long his­to­ry of white suprema­cist violence.
I have been here in North Car­oli­na every sum­mer of my life since I was born in 1952. What brought me back was the mur­der of those five union orga­niz­ers and polit­i­cal activists in Greens­boro. This was the his­toric Greens­boro Mas­sacre of Novem­ber 3, 1979, when the Klan came into a black com­mu­ni­ty known as Morn­ing­side Heights and gunned down five com­mu­ni­ty and union orga­niz­ers who were hav­ing a ral­ly there. There is a long history.
Also, there is a lawyer work­ing down in rur­al areas, par­tic­u­lar­ly New­ton Grove, John­son Coun­ty and what we call the Black Belt region, where the African Amer­i­cans. It was very appar­ent the role that these white suprema­cists played in intim­i­dat­ing the work­ers. They would cheat them out of their wages, they would work them over­time with­out pay­ing them, spray the fields with pes­ti­cides know­ing the work­ers were still work­ing in the fields. It shows just how this white suprema­cist ide­ol­o­gy deval­ues black lives.
Sarah: How can peo­ple sup­port the folks that were arrest­ed? How can peo­ple sup­port your work in North Car­oli­na and the orga­niz­ing that is still going on in North Carolina?
Angaza: One of the things we are ask­ing peo­ple to do is call the dis­trict attor­ney in Durham Coun­ty, dial 919−808−3010. We are ask­ing them to tell who­ev­er answers the phone to drop the charges on the free­dom fight­ers that took down the stat­ue. The oth­er thing we are doing is we are ask­ing peo­ple to please donate. If they go online to the Durham Sol­i­dar­i­ty Cen­ter Free­dom Fight­ers Fund, they can donate towards the legal rep­re­sen­ta­tion of the peo­ple who took the stat­ues down.
In light of what is hap­pen­ing in our work­places, I think we have to take up this dis­cus­sion of why all work­ers have to make every effort to defeat white suprema­cy: this white nation­al­ist and neo-fas­cist pop­u­lar moment that is devel­op­ing. It keeps work­ers divid­ed in our work­places so we can't union­ize and win basic rights and bet­ter con­di­tions and wages in our work­place. Many of us have heard about the recent loss down in Mis­sis­sip­pi with the Unit­ed Auto Work­ers Union orga­niz­ing of the Nis­san plant down there in Mis­sis­sip­pi. It is just very impor­tant to take time out to see how this impacts our workplace.
Inter­views for Resis­tance is a project of Sarah Jaffe, with assis­tance from Lau­ra Feuille­bois and sup­port from the Nation Insti­tute. It is also avail­able as a pod­cast on iTunes. Not to be reprint­ed with­out permission.
Sarah Jaffe
is a for­mer staff writer at
In These Times
and author of
Nec­es­sary Trou­ble: Amer­i­cans in Revolt
, which Robin D.G. Kel­ley called ​
"
The most com­pelling social and polit­i­cal por­trait of our age." You can fol­low her on Twit­ter
@sarahljaffe
.