E Pluribus Turkey
We're obsessed with debunking Thanksgiving.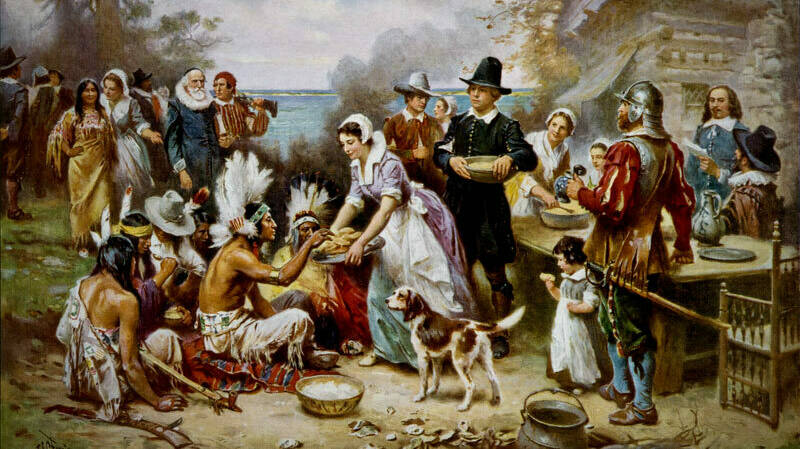 One hun­dred and fifty years ago, in the midst of the Civ­il War, Abra­ham Lin­coln pro­claimed Thanks­giv­ing a nation­al hol­i­day. As part of his call to cel­e­brate the day, Lin­coln asked that the nation's bless­ings be ​"solemn­ly, rev­er­ent­ly and grate­ful­ly acknowl­edged as with one heart and one voice by the whole Amer­i­can peo­ple" and for Amer­i­cans to ​"implore the inter­po­si­tion of the Almighty Hand to heal the wounds of the nation and to restore it as soon as may be con­sis­tent with the divine pur­pos­es." Forged as a tool of nation­al uni­ty, the Thanks­giv­ing nar­ra­tive would prove over the next cen­tu­ry-and-a-half to be an excep­tion­al instru­ment for the task, becom­ing a cor­ner­stone of America's self-mythology.
For both religious and non-religious Americans, the spiritual unity embodied by the Thanksgiving story has been supplemented with new commercial and cultural practices—parades and football—that would likely surprise Lincoln. Thanksgiving has proven itself to be quite malleable and inclusive of most Americans, despite—or perhaps because of—its debatable origins.
Nev­er­the­less, using ​"facts" to debunk the sto­ry of ​"the first Thanks­giv­ing" is some­thing of a cot­tage indus­try this time of year. Jour­nal­ists, his­to­ri­ans and talk­ing heads across the polit­i­cal spec­trum, in out­lets from the Wash­ing­ton Post to the His­to­ry News Net­work, argue over the his­tor­i­cal accu­ra­cy of the tale. The debunk­ings often take the form of a bul­let point list that con­trasts his­tor­i­cal ​"facts" with ahis­tor­i­cal ​"myths." But these pun­dits fail to appre­ci­ate that the most com­pelling fea­ture of the sto­ry is not its his­toric details, but its adaptability.
As the sto­ry goes, the Pil­grims came direct­ly from Eng­land and land­ed at Ply­mouth Rock. In Amer­i­ca, they hoped to find the free­doms and lib­er­ties denied to them by Eng­lish author­i­ties. After their first suc­cess­ful har­vest, they invit­ed a group of Amer­i­can Indi­ans to help them cel­e­brate Thanks­giv­ing. Unlike the mer­ce­nary and abortive colonies of Jamestown and Roanoke, the Ply­mouth set­tlers are re- mem­bered for their ideals (and their longevity).
A more his­tor­i­cal account con­tends that when the Pil­grims left Eng­land and its church, they ini­tial­ly estab­lished a Sep­a­ratist colony in Hol­land. But mem­bers quit the colony in its first decade, seduced by the ​"evil exam­ples" of ​"extrav­a­gance and dan­ger­ous cours­es" exhib­it­ed by their Dutch neigh­bors. In need of an orga­ni­za­tion­al and eco­nom­ic boost, the lead­ers uproot­ed the colony in 1620 and sailed across the Atlantic, land­ing first at Province­town Har­bor and set­tling even­tu­al­ly at Ply­mouth. Two pri­ma­ry sources, writ­ten by colonists William Brad­ford and Edward Winslow, pro­vide the lit­tle detail we have of the actu­al cer­e­mo­ny that became the basis of Thanks­giv­ing. We know that the Pil­grims brought with them the prac­tice of cel­e­brat­ing a good har­vest. They held one such fes­ti­val at some point in the fall of 1621. Dur­ing the feast, a group of Wampanoag appeared and stayed with them for sev­er­al days.
There's plen­ty, then, to quib­ble with in the tra­di­tion­al Thanks­giv­ing sto­ry: The myth tells us that the Pil­grims land­ed at Ply­mouth Rock. The real­i­ty is that they first dropped anchor eighty miles away. The myth holds that the Pil­grims specif­i­cal­ly invit­ed the Indi­ans to share a feast. Winslow's account mere­ly states there were ​"many of the Indi­ans com­ing among us." The myth tells us the set­tlers were seek­ing indi­vid­ual free­doms as we under­stand them — i.e., life, lib­er­ty, and the pur­suit of hap­pi­ness. But these ideals did not come along until the 18th cen­tu­ry and were not enshrined in the nation­al con­scious­ness until 1776, with the sign­ing of the Dec­la­ra­tion of Inde­pen­dence. The Pil­grims came to Amer­i­ca to pre­serve their num­bers and improve their eco­nom­ic for­tunes. They took a big risk to achieve mod­est and imme­di­ate goals.
Even the debunk­ings omit details, merge sto­ry­lines and include a dizzy­ing array of imag­i­na­tive flour­ish­es. Some con­fuse the Pil­grims, who were sep­a­ratists, with the reformist Puri­tans, who land­ed fur­ther up the Mass­a­chu­setts coast in 1630 to estab­lish what became known as ​"the Mass­a­chu­setts Bay colony." After all, both begin with ​"P," and the Puri­tans, too, held cel­e­bra­tions; the most famous (or infa­mous) of these was a gath­er­ing in 1637 to give thanks for the safe return of a group of sol­diers from Con­necti­cut and Mass­a­chu­setts Bay, who, accom­pa­nied by Nar­ra­gansett war­riors, had mas­sa­cred a group of Pequot as part of an ongo­ing war. Writ­ers and his­to­ri­ans who are dis­pleased with the cozi­ness of the Pil­grims' 1621 episode often focus on the 1637 Puri­tans inci­dent as a sort of anti-Thanks­giv­ing foil.
The prob­lem at the heart of the dis­agree­ment is that nei­ther the Pil­grims nor the Puri­tans were cel­e­brat­ing Thanks­giv­ing. They were just giv­ing thanks. The his­tor­i­cal facts of their giv­ing thanks have since been rearranged and elab­o­rat­ed to cre­ate the sto­ry of Thanks­giv­ing. To mere­ly rely on ​"the facts," then, won't help us under­stand the sig­nif­i­cance of this sto­ry with­in our nation­al mythology.
One of the most pow­er­ful fea­tures of the Thanks­giv­ing sto­ry is its empha­sis on uni­ty — between dif­fer­ent cul­tures, and between humans and God. Sig­nif­i­cant­ly, the Thanks­giv­ing sto­ry was advanced when it was far from cer­tain that a (re)union of North and South was pos­si­ble. When Lin­coln invit­ed the nation to col­lec­tive­ly ​"set apart and observe the last Thurs­day of Novem­ber next, as a day of Thanks­giv­ing and Praise to our benef­i­cent Father who dwelleth in the Heav­ens," he not only want­ed to bind the nation togeth­er, but to bind the nation with the tran­scen­dent and eter­nal God of Chris­tian­i­ty— a pow­er­ful seal indeed.
Uni­ty remains elu­sive in Amer­i­ca. The Atlantic/​Aspen Institute's 2013 Amer­i­can Val­ues Sur­vey reports that 61 per­cent of Amer­i­cans believe the nation has become ​"some­what more" or ​"much more" divid­ed over the past 10 years, and a sur­pris­ing 20 per­cent of the pop­u­la­tion is doubt­ful that the Unit­ed States can remain unit­ed as one coun­try. We're divid­ed by fault lines of race, reli­gion, pol­i­tics and class. Yet nation­al tra­di­tions live on. Mus­lims, Jews, Hin­dus, Chris­tians of all denom­i­na­tions, and even the sep­a­ratist Amish cel­e­brate these tra­di­tions in their own ways. For both reli­gious and non-reli­gious Amer­i­cans, the spir­i­tu­al uni­ty embod­ied by the Thanks­giv­ing sto­ry has been sup­ple­ment­ed with new com­mer­cial and cul­tur­al prac­tices — parades and foot­ball — that would like­ly sur­prise Lin­coln. Thanks­giv­ing has proven itself to be quite mal­leable and inclu­sive of most Amer­i­cans, despite — or per­haps because of — its debat­able origins.
Myths live and die, mutate and adapt, accord­ing to the inter­ests of the soci­eties that car­ry them. On an indi­vid­ual lev­el, we can­not escape our col­lec­tive myths because they are so per­son­al. They are the glue that allows us to cul­ti­vate sol­i­dar­i­ty with oth­ers and make sense of our indi­vid­ual expe­ri­ences. Though many Amer­i­cans ques­tion whether we can remain one indi­vis­i­ble nation in a polit­i­cal sense, the civic prac­tices of cel­e­brat­ing our uni­ty, and the ways we incor­po­rate the nation­al myth into our own iden­ti­ties, remain strong. So this Thanks­giv­ing week­end, as you dri­ve on an inter­state high­way to vis­it rel­a­tives, spend a com­mon cur­ren­cy at the mall, mea­sure the weight of your turkey by Unit­ed States cus­tom­ary units, or gath­er at the bar to watch the Cow­boys or the Steel­ers, remem­ber that uni­ty in Amer­i­ca is alive and well in the most rou­tine, yet efflu­vial, ways.
John Eich­er
is a Ph.D. can­di­date in His­to­ry at the Uni­ver­si­ty of Iowa and lives in Iowa City, Iowa.