El Salvador's New Left
Once a guerrilla movement, the FMLN has swapped revolutionary rhetoric for pragmatic politics.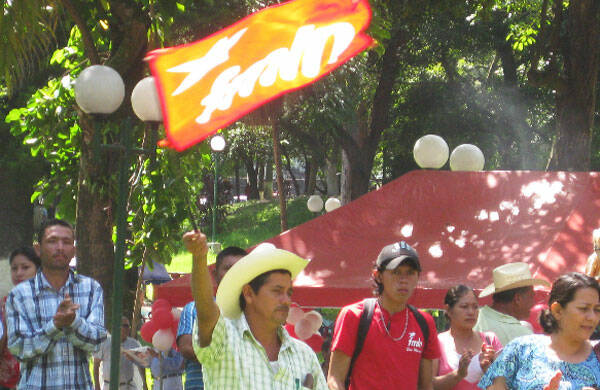 SAN SAL­VADOR – Red ban­ners, olive fatigues and Sovi­et-style march­ing music filled Par­que Cus­catlán on Oct. 12, as hun­dreds of loy­al mem­bers of El Salvador's Fari­bun­do Mar­ti Nation­al Lib­er­a­tion (FMLN) par­ty cel­e­brat­ed in the nation's capital.
They were there on what would have been the 78th birth­day of Jorge Schafik Han­dal, one of their movement's found­ing fathers and the 2004 FMLN pres­i­den­tial can­di­date, who died two years ago.
Speak­ers drew applause upon men­tion­ing the names of Venezue­lan Pres­i­dent Hugo Chávez, Boli­vian Pres­i­dent Evo Morales and late Cuban rev­o­lu­tion­ary Che Gue­vara. Teenage chil­dren of for­mer rebels per­formed a play about the dan­gers of for­get­ting the mas­sacres that the Sal­vado­ran mil­i­tary per­pe­trat­ed dur­ing the country's bloody, 12-year civ­il war, which end­ed in 1992. A speech by Schafik Handal's wife, Tanya, brought tears of nos­tal­gia to many in the crowd. She con­clud­ed by plac­ing a red rose at the base of the park's Mem­o­ry and Truth wall, which is inscribed with the names of rough­ly 35,000 civil­ians killed dur­ing the war.
Per­haps the show­stop­per was Alber­to Lima, 14, who took the stage and, in a squeaky ado­les­cent voice, threat­ened the demise of cap­i­tal­ists every­where. He lat­er picked a stick off the ground and cra­dled it like a machine gun.
Based on these scenes, one could be for­giv­en for think­ing that Latin America's Cold War-era con­flicts were about to rage again. But a curi­ous change is blow­ing through the FMLN par­ty, dust­ing off the old guard or, per­haps, sweep­ing them into the dust­bin of history.
A prag­mat­ic approach
El Sal­vador will hold par­lia­men­tary elec­tions in Jan­u­ary and pres­i­den­tial elec­tions in March, and el frente (or ​"the front") – as the FMLN par­ty is com­mon­ly called here – is poised to win the pres­i­den­cy for the first time since five rebel groups found­ed the par­ty in 1980.
FMLN pres­i­den­tial can­di­date, Mauri­cio Funes, 49, only recent­ly joined the par­ty. He is well known in El Sal­vador as a polit­i­cal jour­nal­ist and tele­vi­sion host. Funes' long-run­ning morn­ing show was one of the few nation­al pro­grams that con­sis­tent­ly crit­i­cized the right-wing gov­ern­ment of the Nation­al­ist Repub­li­can Alliance par­ty (ARE­NA), which has held pow­er in El Sal­vador since 1988.
Key mil­i­tary play­ers formed ARE­NA dur­ing the civ­il war, led by Maj. Rober­to D'Aubuisson, a death-squad leader accused of mas­ter­mind­ing the assas­si­na­tion of Arch­bish­op Oscar Romero in 1980.
As of mid-Octo­ber, Rodri­go Avi­la, ARENA's pres­i­den­tial can­di­date and the direc­tor of the Nation­al Civil­ian Police, trailed Funes by 15 per­cent­age points, accord­ing to a nation­al poll by the San Sal­vador-based Uni­ver­si­ty of Cen­tral America.
Unlike the FMLN's old guard and Schafik Han­dal, who lost the 2004 elec­tion in a land­slide to cur­rent pres­i­dent, Anto­nio Saca, Funes doesn't preach the rhetoric of com­mu­nist revolution.
At offi­cial events in the cap­i­tal, Funes wears a suit and tie. On the cam­paign trail, he typ­i­cal­ly sports a white guayabera shirt – instead of cloth­ing with the red ban­ner and white star that adorns the FMLN flag, as pre­vi­ous par­ty can­di­dates have done.
Funes' rhetoric and poli­cies are far more social demo­c­ra­t­ic than social­ist. He often empha­sizes his friend­ships with left-of-cen­ter heads of state, such as Brazil's Luiz Iná­cio Lula de Sil­va, Argentina's Cristi­na Kirch­n­er and Spain's José Luis Rodriguez Zap­a­tero. He has made sev­er­al trips to the Unit­ed States to meet with Assis­tant Sec­re­tary of State for West­ern Hemi­spher­ic Affairs Thomas Shan­non, Rep. James McGov­ern (D‑Mass.), and others.
Most impor­tant­ly for his image as a prag­ma­tist, Funes nev­er fought in the civ­il war.
Neolib­er­al catastrophe
If el frente wins the pres­i­den­cy in March, it will inher­it a des­per­ate country.
In the 20 years of ARE­NA rule, El Sal­vador has suf­fered from neolib­er­al eco­nom­ic reforms that pri­va­tized social ser­vices and destroyed jobs, pri­mar­i­ly in the agri­cul­ture sec­tor. Paul D. Almei­da, a pro­fes­sor of busi­ness at George­town Uni­ver­si­ty, writes in his 2006 book, Waves of Protest: Pop­u­lar Strug­gle in El Sal­vador, 1925 – 2005, that the post-war gen­er­a­tion of Sal­vado­ran dis­si­dents has fought not for land or to over­throw the gov­ern­ment, but to oppose the pri­va­ti­za­tion of key human needs like health­care, edu­ca­tion and water access. In return for the hun­dreds of mil­lions of dol­lars the Unit­ed States sent to the Sal­vado­ran gov­ern­ment dur­ing the war, Wash­ing­ton insist­ed on plant­i­ng the seeds to lib­er­al­ize the post-war economy.
The repres­sion has con­tin­ued. In July 2007, the Sal­vado­ran police arrest­ed 14 rur­al activists in the town of Suchi­to­to, who were protest­ing water pri­va­ti­za­tion. They were tried under the government's ​"Spe­cial Law Against Acts of Ter­ror­ism," which was mod­eled after the U.S. Patri­ot Act.
Julia Eve­lyn Mar­tinez, a pro­gres­sive econ­o­mist at the Uni­ver­si­ty of Cen­tral Amer­i­ca, says that the pri­va­ti­za­tion of social ser­vices, El Salvador's adop­tion of the U.S. dol­lar in 2001, and free-trade agree­ments – such as the Cen­tral Amer­i­can Free Trade Agree­ment (CAF­TA) – have placed the coun­try at the mer­cy of for­eign cor­po­ra­tions and made it too depen­dent on imports.
Remit­tances from Sal­vado­rans liv­ing in the Unit­ed States – which rep­re­sent an astound­ing 20 per­cent of the country's gross domes­tic prod­uct – are keep­ing the econ­o­my afloat, and as many as one-third of all Sal­vado­rans live abroad.
Mean­while, food and fuel prices have sky­rock­et­ed in El Sal­vador. A can of beans that cost 30 cents a cou­ple years ago now sells for over $1. Gaso­line prices topped $5 a gal­lon in mid-Octo­ber. Those sta­ple prod­ucts cost more in El Sal­vador than they do in parts of the Unit­ed States. An esti­mat­ed 100,000 Sal­vado­rans – approx­i­mate­ly one out of every 60 – fell below the pover­ty line between Sep­tem­ber 2007 and June 2008, accord­ing to the World Food Program.
Mar­tinez says the first thing the new gov­ern­ment must do is to tear down all the neolib­er­al poli­cies that were imple­ment­ed in El Sal­vador since 1989. She sug­gests the new pres­i­dent and par­lia­ment put their focus on devel­op­ing mar­kets with­in the coun­try: ​"That would stim­u­late busi­ness­es to pro­duce for inter­nal mar­kets, and not just for cer­tain groups of the pop­u­la­tion," Mar­tinez says. ​"Instead, all the oppor­tu­ni­ties for devel­op­ment are direct­ed out­side of the coun­try, in the form of remit­tances, maquilado­ras [that export cheap cloth­ing] or the need for for­eign investments."
The U.N. Devel­op­ment Pro­gram report­ed recent­ly that 62.4 per­cent of Sal­vado­ran youth are under­em­ployed – lack­ing work suf­fi­cient to sus­tain a dig­ni­fied life – com­pared to half of the gen­er­al population.
The lack of sus­tain­able mar­kets with­in El Sal­vador leaves many youth with two options: Scrounge up $9,000 – report­ed­ly the going rate for a coy­ote to traf­fic a per­son into the Unit­ed States – or join a gang.
Mod­ern cap­i­tal­ism or road to socialism?
The incum­bent ARE­NA par­ty has filled the air­waves, the dai­ly news­pa­pers and the sym­pa­thet­ic ears with­in the Bush admin­is­tra­tion with rhetoric that an FMLN pres­i­den­tial vic­to­ry would be akin to a com­mu­nist takeover of El Sal­vador – or worse.
On Sept. 18, at the Amer­i­can Enter­prise Insti­tute – a con­ser­v­a­tive think tank in D.C. – Sal­vado­ran Min­is­ter of For­eign Affairs Marisol Argue­ta appealed to the U.S. gov­ern­ment to not let ​"dan­ger­ous pop­ulists" win the upcom­ing election.
El Salvador's two nation­al­ly dis­trib­uted news­pa­pers, El Diario de Hoy and La Pren­sa Grafi­ca, have run almost dai­ly reports try­ing to link the FMLN to Chávez's Venezue­lan oil mon­ey, the Colom­bian FARC rebels' arms- and drug-run­ning activ­i­ties, Cuban dic­ta­tor Fidel Castro's world­view, or Nicaraguan Pres­i­dent Daniel Ortega's sup­pres­sion of democracy.
ARENA's Saca has all but called Funes a pup­pet of the FMLN, telling CNN's Span­ish-lan­guage net­work in Feb­ru­ary, ​"If it flies like a duck, swims like a duck and eats like a duck, it's a duck … The FMLN is a com­mu­nist par­ty. Its ideas haven't changed."
A for­eign non­govern­men­tal orga­ni­za­tion work­er told In These Times that a fright­ened, elder­ly peas­ant woman had recent­ly asked her if it was true that if el frente won, the elder­ly would be ​"turned into soap."
But is today's FMLN tru­ly a Cold War-era throw­back? Would it over­turn cap­i­tal­ism, kick out for­eign cor­po­ra­tions, can­cel free-trade deals and expro­pri­ate land?
Hard­ly, says econ­o­mist Martinez.
"If you read their gov­ern­ment plan, you'll see that it's a plan to mod­ern­ize cap­i­tal­ism in El Sal­vador," she says. ​"It's an eco­nom­ic plan with bet­ter oppor­tu­ni­ties to dis­trib­ute wealth and social ser­vices among the pop­u­la­tion, and [it] insists on com­bat­ing pover­ty and guar­an­tee­ing food secu­ri­ty for sec­tors that have tra­di­tion­al­ly been exclud­ed from the polit­i­cal process. … What we're see­ing is a return to pragmatism."
The 96-page FMLN plan fea­tures a smil­ing young woman in a white dress on its cov­er. She is about to breast­feed her healthy baby. Behind her is the blue and white Sal­vado­ran flag. The red text on the cov­er, above the par­ty logo, reads: ​"Nace la Esper­an­za, Viene el Cam­bio" ("The Hope is Born, the Change Arrives").
In it, el frente pro­pos­es to stim­u­late the econ­o­my on local lev­els, such as by offer­ing micro-loans and cred­it and invest­ments for small- and medi­um-sized busi­ness­es, though it stops short of explain­ing which cor­po­ra­tions or mem­bers of the land-own­ing elite will pay more tax­es to foot the bill.
Includ­ed in the man­u­al are a two-page let­ter from Funes and a one-page let­ter from vice pres­i­den­tial can­di­date Sal­vador Sánchez Cerén, a mem­ber of the party's old guard. Here­in lies doubt as to whether the par­ty has mod­ern­ized, after all.
Cerén, 65, was known as Coman­dante Leonel González dur­ing the war, and took the party's reins after Han­dal died. He was a found­ing father of the Pop­u­lar Lib­er­a­tion Front, one of five oppo­si­tion groups that merged to form the FMLN in 1980.
To for­mer FMLN mem­ber Julio Her­nan­dez, Cerén is proof that the par­ty is still liv­ing in the past.
"This is a rare com­bi­na­tion in which you have Funes, a fresh, mod­ern fig­ure, but [the influ­ence on the par­ty of] Hugo Chávez is very vis­i­ble, espe­cial­ly his mon­ey," Her­nan­dez says. ​"The FMLN [must] open up the par­ty, but they're not doing so."
Her­nan­dez served in the guer­ril­la and reached the party's upper ech­e­lons in 1992. He says he felt con­fi­dent that el frente was grow­ing more mod­er­ate – even as some of the rebels' heroes, such as Joaquin Vil­lalo­bos, refused to par­tic­i­pate in the post-war FMLN. Her­nan­dez resigned in 2005 after the old guard insist­ed on run­ning Schafik Han­dal as its can­di­date – instead of a more prag­mat­ic choice, like Funes. FMLN was sub­se­quent­ly trounced by ARENA.
Her­nan­dez has since formed a new, left-of-cen­ter polit­i­cal par­ty called the Rev­o­lu­tion­ary Demo­c­ra­t­ic Front. He applauds FMLN's deci­sion to run Funes this time around, but he says the par­ty is feed­ing the Sal­vado­ran peo­ple a mixed message.
"The FMLN … gives Funes the title of pres­i­den­tial can­di­date, but that's it," Her­nan­dez says. ​"All of the [con­gres­sion­al] can­di­dates are from the hard line, the lin­ea dura. The can­di­date fre­quent­ly says one thing, but the par­ty base says anoth­er. These aren't mis­takes, but ways to show Funes who's in charge."
Change, poco a poco
The ubiq­ui­tous pho­tos of Gue­vara, and of Schafik Han­dal palling around with the three mae­stros of Latin Amer­i­can social­ism – Cas­tro, Chávez and Morales – still adorn the lob­by of the FMLN's unpre­ten­tious head­quar­ters in San Sal­vador. The ceil­ing fan clanks more than it whirs, and the cof­fee inside the dis­penser has long since gone cold. The lit­tle mon­ey el frente does have for the cam­paign is cer­tain­ly not spent on office amenities.
When Sigfri­do Reyes enters the room dressed in a part­ly unbut­toned, check­ered shirt, it isn't imme­di­ate­ly obvi­ous that he is the party's chief of com­mu­ni­ca­tions and one of its most influ­en­tial members.
Called Joaquin dur­ing the war, Reyes, 48, has since earned a master's degree in eco­nom­ic pol­i­cy at Colum­bia Uni­ver­si­ty in New York. He attend­ed the Demo­c­ra­t­ic Nation­al Con­ven­tion in Den­ver in August and met with Pres­i­dent-elect Obama's for­eign pol­i­cy advis­ers to help forge a rela­tion­ship between the FMLN and Democrats.
"All polit­i­cal move­ments, all social bod­ies, change," Reyes says. ​"For us, change isn't bad. It's a nat­ur­al state of adapt­ing. We don't believe that the FMLN is a par­ty that rep­re­sents just the left in this soci­ety, but that it's oblig­at­ed to rep­re­sent oth­er sec­tors. We don't just rep­re­sent the work­ers, but also the nation­al busi­ness­es that take the risk of invest­ing in our coun­try." The FMLN, he says, is not ​"a mono­lith­ic body."
CAF­TA is an exam­ple of a top­ic that some FMLN offi­cials have con­demned out­right on the cam­paign trail, yet Funes says he wouldn't with­draw from the trade agree­ment as president.
Reyes con­cedes that, ​"El Sal­vador was told that CAF­TA would cre­ate thou­sands of busi­ness­es, that it would cre­ate an inun­da­tion of for­eign invest­ment, a trans­fer of tech­nol­o­gy, and that the insti­tu­tions of jus­tice and labor would work bet­ter," he says. ​"The real­i­ty is that hasn't happened."
Hato Has­bun, one of Funes' clos­est per­son­al advis­ers and his one­time soci­ol­o­gy pro­fes­sor, refus­es to sug­gest that the FMLN par­ty would make any rad­i­cal changes upon win­ning power.
"We need to respect the inter­na­tion­al agree­ments that have been signed," Has­burn says, ​"but noth­ing is writ­ten in stone, and we're not going to ide­ol­o­gize the dis­cus­sion. We'll make deci­sions based on the cur­rent real­i­ty. We want to be a respon­si­ble gov­ern­ment, not a reac­tionary one."
Unlike the late Schafik Han­dal and oth­er hard­lin­ers with­in el frente, Funes enjoys some sup­port with­in the Sal­vado­ran busi­ness com­mu­ni­ty. This sup­port includes a wealthy fra­ter­ni­ty of sup­port­ers with no ties to the FMLN, many of whom call them­selves ​"ami­gos de Mauri­cio."
"One inter­est­ing thing about Funes is that there are clear­ly busi­ness sec­tors that are will­ing to live with him," says Geoff Thale of the Wash­ing­ton Office on Latin Amer­i­ca, a coali­tion that pro­motes human rights, democ­ra­cy, and social and eco­nom­ic jus­tice in the region. ​"Though they may not be enthu­si­as­tic, they're unhap­py with the last 20 years of ARE­NA rule."
Thale says he didn't real­ize how much things had changed since the war until he recent­ly ran into a for­mer guer­ril­la com­man­der, whom he knew, at a hotel in San Sal­vador. When asked what he was up to, the for­mer com­man­der replied that he was off to a busi­ness meet­ing at the cham­ber of commerce.
Appeal­ing to the base
Where crit­ics see mixed mes­sages between Funes and the party's hard­lin­ers, Mar­tinez sees mere­ly a dif­fer­ence in polit­i­cal approach.
"El frente is a social demo­c­ra­t­ic par­ty now, but a par­ty that claims it's devel­op­ing toward a social­ist rev­o­lu­tion. They're doing that for their base … peo­ple in rur­al areas who were com­bat­ants or fam­i­lies of ex-com­bat­ants. If el frente were to renounce their effort to build a social­ist soci­ety, they would lose a big chunk of what they con­sid­er their sol­i­dar­i­ty vote, their voto duro."
On a Sun­day morn­ing in mid-Octo­ber, the voto duro was not hard to find. They often trav­el in a sea of red, singing songs and recit­ing poems about their fall­en coman­dantes. Back in Par­que Cus­catlán, a famil­iar song car­ried through the warm Cen­tral Amer­i­can air. At the oppo­site end of the park, a well-dressed crowd was seat­ed under a white tent, lis­ten­ing to loud­speak­ers that crooned Frank Sinatra's voice, and his ode to the city of world cap­i­tal­ism, ​"New York, New York."
El Sal­vador remains a coun­try liv­ing in the past and present – divid­ed by ide­o­log­i­cal lines, between left and right, and with many of the same faces from the civ­il war, shout­ing toward any­one who will listen.
Whether Mauri­cio Funes will bridge that divide – or dis­ap­pear into it – remains an open question.
This report­ing was made pos­si­ble by a grant from Communitas.