Elizabeth Warren Is Making a Mistake By Trying to Win Over Democratic Party Elites
If Warren wants to enact "big, structural change," working within the Democratic Party establishment is a poor strategy.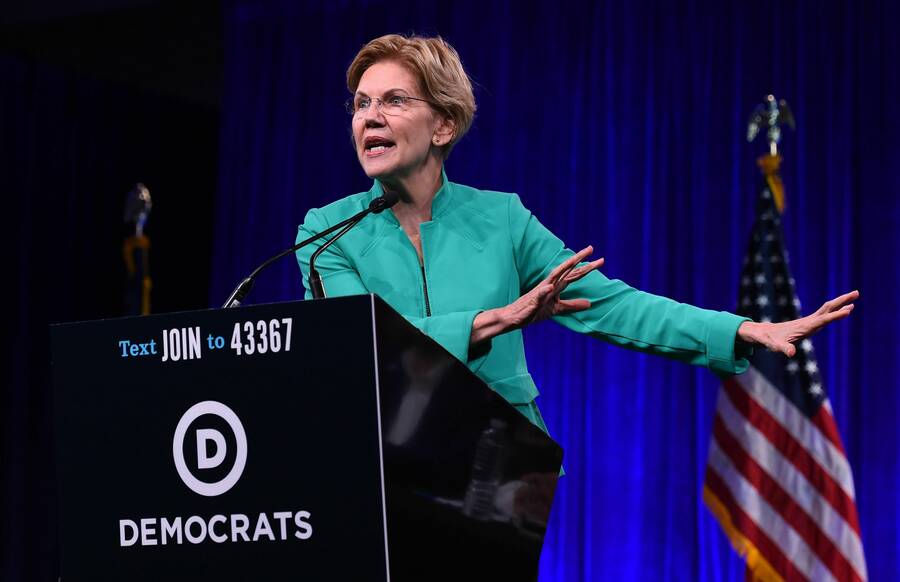 With Joe Biden steadi­ly los­ing ground to his more pro­gres­sive rivals, the fight for the Demo­c­ra­t­ic pres­i­den­tial nom­i­na­tion is increas­ing­ly shap­ing up into a con­test between com­pet­ing the­o­ries of change. As Bernie Sanders con­tin­ues his ongo­ing bat­tle with the par­ty estab­lish­ment, look­ing to ​"trans­form" the par­ty from out­side, Eliz­a­beth War­ren is report­ed­ly attempt­ing to win over par­ty elites. The New York Times' Jonathan Mar­tin reports that she is telling par­ty lead­ers that ​"far from want­i­ng to stage a ​'polit­i­cal rev­o­lu­tion' in the fash­ion of Mr. Sanders, she wants to revive the belea­guered Demo­c­ra­t­ic Nation­al Com­mit­tee and help recap­ture the Sen­ate while retain­ing the House in 2020." And on Sat­ur­day, NBC News report­ed that War­ren has been speak­ing with 2016 Demo­c­ra­t­ic nom­i­nee Hillary Clin­ton since announc­ing her cam­paign, though lit­tle is known about their com­mu­ni­ca­tions due to the ​"polit­i­cal sen­si­tiv­i­ty" involved.
Almost as soon as they had given Warren a seat at the table, the Democratic Party leadership linked arms with Republicans and Wall Street to weaken financial regulations.
Yet for War­ren, who like Sanders intends to enact ​"big, struc­tur­al change" in U.S. pol­i­tics, this strat­e­gy presents risks. A sur­vey of Warren's his­to­ry work­ing with the Demo­c­ra­t­ic Par­ty, and emails hacked from Clin­ton cam­paign chair John Podes­ta by Russ­ian agents and released by Wik­iLeaks in 2016, sug­gest the lim­its of such a non-con­fronta­tion­al approach to par­ty elites.
In 2015, War­ren, ele­vat­ed in 2014 to a lead­er­ship posi­tion with­in the Demo­c­ra­t­ic Par­ty as strate­gic pol­i­cy advis­er to the Demo­c­ra­t­ic Pol­i­cy and Com­mu­ni­ca­tions Com­mit­tee, faced a choice of how to engage with the par­ty. On the one hand, she could lis­ten to the demands of the party's base and pro­gres­sive activists and go to bat­tle with the Demo­c­ra­t­ic estab­lish­ment by chal­leng­ing pre­sump­tive nom­i­nee Hillary Clin­ton. On the oth­er, she could stay out of the race, con­tin­ue to build her clout in Con­gress, and work to push Clin­ton left through a process of sus­tained diplo­mat­ic out­reach. War­ren opt­ed for the latter.
A sur­vey of the Clin­ton campaign's emails, and what hap­pened dur­ing and after the elec­tion, show that such out­reach had min­i­mal impact. By the end of the elec­tion, the Clin­ton cam­paign had emphat­i­cal­ly reject­ed the ​"pop­ulist" direc­tion that War­ren tried to nudge her in. On sev­er­al issues — such as the influ­ence of Wall Street, Cab­i­net appointees and trade — the Clin­ton cam­paign qui­et­ly went against the wish­es of War­ren and the pro­gres­sive wing of the par­ty she rep­re­sent­ed. Emails show that, rather than actu­al­ly mov­ing left, the cam­paign sought ways to pla­cate War­ren with­out adopt­ing her pol­i­cy pre­scrip­tions and tend­ed only to shift when prod­ded by the threat of an elec­toral challenge.
A stub­born establishment
On August 26, the New York Times report­ed that War­ren has been aggres­sive­ly court­ing Demo­c­ra­t­ic offi­cials behind the scenes, assur­ing them, in the paper's telling, that she is a loy­al Demo­c­rat and does not plan to cre­ate her own polit­i­cal or orga­niz­ing infra­struc­ture out­side the par­ty. (The next day, the Asso­ci­a­tion of State Demo­c­ra­t­ic Com­mit­tees announced that Sanders and a num­ber of oth­er can­di­dates have, like War­ren, pledged not to cre­ate ​"any orga­niz­ing or mes­sag­ing infra­struc­ture that is par­al­lel or duplica­tive" to the DNC or state parties.)
Besides try­ing to con­vince Democ­rats that her pro­gres­sive ideas won't make her ​"une­lec­table," Warren's pri­vate assur­ances that she sim­ply wants to breathe new life into the Demo­c­ra­t­ic Nation­al Com­mit­tee (DNC) and help the par­ty recap­ture Con­gress, the Times notes, also have a polit­i­cal­ly strate­gic ele­ment. Thanks to a rule change last year, if no sin­gle can­di­date wins an out­right major­i­ty of del­e­gates in the pri­maries — a plau­si­ble sce­nario in this crowd­ed field — the superdel­e­gates will once again have a large role in choos­ing the nom­i­nee, this time on the sec­ond bal­lot. And, should it come down to a sec­ond bal­lot, War­ren wants their votes.
It's unclear how eas­i­ly these over­tures to the DNC will sit with Warren's plans for major struc­tur­al change in the Unit­ed States. To under­stand why, it's instruc­tive to look at her attempts to influ­ence the Clin­ton cam­paign through­out the 2016 pres­i­den­tial race.
After win­ning her Sen­ate seat in 2012, War­ren became the polit­i­cal tri­bune for the nation's pro­gres­sives. She forged rela­tion­ships in Con­gress and she used her nation­al promi­nence and rela­tion­ship to the activist com­mu­ni­ty to aggres­sive­ly chal­lenge the Oba­ma admin­is­tra­tion on a num­ber of poli­cies. Tak­ing an uncom­pro­mis­ing, con­fronta­tion­al approach, War­ren suc­ceed­ed in help­ing tor­pe­do Wall Street-friend­ly Lar­ry Sum­mers' bid for chair­man of the Fed­er­al Reserve and pushed Oba­ma into issu­ing an exec­u­tive order giv­ing relief to stu­dent loan borrowers.
After the Democ­rats' drub­bing in 2014, which saw the par­ty lose the Sen­ate as the GOP increased its House major­i­ty, Demo­c­ra­t­ic lead­er­ship sought to bring War­ren — then preter­nat­u­ral­ly pop­u­lar with both lib­er­al groups and the grass­roots — into the fold. Sen­ate Minor­i­ty Leader Har­ry Reid cre­at­ed a spe­cial lead­er­ship posi­tion just for her, and tasked her with reach­ing out to the party's pro­gres­sive wing — the ​"War­ren wing," as it was referred to then.
"We're going to do things a lit­tle dif­fer­ent­ly," Reid pledged.
War­ren began doing things a lit­tle dif­fer­ent­ly, too. Though she con­tin­ued to be an out­spo­ken pro­gres­sive voice, crit­i­cize the admin­is­tra­tion and lead the charge against appointees she deemed unac­cept­able, she took care to sig­nal she was also a team play­er that year. Ignor­ing pro­gres­sive calls to run for pres­i­dent, War­ren instead co-signed a let­ter urg­ing Hillary Clin­ton to run, and white-washed her pre­vi­ous crit­i­cism of Clinton's sup­port for an indus­try-favored bank­rupt­cy bill. While in her 2003 book, War­ren had scathing­ly described Clinton's shift in opin­ion on the bill since mov­ing from First Lady to the Sen­ate, argu­ing Clin­ton ​"could not afford such a prin­ci­pled posi­tion" any­more because she want­ed the finan­cial sup­port of bank­ing exec­u­tives, her 2014 mem­oir omit­ted this his­to­ry entire­ly, focus­ing instead on Clin­ton con­vinc­ing her hus­band Bill to veto the bill in 2000. Clin­ton would run for the Demo­c­ra­t­ic nom­i­na­tion, it seemed, fac­ing lit­tle pub­lic pres­sure from promi­nent Democ­rats and no con­vinc­ing pri­ma­ry chal­lenge, the tra­di­tion­al mech­a­nism by which to pull can­di­dates to the left or right. War­ren endorsed Clin­ton on June 9, 2016, after she had clinched the nomination.
The close of 2014 brought a bad omen for pro­gres­sives. Only one month after ele­vat­ing War­ren to lead­er­ship, Con­gress — over Warren's objec­tions and urged on by a coali­tion of Oba­ma, Reid, Repub­li­can House Speak­er John Boehn­er, Wall Street lob­by­ists and JP Mor­gan CEO Jaime Dimon—passed a gov­ern­ment fund­ing bill that con­tained a pro­vi­sion writ­ten by Cit­i­group lob­by­ists that weak­ened the Dodd-Frank finan­cial reform law's reg­u­la­tion of the deriv­a­tives mar­ket. Deriv­a­tives swaps had con­tributed to the 2008 finan­cial cri­sis, and War­ren had argued force­ful­ly against the bill, call­ing it a ​"give­away to the most pow­er­ful banks in the coun­try." The mea­sure passed the with the votes of 57 Democ­rats in the House, and 31 in the Senate.
In oth­er words, almost as soon as they had giv­en War­ren a seat at the table, the Demo­c­ra­t­ic Par­ty lead­er­ship — over her objec­tions and still large­ly resis­tant to turn­ing left and cap­tive to cor­po­rate pow­er — linked arms with Repub­li­cans and Wall Street to weak­en finan­cial regulations.
The ​"inside" strategy
A sim­i­lar dynam­ic would play out dur­ing Warren's engage­ment with the Clin­ton pres­i­den­tial cam­paign. With nei­ther par­ty look­ing to antag­o­nize the oth­er, War­ren and Clin­ton met in Decem­ber 2014 at the Clin­tons' home in Chap­paqua, New York, a meet­ing that, accord­ing to leaked emails, was orig­i­nal­ly sup­posed to have tak­en place ear­li­er that June. An anony­mous Demo­c­rat told the New York Times that Clin­ton used the meet­ing to solic­it pol­i­cy ideas from War­ren, while for War­ren, it served as an oppor­tu­ni­ty to prod Clin­ton into mov­ing in a more pro­gres­sive direc­tion on eco­nom­ic pol­i­cy. Out­lets at the time report­ed on the meet­ing as a sign that the Clin­ton cam­paign would run a more pop­ulist campaign.
As email com­mu­ni­ca­tions between Clin­ton staffers reveal, the Clin­ton camp viewed the tête-à-tête as less of an oppor­tu­ni­ty to get pol­i­cy ideas and more as an oppor­tu­ni­ty to pla­cate and man­age a poten­tial polit­i­cal road­block. Staffers plot­ted out strat­e­gy for the con­ver­sa­tion, won­der­ing ​"what [Clinton's] goals for that meet­ing should be," what War­ren might chal­lenge her on, what Clin­ton could ask War­ren for help and advice on, and to be ​"armed with next steps."
"It would just be such a big deal for this meet­ing to go well and have EW walk out feel­ing pos­i­tive and on board," said Rob­by Mook, Clinton's cam­paign man­ag­er, who float­ed a plan to ​"proac­tive­ly leak" news of the meet­ing. It was, he wrote, ​"not a bad thing to put out there that they had a con­struc­tive mtg." When the Times pub­lished its report on the meet­ing that advanced this nar­ra­tive, Clinton's Senior Com­mu­ni­ca­tions Advi­sor Mandy Grun­wald declared pri­vate­ly it was ​"fine — for both sides."
Emails show the two camps coor­di­nat­ed after the meet­ing, work­ing togeth­er on a uni­fied post-meet­ing media strat­e­gy and dis­cussing pol­i­cy. This engage­ment con­tin­ued past the Decem­ber meet­ing. An ear­ly Jan­u­ary 2015 email from Clinton's speech­writer Dan Schw­erin to the campaign's lead­er­ship detailed a sub­se­quent hour-and-twen­ty-minute meet­ing between him and Dan Gel­don, Warren's long­time adviser.
"He was intent­ly focused on per­son­nel issues, laid out a detailed case against the Bob Rubin school of Demo­c­ra­t­ic pol­i­cy mak­ers, was very crit­i­cal of the Oba­ma admin­is­tra­tion's choic­es," Schw­erin wrote of Gel­don, ref­er­enc­ing Robert Rubin, the for­mer Gold­man Sachs exec­u­tive and Bill Clinton's Trea­sury sec­re­tary whose vision shaped the finan­cial poli­cies of both the Clin­ton and Oba­ma presidencies.
"We then care­ful­ly went through a list of peo­ple they do like, which EW sent over to HRC ear­li­er," con­tin­ued Schw­erin. ​"He spoke repeat­ed­ly about the need to have in place peo­ple with ambi­tion and urgency who rec­og­nize how much the mid­dle class is hurt­ing and are will­ing to chal­lenge the finan­cial indus­try." The War­ren camp, he report­ed, was ​"wary" and ​"con­vinced that the Rubin folks have the inside track with us whether we real­ize it yet or not," but were ​"open to engage­ment and to be proven wrong."
The two camps would con­tin­ue to com­mu­ni­cate through­out 2016 even as War­ren refrained from endors­ing Clin­ton until the end of the pri­ma­ry con­test. Amie Parnes and Jonathan Allen report­ed in Shat­tered: Inside Hillary Clinton's Doomed Cam­paign that War­ren main­tained a reg­u­lar back-chan­nel with the cam­paign to give pol­i­cy ideas. ​"We should think about going back to them when we've iso­lat­ed one or two ideas and get­ting more input on those (with­out show­ing our cards, obvi­ous­ly)," Mook wrote in Feb­ru­ary 2015. "[W]ill prob­a­bly be in our inter­est for them to have a sense of where we're head­ed before HRC deliv­ers to the public."
The results of this out­reach were mixed at best. Despite these over­tures, Clin­ton ran the oppo­site of a pop­ulist cam­paign, launch­ing con­ser­v­a­tive attacks on her oppo­nent Bernie Sanders' left-wing poli­cies, charg­ing they would ​"increase the size of the fed­er­al gov­ern­ment by about 40 per­cent." In March 2015, short­ly after War­ren and Clinton's camps had begun work­ing togeth­er, Clin­ton announced a plan to tack­le inequal­i­ty that relied on an explic­it­ly apo­lit­i­cal approach, includ­ing a ​"part­ner­ship with the pub­lic and pri­vate sec­tor." (Ann O'Leary, Clinton's pol­i­cy advi­sor and now chief of staff to Cal­i­for­nia Gov. Gavin New­som, praised that plan as ​"affirm­ing of our move away from ​'Wall Street as bad guys' and toward improv­ing com­mu­ni­ty strength and social fab­ric as a way of tack­ling inequality.")
When it came time to pick a run­ning mate, Clin­ton declined to choose War­ren because, as report­ed by Parnes and Allen, she want­ed ​"some­one who saw the world in a sim­i­lar way" as her and ​"didn't know if she could trust War­ren to be prag­mat­ic and con­struc­tive." She end­ed up instead choos­ing cen­trist Vir­ginia Sen. Tim Kaine.
Though it's impos­si­ble to know exact­ly what a Hillary Clin­ton cab­i­net would have looked like, the infor­ma­tion avail­able on the last days of the cam­paign sug­gests War­ren hadn't con­vinced Clin­ton on the sub­ject of per­son­nel either. Hav­ing laid low dur­ing a pri­ma­ry focused on the malign influ­ence of Wall Street and cor­po­rate Amer­i­ca, lob­by­ists, wealthy donors and the finance indus­try returned to the fold dur­ing the 2016 Demo­c­ra­t­ic con­ven­tion, with investor and pri­vate equi­ty exec­u­tive Alan Patri­cof quip­ping: ​"I think we're past that."
Despite crit­i­ciz­ing Sanders' plan to break up big banks for not pay­ing enough atten­tion to ​"shad­ow bank­ing," emails showed that dur­ing the cam­paign, Clin­ton cul­ti­vat­ed a rela­tion­ship with just such a shad­ow bank: pri­vate equi­ty firm Black­stone, includ­ing a Feb­ru­ary 2016 din­ner between two of its exec­u­tives, as well as Tim Gei­th­n­er and Lar­ry Sum­mers. Gei­th­n­er and Sum­mers were both mem­bers of the ​"Bob Rubin school" Warren's advis­er had pri­vate­ly com­plained about, and had both been Oba­ma appointees with whom War­ren had long feuded.
Anoth­er Black­stone exec­u­tive was Tony James, a major fundrais­er for Clin­ton who had been angling for a gov­ern­ment post since at least 2014 and was report­ed­ly a choice for an eco­nom­ic pol­i­cy post under Clin­ton, includ­ing, at one point, Trea­sury sec­re­tary. Around this time, James was push­ing a plan to put Amer­i­cans' retire­ment sav­ings in the hands of hedge funds and pri­vate equi­ty firms like Black­stone, telling atten­dees of a Wash­ing­ton D.C. cock­tail par­ty that Clinton's pol­i­cy advi­sors ​"have been very encour­ag­ing about the plan," and that ​"the sig­nals are warm" that she would ​"grab this issue once elect­ed, and run with it."
Though oth­er poten­tial Cab­i­net appointees didn't come from the finan­cial world, they were also of con­cern to pro­gres­sives. Axios report­ed in Jan­u­ary 2017 that, based on con­ver­sa­tions with Clin­ton staffers, one of her picks for Trea­sury sec­re­tary was Google COO Sheryl Sand­berg. (One Feb­ru­ary 2016 inquiry by John Podesta's daugh­ter as to whether War­ren her­self would be con­sid­ered for the posi­tion appears to have been ignored). For Labor sec­re­tary, Clin­ton had report­ed­ly cho­sen Howard Schultz, the Star­bucks bil­lion­aire with a long rap sheet of labor abus­es who ear­li­er this year threat­ened to run a third-par­ty cam­paign if the Demo­c­ra­t­ic Par­ty moves too far left.
On both pol­i­cy and per­son­nel — the lat­ter being the issue Warren's team pri­or­i­tized above all else in ear­ly 2015, as Schw­erin report­ed — the more con­cil­ia­to­ry ​"inside" strat­e­gy failed to mean­ing­ful­ly sway the Clin­ton cam­paign. Indeed, hacked emails paint a pic­ture of a cam­paign more con­cerned with how to maneu­ver around a polit­i­cal headache and quell poten­tial dis­sent than with gen­uine­ly tak­ing on board pro­gres­sive ideas. This approach mir­rored the Demo­c­ra­t­ic leadership's 2014 ele­va­tion of War­ren with­in the par­ty, hop­ing her pres­ence would get dis­sat­is­fied pro­gres­sives on board even as the Demo­c­ra­t­ic estab­lish­ment resist­ed her actu­al polit­i­cal vision.
Oth­er details from the leaked email tranche sup­port this analy­sis. Clinton's staff appeared to be con­stant­ly devis­ing ways to pla­cate War­ren or pre­vent her from object­ing, with­out nec­es­sar­i­ly adopt­ing her views. In one August 2015 email chain, the staff dis­cussed the draft of a joint op-ed by Clin­ton and Wis­con­sin Sen. Tam­my Bald­win about ​"slow[ing] Wall Street's revolv­ing door." While Mook warned that ​"War­ren and oth­ers" could eas­i­ly paint any defense of the sta­tus quo as ​"cor­rupt­ed," cam­paign advis­er Jake Sul­li­van wor­ried that it demo­nized any­one from the pri­vate sec­tor enter­ing gov­ern­ment, and that it could cross the line into ​"dem­a­gogu­ing." While the op-ed was even­tu­al­ly pub­lished, we now know that such a revolv­ing door was like­ly going to be a major part of Clinton's cabinet.
A sim­i­lar dynam­ic played out when it came to reviv­ing Glass-Stea­gall, the Depres­sion-era leg­is­la­tion sep­a­rat­ing com­mer­cial and invest­ment bank­ing that Bill Clin­ton had essen­tial­ly repealed towards the end of his pres­i­den­cy. War­ren had intro­duced, and Sanders had co-spon­sored, a bill for a 21st Cen­tu­ry Glass-Stea­gall act, and as one email shows, had talked to the Clin­ton camp about it ​"numer­ous" times, along with oth­er finan­cial reform poli­cies. Through­out the cam­paign, Clin­ton staff would have fever­ish dis­cus­sions around whether or not to sup­port the bill. Clin­ton ulti­mate­ly declined to back the mea­sure, which proved to be one of the chief dif­fer­ences between her and Sanders through­out the primaries.
Or take the issue of the Trans-Pacif­ic Part­ner­ship (TPP) agree­ment, nego­ti­at­ed and endorsed by Clin­ton while she served as sec­re­tary of state, but opposed by War­ren, Trump, Sanders and orga­nized labor. War­ren was a long­time crit­ic of the trade deal and would spend much of 2015 inveigh­ing against the Oba­ma administration's attempt to pass it. But just as with Glass-Stea­gall, through­out 2015, the Clin­ton cam­paign sim­i­lar­ly debat­ed where to stand on the TPP and devised strate­gies for how to mud­dy the waters and sim­ply dodge it altogether.
In March 2015, the cam­paign draft­ed a state­ment that out­lined what the agree­ment would need to con­tain in order to gar­ner U.S. sup­port, but, as Schw­erin put it, ​"assumes that she's ulti­mate­ly going to sup­port both TPA and TPP." ("TPA" referred to the so-called ​"fast-track author­i­ty" the Oba­ma admin­is­tra­tion was seek­ing from Con­gress at the time, which would allow a sim­ple up-or-down vote on the deal and barred any fil­i­busters or amend­ments). The same month, the cam­paign weighed up var­i­ous tweaks they could call for that would allow Clin­ton to safe­ly con­tin­ue sup­port­ing the deal. ​"What if she's FOR Fast Track, but against the TPP agree­ment?" one staffer opti­misti­cal­ly sug­gest­ed in anoth­er exchange.
The 2016 expe­ri­ence sug­gests that the threat of a chal­lenge, and the poten­tial loss of pow­er that came with it, was War­ren and oth­ers pro­gres­sives' most potent bar­gain­ing chip. Emails show the Clin­ton cam­paign and its boost­ers were ter­ri­fied of War­ren step­ping into the race ("I wor­ry if War­ren takes the trade issue as cen­tral to her plat­form," one staffer wrote in April 2015), even as late as Octo­ber 2015, when Demo­c­ra­t­ic oper­a­tive Ron Klain warned the cam­paign to ​"move 95% to War­ren on Glass Stea­gall" in order to ​"sur­vive the War­ren primary."
Clin­ton report­ed­ly came out against the TPP short­ly before the first Demo­c­ra­t­ic debate in Octo­ber, only because the Sanders cam­paign and the poten­tial late entrance of Joe Biden into the race spooked them into doing so. And as for reviv­ing Glass-Stea­gall, the demand made it into the 2016 Demo­c­ra­t­ic plat­form only because Sanders' pri­ma­ry chal­lenge and sub­se­quent ral­ly­ing of the Demo­c­ra­t­ic base gave him the bar­gain­ing pow­er to get his rep­re­sen­ta­tives onto the plat­form draft­ing committee.
War­ren didn't leave entire­ly emp­ty-hand­ed, how­ev­er. Towards the end of the elec­tion, sev­er­al of Warren's allies end­ed up on, and were in con­tact with, the Clin­ton admin­is­tra­tion tran­si­tion team, hop­ing to influ­ence the selec­tion of per­son­nel in what was assumed to be the incom­ing admin­is­tra­tion. How that would've shaped up is impos­si­ble to know now. But we do know from lat­er leaks that Clin­ton had sev­er­al trou­bling nom­i­nees in mind, and War­ren and her team were already gear­ing up for a fight over the appointments.
Two paths forward
It's not just the Clin­ton campaign's hacked emails. Recent his­to­ry also shows the pit­falls of cozy­ing up to the Demo­c­ra­t­ic estab­lish­ment as a strat­e­gy to achieve struc­tur­al pro­gres­sive change.
While Sanders' chal­lenge to Hillary Clin­ton in 2016 didn't instant­ly trans­form the Demo­c­ra­t­ic Par­ty, by ral­ly­ing grass­roots sup­port around core left-wing ideas, his cam­paign helped rad­i­cal­ly reshape the party's direc­tion, with Medicare for All becom­ing a vir­tu­al lit­mus test for can­di­dates run­ning in 2020. (As of last week, Rep. Hakeem Jef­fries (D‑NY), chair­man of the House Demo­c­ra­t­ic cau­cus and a poten­tial suc­ces­sor to House Speak­er Nan­cy Pelosi, is co-spon­sor­ing Medicare for All). The pro­gres­sive move­ment that orga­nized around Sanders forced impor­tant changes on the Demo­c­ra­t­ic Par­ty after 2016, such as the weak­en­ing of superdel­e­gates' pow­er, even if the par­ty con­tin­ues to resist pro­gres­sive ideas like a cli­mate change debate.
We might also look at the Right as an exam­ple. An insur­gent move­ment like the Tea Par­ty made heavy use of con­fronta­tion­al tac­tics and pri­ma­ry chal­lenges to wrench the Repub­li­can Par­ty toward its end of the polit­i­cal spec­trum. Don­ald Trump's antag­o­nis­tic rela­tion­ship with a GOP estab­lish­ment that large­ly opposed him didn't stop him from both win­ning the Repub­li­can pri­ma­ry and the gen­er­al elec­tion, and today's GOP has been refash­ioned in Trump's image, with even his fiercest Repub­li­can crit­ics now ful­ly sign­ing on to his agenda.
Trump did this not by con­vinc­ing mem­bers of the GOP estab­lish­ment that he was cor­rect, but by ral­ly­ing vot­ers and mak­ing it vir­tu­al­ly impos­si­ble for Repub­li­cans to both keep their jobs and oppose him. If the next Demo­c­ra­t­ic pres­i­dent fails to achieve some­thing sim­i­lar, they won't just face an obstruc­tion­ist Repub­li­can bloc, but a host of con­ser­v­a­tive Democ­rats who will stand as a bar­ri­er to their agen­da, just as Oba­ma did in 2009.
Both his­to­ry and Warren's own deal­ings with the 2016 Clin­ton cam­paign tell us that ​"big, struc­tur­al change" can't be won by cod­dling the Demo­c­ra­t­ic Par­ty estab­lish­ment and the cor­po­rate mon­ey that funds them. What­ev­er the next Demo­c­ra­t­ic pres­i­dent plans to do — whether embark­ing on a Green New Deal, break­ing up big tech, or even some­thing as pal­try as imple­ment­ing a ​"pub­lic option" for health care — they will run up against poten­tial­ly fatal oppo­si­tion from not just the GOP, but from with­in the Demo­c­ra­t­ic Par­ty itself. Only a direct chal­lenge to the pow­er of those elites will enable a pro­gres­sive pres­i­dent to over­come it.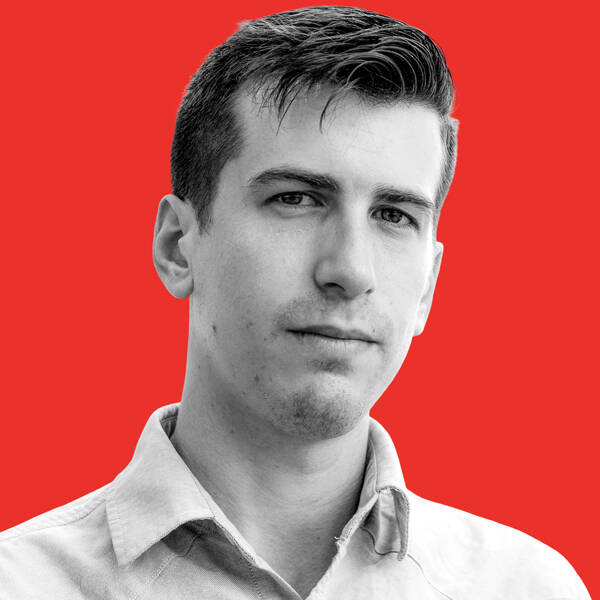 Branko Marcetic
is a staff writer at Jacobin mag­a­zine and a
2019
 – 
2020
Leonard C. Good­man Insti­tute for Inves­tiga­tive Report­ing fel­low. He is work­ing on a forth­com­ing book about Joe Biden.