When I Asked Elizabeth Warren to Speak Out Against the Yemen War, She Refused
In 2015, I asked Sen. Warren to oppose the war in Yemen. Here's what she said.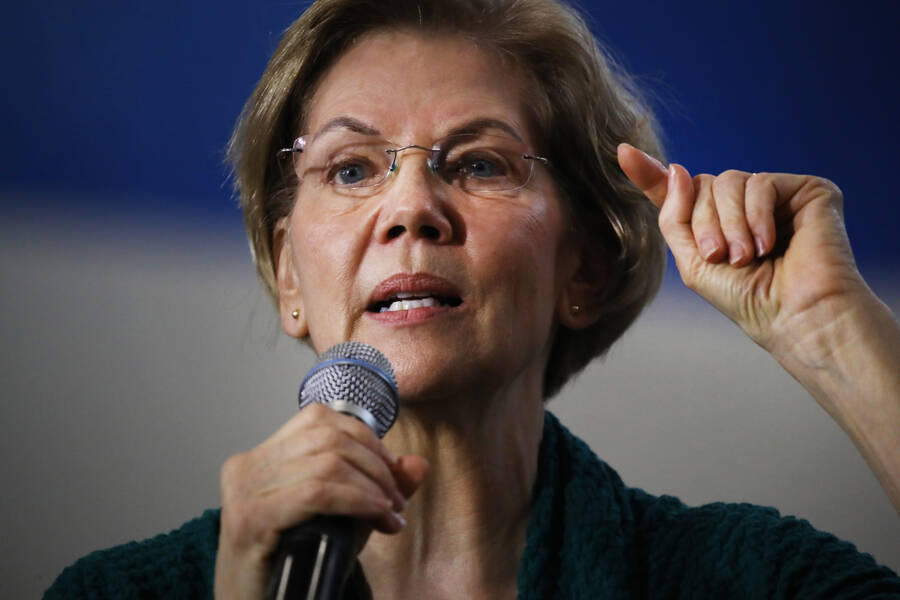 Back in 2015, I was in the mid­dle of my doc­tor­al stud­ies at Har­vard Uni­ver­si­ty, and as a res­i­dent of Mass­a­chu­setts, Eliz­a­beth War­ren was my sen­a­tor. For years, my coun­try of birth, Yemen, had been going through upheaval that ini­tial­ly began with the 2011 rev­o­lu­tion that oust­ed Yemen's long­time dic­ta­tor, Pres­i­dent Ali Abdul­lah Saleh. Three years lat­er, tur­moil grew after the Houthi takeover of Sana'a, cul­mi­nat­ing in a for­eign mil­i­tary inter­ven­tion in March 2015. The onslaught on the Mid­dle East's poor­est coun­try was sud­den, and it quick­ly wreaked hav­oc on mil­lions of civil­ians. It was launched by Sau­di Ara­bia, osten­si­bly to restore Yemen's inter­im pres­i­dent, Abd Rab­bu Man­sour Hadi, to pow­er. The inter­ven­tion had full sup­port from the Unit­ed Arab Emi­rates, Kuwait, Qatar, Bahrain, Egypt, Moroc­co, and oth­er Arab and African allies. But this was also a U.S. war on Yemen.
If this was the response from one of the most progressive Senators in Congress, what hope is there for this unconstitutional war to end?
Pres­i­dent Oba­ma had uncon­sti­tu­tion­al­ly bypassed Con­gress to sup­port the Saud­is in their war against Yemen. On the first day of the war, the White House declared sup­port for the Sau­di-led war and expressed inter­est in pro­tect­ing Sau­di and allies' secu­ri­ty. Pres­i­dent Oba­ma ​"autho­rized the pro­vi­sion of logis­ti­cal and intel­li­gence sup­port to Gulf Coop­er­a­tion Coun­cil-led mil­i­tary oper­a­tions," the state­ment read. This ​"logis­ti­cal and intel­li­gence sup­port" amount­ed to full par­tic­i­pa­tion in the war: The U.S. mil­i­tary pro­vid­ed mid-air refu­el­ing to the Sau­di coali­tion, trained their pilots, updat­ed their vehi­cles and air­crafts, and even pro­vid­ed tar­get­ing assis­tance. The Sau­di-UAE coali­tion, of which the U.S. was and is still active­ly a part, also imposed a naval and air block­ade on Yemen, a coun­try that import­ed 90% of its food pri­or to the war. Soon, Yeme­nis were being bombed and starved in mas­sive num­bers. Near­ly every Yemeni fam­i­ly, includ­ing mine, has lost loved ones. Near­ly all Yeme­nis have been dev­as­tat­ed by this war.
With­in months, Peter Mau­r­er of the Inter­na­tion­al Com­mit­tee for the Red Cross warned, ​"Yemen after 5 months looks like Syr­ia after 5 years." Yet, media out­lets in the Unit­ed States were bare­ly cov­er­ing the con­flict, and when they did, they inac­cu­rate­ly pre­sent­ed it as a Sau­di-Iran proxy war, over­stat­ing Iran's role. The role of the U.S. mil­i­tary, which was (and still is) essen­tial to the Saud­is, was often ignored.
Des­per­ate to learn more about what was hap­pen­ing in Yemen, I joined Twit­ter on March 26, 2015 — the day the war began. I began fol­low­ing Yeme­nis in Yemen who were des­per­ate­ly tweet­ing about the ongo­ing hor­rors they were expe­ri­enc­ing. They post­ed hor­rif­ic pho­tos show­ing the after­math of bomb­ing cam­paigns that did not seem to dis­crim­i­nate between mil­i­tary and civil­ian tar­gets. My extend­ed fam­i­ly along with 28 mil­lion oth­ers in Yemen was being bombed dai­ly. Food sup­plies ran short. Dis­eases like cholera spread. Famine was threat­en­ing mil­lions (today, near­ly half of the pop­u­la­tion in Yemen is at risk of star­va­tion.) Yet, here in the Unit­ed States, few dared to ques­tion Obama's sup­port for the war.
Feel­ing help­less, I decid­ed to write a let­ter to my sen­a­tor, Eliz­a­beth War­ren. As a pro­gres­sive sen­a­tor, I hoped she would take the lead in call­ing for an end to U.S. inter­ven­tion in Yemen. I hoped she would defend the Con­sti­tu­tion and pro­tect inno­cent lives. I was wrong.
She replied in ear­ly Sep­tem­ber 2015, not­ing the Unit­ed States was ​"work­ing through the Unit­ed Nations to reach a polit­i­cal solu­tion." This was a bla­tant lie. Polit­i­cal solu­tions don't involve bombs. She wrote, ​"I sup­port U.S. efforts, in coop­er­a­tion with our allies to secure a ces­sa­tion of hos­til­i­ties, to allow the flow of human­i­tar­i­an aid for mil­lions of Yeme­nis in des­per­ate need for food, water, and med­i­cine, and to return to a process of polit­i­cal rec­on­cil­i­a­tion that will lead to a peace­ful and uni­fied Yemen." In essence, she not­ed Yeme­nis' suf­fer­ing with­out acknowl­edg­ing the U.S. role in caus­ing their suf­fer­ing. The Saud­is — U.S. allies — were the ones bomb­ing and starv­ing Yemen, yet she was unwill­ing to speak out against them.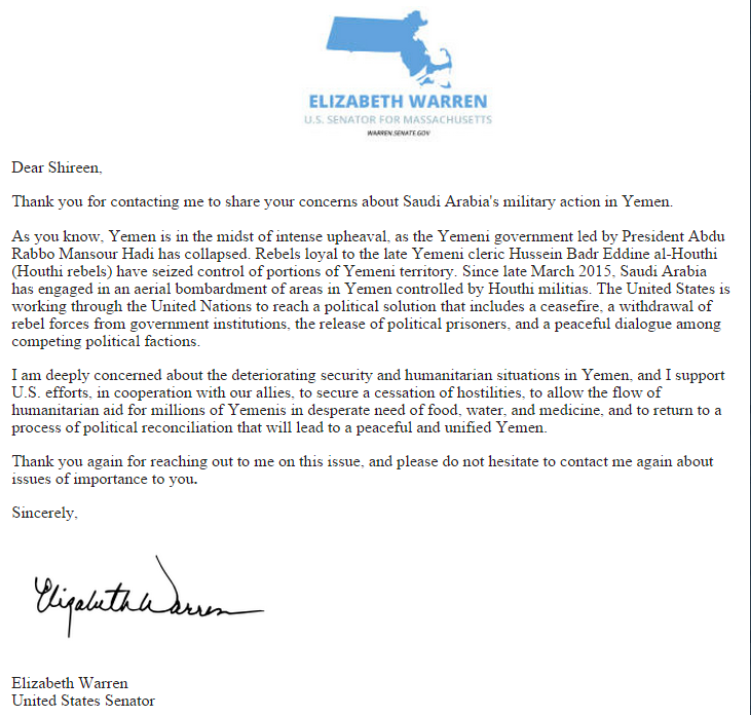 As I read her let­ter, I was dev­as­tat­ed. If this was the response from one of the most pro­gres­sive Sen­a­tors in Con­gress, what hope is there for this uncon­sti­tu­tion­al war to end? I took the ini­tial let­ter I wrote to War­ren and used it to launch an online peti­tion, urg­ing Amer­i­cans to speak out against the mil­i­tary inter­ven­tion in Yemen. Short­ly there­after, I was con­tact­ed by Stephen Sny­der, a pro­duc­er for PRI's The World. He had seen my peti­tion and let­ter, and he want­ed me to speak about this issue on air. At first I refused, then ner­vous­ly agreed to give an inter­view. I've been speak­ing out against the war in Yemen since then, writ­ing and speak­ing to edu­cate fel­low Amer­i­cans about our country's role in the world's worst human­i­tar­i­an crisis.
For a long time, how­ev­er, there seemed to be no end in sight. Advo­cat­ing for a war few knew about and few­er still cared about was tax­ing. Pres­i­dent Trump then inher­it­ed the war in 2017 and con­tin­ued—and even esca­lat­ed — busi­ness as usu­al. Then, in 2017, Rep. Ro Khan­na (D‑Calif.) gave me and mil­lions in Yemen hope when he passed the War Pow­ers Act in the House, declar­ing the U.S.' role in the war uncon­sti­tu­tion­al.
Months lat­er, Sen­a­tor Bernie Sanders (I‑Vt.) invoked the War Pow­ers Act in the Sen­ate along with his col­leagues Sen­a­tors Chris Mur­phy (D‑Conn. and Mike Lee (R‑Utah). Nev­er had Con­gress before then assert­ed its con­sti­tu­tion­al author­i­ty over war. I watched Sen­a­tor Sanders and his col­leagues encounter count­less hur­dles, yet nev­er giv­ing up on pass­ing the bill. They shed light on an issue that was — and is still — large­ly absent from main­stream con­scious­ness. Final­ly, in 2019, Con­gress passed this his­toric bill call­ing for the removal of U.S. armed forces from the war in Yemen.
And while Sen­a­tor War­ren sup­port­ed the bil­l's pass­ing, this posi­tion was main­stream among Democ­rats by then: All vot­ing Democ­rats in the House and Sen­ate, 16 House Repub­li­cans, and sev­en Sen­ate Repub­li­cans vot­ed in favor of the War Pow­ers bill.
By 2019, an esti­mat­ed 85,000 chil­dren between the ages of zero and five had starved to death. At least 90,000 Yeme­nis were killed, accord­ing to one esti­mate. One child was dying every 10 min­utes. Near­ly 80% of the pop­u­la­tion was in need of human­i­tar­i­an assis­tance to survive.
Yemen was, and still is, the world's worst human­i­tar­i­an crisis.
When I think about Sen­a­tor War­ren's response to my let­ter, it's dif­fi­cult to rec­on­cile her posi­tion with her so-called pro­gres­sive val­ues. She, like oth­ers in the Oba­ma admin­is­tra­tion, chose par­ty pol­i­tics over human lives. They pri­or­i­tized their sup­port for their Sau­di allies over the Con­sti­tu­tion they swore to uphold. Col­lec­tive­ly, their inac­tions or indif­fer­ence helped cre­ate a human­i­tar­i­an cri­sis as large as Yemen's.
Yet, unlike War­ren, Sen­a­tor Bernie Sanders fought for this still rel­a­tive­ly unknown war to end. He spoke pas­sion­ate­ly about the mil­lions of Yemeni lives that were threat­ened by U.S. actions. His pro­gres­sive poli­cies were not lim­it­ed to our coun­try's bor­ders, and for that rea­son, I became a cit­i­zen two weeks ago to vote for Bernie in the Michi­gan pri­ma­ry next week.
Dis­clo­sure: Views expressed are those of the writer. As a 501©3 non­prof­it, In These Times does not sup­port or oppose any can­di­date for pub­lic office.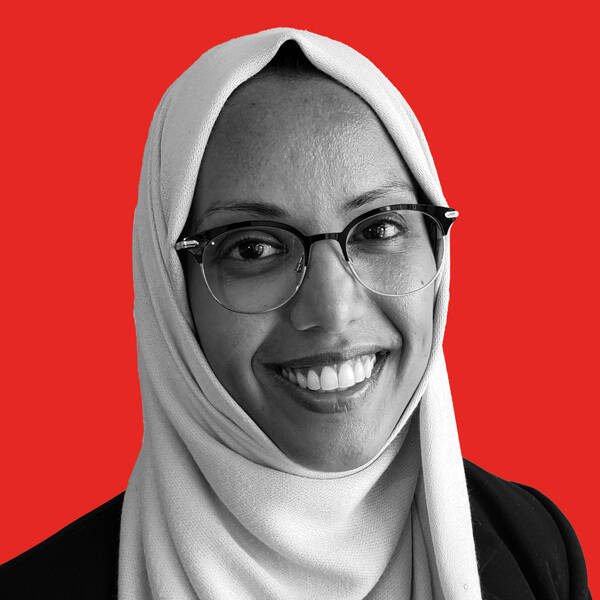 Shireen Al-Adei­mi is an assis­tant pro­fes­sor of edu­ca­tion at Michi­gan State Uni­ver­si­ty. Since 2015, she has played an active role in rais­ing aware­ness about the Sau­di-led war on her coun­try of birth, Yemen, and works to encour­age polit­i­cal action to end U.S. support.