When It Comes to U.S. Militarism, Elizabeth Warren Is No Progressive
There's one important issue on which Warren has not veered far from the Democratic establishment.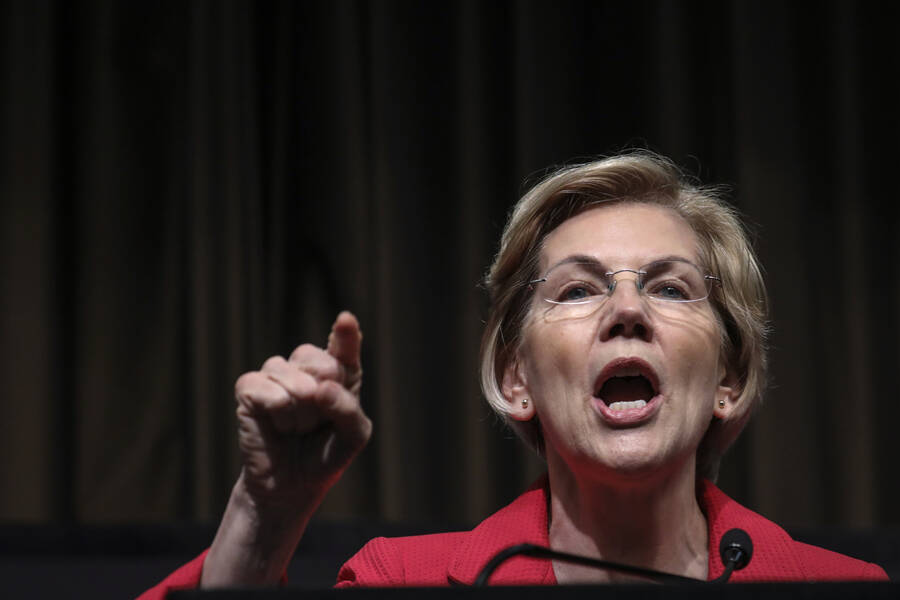 Mass­a­chu­setts Sen­a­tor and 2020 pres­i­den­tial hope­ful Eliz­a­beth War­ren has been wide­ly cel­e­brat­ed in lib­er­al and left-lean­ing press for churn­ing out pro­gres­sive pol­i­cy pro­pos­als on the domes­tic front, from child care to hous­ing. Arti­cles have hailed her as the ​"intel­lec­tu­al pow­er­house of the Demo­c­ra­t­ic par­ty," the per­son who ​"has the plans" and the ​"pro­gres­sive pol­i­cy anchor in the 2020 field." One Guardian piece from late Feb­ru­ary asks, ​"Why vote for Sanders when you can have Eliz­a­beth War­ren instead?"
The fire and passion with which she goes to bat for economic justice issues simply does not apply to the war machine.
Yet, none of these arti­cles take a close look at Warren's track record on war and mil­i­tarism, despite the fact that the realm of for­eign pol­i­cy is where pres­i­dents have the most pow­er to act with­out Con­gress (thanks in part to Obama's unfor­tu­nate expan­sion of pres­i­den­tial pow­ers to make war). It's as though the Unit­ed States exist­ed in a vac­u­um, with only domes­tic mat­ters to attend to; in real­i­ty, we are the biggest mil­i­tary empire in human his­to­ry, with 800 mil­i­tary bases around the world and U.S. com­man­dos deployed to 75% of countries.
Once Warren's for­eign pol­i­cy record is scru­ti­nized, her sta­tus as a pro­gres­sive cham­pi­on starts to with­er. While War­ren is not on the far right of Demo­c­ra­t­ic pol­i­tics on war and peace, she also is not a pro­gres­sive — nor a leader — and has failed to use her pow­er­ful posi­tion on the Sen­ate Armed Ser­vices Com­mit­tee to chal­lenge the sta­tus quo. While she's vot­ed for mil­i­tary de-esca­la­tion on some issues, includ­ing end­ing the Yemen War, she's gone along with some of the most bel­liger­ent acts that have occurred under her watch, cheer­lead­ing Israel's dev­as­tat­ing 2014 war on Gaza and vocal­iz­ing her sup­port for sanc­tions against Venezuela. Even judged accord­ing to the spec­trum of today's Demo­c­ra­t­ic Par­ty, which is skewed so far to the right on war and mil­i­tarism it does not take much to dis­tin­guish one­self, War­ren gets an unsat­is­fac­to­ry grade: not the last in her class, but far from first.
Venezuela
We are on the eve of a pos­si­ble U.S. inva­sion of Venezuela, with the U.S. halt­ing all car­go and pas­sen­ger flights to the coun­try, and U.S.-backed oppo­si­tion fig­ure Juan Guaidó call­ing on the U.S. mil­i­tary for direct coor­di­na­tion. Amid this cli­mate, War­ren has drift­ed right­ward even from a few months ago, fail­ing to force­ful­ly chal­lenge bipar­ti­san sup­port—includ­ing from 2020 hope­ful Joe Biden — for the attempt­ed coup,.
In Jan­u­ary, War­ren told the Huff­in­g­ton Post she oppos­es sanc­tions and inter­ven­tion, while crit­i­ciz­ing the gov­ern­ment of Nicolás Maduro. ​"The Venezue­lan peo­ple deserve free and fair elec­tions, an econ­o­my that works, and the abil­i­ty to live with­out fear of vio­lence from their own gov­ern­ment," she said. ​"Instead of reck­less threats of mil­i­tary action or sanc­tions that hurt those in need, we should be tak­ing real steps to sup­port the Venezue­lan people."
But by the time she spoke on the pod­cast Pod Save Amer­i­ca on Feb­ru­ary 21, she had changed her tune on sanc­tions. ​"I sup­port eco­nom­ic sanc­tions but now we're gonna start, we've got to turn the dial some here we have to offer human­i­tar­i­an help at the same time."
Accord­ing to a study by econ­o­mists Mark Weis­brot and Jef­frey Sachs for the Cen­ter for Eco­nom­ic and Pol­i­cy Research, sanc­tions are esti­mat­ed to have killed 40,000 peo­ple from 2017 to 2018. These sanc­tions, they write, would ​"fit the def­i­n­i­tion of col­lec­tive pun­ish­ment of the civil­ian pop­u­la­tion as described in both the Gene­va and Hague inter­na­tion­al conventions."
Per­haps more impor­tant­ly, War­ren has so far declined to co-spon­sor S.J.Res.11, known as the ​"Pro­hibit­ing Unau­tho­rized Mil­i­tary Action in Venezuela Res­o­lu­tion of 2019." (Update: Fol­low­ing pub­li­ca­tion of this arti­cle, War­ren signed on as a cospon­sor of S.J.Res.11.) This bill would ban ​"depart­ment or agency fund­ing from being used to intro­duce armed forces into hos­til­i­ties with Venezuela, except pur­suant to a spe­cif­ic statu­to­ry autho­riza­tion by Con­gress enact­ed after this joint res­o­lu­tion." In con­trast to War­ren, fel­low pres­i­den­tial con­tender Sen. Bernie Sanders (I‑Vt.) is cospon­sor­ing the res­o­lu­tion. And like War­ren, Sens. Cory Book­er (D‑N.J.), Kirsten Gilli­brand (D‑N.Y.) and Kamala Har­ris (D‑Calif.) are not cosponsoring.
North Korea
Polling shows that the 51 mil­lion res­i­dents of South Korea over­whelm­ing­ly want the 68-year Kore­an War — to which the Unit­ed States is still offi­cial­ly par­ty — to come to an end. Yet, War­ren has giv­en numer­ous hawk­ish pub­lic quotes slam­ming Trump for those instances where he has sup­port­ed the peace process. She is part of a larg­er trend in which Democ­rats have attacked Trump from the right on this issue, infu­ri­at­ing Kore­an peace activists.
In a June 2018 state­ment about the Unit­ed States-North Korea sum­mit, War­ren said, ​"Yes­ter­day's pho­to op does­n't change the fact that a nuclear-armed North Korea is a threat to the secu­ri­ty of the Unit­ed States, our allies, and the world. Gen­er­a­tions of North Kore­an lead­ers have made and bro­ken promis­es before — this Admin­is­tra­tion's suc­cess will be judged on whether it can elim­i­nate Kim's nuclear weapons and ver­i­fy they are gone."
And in March 2018, War­ren indi­cat­ed that Trump — a pres­i­dent who has casu­al­ly threat­ened ​"to total­ly destroy North Korea," should be more aggres­sive: ​"I'm very wor­ried that Don­ald Trump will go into these nego­ti­a­tions and Kim Jong-un will sim­ply take advan­tage of him."
Com­ments like these were a blow to Kore­an peace move­ments, which have long argued that, to make the world safer, it is nec­es­sary to embrace peace talks to end the Kore­an war. Chris­tine Ahn, a South Korea-born, Hawai'i‑based peace activist has been orga­niz­ing to end the Kore­an war under the admin­is­tra­tions of Trump, Barack Oba­ma and George W. Bush, told In These Times in June 2018 that lib­er­al fear-mon­ger­ing about the North was incred­i­bly unhelp­ful. ​"It is very dan­ger­ous to pres­sure Trump to be hard­line," says Ahn. ​"We have to put all of our efforts into ensur­ing this goes well and is not undermined."
"This is about end­ing a sev­en-decade war with a coun­try the Unit­ed States has been at war with. The Unit­ed States has been an obsta­cle to peace for Korea and was respon­si­ble for divid­ing the penin­su­la," Ahn says.
In con­trast to War­ren, Sanders released a state­ment June 12 prais­ing the Sin­ga­pore sum­mit as ​"a pos­i­tive step in de-esca­lat­ing ten­sions between our coun­tries, address­ing the threat of North Korea's nuclear weapons and mov­ing toward a more peace­ful future."
In July 2017, War­ren vot­ed in favor of a bill that bun­dled togeth­er sanc­tions against Rus­sia, Iran and North Korea, despite the risk that this bill could be an obsta­cle to the peace process and would cer­tain­ly hurt the most oppressed and exploit­ed peo­ple in all of these coun­tries (although she did not cospon­sor). Sanders was the only Con­gressper­son who cau­cus­es with the Democ­rats to issue a ​"no" vote. How­ev­er, Sanders did release a state­ment clar­i­fy­ing that he sup­ports sanc­tions on Rus­sia and North Korea, just not Iran. All the oth­er Demo­c­ra­t­ic sen­a­tors run­ning for pres­i­dent vot­ed the same way as Warren.
To be fair, War­ren did cospon­sor the ​"No Uncon­sti­tu­tion­al Strike Against North Korea Act of 2017," along with Sanders; Beto O'Rourke spon­sored the leg­is­la­tion in the House. The Sen­ate bill pro­hibits the Unit­ed States from launch­ing a mil­i­tary strike against North Korea with­out a con­gres­sion­al dec­la­ra­tion of war. (The bill is still in the Com­mit­tee on For­eign Relations.)
Israel-Pales­tine
In the midst of Israel's bru­tal 2014 ​"Oper­a­tion Pro­tec­tive Edge" war on Gaza, that killed more than 2,100 Pales­tini­ans and hor­ri­fied the world with the slaugh­ter of four Pales­tin­ian chil­dren play­ing on the beach, War­ren repeat­ed Israeli Prime Min­is­ter Ben­jamin Netanyahu's talk­ing points to defend Israel's bomb­ing of schools. ​"When Hamas puts its rock­et launch­ers next to hos­pi­tals, next to schools, they're using their civil­ian pop­u­la­tion to pro­tect their mil­i­tary assets," she said at a town hall meet­ing on Aug. 20, 2014. ​"And I believe Israel has a right, at that point, to defend itself."
She went on to defend $225 mil­lion in emer­gency funds grant­ed by the U.S. for Israel's ​"Iron Dome" project. ​"I think the vote was right, and I'll tell you why I think the vote was right," she said. ​"Amer­i­ca has a very spe­cial rela­tion­ship with Israel. Israel lives in a very dan­ger­ous part of the world, and a part of the world where there aren't many lib­er­al democ­ra­cies and democ­ra­cies that are con­trolled by the rule of law. And we very much need an ally in that part of the world."
She has also been close to AIPAC, a pow­er­ful right-wing pro-Israel lob­by­ing out­fit. As Nathan Guttman point­ed out in his 2016 For­ward piece about how War­ren is a ​"sur­pris­ing Israel hawk," War­ren ​"has attend­ed the annu­al din­ners host­ed by the AIPAC Boston chap­ter and counts among her sup­port­ers some main­stream pro-Israel back­ers, includ­ing Steve Gross­man, a for­mer Mass­a­chu­setts trea­sur­er who was also pres­i­dent of AIPAC."
In 2016, in advance of a UN Secu­ri­ty Coun­cil res­o­lu­tion con­demn­ing Israeli set­tle­ments, War­ren signed an AIPAC-spon­sored let­ter urg­ing Oba­ma to veto ​"one-sided" res­o­lu­tions. Gilli­brand and Book­er also signed that let­ter, while Sanders did not.
There are some signs Warren's posi­tions have grown slight­ly bet­ter in recent years, pos­si­bly a result of shift­ing polit­i­cal winds. In 2017, War­ren and Sanders were among just a few sen­a­tors who refused to cospon­sor a bill crit­i­ciz­ing a 2016 UN Secu­ri­ty Coun­cil res­o­lu­tion that deemed Israeli set­tle­ments ille­gal. Gilli­brand, Har­ris and Book­er all cospon­sored that bill, which nev­er came to a final vote. That same year, War­ren joined nine oth­er sen­a­tors — includ­ing Sanders — in urg­ing Netanyahu not to demol­ish the Pales­tin­ian vil­lage of Susiya and the Bedouin com­mu­ni­ty of Khan al-Ahmar in Novem­ber 2017. Book­er and Har­ris did not sign the letter.
Also in 2017, how­ev­er, War­ren signed a let­ter with every oth­er sen­a­tor, includ­ing Sanders, Gilli­brand, Book­er and Har­ris, claim­ing the UN has a bias against the state of Israel. In Feb­ru­ary 2019, War­ren opposed a bill that would have crim­i­nal­ized the Pales­tin­ian-led move­ment for Boy­cott, Divest­ment and Sanc­tions against Israel, and would have pro­vid­ed addi­tion­al fund­ing to Israel. Book­er, Har­ris and Sanders also vot­ed against.
Yemen
Yemen is per­haps the one for­eign pol­i­cy issue where Warren's vot­ing record has been pos­i­tive. War­ren cospon­sored S.J.Res.7, a joint res­o­lu­tion ​"to direct the removal of Unit­ed States Armed Forces from hos­til­i­ties in the Repub­lic of Yemen that have not been autho­rized by Con­gress." This 2019 bill, which passed the Sen­ate but was vetoed by Trump, was intro­duced by Sanders and also attract­ed the cospon­sor­ship of Gilli­brand, Har­ris and Booker.
War­ren also vot­ed repeat­ed­ly to sup­port efforts to block the sale of arms that would be used by Sau­di Ara­bia in the war. This includ­ed her vote against tabling S.J.Res.39, a joint res­o­lu­tion dis­ap­prov­ing of the sale of key mil­i­tary arms and equip­ment to Sau­di Ara­bia. She did so in Sep­tem­ber 2016, in a chal­lenge to Obama's war, when only 27 vot­ed against tabling. Sanders, Gilli­brand and Book­er were among those who also vot­ed the right way on that resolution.
While advo­cates for end­ing the war appre­ci­ate Warren's votes, they don't cred­it her with spear­head­ing the effort. ​"She is not a leader," Jehan Hakim, who chairs the Yemeni Alliance Com­mit­tee, tells In These Times. ​"Chris Mur­phy, Sanders, Ro Khan­na and Mark Pocan — those were the peo­ple leading."
Robert Naiman, pol­i­cy direc­tor for Just For­eign Pol­i­cy, agrees. ​"War­ren was an ear­ly sup­port­er of Bernie's efforts to end uncon­sti­tu­tion­al U.S. par­tic­i­pa­tion in the Sau­di war in Yemen — much ear­li­er than Kamala Har­ris or Joe Biden, who were late to join what is now the con­sen­sus among Democ­rats," he says. ​"But if it had­n't been for Bernie's lead­er­ship, togeth­er with Chris Mur­phy and Mike Lee, the issue of uncon­sti­tu­tion­al U.S. par­tic­i­pa­tion in the war, which enabled us to force Con­gress to vote against the war by invok­ing the War Pow­ers Res­o­lu­tion, might nev­er have been raised on the Sen­ate and House floor."
Biden, who vot­ed to autho­rize the inva­sion of Iraq in 2002, nev­er pub­licly broke from Oba­ma on the Yemen War. Yet in May, after he declared his pres­i­den­tial can­di­da­cy, he called for the U.S. to with­draw its support.
Iran
At the begin­ning, War­ren aligned her­self with Oba­ma on the nuclear deal with Iran, and was one of the ear­li­er Democ­rats to declare her sup­port. On Aug. 3, 2015 — some days before Bernie Sanders — War­ren offered her sup­port in an offi­cial state­ment.
Yet, in July 2017, War­ren vot­ed in favor of afore­men­tioned bill that grouped togeth­er sanc­tions against Rus­sia, Iran and North Korea (which Sanders vot­ed against). She did this despite warn­ings from Obama's for­mer Sec­re­tary of State, John Ker­ry, that the new sanc­tions threat­en to under­mine the Iran deal. At a fundrais­er in San Fran­cis­co in June 2017, Ker­ry said, ​"If we become super provoca­tive in ways that show the Iran­ian peo­ple there has been no advan­tage to this, that there is no gain, and our bel­li­cos­i­ty is push­ing them into a cor­ner, that's dan­ger­ous and that could bring a very dif­fer­ent result."
As recent­ly as Decem­ber 2018, War­ren called for the Unit­ed States to re-enter the nuclear deal, push­ing back against the Trump administration's increas­ing­ly con­fronta­tion­al stance. And on May 14, War­ren signed up as a cospon­sor of S.1039, Pre­ven­tion of Uncon­sti­tu­tion­al War with Iran Act of 2019 (though it took War­ren more than a month to sign on, while Sanders was a cospon­sor from the day the bill was intro­duced). Har­ris and Book­er are not cospon­sors. This bill ​"pro­hibits funds from being used for kinet­ic mil­i­tary oper­a­tions against Iran unless Con­gress autho­rizes such an action, with var­i­ous excep­tions such as in response to an immi­nent threat."
Mil­i­tary-Indus­tri­al Complex
Through­out her career, War­ren has sup­port­ed defense con­tracts and mil­i­tary bases for her home state. She wrote in a 2013 edi­to­r­i­al that, ​"The work that goes on at bases and by defense con­trac­tors through­out the com­mon­wealth is a great exam­ple of how invest­ments in research and devel­op­ment can help ensure our nation's mil­i­tary is ready and able to meet cur­rent and emerg­ing needs while also sup­port­ing our state's econ­o­my." And a 2015 Politi­co arti­cle finds, ​"War­ren has fought to stop the Army from shift­ing funds away from a Mass­a­chu­setts-built com­mu­ni­ca­tions net­work to pay for unan­tic­i­pat­ed costs asso­ci­at­ed with the war in Afghanistan. She's lob­bied for prob­lem-plagued Gen­er­al Dynam­ics-made tac­ti­cal radios. And she's pledged to pro­tect West­over Air Reserve Base from the bud­get ax — all while say­ing she sup­ports ​"tar­get­ed" cuts else­where." (To be fair, Sanders has sup­port­ed the F‑35 fight­er jet because of his belief it will help Vermont's economy.)
This sup­port for mil­i­tary fund­ing to Mass­a­chu­setts has, at times, extend­ed to the rest of the coun­try. War­ren backed the 2018 defense autho­riza­tion bill while Sanders did not, while War­ren and Sanders vot­ed against the bloat­ed war bud­get for 2019.
Per­haps most telling about what a future War­ren admin­is­tra­tion would look like is the advis­ers War­ren has sur­round­ed her­self with. In Feb­ru­ary 2017, she announced the hir­ing of Sasha Bak­er to be her nation­al secu­ri­ty advi­sor. Until 2017, Bak­er was the deputy chief of staff to the Sec­re­tary of Defense Ash­ton Carter. Carter over­saw the U.S. war on ISIS, as well as U.S. mil­i­tary buildup in the Asia-Pacif­ic to hedge against Chi­na. Anoth­er key advis­er is Ganesh Sitara­man, a pro­fes­sor at Van­der­bilt and a senior fel­low at the Cen­ter for Amer­i­can Progress, a think tank aligned with the lead­er­ship of the Demo­c­ra­t­ic Par­ty that has been wide­ly crit­i­cized for its hawk­ish poli­cies, includ­ing calls for con­fronta­tion with Iran.
There are numer­ous oth­er warn­ing signs — and unan­swered ques­tions. In 2013, War­ren sup­port­ed John Brennan's CIA nom­i­na­tion. He was a major advo­cate of the U.S. tar­get­ed-killing pro­gram. (Bernie did not. Gilli­brand did.)
War­ren did vote against leg­is­la­tion that would autho­rize Pres­i­dent Oba­ma to arm and train Syr­i­an rebels in Sep­tem­ber 2014. ​"I do not want Amer­i­ca to be dragged into anoth­er ground war in the Mid­dle East, and it is time for those nations in the region that are most imme­di­ate­ly affect­ed by the rise of ISIS to step up and play a lead­ing role in this fight." Beyond that, War­ren has revealed lit­tle about her posi­tions on Syria.
To her cred­it, a few weeks after she declared her can­di­da­cy for the Demo­c­ra­t­ic nom­i­na­tion for pres­i­dent, War­ren intro­duced the ​"no first-use" of nuclear weapons bill, along with House Armed Ser­vices Com­mit­tee Chair Adam Smith. The leg­is­la­tion con­sists of a sin­gle sen­tence: ​"It is the pol­i­cy of the Unit­ed States to not use nuclear weapons first."
Cam­paign Rhetoric
Like her record, Warren's cam­paign rhetoric is all over the map. Just after she announced her can­di­da­cy for the Demo­c­ra­t­ic nom­i­na­tion for pres­i­dent, War­ren backed Trump's calls to with­draw from Syr­ia and Afghanistan, an impor­tant step. But she hasn't fol­lowed up that pub­lic posi­tion with any mean­ing­ful polit­i­cal steps, and she has since released mil­i­taris­tic statements.
On May 15, War­ren tweet­ed, ​"Cli­mate change is … under­min­ing our mil­i­tary readi­ness," sug­gest­ing that she still sees mil­i­tary pow­er as a U.S. pri­or­i­ty. That same day, War­ren released a plan for a more green mil­i­tary, premised on the claim that ​"Our mil­i­tary can help lead the fight in com­bat­ing cli­mate change." War­ren is call­ing to invest more mon­ey into mak­ing mil­i­tary bases zero-car­bon and cli­mate resilient, with no acknowl­edge­ment that we should be dis­man­tling these bases. The mil­i­tary goals she claims are para­mount are in fact dri­ving the crisis.
Almost simul­ta­ne­ous­ly, War­ren intro­duced a sep­a­rate plan to crack down on the out­sized role that defense con­trac­tors play at the Pen­ta­gon. And in an ear­li­er state­ment, War­ren called for an end to ​"end­less wars," as well as a recom­mit­ment to nuclear non­pro­lif­er­a­tion. But in that same paper, she takes a hard line against Chi­na and Rus­sia, fram­ing inter­na­tion­al rela­tions as a zero-sum competition.
Ulti­mate­ly, how­ev­er, War­ren should be judged most heav­i­ly accord­ing to her over­all track record, not rhetoric and promis­es issued in the midst of cam­paign sea­son. Oba­ma, after all, taught us we can't rely on cam­paign promis­es, and that we shouldn't just see what we want to see in a can­di­date. We have to take a hard look at what the evi­dence tells us that can­di­date will — and will not — do. Unfor­tu­nate­ly, Warren's track record tells us she will not lead the charge to demil­i­ta­rize the Unit­ed States, nor veer very far from the tra­di­tion­al cen­ters of pow­er in the Demo­c­ra­t­ic Par­ty. The fire and pas­sion with which she goes to bat for eco­nom­ic jus­tice issues sim­ply does not apply to the war machine. War­ren embraces pro­gres­sivism at home but not abroad, fol­low­ing in a long line of lib­er­al chau­vin­ists who ele­vate their com­pa­tri­ots over the rest of the world.
Daniel Fer­nan­dez con­tributed research to this article.
Views expressed are those of the writer. As a 501©3 non­prof­it, In These Times does not sup­port or oppose any can­di­date for pub­lic office.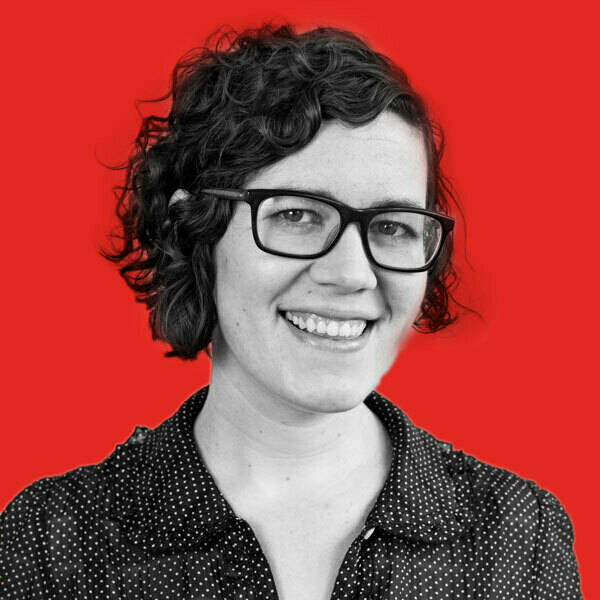 Sarah Lazare is web edi­tor at In These Times. She comes from a back­ground in inde­pen­dent jour­nal­ism for pub­li­ca­tions includ­ing The Inter­cept, The Nation, and Tom Dis­patch. She tweets at @sarahlazare.