The Case for Nationalizing Elon Musk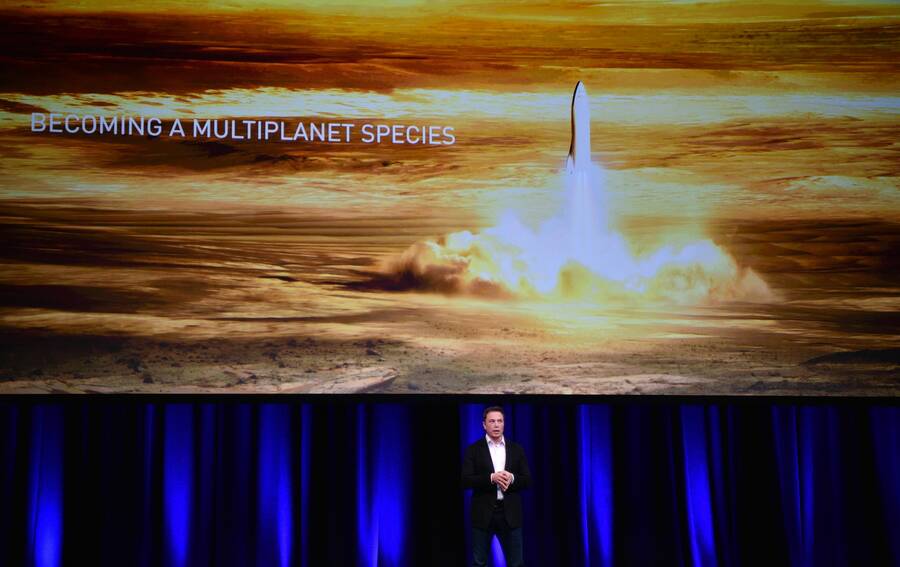 On Tues­day, Elon Musk launched some stuff into space. The SpaceX Fal­con Heavy rock­et was shot into the Solar Sys­tem, tailed by a Tes­la Road­ster blast­ing David Bowie songs, report­ed­ly the fastest car ever to be released into orbit. Each Fal­con launch is only expect­ed to cost around $90 mil­lion — a bar­gain in the world of extrater­res­tri­al exploration.
Sci­en­tif­ic Amer­i­can gawked, ​"Elon Musk Does It Again," prais­ing the ​"bold tech­no­log­i­cal inno­va­tions and new­found oper­a­tional effi­cien­cies that allow SpaceX to not only build its rock­ets for less mon­ey, but also reuse them." That view — shared by sev­er­al oth­er out­lets — fits com­fort­ably with the Tony Stark-like image Musk has craft­ed for him­self over the years: a quirky and slight­ly off-kil­ter play­boy genius inven­tor capa­ble of con­quer­ing every­thing from out­er space to the cli­mate cri­sis with the sheer force of his imagination.
One of Musk's long-term goals is to cre­ate a self-sus­tain­ing colony on Mars, and make human­i­ty an inter­plan­e­tary species. He hopes to shoot two very wealthy peo­ple around the moon at some point this year. Musk has invest­ed an awful lot of pub­lic mon­ey into mak­ing those dreams a real­i­ty. But why should Amer­i­cans keep foot­ing the bill for projects where only Musk and his wealthy friends can reap the rewards? Enter: the case for nation­al­iz­ing Elon Musk, and mak­ing the U.S. gov­ern­ment a major stake­hold­er in his companies.
The com­mon log­ic now holds that the pri­vate sec­tor — and prodi­gies like Musk, in par­tic­u­lar — are bet­ter at com­ing up with world-chang­ing ideas than the pub­lic sec­tor, which is alleged­ly bloat­ed and aller­gic to new, out­side-the-box think­ing. Cor­po­ra­tions' hunt for prof­its and lack of bureau­crat­ic con­straints, it's said, com­pel cut­ting-edge research and devel­op­ment in a way that the gov­ern­ment is sim­ply inca­pable of. With any hope, more of these bil­lion­aires' break­throughs than not will be in the pub­lic interest.
The real­i­ty, as econ­o­mist Mar­i­ana Maz­zu­ca­to argues in her 2013 book The Entre­pre­neur­ial State: Debunk­ing Pub­lic vs. Pri­vate Sec­tor Myths, is very dif­fer­ent. Many of the com­pa­nies that are today con­sid­ered to be head­ed by bril­liant savants — peo­ple like Steve Jobs and, yes, Elon Musk — owe much of their suc­cess to decades of pub­lic sec­tor inno­va­tion, through repack­ag­ing tech­nolo­gies devel­oped over the course of sev­er­al decades into new prod­ucts. Take the iPhone, essen­tial­ly a col­lec­tion of Defense Depart­ment research and Nation­al Sci­ence Foun­da­tion-grant projects packed into one shiny machine.
"The prospect of the State own­ing a stake in a pri­vate cor­po­ra­tion may be anath­e­ma to many parts of the cap­i­tal­ist world," Maz­zu­ca­to writes, ​"but giv­en that gov­ern­ments are already invest­ing in the pri­vate sec­tor, they may as well earn a return on those investments."
As she notes, Musk's future-ori­ent­ed empire — Tes­la Motors, SolarCi­ty and SpaceX — has ben­e­fit­ted from around $5 bil­lion in local, state and fed­er­al gov­ern­ment sup­port, not to men­tion many years of foun­da­tion­al pub­lic research into pro­grams like rock­et tech­nol­o­gy. SpaceX itself exists large­ly for the sake of com­pet­ing for gov­ern­ment con­tracts, like its $5.5 bil­lion part­ner­ship with NASA and the U.S. Air Force. The U.S. Depart­ment of Ener­gy invest­ed direct­ly in that com­pa­ny, as well as in Tesla's work on bat­tery tech­nol­o­gy and solar pan­els. The lat­ter is per­haps the biggest suc­cess sto­ry of the Depart­ment of Ener­gy stim­u­lus grant that also sup­port­ed Solyn­dra, a solar ener­gy com­pa­ny reli­ably held up by the Right as an exam­ple of the government's fail­ure to make wise invest­ment deci­sions. ​"Tax­pay­ers foot­ed the bill for Solyndra's loss­es — yet got hard­ly any of Tesla's prof­its," Maz­zu­ca­to notes.
As Maz­zu­ca­to finds, the pri­vate sec­tor hasn't done much to earn its rep­u­ta­tion as a risk-tak­er. Cor­po­ra­tions and ven­ture cap­i­tal­ists often adopt con­ser­v­a­tive think­ing and fall into ​"path depen­den­cy," and are gen­er­al­ly reluc­tant to invest in impor­tant ear­ly-stage research that won't nec­es­sar­i­ly turn a prof­it in the short-run. This kind of research is inher­ent­ly risky, and the vast major­i­ty of this kind of pro­tean R&D (research and devel­op­ment) fails. For every inter­net — birthed in the Defense Depart­ment — there are a well over a dozen Solyn­dras, but it's vir­tu­al­ly impos­si­ble to have one with­out the other.
The prob­lem runs deep­er still. Where­as in the past pub­lic sec­tor research has been able to attract top-tier tal­ent, the myth that the pri­vate sec­tor can do what the State can't has cre­at­ed a neg­a­tive feed­back loop where­by bright young sci­en­tists and engi­neers flock toward a pri­vate sec­tor that goes on to fur­ther its rep­u­ta­tion for being the place where the real inno­va­tion is happening.
The alter­na­tive Maz­zu­ca­to sug­gests is to social­ize risk and reward alike, rather than sim­ply allow­ing com­pa­nies that enjoy the ben­e­fits of pub­lic inno­va­tion to fun­nel their prof­its into things like stock buy­backs and tax havens — or, for that mat­ter, flamethrow­ers. When com­pa­nies like SpaceX make it big, they'd be oblig­at­ed to return some por­tion of their gains to the pub­lic infra­struc­ture that helped them suc­ceed, expand­ing the government's capac­i­ty to facil­i­tate more inno­v­a­tive development.
All this is not to say that there isn't a crit­i­cal role to play for peo­ple like Jobs and Musk in bring­ing new tech­nol­o­gy to the mar­ket. In all like­li­hood, Tesla's Pow­er­wall and SolarCi­ty pan­els will play a key role in our tran­si­tion off of fos­sil fuels. But lion­iz­ing Musk as the sole cre­ator of the Pow­er­wall and this week's space launch stands to per­pet­u­ate a dan­ger­ous series of myths about who's respon­si­ble for such cut­ting-edge devel­op­ment. Through smart sup­ply-and-demand-side pol­i­cy, states can play a cru­cial role in shap­ing and cre­at­ing mar­kets for the tech­nolo­gies we'll need to nav­i­gate the 21st cen­tu­ry. This can hap­pen not just through R&D but also through devel­op­ments like fuel effi­cien­cy stan­dards, which encour­age car­mak­ers to pri­or­i­tize vehi­cles that run off of renew­able energy.
Giv­en the mount­ing real­i­ty of cli­mate change and the neces­si­ty to rapid­ly switch over to a clean ener­gy econ­o­my, there's also a big­ger ques­tion about how active­ly the state should be encour­ag­ing cer­tain kinds of research and man­u­fac­tur­ing. Dur­ing World War II, the Unit­ed States essen­tial­ly had a planned econ­o­my: By 1945, around a quar­ter of man­u­fac­tur­ing in the coun­try was under state con­trol. The rea­son for that was sim­ple — the U.S. gov­ern­ment saw an exis­ten­tial threat, and direct­ed some of its biggest cor­po­ra­tions to pitch in to stop it or else risk get­ting tak­en over by the state.
There's some Cold War nos­tal­gia to hoist­ing shiny objects into orbit — a telegenic show of America's tech­no­log­i­cal suprema­cy. But it may not be much solace to coastal res­i­dents forced to flee in the com­ing decades, whose homes are ren­dered unliv­able by a mix­ture of extreme weath­er and crum­bling, anti­quat­ed infra­struc­ture. And if you've watched any num­ber of big-bud­get sci-fi pro­duc­tions over the last sev­er­al years, it's not hard to imag­ine Musk's Mar­t­ian colony spin­ning off into some Ely­si­um-style eco-apartheid, where the rich — for the right price — can escape to new worlds while the rest of us make do on a plan­et of dystopi­an slums, swamps and deserts.
Today, the risk posed by cli­mate change is greater still than that posed by fas­cism on the eve of World War II, threat­en­ing to bring about a plan­et that's unin­hab­it­able for humans, and plen­ty hos­tile to them in the mean­time. In such a con­text, do we need to launch cars into space? Maybe not. If the pub­lic sec­tor is going to con­tin­ue foot­ing the bill for Elon Musk's fan­tasies, though, he should at least have to give back some cred­it, and a cut of the profits.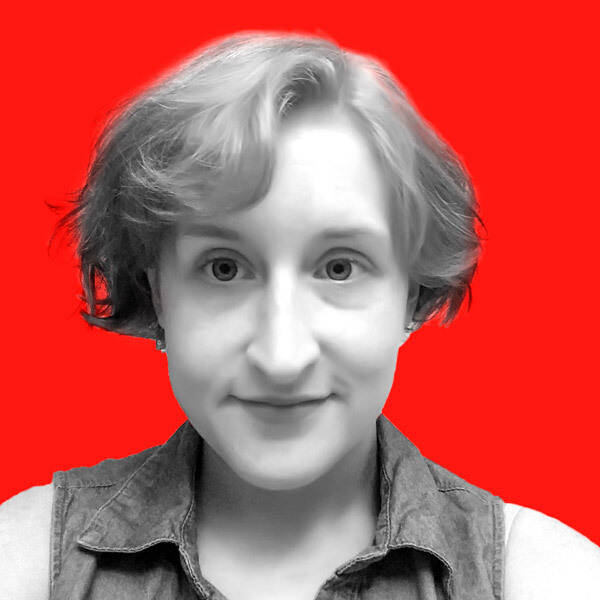 Kate Aronoff
is a Brook­lyn-based jour­nal­ist cov­er­ing cli­mate and U.S. pol­i­tics, and a con­tribut­ing writer at The Inter­cept. Fol­low her on Twit­ter @katearonoff.