Emanuel to Justice Department in 2009: "Shut the F—k Up" About Gun Control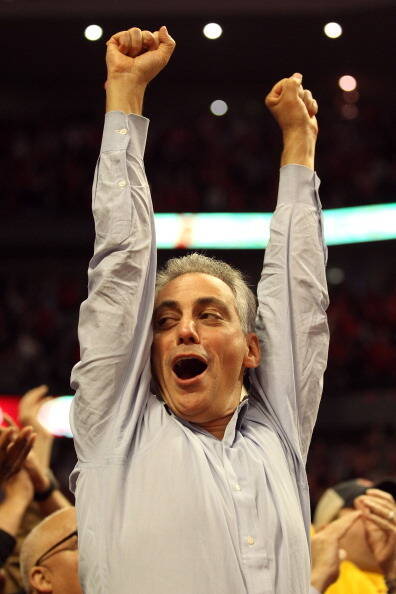 According to
&
nbsp;Daniel
&
nbsp;Klaidman's book
&
nbsp;Kill or Capture: The War on Terror and the Soul of the Obama Presidency, in
2009
,
&
nbsp;then-Chief of Staff
&
nbsp;Rahm Emanuel
&
nbsp;told
&
nbsp;Attorney General
&
nbsp;Eric Holder to ​
"
shut the f
&
mdash;k up" after Holder
&
nbsp;solicited
&
nbsp;White House support for an assault weapons ban. Emanuel was recently questioned by Norah O'Donnell about the incident on CBS This Morning. Asked O'Donnell: The Assault Weapons Ban expired in
2004
. You were President Obama
&
rsquo;s Chief of Staff in
2009
. According to the book
&
nbsp;Kill or Capture, you were furious with Attorney General Holder who held a press conference in February of
2009
saying that the Obama administration was going to reinstitute, push the assault weapons
&
nbsp;ban, and that you sent word to Justice that Holder needed to ​
"
shut the [fuck]
&
nbsp;up" on guns. Emanuel did not deny the accusation, telling O'Donnell that in
2009
, the White House had
&
nbsp;different
&
nbsp;priorities
&
nbsp;amid
&
nbsp;the crises of the Great Recession. He nonetheless insisted that the President's support for
&
nbsp;an assault weapons ban is unequivocal: The president
&
rsquo;s record is very, very clear on this. [It was] clear when he was a state senator, it was clear when he was also a United States senator. It
&
rsquo;s clear also as president. But O'Donnell seemed skeptical, noting that the pro-gun control Brady Campaign had given the Obama administration an ​
"
F," and fellow host Charlie Rose
&
nbsp;was positively incredulous, saying: I don't understand why people, who did not have the political will to go forward, don't simply acknowledge it, and say, I've come around, as some have….the President did not do all that he could, and you know it, and…I suspect he knows it. But the more important thing is, is it now time to stand up to the NRA…?
Be one of the first
Help kick off the new era of In These Times! Without a media that brings people together and creates a written record of the struggles of workers, their voices will be fragmented and forgotten.
The mission of In These Times is to be that written record, and to guide and grow those movements.
We have a lot of work ahead of us, and that work starts today. Early support is the most valuable support, and that's why we're asking you to pitch in now. If you are excited for this new era of In These Times, please make a donation today.
Anthony Mangini
is an editorial intern at
In These Times
. He holds a master's degree from the University of Minnesota and a bachelor's degree from New York University. He currently resides in Chicago.