"Marriage and Love Have Nothing In Common": Emma Goldman on Romance and Sexual Freedom
The anarchist, labor organizer and rabble rouser Emma Goldman published this essay, "Marriage and Love," in 1914.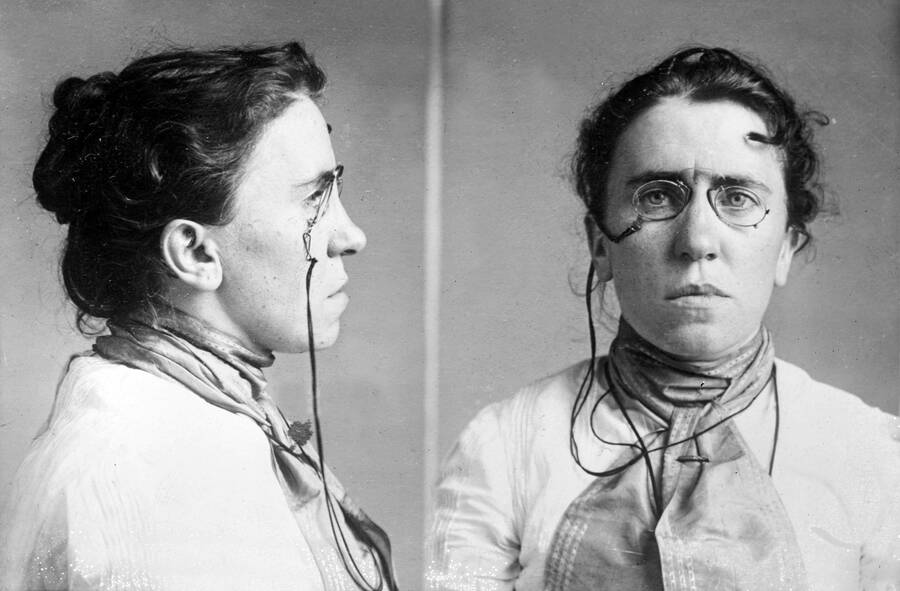 The pop­u­lar notion about mar­riage and love is that they are syn­ony­mous, that they spring from the same motives, and cov­er the same human needs. Like most pop­u­lar notions this also rests not on actu­al facts, but on superstition.
Love, the strongest and deepest element in all life, the harbinger of hope, of joy, of ecstasy; love, the defier of all laws, of all conventions; love, the freest, the most powerful molder of human destiny; how can such an all-compelling force be synonymous with that poor little State and Church-begotten weed, marriage?
Mar­riage and love have noth­ing in com­mon; they are as far apart as the poles; are, in fact, antag­o­nis­tic to each oth­er. No doubt some mar­riages have been the result of love. Not, how­ev­er, because love could assert itself only in mar­riage; much rather is it because few peo­ple can com­plete­ly out­grow a con­ven­tion. There are today large num­bers of men and women to whom mar­riage is naught but a farce, but who sub­mit to it for the sake of pub­lic opin­ion. At any rate, while it is true that some mar­riages are based on love, and while it is equal­ly true that in some cas­es love con­tin­ues in mar­ried life, I main­tain that it does so regard­less of mar­riage, and not because of it.
On the oth­er hand, it is utter­ly false that love results from mar­riage. On rare occa­sions one does hear of a mirac­u­lous case of a mar­ried cou­ple falling in love after mar­riage, but on close exam­i­na­tion it will be found that it is a mere adjust­ment to the inevitable. Cer­tain­ly the grow­ing-used to each oth­er is far away from the spon­tane­ity, the inten­si­ty, and beau­ty of love, with­out which the inti­ma­cy of mar­riage must prove degrad­ing to both the woman and the man.
Mar­riage is pri­mar­i­ly an eco­nom­ic arrange­ment, an insur­ance pact. It dif­fers from the ordi­nary life insur­ance agree­ment only in that it is more bind­ing, more exact­ing. Its returns are insignif­i­cant­ly small com­pared with the invest­ments. In tak­ing out an insur­ance pol­i­cy one pays for it in dol­lars and cents, always at lib­er­ty to dis­con­tin­ue pay­ments. If, how ever, woman's pre­mi­um is a hus­band, she pays for it with her name, her pri­va­cy, her self-respect, her very life, ​"until death doth part." More­over, the mar­riage insur­ance con­demns her to life-long depen­den­cy, to par­a­sitism, to com­plete use­less­ness, indi­vid­ual as well as social. Man, too, pays his toll, but as his sphere is wider, mar­riage does not lim­it him as much as woman. He feels his chains more in an eco­nom­ic sense.
Thus Dante's mot­to over Infer­no applies with equal force to mar­riage: ​"Ye who enter here leave all hope behind."
That mar­riage is a fail­ure none but the very stu­pid will deny. One has but to glance over the sta­tis­tics of divorce to real­ize how bit­ter a fail­ure mar­riage real­ly is. Nor will the stereo­typed Philis­tine argu­ment that the lax­i­ty of divorce laws and the grow­ing loose­ness of woman account for the fact that: first, every twelfth mar­riage ends in divorce; sec­ond, that since 1870 divorces have increased from 28 to 73 for every hun­dred thou­sand pop­u­la­tion; third, that adul­tery, since 1867, as ground for divorce, has increased 270.8 per cent.; fourth, that deser­tion increased 369.8 per cent.
Added to these star­tling fig­ures is a vast amount of mate­r­i­al, dra­mat­ic and lit­er­ary, fur­ther elu­ci­dat­ing this sub­ject. Robert Her­rick, in Togeth­er; Pinero, in Mid-Chan­nel; Eugene Wal­ter, in Paid in Full, and scores of oth­er writ­ers are dis­cussing the bar­ren­ness, the monot­o­ny, the sor­did­ness, the inad­e­qua­cy of mar­riage as a fac­tor for har­mo­ny and understanding.
The thought­ful social stu­dent will not con­tent him­self with the pop­u­lar super­fi­cial excuse for this phe­nom­e­non. He will have to dig down deep­er into the very life of the sex­es to know why mar­riage proves so disastrous.
Edward Car­pen­ter says that behind every mar­riage stands the life-long envi­ron­ment of the two sex­es; an envi­ron­ment so dif­fer­ent from each oth­er that man and woman must remain strangers. Sep­a­rat­ed by an insur­mount­able wall of super­sti­tion, cus­tom, and habit, mar­riage has not the poten­tial­i­ty of devel­op­ing knowl­edge of, and respect for, each oth­er, with­out which every union is doomed to failure.
Hen­rik Ibsen, the hater of all social shams, was prob­a­bly the first to real­ize this great truth. Nora leaves her hus­band, not — as the stu­pid crit­ic would have it — because she is tired of her respon­si­bil­i­ties or feels the need of woman's rights, but because she has come to know that for eight years she had lived with a stranger and borne him chil­dren. Can there be any thing more humil­i­at­ing, more degrad­ing than a life long prox­im­i­ty between two strangers? No need for the woman to know any­thing of the man, save his income. As to the knowl­edge of the woman — what is there to know except that she has a pleas­ing appear­ance? We have not yet out­grown the the­o­log­ic myth that woman has no soul, that she is a mere appen­dix to man, made out of his rib just for the con­ve­nience of the gen­tle­man who was so strong that he was afraid of his own shadow.
Per­chance the poor qual­i­ty of the mate­r­i­al whence woman comes is respon­si­ble for her infe­ri­or­i­ty. At any rate, woman has no soul — what is there to know about her? Besides, the less soul a woman has the greater her asset as a wife, the more read­i­ly will she absorb her­self in her hus­band. It is this slav­ish acqui­es­cence to man's supe­ri­or­i­ty that has kept the mar­riage insti­tu­tion seem­ing­ly intact for so long a peri­od. Now that woman is com­ing into her own, now that she is actu­al­ly grow­ing aware of her­self as a being out­side of the master's grace, the sacred insti­tu­tion of mar­riage is grad­u­al­ly being under­mined, and no amount of sen­ti­men­tal lamen­ta­tion can stay it.
From infan­cy, almost, the aver­age girl is told that mar­riage is her ulti­mate goal; there­fore her train­ing and edu­ca­tion must be direct­ed towards that end. Like the mute beast fat­tened for slaugh­ter, she is pre­pared for that. Yet, strange to say, she is allowed to know much less about her func­tion as wife and moth­er than the ordi­nary arti­san of his trade. It is inde­cent and filthy for a respectable girl to know any­thing of the mar­i­tal rela­tion. Oh, for the incon­sis­ten­cy of respectabil­i­ty, that needs the mar­riage vow to turn some­thing which is filthy into the purest and most sacred arrange­ment that none dare ques­tion or crit­i­cize. Yet that is exact­ly the atti­tude of the aver­age uphold­er of mar­riage. The prospec­tive wife and moth­er is kept in com­plete igno­rance of her only asset in the com­pet­i­tive field — sex. Thus she enters into life-long rela­tions with a man only to find her­self shocked, repelled, out­raged beyond mea­sure by the most nat­ur­al and healthy instinct, sex. It is safe to say that a large per­cent­age of the unhap­pi­ness, mis­ery, dis­tress, and phys­i­cal suf­fer­ing of mat­ri­mo­ny is due to the crim­i­nal igno­rance in sex mat­ters that is being extolled as a great virtue. Nor is it at all an exag­ger­a­tion when I say that more than one home has been bro­ken up because of this deplorable fact.
If, how­ev­er, woman is free and big enough to learn the mys­tery of sex with­out the sanc­tion of State or Church, she will stand con­demned as utter­ly unfit to become the wife of a ​"good" man, his good­ness con­sist­ing of an emp­ty head and plen­ty of mon­ey. Can there be any­thing more out­ra­geous than the idea that a healthy, grown woman, full of life and pas­sion, must deny nature's demand, must sub­due her most intense crav­ing, under­mine her health and break her spir­it, must stunt her vision, abstain from the depth and glo­ry of sex expe­ri­ence until a ​"good" man comes along to take her unto him­self as a wife? That is pre­cise­ly what mar­riage means. How can such an arrange­ment end except in fail­ure? This is one, though not the least impor­tant, fac­tor of mar­riage, which dif­fer­en­ti­ates it from love.
Ours is a prac­ti­cal age. The time when Romeo and Juli­et risked the wrath of their fathers for love when Gretchen exposed her­self to the gos­sip of her neigh­bors for love, is no more. If, on rare occa­sions young peo­ple allow them­selves the lux­u­ry of romance they are tak­en in care by the elders, drilled and pound­ed until they become ​"sen­si­ble."
The moral les­son instilled in the girl is not whether the man has aroused her love, but rather is it, ​"How much?" The impor­tant and only God of prac­ti­cal Amer­i­can life: Can the man make a liv­ing? Can he sup­port a wife? That is the only thing that jus­ti­fies mar­riage. Grad­u­al­ly this sat­u­rates every thought of the girl; her dreams are not of moon­light and kiss­es, of laugh­ter and tears; she dreams of shop­ping tours and bar­gain coun­ters. This soul-pover­ty and sor­did­ness are the ele­ments inher­ent in the mar­riage insti­tu­tion. The State and the Church approve of no oth­er ide­al, sim­ply because it is the one that neces­si­tates the State and Church con­trol of men and women.
Doubt­less there are peo­ple who con­tin­ue to con­sid­er love above dol­lars and cents. Par­tic­u­lar­ly is this true of that class whom eco­nom­ic neces­si­ty has forced to become self-sup­port­ing. The tremen­dous change in woman's posi­tion, wrought by that mighty fac­tor, is indeed phe­nom­e­nal when we reflect that it is but a short time since she has entered the indus­tri­al are­na. Six mil­lion women wage-earn­ers; six mil­lion women, who have the equal right with men to be exploit­ed, to be robbed, to go on strike; aye, to starve even. Any­thing more, my lord? Yes, six mil­lion age-work­ers in every walk of life, from the high­est brain work to the most dif­fi­cult menial labor in the mines and on the rail­road tracks; yes, even detec­tives and police­men. Sure­ly the eman­ci­pa­tion is complete.
Yet with all that, but a very small num­ber of the vast army of women wage-work­ers look upon work as a per­ma­nent issue, in the same light as does man. No mat­ter how decrepit the lat­ter, he has been taught to be inde­pen­dent, self-sup­port­ing. Oh, I know that no one is real­ly inde­pen­dent in our eco­nom­ic tread mill; still, the poor­est spec­i­men of a man hates to be a par­a­site; to be known as such, at any rate.
The woman con­sid­ers her posi­tion as work­er tran­si­to­ry, to be thrown aside for the first bid­der. That is why it is infi­nite­ly hard­er to orga­nize women than men. ​"Why should I join a union? I am going to get mar­ried, to have a home." Has she not been taught from infan­cy to look upon that as her ulti­mate call­ing? She learns soon enough that the home, though not so large a prison as the fac­to­ry, has more sol­id doors and bars. It has a keep­er so faith­ful that naught can escape him. The most trag­ic part, how­ev­er, is that the home no longer frees her from wage slav­ery; it only increas­es her task.
Accord­ing to the lat­est sta­tis­tics sub­mit­ted before a Com­mit­tee ​"on labor and wages, and con­ges­tion of Pop­u­la­tion," ten per cent. of the wage work­ers in New York City alone are mar­ried, yet they must con­tin­ue to work at the most poor­ly paid labor in the world. Add to this hor­ri­ble aspect the drudgery of house work, and what remains of the pro­tec­tion and glo­ry of the home? As a mat­ter of fact, even the mid­dle class girl in mar­riage can not speak of her home, since it is the man who cre­ates her sphere. It is not impor­tant whether the hus­band is a brute or a dar­ling. What I wish to prove is that mar­riage guar­an­tees woman a home only by the grace of her hus­band. There she moves about in his home, year after year until her aspect of life and human affairs becomes as flat, nar­row, and drab as her sur­round­ings. Small won­der if she becomes a nag, pet­ty, quar­rel­some, gos­sipy, unbear­able, thus dri­ving the man from the house. She could not go, if she want­ed to; there is no place to go. Besides, a short peri­od of mar­ried life, of com­plete sur­ren­der of all fac­ul­ties, absolute­ly inca­pac­i­tates the aver­age woman for the out­side world. She becomes reck­less in appear­ance, clum­sy in her move­ments, depen­dent in her deci­sions, cow­ard­ly in her judg­ment, a weight and a bore, which most men grow to hate and despise. Won­der­ful­ly inspir­ing atmos­phere for the bear­ing of life, is it not?
But the child, how is it to be pro­tect­ed, if not for mar­riage? After all, is not that the most impor­tant con­sid­er­a­tion? The sham, the hypocrisy of it! Mar­riage pro­tect­ing the child, yet thou­sands of chil­dren des­ti­tute and home­less. Mar­riage pro­tect­ing the child, yet orphan asy­lums and refor­ma­to­ries over crowd­ed, the Soci­ety for the Pre­ven­tion of Cru­el­ty to Chil­dren keep­ing busy in res­cu­ing the lit­tle vic­tims from ​"lov­ing" par­ents, to place them under more lov­ing care, the Ger­ry Soci­ety. Oh, the mock­ery of it!
Mar­riage may have the pow­er to ​"bring the horse to water," but has it ever made him drink? The law will place the father under arrest, and put him in convict's clothes; but has that ever stilled the hunger of the child? If the par­ent has no work, or if he hides his iden­ti­ty, what does mar­riage do then? It invokes the law to bring the man to ​"jus­tice," to put him safe­ly behind closed doors; his labor, how­ev­er, goes not to the child, but to the State. The child receives but a blight­ed mem­o­ry of its father's stripes.
As to the pro­tec­tion of the woman — there­in lies the curse of mar­riage. Not that it real­ly pro­tects her, but the very idea is so revolt­ing, such an out­rage and insult on life, so degrad­ing to human dig­ni­ty, as to for­ev­er con­demn this par­a­sitic institution.
It is like that oth­er pater­nal arrange­ment — cap­i­tal­ism. It robs man of his birthright, stunts his growth, poi­sons his body, keeps him in igno­rance, in pover­ty and depen­dence, and then insti­tutes char­i­ties that thrive on the last ves­tige of man's self-respect.
The insti­tu­tion of mar­riage makes a par­a­site of woman, an absolute depen­dent. It inca­pac­i­tates her for life's strug­gle, anni­hi­lates her social con­scious­ness, par­a­lyzes her imag­i­na­tion, and then impos­es its gra­cious pro­tec­tion, which is in real­i­ty a snare, a trav­es­ty on human character.
If moth­er­hood is the high­est ful­fill­ment of woman's nature, what oth­er pro­tec­tion does it need save love and free­dom? Mar­riage but defiles, out­rages, and cor­rupts her ful­fill­ment. Does it not say to woman, Only when you fol­low me shall you bring forth life? Does it not con­demn her to the block, does it not degrade and shame her if she refus­es to buy her right to moth­er­hood by sell­ing her­self? Does not mar­riage only sanc­tion moth­er­hood, even though con­ceived in hatred, in com­pul­sion? Yet, if moth­er­hood be of free choice, of love, of ecsta­sy, of defi­ant pas­sion, does it not place a crown of thorns upon an inno­cent head and carve in let­ters of blood the hideous epi­thet, Bas­tard? Were mar­riage to con­tain all the virtues claimed for it, its crimes against moth­er­hood would exclude it for­ev­er from the realm of love.
Love, the strongest and deep­est ele­ment in all life, the har­bin­ger of hope, of joy, of ecsta­sy; love, the defi­er of all laws, of all con­ven­tions; love, the freest, the most pow­er­ful mold­er of human des­tiny; how can such an all-com­pelling force be syn­ony­mous with that poor lit­tle State and Church-begot­ten weed, marriage?
Free love? As if love is any­thing but free! Man has bought brains, but all the mil­lions in the world have failed to buy love. Man has sub­dued bod­ies, but all the pow­er on earth has been unable to sub­due love. Man has con­quered whole nations, but all his armies could not con­quer love. Man has chained and fet­tered the spir­it, but he has been utter­ly help­less before love. High on a throne, with all the splen­dor and pomp his gold can com­mand, man is yet poor and des­o­late, if love pass­es him by. And if it stays, the poor­est hov­el is radi­ant with warmth, with life and col­or. Thus love has the mag­ic pow­er to make of a beg­gar a king. Yes, love is free; it can dwell in no oth­er atmos­phere. In free­dom it gives itself unre­served­ly, abun­dant­ly, com­plete­ly. All the laws on the statutes, all the courts in the uni­verse, can­not tear it from the soil, once love has tak­en root. If, how­ev­er, the soil is ster­ile, how can mar­riage make it bear fruit? It is like the last des­per­ate strug­gle of fleet­ing life against death.
Love needs no pro­tec­tion; it is its own pro­tec­tion. So long as love begets life no child is desert­ed, or hun­gry, or fam­ished for the want of affec­tion. I know this to be true. I know women who became moth­ers in free­dom by the men they loved. Few chil­dren in wed­lock enjoy the care, the pro­tec­tion, the devo­tion free moth­er­hood is capa­ble of bestowing.
The defend­ers of author­i­ty dread the advent of a free moth­er­hood, lest it will rob them of their prey. Who would fight wars? Who would cre­ate wealth? Who would make the police­man, the jail­er, if woman were to refuse the indis­crim­i­nate breed­ing of chil­dren? The race, the race! shouts the king, the pres­i­dent, the cap­i­tal­ist, the priest. The race must be pre­served, though woman be degrad­ed to a mere machine, — and the mar­riage insti­tu­tion is our only safe­ty valve against the per­ni­cious sex-awak­en­ing of woman. But in vain these fran­tic efforts to main­tain a state of bondage. In vain, too, the edicts of the Church, the mad attacks of rulers, in vain even the arm of the law. Woman no longer wants to be a par­ty to the pro­duc­tion of a race of sick­ly, fee­ble, decrepit, wretched human beings, who have nei­ther the strength nor moral courage to throw off the yoke of pover­ty and slav­ery. Instead she desires few­er and bet­ter chil­dren, begot­ten and reared in love and through free choice; not by com­pul­sion, as mar­riage impos­es. Our pseu­do-moral­ists have yet to learn the deep sense of respon­si­bil­i­ty toward the child, that love in free­dom has awak­ened in the breast of woman. Rather would she forego for­ev­er the glo­ry of moth­er­hood than bring forth life in an atmos­phere that breathes only destruc­tion and death. And if she does become a moth­er, it is to give to the child the deep­est and best her being can yield. To grow with the child is her mot­to; she knows that in that man­ner alone call she help build true man­hood and womanhood.
Ibsen must have had a vision of a free moth­er, when, with a mas­ter stroke, he por­trayed Mrs. Alv­ing. She was the ide­al moth­er because she had out­grown mar­riage and all its hor­rors, because she had bro­ken her chains, and set her spir­it free to soar until it returned a per­son­al­i­ty, regen­er­at­ed and strong. Alas, it was too late to res­cue her life's joy, her Oswald; but not too late to real­ize that love in free­dom is the only con­di­tion of a beau­ti­ful life. Those who, like Mrs. Alv­ing, have paid with blood and tears for their spir­i­tu­al awak­en­ing, repu­di­ate mar­riage as an impo­si­tion, a shal­low, emp­ty mock­ery. They know, whether love last but one brief span of time or for eter­ni­ty, it is the only cre­ative, inspir­ing, ele­vat­ing basis for a new race, a new world.
In our present pygmy state love is indeed a stranger to most peo­ple. Mis­un­der­stood and shunned, it rarely takes root; or if it does, it soon with­ers and dies. Its del­i­cate fiber can not endure the stress and strain of the dai­ly grind. Its soul is too com­plex to adjust itself to the slimy woof of our social fab­ric. It weeps and moans and suf­fers with those who have need of it, yet lack the capac­i­ty to rise to love's summit.
Some day, some day men and women will rise, they will reach the moun­tain peak, they will meet big and strong and free, ready to receive, to par­take, and to bask in the gold­en rays of love. What fan­cy, what imag­i­na­tion, what poet­ic genius can fore­see even approx­i­mate­ly the poten­tial­i­ties of such a force in the life of men and women. If the world is ever to give birth to true com­pan­ion­ship and one­ness, not mar­riage, but love will be the parent.
Emma Gold­man
(
1869
−
1940
) was a nurse, anar­chist, lec­tur­er and rev­o­lu­tion­ary, who was twice arrest­ed for vio­lat­ing the Com­stock Law, which pro­hib­it­ed the dis­tri­b­u­tion of birth-con­trol lit­er­a­ture. The pre­ced­ing ​
"
answers" first appeared, respec­tive­ly, in ​
"
Woman's Suf­frage" (
1914
), ​
"
The Traf­fic in Women" (
1910
) and ​
"
Mar­riage and Love" (
1916
).