The United States of Toxins in Graphic Relief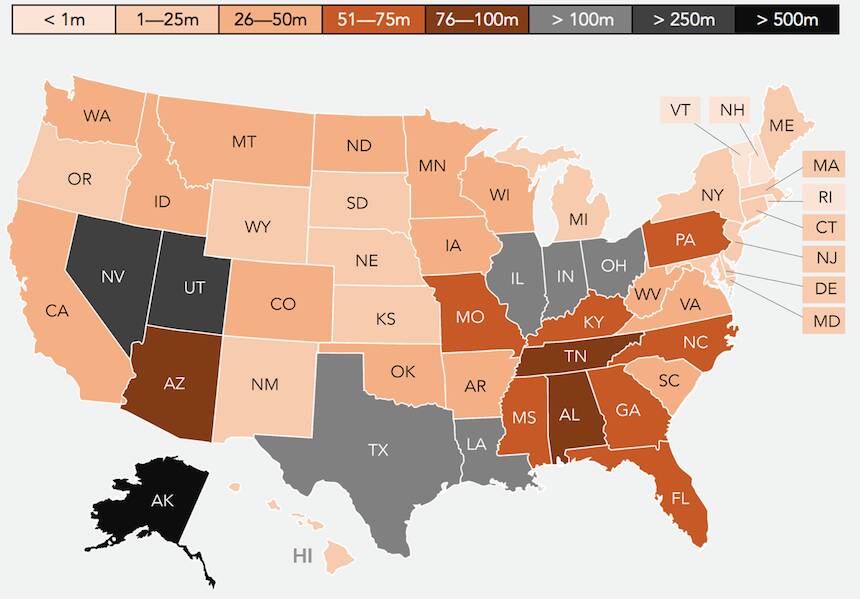 Editor's Note: Solu­gen, found­ed in 2016, is a biotech com­pa­ny con­cerned with devel­op­ing envi­ron­men­tal­ly con­scious alter­na­tives to chem­i­cal man­u­fac­tur­ing. Their first patent is called Bioper­ox­ide — a hydro­gen per­ox­ide alter­na­tive cre­at­ed entire­ly out of plants instead of petro­le­um. In Octo­ber, they launched their first line of sus­tain­ably-mind­ed con­sumer clean­ing prod­ucts called ​"Ode To Clean" — and with it, a blog. Rur­al Amer­i­ca In These Times does not endorse any brands. The fol­low­ing repost, how­ev­er, pro­vides an inter­est­ing (and some­what sick) look at the region­al dis­tri­b­u­tion of indus­tri­al tox­ins across the Unit­ed States. Turns out, a major­i­ty of what the EPA calls ​"tox­ic releas­es" occur in rur­al areas.
In the company's own words:
Every year, the U.S. Envi­ron­men­tal Pro­tec­tion Agency (EPA) requires most large indus­tri­al facil­i­ties to report the vol­ume of tox­ic chem­i­cals they release into the envi­ron­ment. The EPA takes this data and con­sol­i­dates it into the Tox­ic Releas­es Inven­to­ry (TRI), which is then used to set envi­ron­men­tal poli­cies in place. For this analy­sis, we looked at the EPA's most recent TRI report, look­ing at data from 2016.

This includes data report­ed from more than 18,000 facil­i­ties across the Unit­ed States, span­ning major indus­tries like man­u­fac­tur­ing, min­ing, chem­i­cals and util­i­ties. It includes total releas­es (in pounds) of rough­ly 650 dif­fer­ent tox­ins which are deter­mined to have a sig­nif­i­cant adverse effect on humans and/​or the envi­ron­ment. And in this report, ​"release" means that a chem­i­cal was ​"emit­ted to the air or water, or placed in some type of land disposal.
Here's a look at the what, where and who was respon­si­ble for the bulk of tox­ic emis­sions in the Unit­ed States in 2016.
First, a sum­ma­ry of their find­ings:
As a state, Alas­ka pro­duces the most tox­ins (

834

mil­lion pounds)
Zinc and lead com­pounds (com­mon prod­ucts of the min­ing indus­try) are the most com­mon toxins
Met­al min­ing accounts for

1

.

5

bil­lion pounds of tox­ins, while chem­i­cals (

515

mil­lion) ranks second
On a coun­ty lev­el, the North­west Arc­tic of Alas­ka leads the list, but mul­ti­ple Neva­da coun­ties round out the top

5

Kotze­bue, Alas­ka pro­duces the most tox­ins as a city (

756

mil­lion pounds), and Indi­anapo­lis, IN (

10

.

9

mil­lion) pro­duces the most out of the top

100

most pop­u­lous cities
The data
We began by tal­ly­ing total tox­in releas­es by state. This includes all tox­ins across all indus­tries. On the main­land, we can see that Neva­da and Utah facil­i­ties are espe­cial­ly detri­men­tal to the envi­ron­ment — but a strip of states in the Rust Belt (Illi­nois, Indi­ana and Ohio), along with Texas and Louisiana, are also major players.
Alas­ka, though, hand­i­ly out­ranks every oth­er state by near­ly 3 times.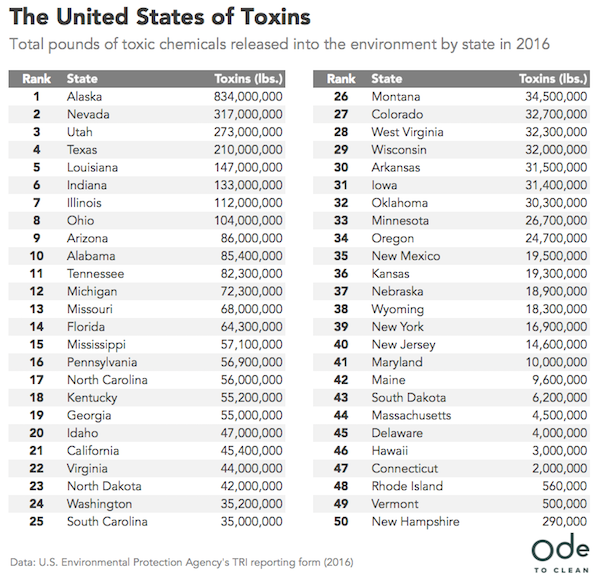 A clos­er look, at a coun­ty lev­el, reveals that 91 per­cent of Alaska's tox­in releas­es come from one coun­ty: North­west Arc­tic, Alaska: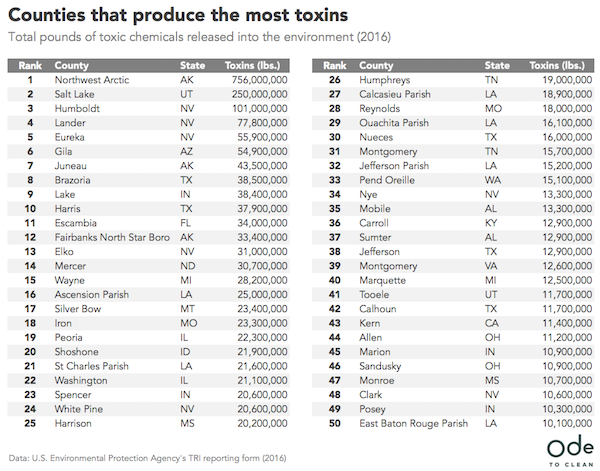 In fact, tak­ing this one step fur­ther, we see that near­ly all of these tox­ins orig­i­nate from one city: Kotze­bue, Alas­ka — a tiny town that is home to 7,500 peo­ple. Why? Just 90 miles from Kotze­bue is Red Dog Mine, the largest source of zinc in the world, and a sig­nif­i­cant source of America's lead. In oper­a­tion since 1987, the mine is esti­mat­ed to con­tain 77.5 mil­lion tons of zinc, lead and sil­ver — and each year, its activ­i­ties release 756 mil­lion pounds of tox­ins into the environment.
But these coun­ty and city lists have oth­er sto­ries to tell. Three of the top five cities — Hum­boldt, Lan­der and Eure­ka — are in Neva­da. All are known to con­tain mul­ti­ple, active gold mines that col­lec­tive­ly release hun­dreds of mil­lions of pounds of toxins.
Tox­i­c­i­ty and population
It's like­ly you haven't heard of a lot of the cities on these lists — and that's because most of the major indus­tri­al facil­i­ties in the Unit­ed States are set up out­side the lim­its of most major cities, far from large pop­u­la­tions. So, let's take a look just at the 100 most pop­u­lous cities in the Unit­ed States (accord­ing the Cen­sus data). The list below is sort­ed by pop­u­la­tion size.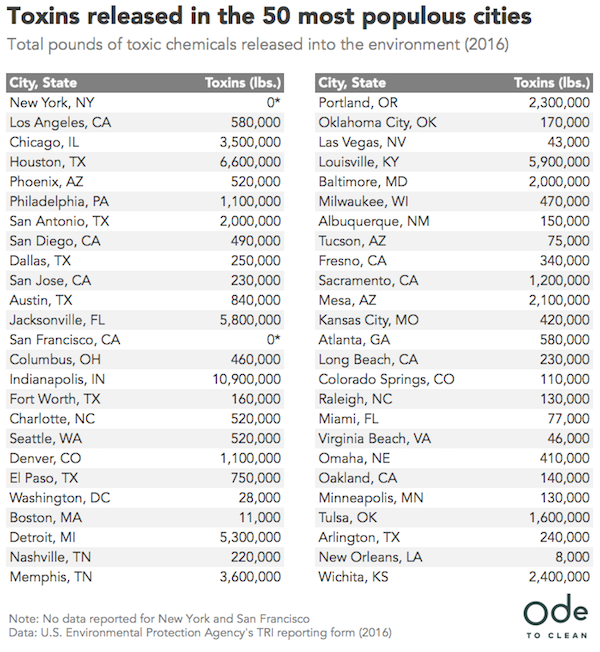 Inter­est­ing­ly, you'll see that two of the largest cities in the coun­try — New York and San Fran­cis­co — have no data list­ed. Only cer­tain ​"qual­i­fy­ing" facil­i­ties are required to sub­mit data (those that release over a cer­tain thresh­old of par­tic­u­lar tox­ins), so we hypoth­e­size that this is either because: A) These cities don't have qual­i­fy­ing facil­i­ties with­in city lim­its, since real estate is so valu­able there, or B) The facil­i­ties that exist there just don't meet the min­i­mum emis­sions required to report data.
In any case, of the 50 most pop­u­lous cities, Indi­anapo­lis leads the pack with 10.9 mil­lion pounds. The city has long been cit­ed for its poor air qual­i­ty, a result of steel mills, auto plants, and numer­ous coal-pow­ered pow­er plants that spew out arsenic, lead and mer­cury at alarm­ing rates. But some of these cities are big­ger than oth­ers, so it makes sense that they'd pro­duce more tox­ins. Stick­ing with the 100 most pop­u­lous cities, let's look at tox­ins per square mile: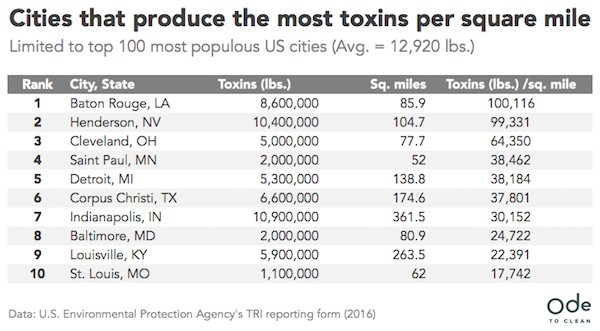 Baton Rouge, La., tops the list here, part­ly thanks to Exxon Mobile's mas­sive oil refin­ery there — the sec­ond largest in the coun­try, and one of dozens of plants that skirt the out­er lim­its of the city. Hen­der­son, Nev., which ranks sec­ond here, was once a waste­water dump that took 18 years and more than 500,000 envi­ron­men­tal tests to get build­ing approval for. Per capi­ta, we see the same cities top the list, with a few extra addi­tions (Cleve­land and Wichita).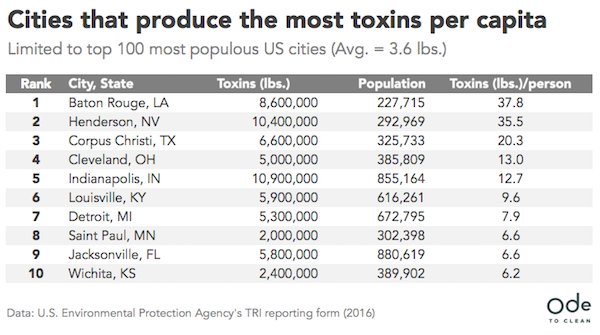 The indus­tries and com­pa­nies most responsible
Look­ing over the lists above, you'll notice that most of the top cities and coun­ties are in areas known for min­ing. It comes as no sur­prise then, that min­ing is the indus­try respon­si­ble for the high­est per­cent­age of tox­ins released in the Unit­ed States.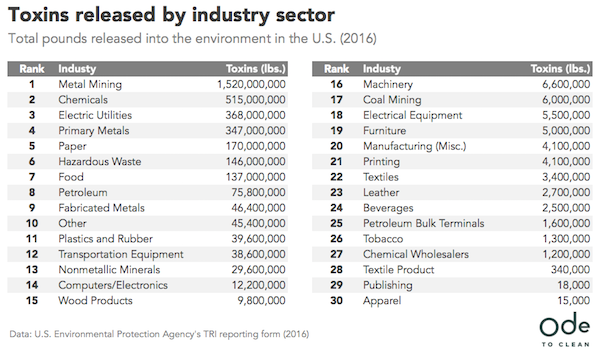 At 1.52 bil­lion pounds, met­al min­ing pro­duces triple the next cat­e­go­ry, the broad­ly-defined ​"chem­i­cals," which includes such tox­ins as sul­fu­ric acid, propy­lene, and sodi­um car­bon­ate. (The EPA exhaus­tive­ly lists its indus­try clas­si­fi­ca­tions here). Elec­tric util­i­ties (368 mil­lion pounds), paper (170 mil­lion), and haz­ardous waste (146 mil­lion) also con­tribute large amounts of tox­ins industry-wide.
But how does this break down on a more spe­cif­ic scale?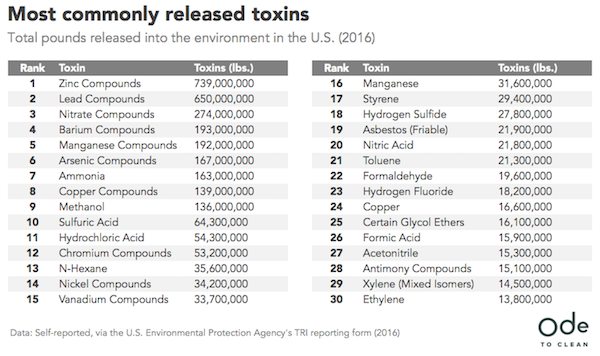 Zinc com­pounds (739 mil­lion pounds), and lead com­pounds (650 mil­lion) — both prod­ucts of min­ing — dom­i­nate the list of top indi­vid­ual tox­ins released. Nitrate com­pounds, which are a com­mon byprod­uct of fer­til­iz­ers and human excre­ment, rank in at 193 mil­lion pounds, and anoth­er water pol­lu­tant, Ammo­nia (163 mil­lion), also ranks high.
Cer­tain com­pa­nies, we find, are also large­ly to blame for mass per­cent­ages of the tox­ins released in the Unit­ed States. Met­al min­ing cor­po­ra­tions dom­i­nate this list, but we also see a num­ber of larg­er hold­ing corps here (Koch Indus­tries, Berk­shire Hath­away), as well as gov­ern­ment oper­a­tions (U.S. Depart­ment of Defense, U.S. Ten­nessee Val­ley Authority).
Col­lec­tive­ly, indus­tries in the Unit­ed States released more than 3.54 bil­lion pounds of tox­ins into the envi­ron­ment in 2016. That's the equiv­a­lent weight of about 25.3 mil­lion Amer­i­can adults — or rough­ly 8 per­cent of the entire U.S. pop­u­la­tion. Near­ly half of all Amer­i­cans live in a coun­ty with unhealthy lev­els of air pol­lu­tion, and 46 per­cent of America's lakes are too pol­lut­ed to fish or swim in.
This war­rants col­lec­tive action from all of us.
(​"The Unit­ed States of Tox­ins" was orig­i­nal­ly pub­lished on Ode to Clean's blog and is repost­ed on Rur­al Amer­i­ca In These Times with per­mis­sion. For more infor­ma­tion about the Tox­ic Releas­es Inven­to­ry (TRI), click here. )
This blog's mis­sion is to pro­vide the pub­lic ser­vice of help­ing make the issues that rur­al Amer­i­ca is grap­pling with part of nation­al discourse.