In 1918, Socialist Leader Eugene Debs Gave This Speech That Landed Him in Prison
In his famous "Canton" speech, Debs declared that "The master class has always declared the wars; the subject class has always fought the battles."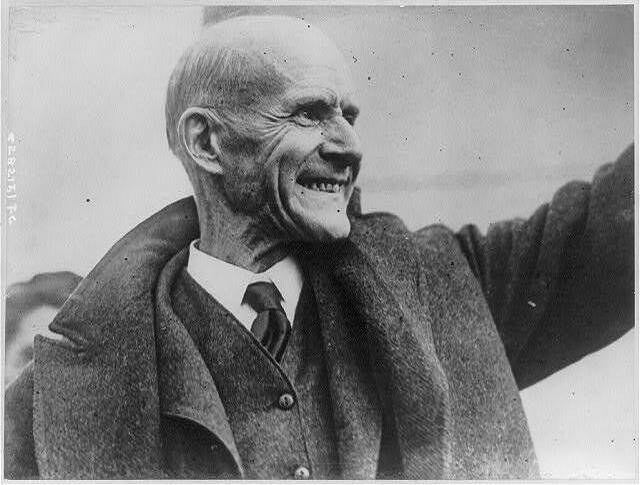 On June 16, 1918 — in the midst of World War I — social­ist leader Eugene Debs gave a stir­ring anti-war speech in Can­ton, Ohio at a meet­ing of the local Social­ist Par­ty. The U.S. gov­ern­ment would lat­er pros­e­cute Debs for vio­lat­ing the Espi­onage Act, sen­tenc­ing him to 10 years in prison. While serv­ing his term, Debs would run for pres­i­dent in the 1920 elec­tions and receive near­ly one mil­lion votes. In the speech, Debs says of social­ism ​"It is as vain to resist it as it would be to arrest the sun­rise on the mor­row." Here we reprint Debs' icon­ic speech in full.
The sun of capitalism is setting; the sun of socialism is rising. It is our duty to build the new nation and the free republic.
Com­rades, friends and fel­low-work­ers, for this very cor­dial greet­ing, this very hearty recep­tion, I thank you all with the fullest appre­ci­a­tion of your inter­est in and your devo­tion to the cause for which I am to speak to you this afternoon.
To speak for labor; to plead the cause of the men and women and chil­dren who toil; to serve the work­ing class, has always been to me a high priv­i­lege; a duty of love.
I have just returned from a vis­it over yon­der, where three of our most loy­al com­rades are pay­ing the penal­ty for their devo­tion to the cause of the work­ing class. They have come to real­ize, as many of us have, that it is extreme­ly dan­ger­ous to exer­cise the con­sti­tu­tion­al right of free speech in a coun­try fight­ing to make democ­ra­cy safe in the world.
I real­ize that, in speak­ing to you this after­noon, there are cer­tain lim­i­ta­tions placed upon the right of free speech. I must be exceed­ing­ly care­ful, pru­dent, as to what I say, and even more care­ful and pru­dent as to how I say it. I may not be able to say all I think; but I am not going to say any­thing that I do not think. I would rather a thou­sand times be a free soul in jail than to be a syco­phant and cow­ard in the streets. They may put those boys in jail — and some of the rest of us in jail — but they can not put the Social­ist move­ment in jail. Those prison bars sep­a­rate their bod­ies from ours, but their souls are here this after­noon. They are sim­ply pay­ing the penal­ty that all men have paid in all the ages of his­to­ry for stand­ing erect, and for seek­ing to pave the way to bet­ter con­di­tions for mankind.
If it had not been for the men and women who, in the past, have had the moral courage to go to jail, we would still be in the jungles.
This assem­blage is exceed­ing­ly good to look upon. I wish it were pos­si­ble for me to give you what you are giv­ing me this after­noon. What I say here amounts to but lit­tle; what I see here is exceed­ing­ly impor­tant. You work­ers in Ohio, enlist­ed in the great­est cause ever orga­nized in the inter­est of your class, are mak­ing his­to­ry today in the face of threat­en­ing oppo­si­tion of all kinds — his­to­ry that is going to be read with pro­found inter­est by com­ing generations.
There is but one thing you have to be con­cerned about, and that is that you keep foursquare with the prin­ci­ples of the inter­na­tion­al Social­ist move­ment. It is only when you begin to com­pro­mise that trou­ble begins. So far as I am con­cerned, it does not mat­ter what oth­ers may say, or think, or do, as long as I am sure that I am right with myself and the cause. There are so many who seek refuge in the pop­u­lar side of a great ques­tion. As a Social­ist, I have long since learned how to stand alone. For the last month I have been trav­el­ing over the Hoosier State; and, let me say to you, that, in all my con­nec­tion with the Social­ist move­ment, I have nev­er seen such meet­ings, such enthu­si­asm, such uni­ty of pur­pose; nev­er have I seen such a promis­ing out­look as there is today, notwith­stand­ing the state­ment pub­lished repeat­ed­ly that our lead­ers have desert­ed us. Well, for myself, I nev­er had much faith in lead­ers. I am will­ing to be charged with almost any­thing, rather than to be charged with being a leader.
I am sus­pi­cious of lead­ers, and espe­cial­ly of the intel­lec­tu­al vari­ety. Give me the rank and file every day in the week. If you go to the city of Wash­ing­ton, and you exam­ine the pages of the Con­gres­sion­al Direc­to­ry, you will find that almost all of those cor­po­ra­tion lawyers and cow­ard­ly politi­cians, mem­bers of Con­gress, and mis­rep­re­sen­ta­tives of the mass­es — you will find that almost all of them claim, in glow­ing terms, that they have risen from the ranks to places of emi­nence and dis­tinc­tion. I am very glad I can­not make that claim for myself. I would be ashamed to admit that I had risen from the ranks. When I rise it will be with the ranks, and not from the ranks.
When I came away from Indi­ana, the com­rades said: ​"When you cross the line and get over into the Buck­eye State, tell the com­rades there that we are on duty and doing duty. Give them for us, a hearty greet­ing, and tell them that we are going to make a record this fall that will be read around the world."
The Social­ists of Ohio, it appears, are very much alive this year. The par­ty has been killed recent­ly, which, no doubt, accounts for its extra­or­di­nary activ­i­ty. There is noth­ing that helps the Social­ist Par­ty so much as receiv­ing an occa­sion­al death­blow. The often­er it is killed the more active, the more ener­getic, the more pow­er­ful it becomes.
They who have been read­ing the cap­i­tal­ist news­pa­pers real­ize what a capac­i­ty they have for lying. We have been read­ing them late­ly. They know all about the Social­ist Par­ty — the Social­ist move­ment, except what is true. Only the oth­er day they took an arti­cle that I had writ­ten — and most of you have read it — most of you mem­bers of the par­ty, at least — and they made it appear that I had under­gone a mar­velous trans­for­ma­tion. I had sud­den­ly become changed — had in fact come to my sens­es; I had ceased to be a wicked Social­ist, and had become a respectable Social­ist, a patri­ot­ic Social­ist — as if I had ever been any­thing else.
What was the pur­pose of this delib­er­ate mis­rep­re­sen­ta­tion? It is so self-evi­dent that it sug­gests itself. The pur­pose was to sow the seeds of dis­sen­sion in our ranks; to have it appear that we were divid­ed among our­selves; that we were pit­ted against each oth­er, to our mutu­al undo­ing. But Social­ists were not born yes­ter­day. They know how to read cap­i­tal­ist news­pa­pers; and to believe exact­ly the oppo­site of what they read.
Why should a Social­ist be dis­cour­aged on the eve of the great­est tri­umph in all the his­to­ry of the Social­ist move­ment? It is true that these are anx­ious, try­ing days for us all — test­ing days for the women and men who are uphold­ing the ban­ner of labor in the strug­gle of the work­ing class of all the world against the exploiters of all the world; a time in which the weak and cow­ard­ly will fal­ter and fail and desert. They lack the fiber to endure the rev­o­lu­tion­ary test; they fall away; they dis­ap­pear as if they had nev­er been. On the oth­er hand, they who are ani­mat­ed by the uncon­quer­able spir­it of the social rev­o­lu­tion; they who have the moral courage to stand erect and assert their con­vic­tions; stand by them; fight for them; go to jail or to hell for them, if need be —they are writ­ing their names, in this cru­cial hour — they are writ­ing their names in face­less let­ters in the his­to­ry of mankind.
Those boys over yon­der — those com­rades of ours — and how I love them! Aye, they are my younger broth­ers ; their very names throb in my heart, thrill in my veins, and surge in my soul. I am proud of them; they are there for us; and we are here for them. Their lips, though tem­porar­i­ly mute, are more elo­quent than ever before; and their voice, though silent, is heard around the world.
Are we opposed to Pruss­ian mil­i­tarism? Why, we have been fight­ing it since the day the Social­ist move­ment was born; and we are going to con­tin­ue to fight it, day and night, until it is wiped from the face of the earth. Between us there is no truce — no compromise.
But, before I pro­ceed along this line, let me recall a lit­tle his­to­ry, in which I think we are all interested.
In 1869 that grand old war­rior of the social rev­o­lu­tion, the elder Liebknecht, was arrest­ed and sen­tenced to prison for three months, because of his war, as a Social­ist, on the Kaiser and on the Junkers that rule Ger­many. In the mean­time the Fran­co-Pruss­ian war broke out. Liebknecht and Bebel were the Social­ist mem­bers in the Reich­stag. They were the only two who had the courage to protest against tak­ing Alsace-Lor­raine from France and annex­ing it to Ger­many. And for this they were sen­tenced two years to a prison fortress charged with high trea­son; because, even in that ear­ly day, almost fifty years ago, these lead­ers, these fore­run­ners of the inter­na­tion­al Social­ist move­ment were fight­ing the Kaiser and fight­ing the Junkers of Ger­many. They have con­tin­ued to fight them from that day to this. Mul­ti­plied thou­sands of Social­ists have lan­guished in the jails of Ger­many because of their hero­ic war­fare upon the despot­ic rul­ing class of that country.
Let us come down the line a lit­tle far­ther. You remem­ber that, at the close of Theodore Roosevelt's sec­ond term as Pres­i­dent, he went over to Africa to make war on some of his ances­tors. You remem­ber that, at the close of his expe­di­tion, he vis­it­ed the cap­i­tals of Europe; and that he was wined and dined, dig­ni­fied and glo­ri­fied by all the Kaisers and Czars and Emper­ors of the Old World. He vis­it­ed Pots­dam while the Kaiser was there; and, accord­ing to the accounts pub­lished in the Amer­i­can news­pa­pers, he and the Kaiser were soon on the most famil­iar terms. They were hilar­i­ous­ly inti­mate with each oth­er, and slapped each oth­er on the back. After Roo­sevelt had reviewed the Kaiser's troops, accord­ing to the same accounts, he became enthu­si­as­tic over the Kaiser's legions and said: ​"If I had that kind of an army, I could con­quer the world." He knew the Kaiser then just as well as he knows him now. He knew that he was the Kaiser, the Beast of Berlin.
And yet, he per­mit­ted him­self to be enter­tained by that Beast of Berlin; had his feet under the mahogany of the Beast of Berlin; was cheek by jowl with the Beast of Berlin. And, while Roo­sevelt was being enter­tained roy­al­ly by the Ger­man Kaiser, that same Kaiser was putting the lead­ers of the Social­ist Par­ty in jail for fight­ing the Kaiser and the Junkers of Ger­many. Roo­sevelt was the guest of hon­or in the white house of the Kaiser, while the Social­ists were in the jails of the Kaiser for fight­ing the Kaiser. Who then was fight­ing for democ­ra­cy? Roo­sevelt? Roo­sevelt, who was hon­ored by the Kaiser, or the Social­ists who were in jail by order of the Kaiser?
"Birds of a feath­er flock together."
When the news­pa­pers report­ed that Kaiser Wil­helm and ax-Pres­i­dent Theodore rec­og­nized each oth­er at sight, were per­fect­ly inti­mate with each oth­er at the first touch, they made the admis­sion that is fatal to the claim of Theodore Roo­sevelt, that he is the friend of the com­mon peo­ple and the cham­pi­on of democ­ra­cy; they admit­ted that they were kith and kin; that they were very much alike; that their ideas and ideals were about the same. If Theodore Roo­sevelt is the great cham­pi­on of democ­ra­cy —the arch foe of autoc­ra­cy , what busi­ness had he as the guest of hon­or of the Pruss­ian Kaiser? And when he met the Kaiser, and did hon­or to the Kaiser, under the terms imput­ed to him, wasn't it pret­ty strong proof that he him­self was a Kaiser at heart? Now, after being the guest of Emper­or Wil­helm, the Beast of Berlin, he comes back to this coun­try, and wants you to send ten mil­lion men over there to kill the Kaiser; to mur­der his for­mer friend and pal. Rather queer, isn't it? And yet, he is the patri­ot, and we are the trai­tors. I chal­lenge you to find a Social­ist any­where on the face of the earth who was ever the guest of the Beast of Berlin , except as an inmate of his prison — the elder Liebknecht and the younger Liebknecht, the hero­ic son of his immor­tal sire.
A lit­tle more his­to­ry along the same line. In 1902 Prince Hen­ry paid a vis­it to this coun­try. Do you remem­ber him? I do, exceed­ing­ly well. Prince Hen­ry is the broth­er of Emper­or Wil­helm. Prince Hen­ry is anoth­er Beast of Berlin, an auto­crat, an aris­to­crat, a Junker of Junkers — very much despised by our Amer­i­can patri­ots. He came over here in 1902 as the rep­re­sen­ta­tive of Kaiser Wil­helm; he was received by Con­gress and by sev­er­al state leg­is­la­tures — among oth­ers, by the state leg­is­la­ture of Mass­a­chu­setts, then in ses­sion. He was invit­ed there by the cap­i­tal­ist cap­tains of that so-called com­mon­wealth. And when Prince Hen­ry arrived, there was one mem­ber of that body who kept his self-respect, put on his hat, and as Hen­ry, the Prince, walked in, that mem­ber of the body walked out. And that was James F. Carey, the Social­ist mem­ber of that body. All the rest — all the rest of the rep­re­sen­ta­tives in the Mass­a­chu­setts leg­is­la­ture — all, all of them — joined in doing hon­or, in the most servile spir­it, to the high rep­re­sen­ta­tive of the autoc­ra­cy of Europe. And the only man who left that body, was a Social­ist. And yet , and yet they have the hardi­hood to claim that they are fight­ing autoc­ra­cy and that we are in the ser­vice of the Ger­man government.
A lit­tle more his­to­ry along the same line. I have a dis­tinct rec­ol­lec­tion of it. It occurred fif­teen years ago when Prince Hen­ry came here. All of our plu­toc­ra­cy, all of the wealthy rep­re­sen­ta­tives liv­ing along Fifth Avenue — all, all of them — threw their palace doors wide open and received Prince Hen­ry with open arms. But they were not sat­is­fied with this; they got down and grov­elled in the dust at his feet. Our plu­toc­ra­cy — women and men alike — vied with each oth­er to lick the boots of Prince Hen­ry, the broth­er and rep­re­sen­ta­tive of the ​"Beast of Berlin." And still our plu­toc­ra­cy, our Junkers, would have us believe that all the Junkers are con­fined to Ger­many. It is pre­cise­ly because we refuse to believe this that they brand us as dis­loy­al­ists. They want our eyes focused on the Junkers in Berlin so that we will not see those with­in our own borders.
I hate, I loathe, I despise Junkers and junker­dom. I have no earth­ly use for the Junkers of Ger­many, and not one par­ti­cle more use for the Junkers in the Unit­ed States.
They tell us that we live in a great free repub­lic; that our insti­tu­tions are demo­c­ra­t­ic; that we are a free and self-gov­ern­ing peo­ple. This is too much, even for a joke. But it is not a sub­ject for lev­i­ty; it is an exceed­ing­ly seri­ous matter.
To whom do the Wall Street Junkers in our coun­try mar­ry their daugh­ters? After they have wrung their count­less mil­lions from your sweat, your agony and your life's blood, in a time of war as in a time of peace, they invest these untold mil­lions in the pur­chase of titles of bro­ken-down aris­to­crats, such as princes, dukes, counts and oth­er par­a­sites and no-accounts. Would they be sat­is­fied to wed their daugh­ters to hon­est work­ing­men? To real democ­rats? Oh, no! They scour the mar­kets of Europe for vam­pires who are titled and noth­ing else. And they swap their mil­lions for the titles, so that mat­ri­mo­ny with them becomes lit­er­al­ly a mat­ter of money.
These are the gen­try who are today wrapped up in the Amer­i­can flag, who shout their claim from the house­tops that they are the only patri­ots, and who have their mag­ni­fy­ing glass­es in hand, scan­ning the coun­try for evi­dence of dis­loy­al­ty, eager to apply the brand of trea­son to the men who dare to even whis­per their oppo­si­tion to Junker rule in the Unit­ed Sates. No won­der Sam John­son declared that ​"patri­o­tism is the last refuge of the scoundrel." He must have had this Wall Street gen­try in mind, or at least their pro­to­types, for in every age it has been the tyrant, the oppres­sor and the exploiter who has wrapped him­self in the cloak of patri­o­tism, or reli­gion, or both to deceive and over­awe the people.
They would have you believe that the Social­ist Par­ty con­sists in the main of dis­loy­al­ists and trai­tors. It is true in a sense not at all to their dis­cred­it. We frankly admit that we are dis­loy­al­ists and trai­tors to the real trai­tors of this nation; to the gang that on the Pacif­ic coast are try­ing to hang Tom Mooney and War­ren Billings in spite of their well-known inno­cence and the protest of prac­ti­cal­ly the whole civ­i­lized world.
I know Tom Mooney inti­mate­ly — as if he were my own broth­er. He is an absolute­ly hon­est man. He had no more to do with the crime with which he was charged and for which he was con­vict­ed than I had. And if he ought to go to the gal­lows, so ought I. If he is guilty every man who belongs to a labor orga­ni­za­tion or to the Social­ist Par­ty is like­wise guilty.
What is Tom Mooney guilty of? I will tell you. I am famil­iar with his record. For years he has been fight­ing brave­ly and with­out com­pro­mise the bat­tles of the work­ing class out on the Pacif­ic coast. He refused to be bribed and he could not be brow­beat­en. In spite of all attempts to intim­i­date him he con­tin­ued loy­al­ly in the ser­vice of the orga­nized work­ers, and for this he became a marked man. The hench­men of the pow­er­ful and cor­rupt cor­po­ra­tions, con­clud­ing final­ly that he could not be bought or bribed or bul­lied, decid­ed he must there­fore be mur­dered. That is why Tom Mooney is today a life pris­on­er, and why he would have been hanged as a felon long ago but for the world-wide protest of the work­ing class.
Let us review anoth­er bit of his­to­ry. You remem­ber Fran­cis J. Heney, spe­cial inves­ti­ga­tor of the state of Cal­i­for­nia, who was shot down in cold blood in the court­room in San Fran­cis­co. You remem­ber that das­tard­ly crime, do you not? The Unit­ed Rail­ways, con­sist­ing of a lot of plu­to­crats and high­binders rep­re­sent­ed by the Cham­ber of Com­merce, absolute­ly con­trol the city of San Fran­cis­co. The city was and is their pri­vate reser­va­tion. Their will is the supreme law. Take your stand against them and ques­tion their author­i­ty, and you are doomed. They do not hes­i­tate a moment to plot mur­der or any oth­er crime to per­pet­u­ate their cor­rupt and enslav­ing régime. Tom Mooney was the chief rep­re­sen­ta­tive of the work­ing class they could not con­trol. They own the rail­ways; they con­trol the great indus­tries; they are the indus­tri­al mas­ters and the polit­i­cal rulers of the peo­ple. From their deci­sion there is no appeal.
They are the auto­crats of the Pacif­ic coast — as cru­el and infa­mous as any that ever ruled in Ger­many or any oth­er coun­try in the old world. When their rule became so cor­rupt that at last a grand jury indict­ed them and they were placed on tri­al, and Fran­cis J. Heney was select­ed to assist in their pros­e­cu­tion, this gang, rep­re­sent­ed by the Cham­ber of Com­merce; this gang of plu­to­crats, auto­crats and high­binders, hired an assas­sin to shoot Heney down in the court­room. Heney, how­ev­er, hap­pened to live through it. But that was not their fault. The same iden­ti­cal gang that hired the mur­der­er to kill Heney also hired false wit­ness­es to swear away the fife of Tom Mooney and, foiled in that, they have kept him in a foul pris­on­hole ever since.
Every soli­tary one of these aris­to­crat­ic con­spir­a­tors and would-be mur­der­ers claims to be an arch-patri­ot; every one of them insists that the war is being waged to make the world safe for democ­ra­cy. What hum­bug! What rot! What false pre­tense! These auto­crats, these tyrants, these red-hand­ed rob­bers and mur­der­ers, the ​"patri­ots," while the men who have the courage to stand face to face with them, speak the truth, and fight for their exploit­ed vic­tims — they are the dis­loy­al­ists and trai­tors. If this be true, I want to take my place side by side with the trai­tors in this fight.
The oth­er day they sen­tenced Kate Richards O'Hare to the pen­i­ten­tiary for five years. Think of sen­tenc­ing a woman to the pen­i­ten­tiary sim­ply for talk­ing. The Unit­ed States, under plu­to­crat­ic rule, is the only coun­try that would send a woman to prison for five years for exer­cis­ing the right of free speech. If this be trea­son, let them make the most of it.
Let me review a bit of his­to­ry in con­nec­tion with this case. I have known Kate Richards O'Hare inti­mate­ly for twen­ty years. I am famil­iar with her pub­lic record. Per­son­al­ly I know her as if she were my own sis­ter. All who know Mrs. O'Hare know her to be a woman of unques­tioned integri­ty.' And they also know that she is a woman of unim­peach­able loy­al­ty to the Social­ist move­ment. When she went out into North Dako­ta to make her speech, fol­lowed by plain-clothes men in the ser­vice of the gov­ern­ment intent upon effect­ing her arrest and secur­ing her pros­e­cu­tion and con­vic­tion — when she went out there, it was with the full knowl­edge on her part that soon­er or lat­er these detec­tives would accom­plish their pur­pose. She made her speech, and that speech was delib­er­ate­ly mis­rep­re­sent­ed for the pur­pose of secur­ing her con­vic­tion. The only tes­ti­mo­ny against her was that of a hired wit­ness. And when the farm­ers, the men and women who were in the audi­ence she addressed — when they went to Bis­mar­ck where the tri­al was held to tes­ti­fy in her favor, to swear that she had not used the lan­guage she was charged with hav­ing used, the judge refused to allow them to go upon the stand. This would seem incred­i­ble to me if I had not had some expe­ri­ence of my own with fed­er­al courts.
Who appoints our fed­er­al judges? The peo­ple? In all the his­to­ry of the coun­try, the work­ing class have nev­er named a fed­er­al judge. There are 121 of these judges and every soli­tary one holds his posi­tion, his tenure, through the influ­ence and pow­er of cor­po­rate cap­i­tal. The cor­po­ra­tions and trusts dic­tate their appoint­ment. And when they go to the bench, they go, not to serve, the peo­ple, but to serve the inter­ests that place them and keep them where they are.
Why, the oth­er day, by a vote of five to four — a kind of craps game — come sev­en, come ​'lev­en —they declared the child labor law uncon­sti­tu­tion­al — a law secured after twen­ty years of edu­ca­tion and agi­ta­tion on the part of all kinds of peo­ple. And yet, by a major­i­ty of one, the Supreme Court a body of cor­po­ra­tion lawyers, with just one excep­tion, wiped that law from the statute books, and this in our so-called democ­ra­cy, so that we may con­tin­ue to grind the flesh and blood and bones of puny lit­tle chil­dren into prof­its for the Junkers of Wall Street. And this in a coun­try that boasts of fight­ing to make the world safe for democ­ra­cy! The his­to­ry of this coun­try is being writ­ten in the blood of the child­hood the indus­tri­al lords have murdered.
These are not palat­able truths to them. They do not like to hear them; and what is more they do not want you to hear them. And that is why they brand us as unde­sir­able cit­i­zens , and as dis­loy­al­ists and trai­tors. If we were actu­al trai­tors — trai­tors to the peo­ple and to their wel­fare and progress, we would be regard­ed as emi­nent­ly respectable cit­i­zens of the repub­lic; we would hold high office, have prince­ly incomes, and ride in lim­ou­sines; and we would be point­ed out as the elect who have suc­ceed­ed in life in hon­or­able pur­suit, and wor­thy of emu­la­tion by the youth of the land. It is pre­cise­ly because we are dis­loy­al to the trai­tors that we are loy­al to the peo­ple of this nation.
Scott Near­ing! You have heard of Scott Near­ing. He is the great­est teacher in the Unit­ed States. He was in the Uni­ver­si­ty of Penn­syl­va­nia until the Board of Trustees, con­sist­ing of great cap­i­tal­ists, cap­tains of indus­try, found that he was teach­ing sound eco­nom­ics to the stu­dents in his class­es. This sealed his fate in that insti­tu­tion. They sneer­ing­ly charged — just as the same usurers, mon­ey-chang­ers, phar­isees, hyp­ocrites charged the Judean Car­pen­ter some twen­ty cen­turies ago — that he was a false teacher and that he was stir­ring up the people.
The Man of Galilee, the Car­pen­ter, the work­ing­man who became the rev­o­lu­tion­ary agi­ta­tor of his day soon found him­self to be an unde­sir­able cit­i­zen in the eyes of the rul­ing knaves and they had him cru­ci­fied. And now their lin­eal descen­dants say of Scott Near­ing, ​"He is preach­ing false eco­nom­ics. We can­not cru­ci­fy him as we did his elder broth­er but we can deprive him of employ­ment and so cut off his income and starve him to death or into sub­mis­sion. We will not only dis­charge him but place his name upon the black­list and make it impos­si­ble for him to earn a liv­ing. He is a dan­ger­ous man for he is teach­ing the truth and open­ing the eyes of the peo­ple." And the truth, oh, the truth has always been unpalat­able and intol­er­a­ble to the class who live out of the sweat and mis­ery of the work­ing class.
Max East­man has been indict­ed and his paper sup­pressed, just as the papers with which I have been con­nect­ed have all been sup­pressed. What a won­der­ful com­pli­ment they pay us! They are afraid that we may mis­lead and con­t­a­m­i­nate you. You are their wards; they are your guardians and they know what is best for you to read and hear and know. They are bound to see to it that our vicious doc­trines do not reach your ears. And so in our great democ­ra­cy, under our free insti­tu­tions, they flat­ter our press by sup­pres­sion; and they igno­rant­ly imag­ine that they have silenced rev­o­lu­tion­ary pro­pa­gan­da in the Unit­ed States. What an awful mis­take they make for our ben­e­fit! As a mat­ter of jus­tice to them we should respond with res­o­lu­tions of thanks and grat­i­tude. Thou­sands of peo­ple who had nev­er before heard of our papers are now inquir­ing for and insist­ing upon see­ing them. They have suc­ceed­ed only in arous­ing curios­i­ty in our lit­er­a­ture and pro­pa­gan­da. And woe to him who reads Social­ist lit­er­a­ture from curios­i­ty! He is sure­ly a goner. I have known of a thou­sand exper­i­ments but nev­er one that failed.
John M. Work! You know John, now on the edi­to­r­i­al staff of the Mil­wau­kee Leader! When I first knew him he was a lawyer out in Iowa. The cap­i­tal­ists out there became alarmed because of the rapid growth of the Social­ist move­ment. So they said: ​"We have to find some able fel­low to fight this men­ace." They con­clud­ed that John Work was the man for the job and they said to him: ​"John, you are a bright young lawyer; you have a bril­liant future before you. We want to engage you to find out all you can about social­ism and then pro­ceed to coun­ter­act its bane­ful effects and check its fur­ther growth."
John at once pro­vid­ed him­self with Social­ist lit­er­a­ture and began his study of the red men­ace, with the result that after he had read and digest­ed a few vol­umes he was a full-fledged Social­ist and has been fight­ing for social­ism ever since.
How stu­pid and short­sight­ed the rul­ing class real­ly is! Cupid­i­ty is stone blind. It has no vision. The greedy, prof­it-seek­ing exploiter can­not see beyond the end of his nose. He can see a chance for an ​"open­ing"; he is cun­ning enough to know what graft is and where it is, and how it can be secured, but vision he has none — not the slight­est. He knows noth­ing of the great throb­bing world that spreads out in all direc­tions. He has no capac­i­ty for lit­er­a­ture; no appre­ci­a­tion of art; no soul for beau­ty. That is the penal­ty the par­a­sites pay for the vio­la­tion of the laws of life. The Rock­e­fellers are blind. Every move they make in their game of greed but has­tens their own doom. Every blow they strike at the Social­ist move­ment reacts upon them­selves. Every time they strike at us they hit them­selves. It nev­er fails. Every time they stran­gle a Social­ist paper they add a thou­sand voic­es pro­claim­ing the truth of the prin­ci­ples of social­ism and the ideals of the Social­ist move­ment. They help us in spite of themselves.
Social­ism is a grow­ing idea; an expand­ing phi­los­o­phy. It is spread­ing over the entire face of the earth: It is as vain to resist it as it would be to arrest the sun­rise on the mor­row. It is com­ing, com­ing, com­ing all along the line. Can you not see it? If not, I advise you to con­sult an oculist. There is cer­tain­ly some­thing the mat­ter with your vision. It is the might­i­est move­ment in the his­to­ry of mankind. What a priv­i­lege to serve it! I have regret­ted a thou­sand times that I can do so lit­tle for the move­ment that has done so much for me. The lit­tle that I am, the lit­tle that I am hop­ing to be, I owe to the Social­ist move­ment. It has giv­en me my ideas and ideals; my prin­ci­ples and con­vic­tions, and I would not exchange one of them for all of Rockefeller's blood­stained dol­lars. It has taught me how to serve — a les­son to me of price­less val­ue. It has taught me the ecsta­sy in the hand­clasp of a com­rade. It has enabled me to hold high com­mu­nion with you, and made it pos­si­ble for me to take my place side by side with you in the great strug­gle for the bet­ter day; to mul­ti­ply myself over and over again, to thrill with a fresh-born man­hood; to feel life tru­ly worth­while; to open new avenues of vision; to spread out glo­ri­ous vis­tas; to know that I am kin to all that throbs; to be class-con­scious, and to real­ize that, regard­less of nation­al­i­ty, race, creed, col­or or sex, every man, every woman who toils, who ren­ders use­ful ser­vice, every mem­ber of the work­ing class with­out an excep­tion, is my com­rade, my broth­er and sis­ter — and that to serve them and their cause is the high­est duty of my life.
And in their ser­vice I can feel myself expand; I can rise to the stature of a man and claim the right to a place on earth — a place where I can stand and strive to speed the day of indus­tri­al free­dom and social justice.
Yes, my com­rades, my heart is attuned to yours. Aye, all our hearts now throb as one great heart respon­sive to the bat­tle cry of the social rev­o­lu­tion. Here, in this alert and inspir­ing assem­blage our hearts are with the Bol­she­vi­ki of Rus­sia. Those hero­ic men and women, those uncon­quer­able com­rades have by their incom­pa­ra­ble val­or and sac­ri­fice added fresh lus­ter to the fame of the inter­na­tion­al move­ment. Those Russ­ian com­rades of ours have made greater sac­ri­fices, have suf­fered more, and have shed more hero­ic blood than any like num­ber of men and women any­where on earth; they have laid the foun­da­tion of the first real democ­ra­cy that ever drew the breath of life in this world. And the very first act of the tri­umphant Russ­ian rev­o­lu­tion was to pro­claim a state of peace with all mankind, cou­pled with a fer­vent moral appeal, not to kings, not to emper­ors, rulers or diplo­mats but to the peo­ple of all nations. Here we have the very breath of democ­ra­cy, the quin­tes­sence of the dawn­ing freedom.
The Russ­ian rev­o­lu­tion pro­claimed its glo­ri­ous tri­umph in its ring­ing and inspir­ing appeal to the peo­ples of all the earth. In a humane and fra­ter­nal spir­it new Rus­sia, eman­ci­pat­ed at last from the curse of the cen­turies, called upon all nations engaged in the fright­ful war, the Cen­tral Pow­ers as well as the Allies, to send rep­re­sen­ta­tives to a con­fer­ence to lay down terms of peace that should be just and last­ing. Here was the supreme oppor­tu­ni­ty to strike the blow to make the world safe for democ­ra­cy. Was there any response to that noble appeal that in some day to come will be writ­ten in let­ters of gold in the his­to­ry of the world? Was there any response what­ev­er to that appeal for uni­ver­sal peace? No, not the slight­est atten­tion was paid to it by the Chris­t­ian nations engaged in the ter­ri­ble slaughter.
It has been charged that Lenin and Trot­sky and the lead­ers of the rev­o­lu­tion were treach­er­ous, that they made a trai­tor­ous peace with Ger­many. Let us con­sid­er that propo­si­tion briefly. At the time of the rev­o­lu­tion Rus­sia had been three years in the war. Under the Czar she had lost more than four mil­lion of her ill-clad, poor­ly-equipped, half-starved sol­diers, slain out­right or dis­abled on the field of bat­tle. She was absolute­ly bank­rupt. Her sol­diers were main­ly with­out arms. This was what was bequeathed to the rev­o­lu­tion by the Czar and his régime; and for this con­di­tion Lenin and Trot­sky were not respon­si­ble, nor the Bol­she­vi­ki. For this appalling state of affairs the Czar and his rot­ten bureau­cra­cy were sole­ly respon­si­ble. When the Bol­she­vi­ki came into pow­er and went through the archives they found and exposed the secret treaties — the treaties that were made between the Czar and the French gov­ern­ment, the British gov­ern­ment and the Ital­ian gov­ern­ment, propos­ing, after the vic­to­ry was achieved, to dis­mem­ber the Ger­man Empire and destroy the Cen­tral Pow­ers. These treaties have nev­er been denied nor repu­di­at­ed. Very lit­tle has been said about them in the Amer­i­can press. I have a copy of these treaties, show­ing that the pur­pose of the Allies is exact­ly the pur­pose of the Cen­tral Pow­ers, and that is the con­quest and spoila­tion of the weak­er nations that has always been the pur­pose of war.
Wars through­out his­to­ry have been waged for con­quest and plun­der. In the Mid­dle Ages when the feu­dal lords who inhab­it­ed the cas­tles whose tow­ers may still be seen along the Rhine con­clud­ed to enlarge their domains, to increase their pow­er, their pres­tige and their wealth they declared war upon one anoth­er. But they them­selves did not go to war any more than the mod­ern feu­dal lords, the barons of Wall Street go to war. The feu­dal barons of the Mid­dle Ages, the eco­nom­ic pre­de­ces­sors of the cap­i­tal­ists of our day, declared all wars. And their mis­er­able serfs fought all the bat­tles. The poor, igno­rant serfs had been taught to revere their mas­ters; to believe that when their mas­ters declared war upon one anoth­er, it was their patri­ot­ic duty to fall upon one anoth­er and to cut one another's throats for the prof­it and glo­ry of the lords and barons who held them in con­tempt. And that is war in a nut­shell. The mas­ter class has always declared the wars; the sub­ject class has always fought the bat­tles. The mas­ter class has had all to gain and noth­ing to lose, while the sub­ject class has had noth­ing to gain and all to lose — espe­cial­ly their lives.
They have always taught and trained you to believe it to be your patri­ot­ic duty to go to war and to have your­selves slaugh­tered at their com­mand. But in all the his­to­ry of the world you, the peo­ple, have nev­er had a voice in declar­ing war, and strange as it cer­tain­ly appears, no war by any nation in any age has ever been declared by the people.
And here let me empha­size the fact — and it can­not be repeat­ed too often — that the work­ing class who fight all the bat­tles, the work­ing class who make the supreme sac­ri­fices, the work­ing class who freely shed their blood and fur­nish the corpses, have nev­er yet had a voice in either declar­ing war or mak­ing peace. It is the rul­ing class that invari­ably does both. They alone declare war and they alone make peace.
Yours not to rea­son why;
Yours but to do and die.
That is their mot­to and we object on the part of the awak­en­ing work­ers of this nation.
If war is right let it be declared by the peo­ple. You who have your lives to lose, you cer­tain­ly above all oth­ers have the right to decide the momen­tous issue of war or peace.
Rose Pas­tor Stokes! And when I men­tion her name I take off my hat. Here we have anoth­er hero­ic and inspir­ing com­rade. She had her mil­lions of dol­lars at com­mand. Did her wealth restrain her an instant? On the con­trary her supreme devo­tion to the cause out­weighed all con­sid­er­a­tions of a finan­cial or social nature. She went out bold­ly to plead the cause of the work­ing class and they reward­ed her high courage with a ten years' sen­tence to the pen­i­ten­tiary. Think of it! Ten years! What atro­cious crime had she com­mit­ted? What fright­ful things had she said? Let me answer can­did­ly. She said noth­ing more than I have said here this after­noon. I want to admit — I want to admit with­out reser­va­tion that if Rose Pas­tor Stokes is guilty of crime, so am I. If she is guilty for the brave part she has tak­en in this test­ing time of human souls I would not be cow­ard­ly enough to plead my inno­cence. And if she ought to be sent to the pen­i­ten­tiary for ten years, so ought I with­out a doubt.
What did Rose Pas­tor Stokes say? Why, she said that a gov­ern­ment could not at the same time serve both the prof­i­teers and the vic­tims of the prof­i­teers. Is it not true? Cer­tain­ly it is and no one can suc­cess­ful­ly dis­pute it.
Roo­sevelt said a thou­sand times more in the very same paper, the Kansas City Star. Roo­sevelt said vaunt­ing­ly the oth­er day that he would be heard if he went to jail. He knows very well that he is tak­ing no risk of going to jail. He is shrewd­ly lay­ing his wires for the Repub­li­can nom­i­na­tion in 1920 and he is an adept in mak­ing the appeal of the dem­a­gogue. He would do any­thing to dis­cred­it the Wil­son admin­is­tra­tion that he may give him­self and his par­ty all cred­it. That is the only rival­ry there is between the two old cap­i­tal­ist par­ties — the Repub­li­can Par­ty and the Demo­c­ra­t­ic Par­ty — the polit­i­cal twins of the mas­ter class. They are not going to have any fric­tion between them this fall. They are all patri­ots in this cam­paign, and they are going to com­bine to pre­vent the elec­tion of any dis­loy­al Social­ist. I have nev­er heard any­one tell of any dif­fer­ence between these cor­rupt cap­i­tal­ist par­ties. Do you know of any? I cer­tain­ly do not. The sit­u­a­tion is that one is in and the oth­er try­ing to break in, and that is sub­stan­tial­ly the only dif­fer­ence between them.
Rose Pas­tor Stokes nev­er uttered a word she did not have a legal, con­sti­tu­tion­al right to utter. But her mes­sage to the peo­ple, the mes­sage that stirred their thoughts and opened their eyes — that must be sup­pressed; her voice must be silenced. And so she was prompt­ly sub­ject­ed to a mock tri­al and sen­tenced to the pen­i­ten­tiary for ten years. Her con­vic­tion was a fore­gone con­clu­sion. The tri­al of a Social­ist in a cap­i­tal­ist court is at best a far­ci­cal affair. What ghost of a chance had she in a court with a packed jury and a cor­po­ra­tion tool on the bench? Not the least in the world. And so she goes to the pen­i­ten­tiary for ten years if they car­ry out their bru­tal and dis­grace­ful grace­ful pro­gram. For my part I do not think they will. In fact I feel sure they will not. If the war were over tomor­row the prison doors would open to our peo­ple. They sim­ply mean to silence the voice of protest dur­ing the war.
What a com­pli­ment it is to the Social­ist move­ment to be thus per­se­cut­ed for the sake of the truth! The truth alone will make the peo­ple free. And for this rea­son the truth must not be per­mit­ted to reach the peo­ple. The truth has always been dan­ger­ous to the rule of the rogue, the exploiter, the rob­ber. So the truth must be ruth­less­ly sup­pressed. That is why they are try­ing to destroy the Social­ist move­ment; and every time they strike a blow they add a thou­sand new voic­es to the hosts pro­claim­ing that social­ism is the hope of human­i­ty and has come to eman­ci­pate the peo­ple from their final form of servitude.
How good this sip of cool water from the hand of a com­rade! It is as refresh­ing as if it were out on the desert waste. And how good it is to look into your glow­ing faces this after­noon! You are real­ly good look­ing to me, I assure you. And I am glad there are so many of you. Your tribe has increased amaz­ing­ly since first I came here. You used to be so few and far between. A few years ago when you struck a town the first thing you had to do was to see if you could locate a Social­ist; and you were pret­ty lucky if you struck the trail of one before you left town. If he hap­pened to be the only one and he is still liv­ing, he is now regard­ed as a pio­neer and pathfind­er; he holds a place of hon­or in your esteem, and he has lodg­ment in the hearts of all who have come after him. It is far dif­fer­ent now. You can hard­ly throw a stone in the dark with­out hit­ting a Social­ist. They are every­where in increas­ing num­bers; and what mar­velous changes are tak­ing place in the people!
Some years ago I was to speak at War­ren in this state. It hap­pened to be at the time that Pres­i­dent McKin­ley was assas­si­nat­ed. In com­mon with all oth­ers I deplored that trag­ic event. There is not a Social­ist who would have been guilty of that crime. We do not attack indi­vid­u­als. We do not seek to avenge our­selves upon those opposed to our faith. We have no fight with indi­vid­u­als as such. We are capa­ble of pity­ing those who hate us. We do not hate them; we know bet­ter; we would freely give them a cup of water if they need­ed it. There is no room in our hearts for hate, except for the sys­tem, the social sys­tem in which it is pos­si­ble for one man to amass a stu­pen­dous for­tune doing noth­ing, while mil­lions of oth­ers suf­fer and strug­gle and ago­nize and die for the bare neces­si­ties of existence.
Pres­i­dent McKin­ley, as I have said, had been assas­si­nat­ed. I was first to speak at Portsmouth, hav­ing been booked there some time before the assas­si­na­tion. Prompt­ly the Chris­t­ian min­is­ters of Portsmouth met in spe­cial ses­sion and passed a res­o­lu­tion declar­ing that ​"Debs, more than any oth­er per­son, was respon­si­ble for the assas­si­na­tion of our beloved Pres­i­dent." It was due to the doc­trine that Debs was preach­ing that this crime was com­mit­ted, accord­ing to these patri­ot­ic par­sons, and so this pious gen­try, the fol­low­ers of the meek and low­ly Nazarene, con­clud­ed that I must not be per­mit­ted to enter the city. And they had the may­or issue an order to that effect. I went there soon after, how­ev­er. I was to speak at War­ren, where Pres­i­dent McKinley's dou­ble-cousin was post­mas­ter. I went there and reg­is­tered. I was soon after­ward invit­ed to leave the hotel. I was exceed­ing­ly unde­sir­able that day. I was served with notice that the hall would not be opened and that I would not be per­mit­ted to speak. I sent back word to the may­or by the only Social­ist left in town — and he only remained because they did not know he was there — I sent word to the may­or that I would speak in War­ren that night, accord­ing to sched­ule, or I would leave there in a box for the return turn trip.
The Grand Army of the Repub­lic called a spe­cial meet­ing and then marched to the hall in full uni­form and occu­pied the front seats in order to silence me if my speech did not suit them. I went to the hall, how­ev­er, found it open, and made my speech. There was no inter­rup­tion. I told the audi­ence frankly who was respon­si­ble for the President's assas­si­na­tion. I said: ​"As long as there is mis­ery caused by rob­bery at the bot­tom there will be assas­si­na­tion at the top." I showed them, evi­dent­ly to their sat­is­fac­tion, that it was their own cap­i­tal­ist sys­tem that was respon­si­ble; the sys­tem that had impov­er­ished and bru­tal­ized the ances­tors of the poor wit­less boy who had mur­dered the Pres­i­dent. Yes, I made my speech that night and it was well received but when I left there I was still an ​"unde­sir­able citizen."
Some years lat­er I returned to War­ren. It seemed that the whole pop­u­la­tion was out for the occa­sion. I was received with open arms. I was no longer a dem­a­gogue; no longer a fanat­ic or an unde­sir­able cit­i­zen. I had become exceed­ing­ly respectable sim­ply because the Social­ists had increased in num­bers and social­ism had grown in influ­ence and pow­er. If ever I become entire­ly respectable I shall be quite sure that I have out­lived myself.
It is the minori­ties who have made the his­to­ry of this world. It is the few who have had the courage to take their places at the front; who have been true enough to them­selves to speak the truth that was in them; who have dared oppose the estab­lished order of things; who have espoused the cause of the suf­fer­ing, strug­gling poor; who have upheld with­out regard to per­son­al con­se­quences the cause of free­dom and right­eous­ness. It is they, the hero­ic, self-sac­ri­fic­ing few who have made the his­to­ry of the race and who have paved the way from bar­barism to civ­i­liza­tion. The many pre­fer to remain upon the pop­u­lar side. They lack the courage and vision to join a despised minor­i­ty that stands for a prin­ci­ple; they have not the moral fiber that with­stands, endures and final­ly con­quers. They are to be pitied and not treat­ed with con­tempt for they can­not help their cow­ardice. But, thank God, in every age and in every nation there have been the brave and self-reliant few, and they have been suf­fi­cient to their his­toric task; and we, who are here today, are under infi­nite oblig­a­tions to them because they suf­fered, they sac­ri­ficed, they went to jail, they had their bones bro­ken upon the wheel, they were burned at the stake and their ash­es scat­tered to the winds by the hands of hate and revenge in their strug­gle to leave the world bet­ter for us than they found it for themselves.
We are under eter­nal oblig­a­tions to them because of what they did and what they suf­fered for us and the only way we can dis­charge that oblig­a­tion is by doing the best we can for those who are to come after us. And this is the high pur­pose of every Social­ist on earth. Every­where they are ani­mat­ed by the same lofty prin­ci­ples; every­where they have the same noble ideals; every­where they are clasp­ing hands across nation­al bound­ary lines; every­where they are call­ing one anoth­er Com­rade, the blessed word that springs from the heart of uni­ty and bursts into blos­som upon the lips. Each pass­ing day they are get­ting into clos­er touch all along the bat­tle line, wagig the holy war of the work­ing class of the world against the rul­ing and exploit­ing class of the world. They make many mis­takes and they prof­it by them all. They encounter numer­ous defeats, and grow stronger through them all. They nev­er take a back­ward step.
The heart of the inter­na­tion­al Social­ist nev­er beats a retreat.
They are press­ing for­ward, here, there and every­where, in all the zones that gir­dle the globe. Every­where these awak­en­ing work­ers, these class-con­scious pro­le­tar­i­ans, these hardy sons and daugh­ters of hon­est toil are pro­claim­ing the glad tid­ings of the com­ing eman­ci­pa­tion, every­where their hearts are attuned to the most sacred cause that ever chal­lenged men and women to action in all the his­to­ry of the world. Every­where they are mov­ing toward democ­ra­cy and the dawn; march­ing toward the sun­rise, their faces all aglow with the light of the com­ing day. These are the Social­ists, the most zeal­ous and enthu­si­as­tic cru­saders the world has ever known. They are mak­ing his­to­ry that will light up the hori­zon of com­ing gen­er­a­tions, for their mis­sion is the eman­ci­pa­tion of the human race. They have been reviled; they have been ridiculed, per­se­cut­ed, impris­oned and have suf­fered death, but they have been suf­fi­cient to them­selves and their cause, and their final tri­umph is but a ques­tion of time.
Do you wish to has­ten the day of vic­to­ry? Join the Social­ist Par­ty! Don't wait for the mor­row. Join now! Enroll your name with­out fear and take your place where you belong. You can­not do your duty by proxy. You have got to do it your­self and do it square­ly and then as you look your­self in the face you will have no occa­sion to blush. You will know what it is to be a real man or woman. You will lose noth­ing; you will gain every­thing. Not only will you lose noth­ing but you will find some­thing of infi­nite val­ue, and that some­thing will be your­self. And that is your supreme need — to find your­self — to real­ly know your­self and your pur­pose in life.
You need at this time espe­cial­ly to know that you are fit for some­thing bet­ter than slav­ery and can­non fod­der. You need to know that you were not cre­at­ed to work and pro­duce and impov­er­ish your­self to enrich an idle exploiter. You need to know that you have a mind to improve, a soul to devel­op, and a man­hood to sustain.
You need to know that it is your duty to rise above the ani­mal plane of exis­tence. You need to know that it is for you to know some­thing about lit­er­a­ture and sci­ence and art. You need to know that you are verg­ing on the edge of a great new world. You need to get in touch with your com­rades and fel­low work­ers and to become con­scious of your inter­ests, your pow­ers and your pos­si­bil­i­ties as a class. You need to know that you belong to the great major­i­ty of mankind. You need to know that as long as you are igno­rant, as long as you are indif­fer­ent, as long as you are apa­thet­ic, unor­ga­nized and con­tent, you will remain exact­ly where you are. You will be exploit­ed; you will be degrad­ed, and you will have to beg for a job. You will get just enough for your slav­ish toil to keep you in work­ing order, and you will be looked down upon with scorn and con­tempt by the very par­a­sites that live and lux­u­ri­ate out of your sweat and unpaid labor.
If you would be respect­ed you have got to begin by respect­ing your­self. Stand up square­ly and look your­self in the face and see a man! Do not allow your­self to fall into the predica­ment of the poor fel­low who, after he had heard a Social­ist speech con­clud­ed that he too ought to be a Social­ist. The argu­ment he had heard was unan­swer­able. ​"Yes," he said to him­self, ​"all the speak­er said was true and I cer­tain­ly ought to join the par­ty." But after a while he allowed his ardor to cool and he sober­ly con­clud­ed that by join­ing the par­ty he might anger his boss and lose his job. He then con­clud­ed: ​"I can't take the chance." That night he slept alone. There was some­thing on his con­science and it result­ed in a dread­ful dream. Men always have such dreams when they betray them­selves. A Social­ist is free to go to bed with a clear con­science. He goes to sleep with his man­hood and he awak­ens and walks forth in the morn­ing with his self-respect. He is unafraid and he can look the whole world in the face, with­out a tremor and with­out a blush. But this poor weak­ling who lacked the courage to do the bid­ding of his rea­son and con­science was haunt­ed by a star­tling dream and at mid­night he awoke in ter­ror, bound­ed from his bed and exclaimed: ​"My God, there is nobody in this room." He was absolute­ly right. There was nobody in that room.
How would you like to sleep in a room that had nobody in it? It is an awful thing to be nobody. That is cer­tain­ly a state of mind to get out of, the soon­er the better.
There is a great deal of hope for Bak­er, Ruthen­berg and Wagenknecht who are in jail for their con­vic­tions; but for the fel­low that is nobody there is no par­don­ing pow­er. He is ​"in" for life. Any­body can be nobody; but it takes a man to be somebody.
To turn your back on the cor­rupt Repub­li­can Par­ty and the still more cor­rupt Demo­c­ra­t­ic Par­ty — the gold-dust lack­eys of the rul­ing class counts for still more after you have stepped out of those pop­u­lar and cor­rupt cap­i­tal­ist par­ties to join a minor­i­ty par­ty that has an ide­al, that stands for a prin­ci­ple, and fights for a cause. This will be the most impor­tant change you have ever made and the time will come when you will thank me for hav­ing made the sug­ges­tion. It was the day of days for me. I remem­ber it well. It was like pass­ing from mid­night dark­ness to the noon­tide light of day. It came almost like a flash and found me ready. It must have been in such a flash that great, seething, throb­bing Rus­sia, pre­pared by cen­turies of slav­ery and tears and mar­tyr­dom, was trans­formed from a dark con­ti­nent to a land of liv­ing light.
There is some­thing splen­did, some­thing sus­tain­ing and inspir­ing in the prompt­ing of the heart to be true to your­self and to the best you know, espe­cial­ly in a cru­cial hour of your life. You are in the cru­cible today, my Social­ist com­rades! You are going to be tried by fire, to what extent no one knows. If you are weak-fibered and faint­heart­ed you will be lost to the Social­ist move­ment. We will have to bid you good­bye. You are not the stuff of which rev­o­lu­tions are made. We are sor­ry for you unless you chance to be an ​"intel­lec­tu­al." The ​"intel­lec­tu­als," many of them, are already gone. No loss on our side nor gain on the other.
I am always amused in the dis­cus­sion of the ​"intel­lec­tu­al" phase of this ques­tion. It is the same old stan­dard under which the rank and file are judged. What would become of the sheep if they had no shep­herd to lead them out of the wilder­ness into the land of milk and honey?
Oh, yes, ​"I am your shep­herd and ye are my mutton."
They would have us believe that if we had no ​"intel­lec­tu­als" we would have no move­ment. They would have our par­ty, the rank and file, con­trolled by the ​"intel­lec­tu­al" boss­es as the Repub­li­can and Demo­c­ra­t­ic par­ties are con­trolled. These cap­i­tal­ist par­ties are man­aged by ​"intel­lec­tu­al" lead­ers and the rank and file are sheep that fol­low the bell­wether to the shambles.
In the Repub­li­can and Demo­c­ra­t­ic par­ties you of the com­mon herd are not expect­ed to think. That is not only unnec­es­sary but might lead you astray. That is what the ​"intel­lec­tu­al" lead­ers are for. They do the think­ing and you do the vot­ing. They ride in car­riages at the front where the band plays and you tramp in the mud, bring­ing up the rear with great enthusiasm.
The cap­i­tal­ist sys­tem affects to have great regard and reward for intel­lect, and the cap­i­tal­ists give them­selves full cred­it for hav­ing supe­ri­or brains. When we have ven­tured to say that the time would come when the work­ing class would rule they have blunt­ly answered ​"Nev­er! it requires brains to rule." The work­ers of course have none. And they cer­tain­ly try hard to prove it by proud­ly sup­port­ing the polit­i­cal par­ties of their mas­ters under whose admin­is­tra­tion they are kept in pover­ty and servitude.
The gov­ern­ment is now oper­at­ing its rail­roads for the more effec­tive pros­e­cu­tion of the war. Pri­vate own­er­ship has bro­ken down utter­ly and the gov­ern­ment has had to come to the res­cue. We have always said that the peo­ple ought to own the rail­roads and oper­ate them for the ben­e­fit of the peo­ple. We advo­cat­ed that twen­ty years ago. But the cap­i­tal­ists and their hench­men emphat­i­cal­ly object­ed. ​"You have got to have brains to run the rail­roads," they taunt­ing­ly retort­ed. Well, the oth­er day McAdoo, the gov­er­nor-gen­er­al of the rail­roads under gov­ern­ment oper­a­tion; dis­charged all the high-salaried pres­i­dents and oth­er super­nu­mer­aries. In oth­er words, he fired the ​"brains" bod­i­ly and yet all the trains have been com­ing and going on sched­ule time. Have you noticed any change for the worse since the ​"brains" are gone? It is a brain­less sys­tem now, being oper­at­ed by ​"hands." But a good deal more effi­cient­ly than it had been oper­at­ed by so-called ​"brains" before. And this deter­mines infal­li­bly the qual­i­ty of their vaunt­ed, high-priced cap­i­tal­ist ​"brains." It is the kind you can get at a rea­son­able fig­ure at the mar­ket place. They have always giv­en them­selves cred­it for hav­ing supe­ri­or brains and giv­en this as the rea­son for the suprema­cy of their class. It is true that they have the brains that indi­cates the cun­ning of the fox, the wolf, but as for brains denot­ing real intel­li­gence and the mea­sure of intel­lec­tu­al capac­i­ty they are the most woe­ful­ly igno­rant peo­ple on earth. Give me a hun­dred cap­i­tal­ists just as you find them here in Ohio and let me ask them a dozen sim­ple ques­tions about the his­to­ry of their own coun­try and I will prove to you that they are as igno­rant and unlet­tered as any you may find in the so-called low­er class. They know lit­tle of his­to­ry; they are strangers to sci­ence; they are igno­rant of soci­ol­o­gy and blind to art but they know how to exploit, how to gouge, how to rob, and do it with legal sanc­tion. They always pro­ceed legal­ly for the reaon that the class which has the pow­er to rob upon a large scale has also the pow­er to con­trol the gov­ern­ment and legal­ize their rob­bery. I regret that lack of time pre­vents me from dis­cussing this phase of the ques­tion more at length.
They are con­tin­u­al­ly talk­ing about your patri­ot­ic duty. It is not their but your patri­ot­ic duty that they are con­cerned about. There is a decid­ed dif­fer­ence. Their patri­ot­ic duty nev­er takes them to the fir­ing line or chucks them into the trenches.
And now among oth­er things they are urg­ing you to ​"cul­ti­vate" war gar­dens, while at the same time a gov­ern­ment war report just issued shows that prac­ti­cal­ly 52 per­cent of the arable, till­able soil is held out of use by the land­lords, spec­u­la­tors and prof­i­teers. They them­selves do not cul­ti­vate the soil. They could not if they would. Nor do they allow oth­ers to cul­ti­vate it. They keep it idle to enrich them­selves, to pock­et the mil­lions of dol­lars of unearned incre­ment. Who is it that makes this land valu­able while it is fenced in and kept out of use? It is the peo­ple. Who pock­ets this tremen­dous accu­mu­la­tion of val­ue? The land­lords. And these land­lords who toil not and spin not are supreme among Amer­i­can ​"patri­ots."
In pass­ing I sug­gest that we stop a moment to think about the term ​"land­lord." ​"LAND­LORD!" Lord of the Land! The lord of the land is indeed a super­pa­tri­ot. This lord who prac­ti­cal­ly owns the earth tells you that we are fight­ing this war to make the world safe for democ­ra­cy — he who shuts out all human­i­ty from his pri­vate domain; he who prof­i­teers at the expense of the peo­ple who have been slain and muti­lat­ed by mul­ti­plied thou­sands, under pre­tense of being the great Amer­i­can patri­ot. It is he, this iden­ti­cal patri­ot who is in fact the arch­en­e­my of the peo­ple; it is he that you need to wipe from pow­er. It is he who is a far greater men­ace to your lib­er­ty and your well-being than the Pruss­ian Junkers on the oth­er side of the Atlantic ocean.
Fifty-two per­cent of the land kept out of use, accord­ing to their own fig­ures! They tell you that there is an alarm­ing short­age of flour and that you need to pro­duce more. They tell you fur­ther that you have got to save wheat so that more can be export­ed for the sol­diers who are fight­ing on the oth­er side, while half of your till­able soil is held out of use by the land­lords and prof­i­teers. What do you think of that?
Again, they tell you there is a coal famine now in the state of Ohio. The state of Indi­ana, where I live, is large­ly under­laid with coal. There is prac­ti­cal­ly an inex­haustible sup­ply. The coal is banked beneath our very feet. It is with­in touch all about us — all we can pos­si­bly use and more. And here are the min­ers, ready to enter the mines. Here is the machin­ery ready to be put into oper­a­tion to increase the out­put to any desired capac­i­ty. And three weeks ago a nation­al offi­cer of the Unit­ed Mine Work­ers issued and pub­lished a state­ment to the Labor Depart­ment of the Unit­ed States gov­ern­ment to the effect that the 600,000 coal min­ers in the Unit­ed States at this time, when they talk about a coal famine, are not per­mit­ted to work more than half time. I have been around over Indi­ana for many years. I have often been in the coal fields; again and again I have seen the min­ers idle while at the same time there was a scarci­ty of coal.
They tell you that you ought to buy your coal right away; that you may freeze next win­ter if you do not. At the same time they charge you three prices for your coat Oh, yes, this ought to suit you per­fect­ly if you vote the Repub­li­can or Demo­c­ra­t­ic tick­et and believe in the pri­vate own­er­ship of the coal mines and their oper­a­tion for pri­vate profit.
The coal mines now being pri­vate­ly owned, the oper­a­tors want a scarci­ty of coal so they can boost their prices and enrich them­selves accord­ing­ly. If an abun­dance of coal were mined there would be low­er prices and this would not suit the mine own­ers. Prices soar and prof­its increase when there is a scarci­ty of coal.
It is also appar­ent that there is col­lu­sion between the mine own­ers and the rail­roads. The mine own­ers declare there are no cars while the rail­road men insist that there is no coal. And between them they delude, defraud and rob the people.
Let us illus­trate a vital point. Here is the coal in great deposits all about us; here are the min­ers and the machin­ery of pro­duc­tion. Why should there be a coal famine upon the one hand and an army of idle and hun­gry min­ers on the oth­er hand? Is it not an incred­i­bly stu­pid sit­u­a­tion, an almost idi­ot­ic if not crim­i­nal state of affairs?
We Social­ists say: ​"Take pos­ses­sion of the mines in the name of the peo­ple." Set the min­ers at work and give every min­er the equiv­a­lent of all the coal he pro­duces. Reduce the work day in pro­por­tion to the devel­op­ment of pro­duc­tive machin­ery. That would at once set­tle the mat­ter of a coal famine and of idle min­ers. But that is too sim­ple a propo­si­tion and the peo­ple will have none of it. The time will come, how­ev­er, when the peo­ple will be dri­ven to take such action for there is no oth­er effi­cient and per­ma­nent solu­tion of the problem.
In the present sys­tem the min­er, a wage slave, gets down into a pit 300 or 400 feet deep. He works hard and pro­duces a ton of coal. But he does not own an ounce of it. That coal belongs to some mine-own­ing plu­to­crat who may be in New York or sail­ing the high seas in his pri­vate yacht; or he may be hob­nob­bing with roy­al­ty in the cap­i­tals of Europe, and that is where most of them were before the war was declared. The indus­tri­al cap­tain, so- called, who lives in Paris, Lon­don, Vien­na or some oth­er cen­ter of gai­ety does not have to work to rev­el in lux­u­ry. He owns the mines and he might as well own the miners.
That is where you work­ers are and where you will remain as long as you give your sup­port to the polit­i­cal par­ties of your mas­ters and exploiters. You vote these min­ers out of a job and reduce them to cor­po­ra­tion vas­sals and paupers.
We Social­ists say: ​"Take pos­ses­sion of the mines; call the min­er to work and return to him the equiv­a­lent of the val­ue of his prod­uct." He can then build him­self a com­fort­able home; live in it; enjoy it with his fam­i­ly. He can pro­vide him­self and his wife and chil­dren with clothes — good clothes — not shod­dy; whole­some food in abun­dance, edu­ca­tion for the chil­dren, and the chance to live the lives of civ­i­lized human beings, while at the same time the peo­ple will get coal at just what it costs to mine it.
Of course that would be social­ism as far as it goes. But you are not in favor of that pro­gram. It is too vision­ary because it is so sim­ple and prac­ti­cal. So you will have to con­tin­ue to wait until win­ter is upon you before you get your coal and then pay three prices for it because you insist upon vot­ing a cap­i­tal­ist tick­et and giv­ing your sup­port to the present wage-slave sys­tem. The trou­ble with you is that you are still in a cap­i­tal­ist state of mind.
Lin­coln said: ​"If you want that thing that is the thing you want"; and you will get it to your heart's con­tent. But some good day you will wake up and real­ize that a change is need­ed and won­der why you did not know it long before. Yes, a change is cer­tain­ly need­ed, not mere­ly a change of par­ty but a change of sys­tem; a change from slav­ery to free­dom and from despo­tism to democ­ra­cy, wide as the world. When this change comes at last, we shall rise from brute­hood to broth­er­hood, and to accom­plish it we have to edu­cate and orga­nize the work­ers indus­tri­al­ly and polit­i­cal­ly, but not along the zigzag craft lines laid down by Gom­pers, who through all of his career has favored the mas­ter class. You nev­er hear the cap­i­tal­ist press speak of him nowa­days except in praise and adu­la­tion. He has recent­ly come into great promi­nence as a patri­ot. You nev­er find him on the unpop­u­lar side of a great issue. He is always con­ser­v­a­tive, sat­is­fied to leave the labor prob­lem to be set­tled final­ly at the ban­quet­ing board with Eli­hu Root, Andrew Carnegie and the rest of the plu­to­crat­ic civic fed­er­a­tionists. When they drink wine and smoke scab cig­ars togeth­er the labor ques­tion is set­tled so far as they are concerned.
And while they are prais­ing Gom­pers they are denounc­ing the I.W.W. There are few men who have the courage to say a word in favor of the I.W.W. I have. Let me say here that I have great respect for the I.W.W. Far greater than I have for their infa­mous detractors.
Lis­ten! There has just been pub­lished a pam­phlet called ​"The Truth About the I.W.W." It has been issued after long and thor­ough inves­ti­ga­tion by five men of unques­tioned stand­ing in the cap­i­tal­ist world. At the head of these inves­ti­ga­tors was Pro­fes­sor John Gra­ham Brooks of Har­vard Uni­ver­si­ty, and next to him John A. Fish of the Sur­vey of the Reli­gious Orga­ni­za­tions of Pitts­burgh, and Mr. Bruere, the gov­ern­ment inves­ti­ga­tor. Five of these promi­nent men con­duct­ed an impar­tial exam­i­na­tion of the I.W.W. To quote their own words they ​"fol­lowed its trail." They exam­ined into its doings begin­ning at Bis­bee where the ​"patri­ots," the cow­ard­ly busi­ness men, the arch-crim­i­nals, made up the mob&