Eugene Debs: The Mission of Socialism is Wide as the World
In an Independence Day speech in 1901, socialist leader Eugene Debs declared: "I like the 4th of July. It breathes a spirit of revolution. On this day we reaffirm the ultimate triumph of Socialism. It is coming as certain as I stand in your presence."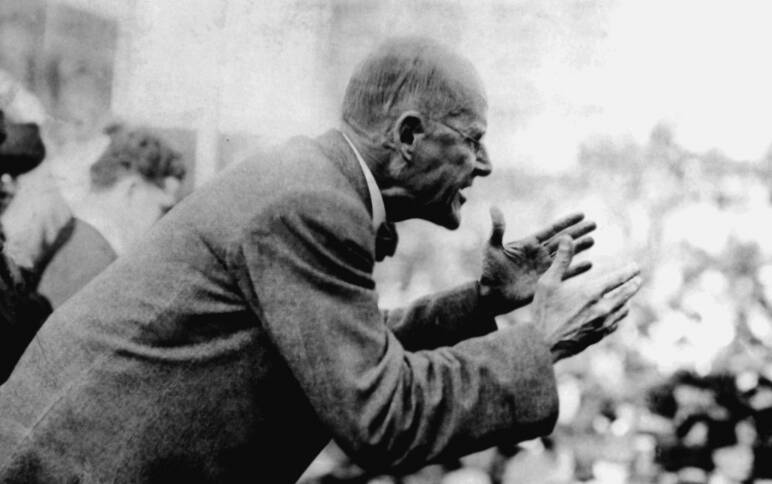 On July 4, 1901, social­ist leader Eugene Debs gave a speech in Chica­go, Il. in which he said: ​"It is Social­ism or cap­i­tal­ism; as cap­i­tal­ism declines, Social­ism fol­lows it, so it is only a ques­tion of time." Here we reprint the speech in full.
The workingman who is not yet awakened, who has not yet realized all his class interests, is a blind tool, the willing instrument of his own degradation, and thousands of them on the 4th of July, when reference is made to the capitalist flag that symbolizes the triumph of capitalism only, thousands of these wage slaves will applaud their own degradation.
Ladies, Gen­tle­men, and Comrades:
It is our good for­tune, if we can boast, no oth­er, to live in the most mar­velous age of all the cen­turies, not con­tem­plat­ing the mate­r­i­al progress of our time, which over­whelms and bewil­ders by its extra­or­di­nary achieve­ments. Improve­ments have been accom­plished as if by mag­ic and we behold with won­der and awe the march of human con­quest. The forces of nature which ter­ri­fied prim­i­tive man, and before which the ancient world bent in super­sti­tion, have to a large extent been con­quered and are the sub­ject ser­vants of man's desire. In this march of progress the brain and heart have been expand­ed, the one shed­ding light and the oth­er life, with­out which civ­i­liza­tion would turn back upon its axis. For­tu­nate­ly for man, every­thing is sub­ject to change, and all change tends to the devel­op­ment of the race and the advance­ment of human insti­tu­tions. Insti­tu­tions crum­ble in this march of time. All of them have their peri­ods of ges­ta­tion, of birth, of devel­op­ment, matu­ri­ty, decline, decay, and death. All of them come in their order. They ful­fill their mis­sion, they give birth to their off­spring, and they pass away.
A lit­tle over a cen­tu­ry ago the inhab­i­tants of this coun­try were not cit­i­zens. They were ruled by a for­eign king. They peti­tioned for relief. Their peti­tions were dis­re­gard­ed. They object­ed to tax­a­tion with­out rep­re­sen­ta­tion. Their protests were scorned. Final­ly they revolt­ed. They issued the Dec­la­ra­tion of Inde­pen­dence and enun­ci­at­ed the propo­si­tion that men are cre­at­ed equal. But the founders of this repub­lic had only vague con­cep­tions of democ­ra­cy. The work­ing class as we under­stand it today were not rep­re­sent­ed in the Con­sti­tu­tion­al Con­ven­tion. The founders of the repub­lic in declar­ing that men were cre­at­ed equal evi­dent­ly meant them­selves alone. They did not include the negro, who had been brought here against his will and had been reduced to a state of abject slav­ery. The insti­tu­tion of chat­tel slav­ery was already secure­ly estab­lished at that time. It was found­ed in iniq­ui­ty, yet it did not seem­ing­ly dis­turb the con­sciences of the founders of the repub­lic. This insti­tu­tion was in con­flict with the spir­it of the Dec­la­ra­tion, with the genius of free insti­tu­tions, and yet it was incor­po­rat­ed in them. It steadi­ly grew in pow­er, and in course of time it con­trolled the coun­try and the courts and the life of the people.
On this day, com­mem­o­rat­ing the 4th of July, 1776, the Dec­la­ra­tion of Inde­pen­dence was issued. Thou­sands of ora­tors all over this broad land will glo­ri­fy the insti­tu­tions under which we live. In pride they will point toward Old Glo­ry and declare that it is a flag that waves over a free coun­try. In these mod­ern days we hear very much about that flag and about the insti­tu­tions over which it waves. I am not of those who wor­ship the flag. I have no respect for the stars and stripes, or for any oth­er flag that sym­bol­izes slav­ery. It does not mat­ter to me what oth­ers may think, say, or do. I pro­pose to pre­serve the integri­ty of my soul. I will give you a tran­script of my mind and tell you pre­cise­ly what I think. Not very long ago the Pres­i­dent of the coun­try [William McKin­ley], in the atti­tude of mock hero­ics, asked who would haul down the flag. I will tell him. Tri­umphant Social­ism will haul down that flag and every oth­er that sym­bol­izes cap­i­tal­ist class rule and wage slavery.
I am a patri­ot, but in the sense that I love all coun­tries. I love the sen­ti­ment of William L. Gar­ri­son: ​"All the world is my coun­try and all mankind are my coun­try­men." Thomas Jef­fer­son once said: ​"Where lib­er­ty is, is my coun­try." That is good. Thomas Paine said: ​"Where lib­er­ty is hon­ored, that is my coun­try." That is bet­ter. Where lib­er­ty is not, Social­ism has a mis­sion, and, there­fore, the mis­sion of Social­ism is as wide as the world.
—
The framers of the Con­sti­tu­tion of this coun­try had no faith in the peo­ple. They did not suf­fer them to see the pro­ceed­ings of the Con­ven­tion. The insuf­fer­able insti­tu­tion of chat­tel slav­ery was com­pro­mised in the Amer­i­can Con­sti­tu­tion. It was at this time a per­fect­ly legal insti­tu­tion, but it was found­ed inn iniq­ui­ty. It was doomed to final­ly dis­ap­pear and the agi­ta­tion against it began in a fee­ble way. Love­joy was one of the pio­neers of the revolt. He went to New Eng­land and then to Illi­nois, and with all the vig­or of his intel­lect began to attack slav­ery. A com­mit­tee called upon him. He said to them, ​"I can afford to die at my post, but I can­not afford to desert it." I take pride in pay­ing to such a man the hum­ble trib­ute of my grat­i­tude and love. It is such men as he who have made it pos­si­ble for me to enjoy some degree of lib­er­ty. I can only dis­charge my duty to him and to them to try to do some­thing for those who are to come after me. In 1837 the mob took his office and destroyed it by fire, his print­ing press was thrown in the Mis­sis­sip­pi Riv­er, and he was murdered.
But to the great­est and noblest fig­ure among those ear­ly pio­neers was reserved the final act which cul­mi­nat­ed in the rule in which the insti­tu­tion of slav­ery dis­ap­peared from Amer­i­can soil. I need only men­tion his name, and although it is a very com­mon one, you will at once rec­og­nize it — John Brown. He was edu­cat­ed in no col­lege, he grad­u­at­ed from no uni­ver­si­ty — he was sim­ply a child of the peo­ple. He knew that is part in that strug­gle required the sac­ri­fice of his life, and with a dozen men he attacked the so-called Com­mon­wealth of Vir­ginia. He struck the immor­tal blow. He was dragged through a mob tri­al, he was sen­tenced to death. On his way to the gal­lows he begged for a negro child and pressed a kiss upon its black face.
He was stran­gled to death. His soul went its way to that bourne from which no trav­el­er returns. John Brown was brand­ed a trai­tor, a scoundrel, and a mon­ster of iniq­ui­ty. The whole coun­try applaud­ed the crime [of his exe­cu­tion]. In just 10 years, with the mel­low­ing wings of time, John Brown was the hero of the peo­ple; enshrined in their hearts — he had won immortality.
Chat­tel slav­ery dis­ap­peared because in the devel­op­ment of machin­ery an improved form of slav­ery was required, and this new slav­ery must not be con­fined to the black race alone, but must embrace with­in its mighty folds all of the toil­ing chil­dren of men. Slav­ery in that form only became extinct and the peo­ple as such only rose against it when it became impos­si­ble; and just here it is in order to say that the devel­op­ment in every form is depen­dent upon eco­nom­ic conditions.
We live today under a sys­tem that has the best code of morals and the best instru­ments of pro­duc­tion and dis­tri­b­u­tion. It has also the most destruc­tive weapons of war­fare. Com­mer­cial­ism not only requires the cheap­est pos­si­ble pro­duc­tion, but it also requires the most mur­der­ous instru­ments of death, and in the full devel­op­ment of this sys­tem the world pays its high­est trib­ute to that man who can devise ways and means that can mur­der the most men in the small­est space of time. If you go to the city of Wash­ing­ton tomor­row with some device that will enable you to kill one mil­lion human beings in the twin­kling of an eye, your name will become famous.
—
When the [Civ­il] war closed, mod­ern machin­ery was devel­op­ing very rapid­ly, the small work­shop was begin­ning to dis­ap­pear, being sup­plant­ed by the larg­er fac­to­ry. The indi­vid­ual worked no longer by him­self, for his tool had been touched by the mag­ic of indus­tri­al evo­lu­tion; the shop began to expand and the mod­ern indus­tri­al rev­o­lu­tion was on. Up to this time pro­duc­tion was car­ried on large­ly for use in sep­a­rate com­mu­ni­ties. There was no demand for a for­eign mar­ket because there was no sur­plus pro­duc­tion, and the worker's abil­i­ty to con­sume was equal to his pro­duc­ing capac­i­ty. But with the advent of machin­ery, con­di­tions were changed. If the work­ers had had intel­li­gence enough to have retained the own­er­ship and con­trol of the tool — that is to say, of the means of pro­duc­tion, there would have been no such prob­lems as now con­front us.
The women were for­mer­ly the queens of the homes, and the chil­dren were being sent to school and equipped for the bat­tle of life. When labor began to sup­ply so abun­dant­ly and the machine could be oper­at­ed by the fin­ger of a lit­tle child, we had an inten­si­fi­ca­tion of the strug­gle — women com­pet­ing with men and the child com­pet­ing with all. No work­ing­man is giv­en employ­ment that he may pro­vide for him­self and his fam­i­ly. It is only on con­di­tion that a prof­it can be extract­ed from his labor. If there is no prof­it he is dis­charged. His wife may suf­fer, his chil­dren may be on the street, no mat­ter what the results, he can­not work.
I have said again and again in this sys­tem there is noth­ing quite so cheap as human flesh and blood. It is in the pow­er of a sin­gle indi­vid­ual sit­ting in New York to press a but­ton that will send a mes­sage over the wire that will doom 50,000 will­ing men, women, and chil­dren. Con­cen­tra­tion and coop­er­a­tion are the mas­ter forces of this age. In the con­flict that is going for­ward among the cap­i­tal­ists, the cap­i­tal of the coun­try is held in the hands of a few, and these few, though unti­tled and uncrowned, wield greater pow­er than crowned kings and despots. The own­ers of the means of pro­duc­tion are the real rulers of the Amer­i­can peo­ple and of all oth­er peo­ple of oth­er nations. Those who con­trol the means of pro­duc­tion, land, and cap­i­tal, con­trol all human institutions.
—
Now, there are a great many men who believe that they have a voice in gov­ern­ment. You work­ing­men have as much to do with the con­trol of this gov­ern­ment as if you inhab­it­ed Mars or some oth­er plan­et. You reg­u­lar­ly deposit your bal­lot and sup­pose it to be count­ed. The will of the peo­ple is sup­posed to be reg­is­tered. But what your votes reg­is­ter is the will of the cap­i­tal­ist class. The cap­i­tal­ist class rules absolute­ly in every depart­ment of our gov­ern­ment. It con­trols every leg­is­la­ture. It con­trols both branch­es of Con­gress and the Supreme Court is sim­ply its con­ve­nience. Why, it is not pos­si­ble for a lawyer, what­ev­er his attain­ments, to find his way to the bench of the Supreme Court unless he has giv­en over­whelm­ing evi­dence of his capac­i­ty to serve the cap­i­tal­ist class and his will­ing­ness to crook the preg­nant hinges of the knee that thrift may fol­low fawn­ing. Every judge who sits on the bench of the Supreme Court today is a tool of the cap­i­tal­ist class. I had an expe­ri­ence. (Great applause.) I think it was a good thing. I ought to have known bet­ter. The work­ing class have no rights.
—
I am not fond of denounc­ing the cap­i­tal­ist class. I am more inclined to find fault with the work­ing class. Now, do you know that for every cap­i­tal­ist, large and small, in the Unit­ed States there are about 10 work­ing­men? That is to say, you work­ing­men are in the major­i­ty, are in the clear major­i­ty of 10 to 1, and as long as you suf­fer the cap­i­tal­ist class to rule, you do not deserve to fare bet­ter. As Lin­coln said: ​"If that is what you want, that is what you want," and as long as you are sat­is­fied with the cap­i­tal­ist rule or mis­rule, you will have to sub­mit to it.
Now, a few work­ing­men real­ize that the old par­ties are sim­ply two wings of the same cap­i­tal­ist vul­ture, and that every reform par­ty is a strag­gling tail feath­er in that same bird. Social­ism is after that bird, and if you look at it you can see the light between the wings. Some of that light is begin­ning to reach grad­u­al­ly the work­ing class. They are begin­ning to real­ize first, that their inter­ests as work­ing­men are absolute­ly iden­ti­cal, that what is good for one is good for all, what it equal for one is equal for all. They are begin­ning to real­ize that there are trade unions in the year 1901 which fall short of require­ments; that while orga­ni­za­tion is a neces­si­ty upon the eco­nom­ic field, it is vast­ly more impor­tant on the polit­i­cal field. There was a time when there was some effi­cien­cy in the strike. What dif­fer­ence does it make to you to go out on strike, even if you win a raise in your wages of 15, 20, or 25 cents per day, if the same class that employs and pays your wages has also the pow­er to raise the cost of the commodities?
In the wage sys­tem you and your chil­dren, and your children's chil­dren, if cap­i­tal­ism shall pre­vail until they are born, are con­demned to slav­ery and there is no pos­si­ble hope unless by throw­ing over the cap­i­tal­ist and vot­ing for Social­ism. Now, what you want to do is quit every cap­i­tal­ist par­ty of every name what­so­ev­er. What you want to do is to orga­nize your class and assert your class inter­ests as cap­i­tal­ists do the inter­ests of the class that is rob­bing you. It will not do for you to go to the polls and vote for some good men on some of the tick­ets and expect relief in that way. What can a good man do if he should hap­pen to get to Con­gress? What could he do? Why, he sim­ply would be pol­lut­ed or help­less, or both. What we want is not to reform the cap­i­tal­ist sys­tem. We want to get rid of it.
—
Now, it is a curi­ous thing to me that a great many work­ing­men will vote for a thing that will do them no good, a thing that they do not want, because they are dead sure of get­ting it; and they will vote against the thing they need, against the thing they want, because they rea­son that if they all vote for it they might get it. Every work­ing­man in every com­mu­ni­ty should assert him­self on elec­tion day, total­ly regard­less of what oth­ers do.
Sup­pose you are the only Social­ist in the com­mu­ni­ty. Now, that might require a lit­tle more courage on your part, and if you lack it we can­not win. But if you have a lit­tle more courage and if you cast a Social­ist vote, you will give some evi­dence of the final redemp­tion of your com­mu­ni­ty. If you cast that vote, some­day you and your chil­dren will be proud of it; you will make a begin­ning and you will soon have com­pa­ny. Now, I would rather vote my con­vic­tions and vote alone than to vote against my con­vic­tions and be with the major­i­ty. What good is it to be with the major­i­ty of cow­ards, any­way? As a mat­ter of fact, in the his­to­ry of great prin­ci­ples, men every­where have been wrong out­side the minor­i­ty. All of these great changes depend upon minori­ties, and in the march of time a minor­i­ty becomes a major­i­ty and every­one applauds. In 10 years from now it will be very dif­fi­cult in the city of Chica­go to find a man who was not a Social­ist 25 years ago.
There has nev­er been any democ­ra­cy in the world. Polit­i­cal democ­ra­cy in the Unit­ed States, so called, is a myth. A sin­gle cap­i­tal­ist, upon whom 25 work­ing­men depend, has polit­i­cal pow­er more than equal to the slaves in his employ, sim­ply because he owns and con­trols the means upon which their lives depend, with­out which they are doomed to idle­ness and star­va­tion. What good would it do if it were in my pow­er to shut off the sup­ply of life and heat; you would all vote my tick­et, would you not? Your lives depend upon the con­trol and own­er­ship of the means of pro­duc­tion and distribution.
—
The own­er of the slaves had to pro­vide for them, he had to feed them, and he had to care for them in a way. It is not nec­es­sary to own slaves bod­i­ly today in order to exploit their labor. You sim­ply have to own the tool, then they are com­plete­ly at your mer­cy. To begin with, a slave can­not buy the mod­ern tool. They are gigan­tic machines of great cost. The great mass of work­ing­men can­not buy them. They are com­pelled to present them­selves at the door of the giant and humbly peti­tion him for the priv­i­lege of using the tools they made for a share of what their labor pro­duces. They are at his mer­cy, and not only this, but in the reg­u­lar peri­ods of depres­sion that always fol­low peri­ods of activ­i­ty, it is even a priv­i­lege to be a slave, and thou­sands of so-called free Amer­i­cans are denied that priv­i­lege. If they go on vot­ing the Repub­li­can tick­et and the Demo­c­ra­t­ic tick­et, either par­ty per­pet­u­ates the sys­tem that keeps them in fet­ters and their wives in rags and their chil­dren in hunger.
Arouse, ye slaves! Declare war, not on the cap­i­tal­ist, but on the cap­i­tal­ist sys­tem, and if it should be your fate or your for­tune to suf­fer in years to come, that suf­fer­ing will not be the result of your own delib­er­ate act. I am for the free­dom of the work­ing class. Though my heart yearns for the free­dom of men, I am pow­er­less. Only the work­ing class itself can achieve its eman­ci­pa­tion. The work­ing­man who is not yet awak­ened, who has not yet real­ized all his class inter­ests, is a blind tool, the will­ing instru­ment of his own degra­da­tion, and thou­sands of them on the 4th of July, when ref­er­ence is made to the cap­i­tal­ist flag that sym­bol­izes the tri­umph of cap­i­tal­ism only, thou­sands of these wage slaves will applaud their own degra­da­tion. What is want­ed is not a reform of the cap­i­tal­ist sys­tem, but its entire abolition.
—
Notwith­stand­ing the boast that is often made that this is an era of pros­per­i­ty, notwith­stand­ing the state­ment that is made by cap­i­tal­ist politi­cians that the wages of work­ing­men are high­er than ever in the his­to­ry of the his­to­ry of the coun­try, I do not hes­i­tate to declare, and I chal­lenge refu­ta­tion, that there nev­er was a time when wages were so small in pro­por­tion to the prod­ucts as now. Politi­cians assure us that we are extreme­ly pros­per­ous because our exports exceed the exports of all oth­er nations of the world. What have you got to do with the exports? I think if you held a lit­tle inter­view with your stom­ach, you are more inter­est­ed with import than export. Much mon­ey goes into the pock­ets of the cap­i­tal­ist class out of the prod­uct of your labor. You nev­er receive notice from the gov­ern­ment to get your share of the div­i­dends, and as a mat­ter of fact, in this sys­tem the more you pro­duce the worse you are off. If you could pro­duce as much tomor­row as you could in the next six months, you would be out of a job the day after tomorrow.
—
I won­der how many of the work­ing­men of Chica­go are enjoy­ing today at the sea coast this sum­mer, or how many of them are toy­ing with ici­cles in the arc­tic region, and next Sep­tem­ber how many will go down to Flori­da and stop at the Pal­met­to Hotel? Not many of them. Only the man can afford these lux­u­ries, can afford these enjoy­ments, who has noth­ing to do with the pro­duc­tion of them. No man that has any­thing to do with build­ing a Pull­man car can ride in it. You show me a man who has to make a Pull­man car, and I will show you a man who walks when he travels.
If you have cal­loused hands, I will show you pre­cise­ly what degree you mark on the social ther­mome­ter. I will locate you close to the zero point.
A man has to be a mas­ter or a slave. He will have to either wield a lash or hold the plow. Social­ism pro­pos­es to free them both and lev­el them both up to the plane of man­hood. What­ev­er walk of life, con­stant strug­gle is going for­ward, man is arrayed against man, nation against nation, and all due to the cap­i­tal­ist sys­tem. The sur­vival of the fittest is a sur­vival of cun­ning over con­science. Busi­ness means doing some­body else, and in the strug­gle the mid­dle class los­es in eco­nom­ic pow­er. Men are dri­ven to dis­hon­esty in the sys­tem; they sus­pect each oth­er, not because they do not know each oth­er, but because they do. It is a mock civ­i­liza­tion. Social­ism will give human­i­ty a new world.
Busi­ness men attend the same prayer meet­ing, but they keep a busi­ness eye on each oth­er. Busi­ness is busi­ness, and each one knows that the oth­er is try­ing to do him. In the cap­i­tal­ist sys­tem we can­not give expres­sion to the noblest sen­ti­ments of human­i­ty; all suc­cess is born of fail­ure and he who achieves the largest suc­cess suc­ceeds in destroy­ing the largest num­ber of his fel­low men.
—
The rev­o­lu­tion is under way, but, like all rev­o­lu­tions, it is total­ly blind. It is in the nature of great social forces that they some­times sweep human­i­ty down. Let us work so that this rev­o­lu­tion may come in peace. Social­ists are orga­nized to pave the way for its peace­ful culmination.
We appeal first to the work­ing class to come togeth­er in one class-con­scious sol­i­dar­i­ty. We like­wise appeal to the mid­dle class who will day by day be forced down in the crowd­ed ranks of the work­ing class. We are ask­ing them to open their eyes and see the new light. Their class is doomed and this debauched civ­i­liza­tion is doomed to dis­ap­pear with them. If I were in the mid­dle class today, I would be a Social­ist. I would be a social­ist from a per­fect­ly self­ish motive. I would say to myself: ​"My class is to be crowd­ed out, and my only hope is in the new social order; and although I may not live to see it, I may be doomed to die a slave, I will cast my lot with the man that pro­pos­es to make it pos­si­ble for my chil­dren and the chil­dren of my chil­dren to enjoy life."
But there are a great many who say that is all well enough, but we will not see it in our time. When a man talks so to me, I am inclined to think that there is some­thing seri­ous­ly wrong with him. Very often the case is that it is impos­si­ble to reach the intel­lect of such a man as this. It is ques­tion­able whether he has a thing that we can prop­er­ly call by that name.
So far as I am con­cerned it does not mat­ter in the slight­est whether it comes next year or next cen­tu­ry, or in a thou­sand cen­turies — that is not a ques­tion that con­cerns me. I sim­ply know that the change is bound to come some­time and I know that it is my duty to do all I can to has­ten its com­ing; and although I feel and indeed, I know, that I will be here to help cel­e­brate its com­ing, to rat­i­fy its tri­umph, whether I am or not is a mat­ter of the slight­est con­se­quence. I sim­ply say that the cap­i­tal­ist sys­tem has almost ful­filled its mis­sion. On every hand we behold the signs of change. It is dis­in­te­grat­ing. It is to dis­solve and pass away and you can pro­long it if you wish and that is what you are doing if you war sup­port­ing the old parties.
—
There are two fun­da­men­tal prin­ci­ples that are in con­flict with each oth­er — indi­vid­u­al­ism and coop­er­a­tion. Now there is per­fect indi­vid­u­al­ism among the beasts of the jun­gle. They do not coop­er­ate, they com­pete, and the stronger com­peti­tor devours the weak­er. You see a girl in the sweat­shop only able to earn enough to keep her wretched soul with­in her shrunk­en body. Her pulled cheeks, her sunken eyes, her ema­ci­at­ed body tes­ti­fy to the pover­ty and hor­ror of the com­pet­i­tive sys­tem. Hail the com­ing of Socialism!
But in every nation, in every civ­i­lized nation, men and women are mass­ing beneath the ban­ner of Social­ism, men and women, for in Social­ism woman stands side by side with man, she has all the rights that he enjoys.
We declare then, that the time has come when work­ing men should open their eyes to the eco­nom­ic strug­gle, when they should have an intel­li­gent under­stand­ing of Social­ism and pave the way for its tri­umph and the abol­ish­ment of cap­i­tal­ism from the face of the world.
Now I have a right to get rich if I can in this sys­tem. I scorn to get rich. I could get rich only by mak­ing some­one else poor. Sup­pose I have sharp­er claws and keen­er fangs than some of the rest of you, am I jus­ti­fied in using them to prey upon your vitals? If I have any abil­i­ty what­ev­er, I can only prove it by using it for the ben­e­fit of my fel­low man. John Rock­e­feller is as com­plete­ly a slave as any coal min­er in the anthracite region of Penn­syl­va­nia. He lives in a gild­ed cell, but he is serv­ing a life sen­tence. He does not min­gle with his fel­low men, he does not enjoy the fel­low­ship of the class he robs. He rules by the pow­er of pri­vate own­er­ship and he tries to ease the pangs of con­science by endow­ing uni­ver­si­ties. We do not want edu­ca­tion­al insti­tu­tions in that way and when Social­ism sup­plants cap­i­tal­ism, and when the wealth that is cre­at­ed is in the pos­ses­sion of the men who cre­at­ed it, when every man has not only plen­ty of what is required to sup­ply his phys­i­cal wants, but has leisure to enjoy, we will fill this coun­try with edu­ca­tion­al insti­tu­tions, we will make edu­ca­tion uni­ver­sal; not only that, we will res­cue indus­try from its cupid­i­ty. Then man shall stand erect in touch with his fel­low man. He will be the monarch of his work. It will not be pos­si­ble for one man to enslave anoth­er with­out forg­ing fet­ters for him­self. There is no release, there is no relief on any oth­er line. It is Social­ism or cap­i­tal­ism; as cap­i­tal­ism declines, Social­ism fol­lows it, so it is only a ques­tion of time.
—
I like the 4th of July. It breathes a spir­it of rev­o­lu­tion. On this day we reaf­firm the ulti­mate tri­umph of Social­ism. It is com­ing as cer­tain as I stand in your pres­ence. Tri­als are not to be regret­ted. They are a part and a nec­es­sary part of the devel­op­ment. We may dis­agree. We may divide. It is pos­si­ble that we shall quar­rel and still be per­fect­ly hon­est. The devel­op­ment demands it all. We are all sub­scribers to the same fun­da­men­tal prin­ci­ples. We all stand upon the same uncom­pro­mis­ing plat­form. We all have our faces turned toward the eco­nom­ic dawn. We are bat­tling for the tri­umph of the pro­duc­ers of the world. We are in touch with the Inter­na­tion­al Social­ists of the world — with our ears turned down, we can hear the thrones tot­ter before the great march of the inter­na­tion­al hosts of Social­ism. So do not be dis­cour­aged for a sin­gle instant. If you have the courage of your con­vic­tions you can face the uni­verse. So far as I am con­cerned, if there were a mil­lion, I would be one of the mil­lion. If they should be reduced to a thou­sand, I would be one of a thou­sand; if reduced to a hun­dred, I would be one of the hun­dred; if a sin­gle one sur­vive, I would be that one against the world. I want every one of you to be that one and if you find that you are not so con­sti­tut­ed that you can be that one against the world, you have no place in the Social­ist move­ment, but go to the old par­ties and stay there until you get ripe. We are edu­cat­ing, we are agi­tat­ing, we are orga­niz­ing, that is to say we are prepar­ing for the inevitable. It is only a ques­tion of time when Social­ists will be in the major­i­ty. They will suc­ceed on a plat­form declar­ing for the social own­er­ship of the means of pro­duc­tion and dis­tri­b­u­tion. Then the fac­to­ry will no longer be a dis­mal den thronged with indus­tri­al con­victs. Then for a' that and a' that, man to man the world o'er, shall broth­ers be for a' that.