Europe's Revolt Against Austerity
Syriza is part of a wave of anti-austerity leftism in Europe, much of it led by young people.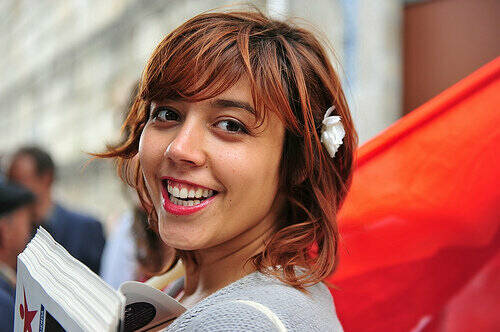 The Great Reces­sion had polit­i­cal con­se­quences across the world, but nowhere greater than in the periph­ery of Europe. The debt cri­sis the reces­sion helped trig­ger allowed elites to impose severe aus­ter­i­ty mea­sures in Greece, Spain, Ire­land and Por­tu­gal. These mea­sures only wors­ened eco­nom­ic con­di­tions — in Greece alone, GDP fell by more than one fifth and youth unem­ploy­ment rose to 50 per­cent.
An organization must have two points of emphasis: on the one hand, the ability to coordinate social movements and engage in grassroots community organizing in the trade unions and the rest of civil society. On the other, a political program that fights for state power.
In response, some­thing hap­pened that few out­siders expect­ed: A mas­sive wave of resis­tance erupt­ed across the con­ti­nent. With main­stream par­ties large­ly dis­cred­it­ed by their sup­port of aus­ter­i­ty mea­sures, room opened for rad­i­cals to offer a left-wing alternative.
The most dra­mat­ic out­come so far is Syriza's vic­to­ry in Greece's late Jan­u­ary elec­tion, which marks the first time far-left forces in a major Euro­pean coun­try have formed a rul­ing coali­tion. And in Spain, Podemos now polls as the nation's sec­ond lead­ing par­ty; in Ire­land, Sinn Féin is mak­ing advances; and in Por­tu­gal, the cen­ter-right gov­ern­ment will like­ly be forced from office — though by forces of the cen­ter-left — in September.
Tak­en as a whole, rad­i­cals are seiz­ing a moment that rep­re­sents the best open­ing for the Left in Europe since the 1970s.
To dis­cuss the sit­u­a­tion in both Por­tu­gal and Greece, I inter­viewed Cata­ri­na Príncipe, an orga­niz­er with both the Left Bloc in Por­tu­gal and Die Linke in Ger­many. Príncipe, who turned 29 in March, has been a left­ist since she was 15, when she joined Portugal's vibrant stu­dent move­ment. With Príncipe as pres­i­dent of the stu­dent union, the stu­dents in her high school protest­ed against pro­posed cor­po­rate edu­ca­tion reforms and pushed for the intro­duc­tion of sex­u­al edu­ca­tion classes.
Príncipe joined the Left Bloc, a for­ma­tion found­ed in 1999 that includes rad­i­cal ele­ments from across Por­tu­gal (and today has eight par­lia­men­tary seats) short­ly after. She moved to Ger­many in 2011, forced out of Por­tu­gal by the same eco­nom­ic col­lapse that has brought activists like her to the fore­front of Euro­pean politics.
Príncipe was recent­ly in Athens, join­ing a wave of young activists who trav­eled there in the lead-up to and after­math of Syriza's elec­tion triumph.
Along with Greece, Spain and Ire­land, your native Por­tu­gal was among the hard­est hit by aus­ter­i­ty. And like Greece, it has a long estab­lished rad­i­cal Left. So why has Por­tu­gal lagged behind per­haps all three in its lev­el of social struggle?
I think there are sev­er­al dif­fer­ences between what is hap­pen­ing in Greece and what is hap­pen­ing in Por­tu­gal. For one, the gov­ern­ment learned some­thing from the resis­tance to aus­ter­i­ty in Greece, and so those aus­ter­i­ty mea­sures have been applied in Por­tu­gal over the past four years in a much slow­er, more method­i­cal way. Despite some ear­ly resis­tance, that has allowed the mea­sures to go through more smooth­ly here — even though the effects of aus­ter­i­ty are very sim­i­lar to those in Greece. Por­tu­gal has, for exam­ple, more pover­ty now than in the last decade of dic­ta­tor­ship, before the Car­na­tion Rev­o­lu­tion in 1974.
The sec­ond thing is that, since 2011, we only have had right-wing gov­ern­ment. So that has allowed the [cen­trist] social democ­rats to cap­i­tal­ize on dis­con­tent with aus­ter­i­ty and grow in opposition.
And final­ly, for the last five to 10 years, Greece has been the stage of very intense mobi­liza­tions, which have not hap­pened in Por­tu­gal in the same way. And those demon­stra­tions have not only intro­duced an entire gen­er­a­tion to pol­i­tics, but also cre­at­ed the social struc­tures that allowed Syriza to grow.
So in Greece, the cen­trist par­ties were dis­cred­it­ed by their sup­port for Euro­pean aus­ter­i­ty mea­sures. In Por­tu­gal, only the cen­ter-right has been dis­cred­it­ed, and ener­gy is going to the cen­ter-left rather than the Left Bloc and oth­er rad­i­cal forces.
Exact­ly.
Is the rela­tion­ship between Portugal's Com­mu­nist Par­ty and the Left Bloc more pro­duc­tive than the rela­tion­ship between the Greek Com­mu­nist Par­ty and Syriza? Both Com­mu­nist Par­ties are known in Europe for main­tain­ing their Stal­in­ist roots. In Greece, this has meant the par­ty does not work open­ly with Syriza or many on the Left.
Yes and no. The Left Bloc and the Com­mu­nist Par­ty do not have a good rela­tion­ship, but some work is done togeth­er that is coor­di­nat­ed in par­lia­ment. There have also been some devel­op­ments in the rela­tions between the social move­ments and the trade unions in the last year. This is sig­nif­i­cant, because the big trade union fed­er­a­tion in Por­tu­gal is polit­i­cal­ly close to the Com­mu­nist Par­ty, so the increased coop­er­a­tion is a step for­ward. In 2012, the Left Bloc called for a meet­ing between its lead­er­ship and the lead­er­ship of the Com­mu­nist Par­ty, an invi­ta­tion which was accept­ed. Noth­ing con­crete came out of it, but it was a sign of open­ness and the idea that we need to start build­ing some­thing togeth­er against aus­ter­i­ty. The Greek Com­mu­nists were not pleased — they sent a let­ter of dissent.
You just came back from Athens. How do Greek activists in orga­ni­za­tions like Sol­i­dar­i­ty 4 All feel about relat­ing to a left gov­ern­ment, after so many years as the opposition?
Peo­ple I talk with from the var­i­ous protest move­ments and sol­i­dar­i­ty cen­ters had all antic­i­pat­ed this Syriza vic­to­ry. They under­stood that with­out win­ning state pow­er, the ​"struc­tures of sol­i­dar­i­ty" that they were build­ing would nev­er be as big as they could be.
The ​"social phar­ma­cies" in Greece, for exam­ple, oper­ate on dona­tions and can't pos­si­bly hope to make up for the col­lapse of the country's health sys­tem by them­selves. State pow­er, in the form of a left gov­ern­ment, can help there. This doesn't mean these forces out­side gov­ern­ment are now giv­ing up on their work and just demo­bi­liz­ing. They all know they can't stop. Every­one I talked to under­stood very well that they have a polit­i­cal respon­si­bil­i­ty to keep the gov­ern­ment in line and serve pop­u­lar interests.
Take the sto­ry of the Greek clean­ers. Sev­er­al hun­dred of them were all employed by the finance min­istry, and they went on strike because of the cuts and the old gov­ern­ment fired them. There was a big strug­gle there about four and half years ago, and their leader, a Bul­gar­i­an immi­grant named Con­stan­ti­na Kune­va, got acid thrown in her face. She was in the hos­pi­tal for a long time. She was then elect­ed as a Mem­ber of the Euro­pean Par­lia­ment for Syriza.
For them, Syriza's vic­to­ry is the first step toward regain­ing their work. The clean­ers have main­tained an encamp­ment out­side the finance min­istry for 19 months, and on the night of the Syriza vic­to­ry, they went to the main square where Syriza's big cam­paign tent was, sym­bol­i­cal­ly wear­ing red rub­ber clean­ing gloves, and said, ​"We are very hap­py that you won, but nev­er for­get that you won because of us."
I think that cap­tures the mood pret­ty aptly.
What do you think made Syriza suc­cess­ful com­pared with Rifon­dazione in Italy and oth­er left par­ties that haven't had elec­toral suc­cess, even in the new climate?
I think one les­son is that, espe­cial­ly in times of cri­sis, being a junior part­ner in a coali­tion, effec­tive­ly man­ag­ing aus­ter­i­ty in order to gain some sort of gov­ern­ing respectabil­i­ty, does not work.
Rifon­dazione fell into that trap by going into a coali­tion with the Pro­di gov­ern­ment and it still hasn't recov­ered. The Demo­c­ra­t­ic Left splin­ter from Syriza is nowhere on the map after join­ing the last coali­tion gov­ern­ment. The Unit­ed Left in Spain has not had the suc­cess of Podemos par­tial­ly because of being involved in the same type of politics.
At the same time, I would argue that in times of cri­sis, an orga­ni­za­tion must have two points of empha­sis: on the one hand, the abil­i­ty to coor­di­nate social move­ments and engage in grass­roots com­mu­ni­ty orga­niz­ing in the trade unions and the rest of civ­il soci­ety. On the oth­er, a polit­i­cal pro­gram that fights for state pow­er. It doesn't have to be the most rev­o­lu­tion­ary pro­gram. It has to be a pro­gram that could be applic­a­ble today that would cre­ate the basis of, even­tu­al­ly, a more rev­o­lu­tion­ary move­ment — or the non-reformist reforms, or what­ev­er you want to call it — with­out man­ag­ing aus­ter­i­ty or mak­ing com­pro­mis­es with the old cen­trist parties.
Bhaskar Sunkara
is the found­ing edi­tor of Jacobin mag­a­zine. Fol­low him on Twit­ter: @sunraysunray.