Even Trump Can't Stop the Tide of Green Jobs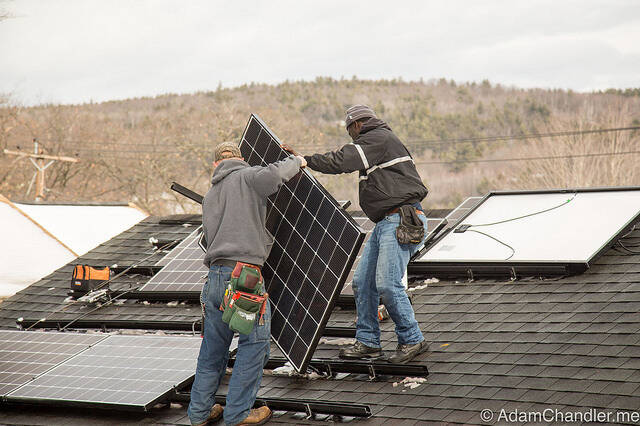 Don­ald Trump was elect­ed in Novem­ber on a plat­form that includ­ed both cli­mate denial and the promise of jobs for Rust Belt com­mu­ni­ties still hurt­ing from dein­dus­tri­al­iza­tion. In the months since, his strat­e­gy to cre­ate jobs has become increas­ing­ly clear: tax breaks and pub­lic sham­ing of com­pa­nies plan­ning to move their oper­a­tions out of the country.
Take the case of Car­ri­er, a man­u­fac­tur­ing plant in Indi­anapo­lis that pro­duces air con­di­tion­ers. Trump first threat­ened to slap tar­iffs on Carrier's imports after the com­pa­ny announced it would move a plant to Mex­i­co. Then, he report­ed­ly called Greg Hayes, CEO of the par­ent com­pa­ny Unit­ed Tech­nolo­gies, who agreed to keep the plant in the Unit­ed States in exchange for $7 mil­lion in tax breaks. (Car­ri­er lat­er admit­ted that only a por­tion of the plant's jobs would remain in the country.)
The company's deci­sion to keep jobs in the Unit­ed States was declared a vic­to­ry for the Trump PR machine, but it's unclear that it can cre­ate a major change in access to jobs in the long-term. Hayes, announc­ing that the tax breaks would allow addi­tion­al invest­ment into the plant, not­ed that the surge of mon­ey would go towards automa­tion. And with automa­tion, even­tu­al­ly, comes a loss of jobs.
"Automa­tion means less peo­ple," Hayes told CNN. ​"I think we'll have a reduc­tion of work­force at some point in time once they get all the automa­tion in and up and running."
Unlike tra­di­tion­al man­u­fac­tur­ing jobs, green jobs in the clean ener­gy indus­try have been on a steady upward swing. This past spring, for exam­ple, U.S. jobs in solar ener­gy over­took those in oil and nat­ur­al gas, and a Rock­e­feller Foun­da­tion-Deutsche Bank Cli­mate Change Advi­sors study found that ener­gy retro­fitting build­ings in the Unit­ed States could cre­ate more than 3 mil­lion ​"job years" of employment.
That means green jobs remain one of the key hopes for revi­tal­iz­ing com­mu­ni­ties. But can they move for­ward under a cli­mate-skep­tic and coal-lov­ing president?
Green jobs today
The Oba­ma admin­is­tra­tion, for the most part, was a strong sup­port­er of clean tech­nol­o­gy. In 2008, Oba­ma wran­gled tax cred­its for busi­ness­es that invest in wind and solar, which were extend­ed in 2015 through 2020. The solar sec­tor in par­tic­u­lar saw huge growth. It grew 17 times faster than the over­all econ­o­my in 2016, accord­ing to the Nation­al Solar Jobs Cen­sus, buoyed in large part by the 2009 stim­u­lus funds that invest­ed in solar energy.
Trump, mean­while, has promised to place his invest­ment in coal and oil jobs, as well as dis­man­tle the Clean Pow­er Plan that aimed to take on glob­al warm­ing by set­ting a lim­it on car­bon diox­ide pol­lu­tion. The pres­i­dent has also declared an all-out war on reg­u­la­tion that encom­pass­es rules designed to pro­mote ener­gy effi­cien­cy, a step that many see as the first vol­ley in a war against green jobs.
It's a bleak out­look, but experts say that even the whole­sale destruc­tion Trump threat­ens to bear on every­thing cli­mate-relat­ed like­ly can't entire­ly stop the growth of jobs in the clean ener­gy sec­tor (or unions' efforts to orga­nize those work­ers as the sec­tor expands).
Joe Uehlein, found­ing pres­i­dent of the Labor Net­work for Sus­tain­abil­i­ty, which seeks to bridge the divide between labor and the cli­mate move­ment, says that Trump can't sin­gle­hand­ed­ly stop the move toward wind, solar and geothermal.
"That train left the sta­tion 10 – 15 years ago and it's grow­ing at pret­ty high speed right now," says Uehlein. ​"That's going to continue."
One key rea­son that Uehlein and oth­er ana­lysts are still guard­ed­ly opti­mistic is that so much green ener­gy growth hap­pens at the state lev­el. A Decem­ber 2016 study by the Brook­ings Insti­tute con­clud­ed that with lit­tle to no future buy-in from the fed­er­al gov­ern­ment, states and local­i­ties would become increas­ing­ly impor­tant in turn­ing the econ­o­my toward green jobs.
Uehlein says he's already seen that hap­pen suc­cess­ful­ly at the state lev­el and that it's cre­at­ing good, union­ized jobs. He points towards the country's largest off­shore wind farm that was approved in Jan­u­ary 2017 and will help New York state get 50 per­cent of its pow­er from renew­ables by 2030.
"Labor and the envi­ron­men­tal com­mu­ni­ty worked with off­shore wind com­pa­nies and made this hap­pen," he says, ​"and it's the action at state and local lev­els that is dri­ving this, even under Demo­c­ra­t­ic admin­is­tra­tions who have been far bet­ter about the environment."
That real­i­ty could be com­pli­cat­ed by red states with ide­olo­gies that steer them away from invest­ments in envi­ron­men­tal­ly friend­ly poli­cies. For exam­ple, Indi­ana, Vice Pres­i­dent Mike Pence's home state, in 2015 attempt­ed to add extra charges to the bills of peo­ple using solar ener­gy. Tennessee's bright sun­shine hasn't been cap­tured by much solar pow­er in large part because the state doesn't have a renew­able port­fo­lio stan­dard man­date that encour­ages util­i­ties to use green pow­er, as many oth­er states that have ben­e­fit­ted from green ener­gy do. Flori­da, mean­while, banned the use of the term ​"cli­mate change" in gov­ern­ment com­mu­ni­ca­tions, emails or reports.
But that doesn't change that the inter­est in green jobs from vot­ers is most­ly bipar­ti­san. Sev­er­al polls in the last six months of Repub­li­can vot­ers, many of whom backed Trump, have found sup­port for renew­able ener­gy.
Dr. Daniel Kam­men, direc­tor of the Renew­able and Appro­pri­ate Ener­gy Lab­o­ra­to­ry at the Uni­ver­si­ty of Berkley, cre­at­ed the U.S. green jobs mod­el to under­stand the future of the green ener­gy indus­try through to 2030. The study found that green ener­gy could cre­ate mil­lions of jobs.
"It's a pret­ty sim­ple call the Trump team will need to make. Do they hang on to the tech­nolo­gies of the past," Kam­men asks, ​"or do you get more jobs by invest­ing in these new technologies?"
An exis­ten­tial threat to the envi­ron­ment and labor
While the green jobs indus­try may still grow, Trump's pres­i­den­cy has cre­at­ed a broad­er exis­ten­tial cri­sis both for labor and the environment.
In a report released after his elec­tion, the Labor Net­work for Sus­tain­abil­i­ty put for­ward a plan called ​"How Labor and Cli­mate Unit­ed Can Trump Trump," address­ing the fears that Trump would accel­er­ate the march towards cat­a­clysmic cli­mate change and, in the process, bring about right-to-work laws at the fed­er­al lev­el that would spell doom for unions.
Uehlein says that many unions have an ​"all of the above" pol­i­cy that sup­ports work in all forms of ener­gy, not only wind and solar but also oil and gas and coal. That is a ​"recipe for cli­mate dis­as­ter," he says.
Instead, Uehlein argues that labor and envi­ron­men­tal groups must put togeth­er an alter­na­tive agen­da around jobs and tran­si­tion­ing to a clean econ­o­my, devel­op a stronger alliance, tar­get Trump's base to con­vince them of the trou­bling nature of his agen­da for both labor and the envi­ron­ment and com­mit to work­ing through the inevitable ten­sions that will arise, like those pre­sent­ed by the Key­stone XL and Dako­ta Access pipelines.
Most impor­tant­ly, the report notes, labor can't sup­port the parts of Trump's agen­da that it finds help­ful, and ignore those that are harm­ful. Cli­mate groups, mean­while, can't ignore the eco­nom­ic real­i­ties of the com­mu­ni­ties that vot­ed for Trump.
The report makes its case: ​"If the cli­mate pro­tec­tion move­ment wants to have a future, it will have to find a way to appeal to the alien­at­ed Trump vot­ers that not only gives lip ser­vice to their inter­ests but actu­al­ly wins them over." Labor, mean­while must ​"use good, sta­ble jobs pro­tect­ing the cli­mate to chal­lenge the grow­ing inequal­i­ty and injus­tice of our society."
This work was fund­ed in part by the Social Jus­tice News Nexus pro­gram at Medill at North­west­ern University.
Yana Kuni­choff
is a Chica­go-based inves­tiga­tive jour­nal­ist and doc­u­men­tary pro­duc­er. Her work has appeared in the Guardian, Pacif­ic Stan­dard and the Chica­go Read­er, among oth­ers. She can be reached at yanaku­ni­choff at gmail​.com.