The Real Reason U.S. Media Won't Call Evo Morales' Ouster in Bolivia a "Coup"
The Bolivian coup is not a coup—because the United States wanted it to happen.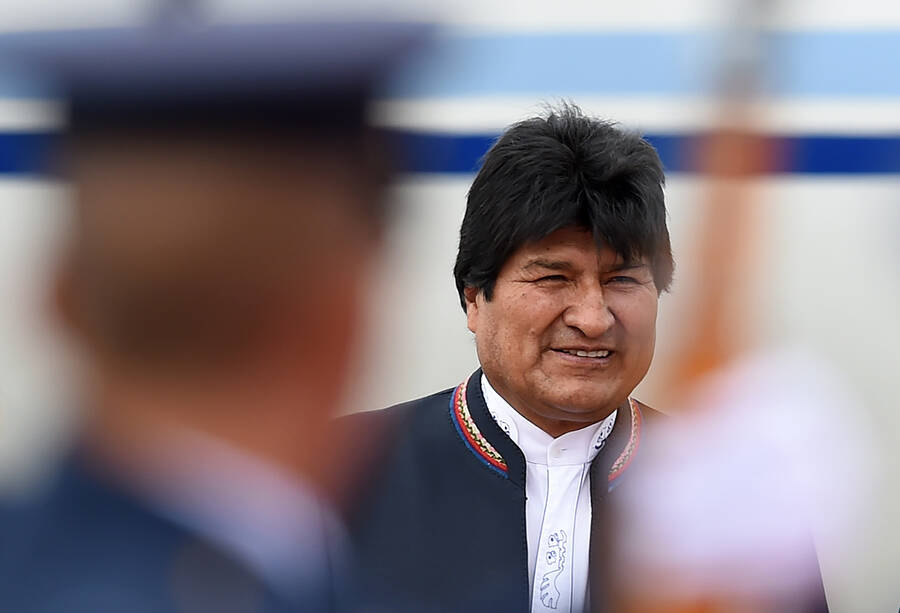 This arti­cle first appeared in FAIR.
Morales was the first indigenous president in his majority indigenous nation—one that has been ruled by a white European elite since the days of the conquistadors.
Army gen­er­als appear­ing on tele­vi­sion to demand the res­ig­na­tion and arrest of an elect­ed civil­ian head of state seems like a text­book exam­ple of a coup. And yet that is cer­tain­ly not how cor­po­rate media are pre­sent­ing the weekend's events in Bolivia.
No estab­lish­ment out­let framed the action as a coup; instead, Pres­i­dent Evo Morales ​"resigned" (ABC News, 11/10/19), amid wide­spread ​"protests" (CBS News, 11/10/19) from an ​"infu­ri­at­ed pop­u­la­tion" (New York Times, 11/10/19) angry at the ​"elec­tion fraud" (Fox News, 11/10/19) of the ​"full-blown dic­ta­tor­ship" (Mia­mi Her­ald, 11/9/19). When the word ​"coup" is used at all, it comes only as an accu­sa­tion from Morales or anoth­er offi­cial from his gov­ern­ment, which cor­po­rate media have been demo­niz­ing since his elec­tion in 2006 (FAIR​.org, 5/6/09, 8/1/12, 4/11/19).
The New York Times (11/10/19) did not hide its approval at events, pre­sent­ing Morales as a pow­er-hun­gry despot who had final­ly ​"lost his grip on pow­er," claim­ing he was ​"besieged by protests" and ​"aban­doned by allies" like the secu­ri­ty ser­vices. His author­i­tar­i­an ten­den­cies, the news arti­cle claimed, ​"wor­ried crit­ics and many sup­port­ers for years," and allowed one source to claim that his over­throw marked ​"the end of tyran­ny" for Bolivia. With an appar­ent nod to bal­ance, it did note that Morales ​"admit­ted no wrong­do­ing" and claimed he was a ​"vic­tim of a coup." By that point, how­ev­er, the well had been thor­ough­ly poisoned.
CNN (11/10/19) dis­missed the results of the recent elec­tion, where Bolivia gave Morales anoth­er term in office, as beset with ​"accu­sa­tions of elec­tion fraud," pre­sent­ing them as a farce where ​"Morales declared him­self the win­ner." Time​'s report (11/10/19) pre­sent­ed the cat­a­lyst for his ​"res­ig­na­tion" as ​"protests" and ​"fraud alle­ga­tions," rather than being forced at gun­point by the mil­i­tary. Mean­while, CBS News (11/10/19) did not even include the word ​"alle­ga­tions," its head­line read­ing, ​"Boli­vian Pres­i­dent Evo Morales Resigns After Elec­tion Fraud and Protests."
Dele­git­imiz­ing for­eign elec­tions where the ​"wrong" per­son wins, of course, is a favorite pas­time of cor­po­rate media (FAIR​.org, 5/23/18). There is a great deal of uncrit­i­cal accep­tance of the Orga­ni­za­tion of Amer­i­can States' (OAS) opin­ions on elec­tions, includ­ing in cov­er­age of Bolivia's Octo­ber vote (e.g., BBC, 11/10/19; Vox, 11/10/19; Voice of Amer­i­ca, 11/10/19), despite the lack of evi­dence to back up its asser­tions. No main­stream out­let warned its read­ers that the OAS is a Cold War orga­ni­za­tion, explic­it­ly set up to halt the spread of left­ist gov­ern­ments. In 1962, for exam­ple, it passed an offi­cial res­o­lu­tion claim­ing that the Cuban gov­ern­ment was ​"incom­pat­i­ble with the prin­ci­ples and objec­tives of the inter-Amer­i­can sys­tem." Fur­ther­more, the orga­ni­za­tion is bankrolled by the US gov­ern­ment; indeed, in jus­ti­fy­ing its con­tin­ued fund­ing, US AID argued that the OAS is a cru­cial tool in ​"promot[ing] US inter­ests in the West­ern hemi­sphere by coun­ter­ing the influ­ence of anti-US coun­tries" like Bolivia.
In con­trast, there was no cov­er­age at all in US cor­po­rate media of the detailed new report from the inde­pen­dent Wash­ing­ton-based think tank CEPR, which claimed that the elec­tion results were ​"con­sis­tent" with the win totals announced. There was also scant men­tion of the kid­nap­ping and tor­ture of elect­ed offi­cials, the ran­sack­ing of Morales' house, the burn­ing of pub­lic build­ings and of the indige­nous Wipha­la flag, all of which were wide­ly shared on social media and would have sug­gest­ed a very dif­fer­ent inter­pre­ta­tion of events.
Words have pow­er. And fram­ing an event is a pow­er­ful method of con­vey­ing legit­i­ma­cy and sug­gest­ing action. ​"Coups," almost by def­i­n­i­tion, can­not be sup­port­ed, while ​"protests" gen­er­al­ly should be. Chilean Pres­i­dent Sebas­t­ian Piñera, a con­ser­v­a­tive US-backed bil­lion­aire, has lit­er­al­ly declared war on over a mil­lion peo­ple demon­strat­ing against his rule. Cor­po­rate media, how­ev­er, have framed that upris­ing not as a protest, but rather a ​"riot" (e.g., NBC News, 10/20/19; Reuters, 11/9/19; Toron­to Sun, 11/9/19). In fact, Reuters (11/8/19) described the events as Piñera respond­ing to ​"van­dals" and ​"loot­ers." Who would pos­si­bly oppose that?
Morales was the first indige­nous pres­i­dent in his major­i­ty indige­nous nation — one that has been ruled by a white Euro­pean elite since the days of the con­quis­ta­dors. While in office, his Move­ment Towards Social­ism par­ty has man­aged to reduce pover­ty by 42% and extreme pover­ty by 60%, cut unem­ploy­ment in half and con­duct a num­ber of impres­sive pub­lic works pro­grams. Morales saw him­self as part of a decol­o­niz­ing wave across Latin Amer­i­ca, reject­ing neolib­er­al­ism and nation­al­iz­ing the country's key resources, spend­ing the pro­ceeds on health, edu­ca­tion and afford­able food for the population.
His poli­cies drew the great ire of the US gov­ern­ment, West­ern cor­po­ra­tions and the cor­po­rate press, who func­tion as the ide­o­log­i­cal shock troops against left­ist gov­ern­ments in Latin Amer­i­ca. In the case of Venezuela, West­ern jour­nal­ists uniron­i­cal­ly call them­selves ​"the resis­tance" to the gov­ern­ment, and describe it as their No. 1 goal to ​"get rid of Maduro," all the while pre­sent­ing them­selves as neu­tral and unbi­ased actors.
The media mes­sage from the Bolivia case is clear: A coup is not a coup if we like the outcome.
Alan MacLeod
@AlanRMacLeod is a mem­ber of the Glas­gow Uni­ver­si­ty Media Group. His lat­est book, Pro­pa­gan­da in the Infor­ma­tion Age: Still Man­u­fac­tur­ing Con­sent, was pub­lished by Rout­ledge in May
2019
.