The Zuckerberg Hearings Were a Show Trial, And Facebook's Monopoly Remains Unthreatened
Despite public outrage, Congress is not taking meaningful steps to break the power of Facebook.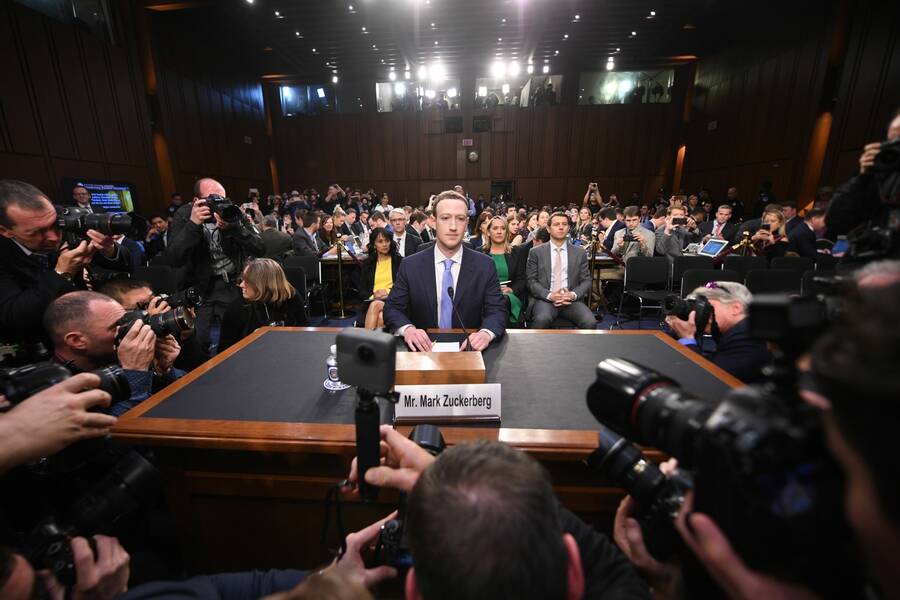 Last week, Face­book CEO Mark Zucker­berg tes­ti­fied before Con­gress to address con­cerns about his company's col­lec­tion of per­son­al user data. The appear­ance attract­ed a mael­strom of media cov­er­age, as it was the first time the noto­ri­ous­ly press-averse Zucker­berg has appeared in front of Congress.
Facebook is a vehicle of surveillance capitalism and, even under increased scrutiny, will find ways to circumvent the constraints that may be placed upon it to serve its own ends.
Yet, as mem­bers of the pub­lic are increas­ing­ly ques­tion­ing the monop­o­lis­tic pow­er that Face­book has amassed, Con­gress seems con­tent to pre­serve the self-reg­u­la­to­ry ortho­doxy of the tech­nol­o­gy indus­try. As a for-prof­it oper­a­tion that does not charge cash for basic use, the com­pa­ny is fun­da­men­tal­ly pred­i­cat­ed on har­vest­ing user data for adver­tis­ing pur­pos­es. Once the storm has cleared, Face­book will, in all like­li­hood, return to busi­ness as usual.
At the hear­ings, mem­bers of Con­gress claimed to have con­cerns about Facebook's approach to gen­er­at­ing prof­its. Sil­i­con Val­ley Con­gressper­son Anna Eshoo (D‑Calif.), for exam­ple, asked Zucker­berg if he is will­ing to change his busi­ness mod­el ​"in the inter­est of pro­tect­ing indi­vid­ual pri­va­cy." In addi­tion, a num­ber of oth­er Demo­c­ra­t­ic sen­a­tors raised ques­tions about the company's scope and meth­ods of data min­ing. Free-mar­ket cham­pi­on Lind­sey Gra­ham (R‑S.C.), mean­while, broached the sub­ject of reg­u­la­tions for tech­nol­o­gy companies.
How­ev­er, as jour­nal­ist David Dayen cau­tioned in a report on the hear­ings, Con­gress appears unwill­ing to take force­ful action. Sen­a­tor Orrin Hatch (R‑Utah) request­ed Zuckerberg's assis­tance in draft­ing reg­u­la­tions. Sen­a­tor Bill Nel­son (D‑Fla.) warned, ​"If Face­book can­not fix the pri­va­cy vio­la­tions, we are going to have to." This remark sug­gest­ings that tech­nol­o­gy com­pa­nies should self-reg­u­late by default, and posi­tion­ings gov­ern­ment as a reac­tive, lais­sez-faire force. Zucker­berg has also man­aged to ingra­ti­ate him­self with some pol­i­cy­mak­ers, earn­ing com­pli­ments on his demeanor from the likes of Sen. Dianne Fein­stein (D‑Calif.) and Shel­don White­house (D‑R.I.).
Face­book, of course, like­ly has no inten­tions of chang­ing its poli­cies, and cer­tain­ly won't do so in any mean­ing­ful way if it's expect­ed to gov­ern itself. The plat­form has already had numer­ous oppor­tu­ni­ties to change in response to pub­lic scan­dals. As ProP­ub­li­ca revealed in 2016, Facebook's ad plat­forms have repeat­ed­ly allowed racial dis­crim­i­na­tion, vio­lat­ing the Fair Hous­ing Act and Fair Employ­ment Act. Now, the com­pa­ny seem­ing­ly encour­ages legal racial­ly tar­get­ed ads through an adver­tis­ing strat­e­gy with the decep­tive­ly benign name ​"looka­like." Amid height­ened anx­i­eties over dig­i­tal pri­va­cy, Face­book has been lob­by­ing to adjust an Illi­nois piece of leg­is­la­tion to pro­tect its abil­i­ty to har­vest bio­met­ric data with­out user notice or consent.
Con­gress is com­plic­it in this track record. Law­mak­ers have effec­tive­ly ignored Facebook's years-long his­to­ry of user pri­va­cy inva­sion and data exploita­tion. They've allowed Facebook's afore­men­tioned ille­gal ad plat­forms to dig­i­tal­ly red­line com­mu­ni­ties. (The Con­gres­sion­al Black Cau­cus inter­vened, but its attempts were soft and fruit­less.) They've stood pas­sive­ly as Zucker­berg amassed bil­lions of dol­lars, acquir­ing com­peti­tors and build­ing char­ter schools, through the very prac­tices they now condemn.
This anti-reg­u­la­to­ry cli­mate is root­ed in decades of neolib­er­al pol­i­cy, and also — most like­ly — in law­mak­ers' per­son­al stakes in Facebook's suc­cess. Face­book has spent near­ly $52 mil­lion on lob­by­ing since 2009. Eshoo was the top recip­i­ent of Face­book con­tri­bu­tions on the House com­merce com­mit­tee. What's more, White­house owns stock in Face­book, along with Reps. Kurt Schrad­er (D‑Ore.) and Joseph P. Kennedy III (D‑Mass.). Near­ly 30 law­mak­ers in total are esti­mat­ed to have invest­ed in the company.
Facebook's stake­hold­ers, mean­while, seem to be under the impres­sion that the com­pa­ny is not in per­il: After plum­met­ing in the wake of the Cam­bridge Ana­lyt­i­ca scare, Facebook's stock began to recov­er at the begin­ning of the month and rose pre­cip­i­tous­ly upon Zuckerberg's testimony.
That so many con­flicts of inter­est cloud the process of ques­tion­ing Zucker­berg rais­es ques­tions about any solu­tions he might offer. Though he's been large­ly eva­sive and made no promis­es to Con­gress, Zucker­berg has claimed he'll glob­al­ly imple­ment the Euro­pean Union's dig­i­tal-pri­va­cy stan­dards, which are far more strin­gent than those in the Unit­ed States. Nat­u­ral­ly, Zucker­berg has been miser­ly on details, and, under no legal pres­sure so far to enact such changes, has no con­ceiv­able incen­tive to do so.
What's more, the bill — and the hear­ings — evoke last year's wave of ten­sion between Face­book and the fed­er­al gov­ern­ment over Russ­ian adver­tise­ments. As a result, Sen­a­tors Mark Warn­er (D‑Va.), Amy Klobuchar (D‑Minn.) and John McCain (R‑Ariz.) pro­posed the Hon­est Ads Act, which would require Face­book to main­tain a pub­lic record of adver­tis­ers that had spent more than $500 dur­ing the pre­vi­ous year. Despite the flur­ry of hand­wring­ing over this issue, the leg­is­la­tion born of it asks vir­tu­al­ly noth­ing of tech com­pa­nies, save some small improve­ments to trans­paren­cy that pose no chal­lenge to its ad-tar­get­ing meth­ods. Telling­ly, Zucker­berg and oth­er tech lead­ers now endorse the bill — an easy act of dam­age con­trol that won't com­pro­mise their bot­tom lines.
Con­gress may take small steps towards curb­ing Facebook's monop­o­lis­tic con­trol over user data and media con­sump­tion, start­ing with the CON­SENT Act, which would require Face­book to obtain con­sent from users before using, shar­ing or sell­ing any per­son­al infor­ma­tion — among oth­er man­dates. If Facebook's abu­sive prac­tices are to be put to an end, how­ev­er, incre­men­tal tweaks won't suf­fice. Face­book is a vehi­cle of sur­veil­lance cap­i­tal­ism and, even under increased scruti­ny, will find ways to cir­cum­vent the con­straints that may be placed upon it to serve its own ends.
If Face­book is to become a more eth­i­cal oper­a­tion, aggres­sive action in the pub­lic inter­est must be tak­en, from pro­hibit­ing tar­get­ed adver­tis­ing to — more sweep­ing­ly — redefin­ing media like Face­book as a pub­lic good. For far too long, law­mak­ers have shirked these respon­si­bil­i­ties, allow­ing Face­book to pro­ceed with auton­o­my and impuni­ty. At this point, we can't afford to let them continue.
Julianne Tveten
writes about tech­nol­o­gy, labor, and cul­ture, among oth­er top­ics. Her work has appeared in The Nation, Cap­i­tal
&
Main, KPFK Paci­fi­ca Radio, and elsewhere.