We're All Zucked
Tepid regulations aren't enough to break Facebook's hold on our personal data.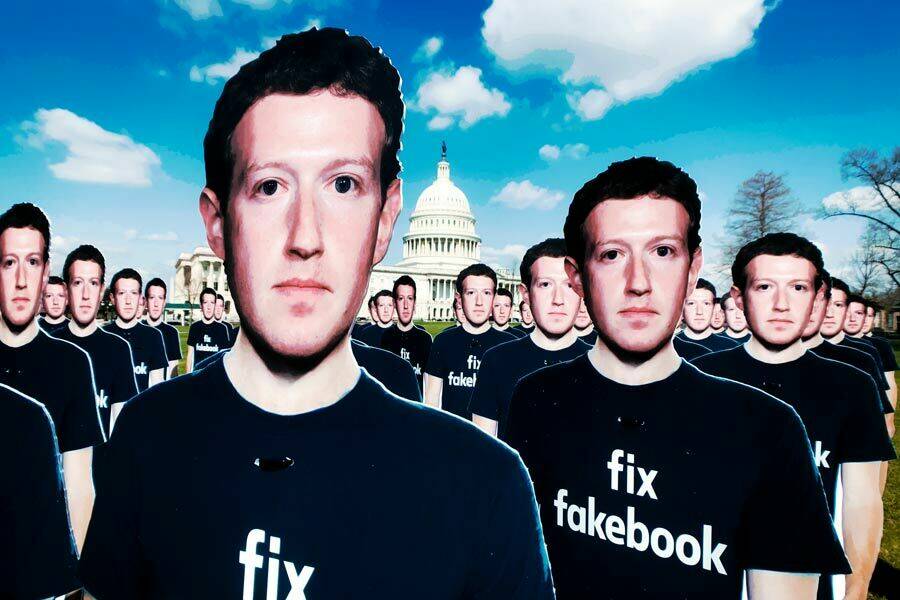 Thanks to col­lid­ing scan­dals sur­round­ing fake news and the polit­i­cal con­sul­tan­cy Cam­bridge Ana­lyt­i­ca, Face­book is deal­ing with the great­est cri­sis in its his­to­ry. But it remains to be seen whether the social plat­form will suf­fer a mass user exo­dus — Google search­es for how to delete Face­book spiked enor­mous­ly in March— or face oner­ous reg­u­la­tions. The com­pa­ny has been pur­su­ing a strat­e­gy of cagey coop­er­a­tion, approv­ing of pos­si­ble new reg­u­la­to­ry mea­sures with­out being over­ly enthu­si­as­tic about them. Stock prices proved resilient even dur­ing Mark Zuckerberg's fre­quent­ly awk­ward con­gres­sion­al tes­ti­mo­ny, and over­all the com­pa­ny seems unshaken.
As it is, Facebook retains an empire's global reach with a colonizer's rough touch.
These lat­est events sig­nal Facebook's polit­i­cal and social mat­u­ra­tion — years too late, of course, for a com­pa­ny with such pro­found influ­ence over more than 2 bil­lion lives. As part of its grow­ing up, Face­book has promised to respect the Gen­er­al Data Pro­tec­tion Reg­u­la­tion (GDPR), which the Euro­pean Union is adopt­ing in May. Wide­ly con­sid­ered the front­line of per­son­al data pri­va­cy law, the GDPR will pro­vide more rights for Euro­pean con­sumers to man­age and delete their own data, learn imme­di­ate­ly about data breach­es and eas­i­ly port their data to com­pet­ing ser­vices. But it is less an over­throw of the sta­tus quo than a sand­ing down of its sharp­er edges.
As long as Face­book is faced with this kind of rel­a­tive­ly mild state inter­ven­tion, its pow­er— for good and ill — will remain most­ly unchallenged.
Rather than being eman­ci­pa­to­ry, reg­u­la­to­ry mea­sures such as the GDPR insti­tu­tion­al­ize sur­veil­lance cap­i­tal­ism, cor­ralling it into famil­iar sys­tems of bureau­crat­ic man­age­ment and reg­u­la­to­ry cap­ture. Larg­er struc­tur­al reform — social­iz­ing data and its prof­its on behalf of a com­mon pub­lic — is nev­er con­sid­ered. Per­son­al data becomes cement­ed in the mar­ket­place as the great com­mod­i­ty of the age, the engine for elab­o­rate ana­lyt­i­cal sys­tems that allow Face­book to pre­dict and shape con­sumer behav­ior on behalf of advertisers.
If we tru­ly con­trolled our data, we would have more mech­a­nisms by which to with­hold it from Facebook's sur­veil­lance machine. Zucker­berg likes to empha­size the gran­u­lar pri­va­cy con­trols attached to each Face­book post, but he says far less about efforts to track web activ­i­ty en masse (includ­ing every site with a ​"Like" but­ton), nor does he com­ment on the company's report­ed deals with data bro­kers to pro­cure infor­ma­tion about users' offline habits. Were Zucker­berg to be more open, users might begin to ask why sur­veil­lance has to be the price of mod­ern communication.
Hav­ing estab­lished its sov­er­eign­ty over our data, we shouldn't expect Face­book to give it up eas­i­ly. The company's out­look is at once strong and per­ilous. It is a well-estab­lished monop­oly, with a can­ny capac­i­ty to buy up would-be rivals. And yet Face­book could still find itself sud­den­ly ​"dis­rupt­ed" by a rival net­work that users trust more — per­haps one that doesn't rely on the mon­e­ti­za­tion of per­son­al data through adver­tis­ing. (Such plat­forms, includ­ing Mastodon, Ello and Dias­po­ra, have failed in the past but may find a more amenable audi­ence now.) The com­pa­ny could suf­fer more embar­rass­ing leaks and breach­es. Spurred on by angry con­stituents, the patience of politi­cians and reg­u­la­tors (in both par­ties) might run out, forc­ing an antitrust inves­ti­ga­tion that would sit along­side inves­ti­ga­tions already under­way in Europe, Aus­tralia and sev­er­al U.S. states. These inves­ti­ga­tions could in turn lead to breakup efforts or painful fines.
The com­pa­ny faces oth­er seri­ous prob­lems. Hijacked by fake news bots and oth­er forms of manip­u­la­tion, Facebook's plat­form has been accused of con­tribut­ing to polit­i­cal vio­lence, even geno­cide, in Myan­mar, India and the Philip­pines. Illic­it busi­ness­es fes­ter on the site, as Face­book is used for every­thing from sell­ing opi­oids — for which sev­er­al con­gress­men ham­mered Zucker­berg — to trad­ing in stolen cred­it cards. Facebook's mod­er­a­tion capa­bil­i­ties are woe­ful­ly behind, even as the com­pa­ny has promised to hire thou­sands more mod­er­a­tors — usu­al­ly low-wage work­ers in over­seas cubi­cle farms who become trau­ma­tized after screen­ing hun­dreds of graph­ic images per day. Zucker­berg touts the company's forth­com­ing AI efforts but admits that tru­ly auto­mat­ed solu­tions might be five years away. To some AI experts, even that is a fantasy.
As it is, Face­book retains an empire's glob­al reach with a colonizer's rough touch. There may not be anoth­er prod­uct so wide­ly used and so deeply dis­liked. To many of its cus­tomers, Face­book is essen­tial and use­less, indis­pens­able and annoy­ing, addic­tive and numb­ing. To quit is too dif­fi­cult — eas­i­er to give in to a weary cyn­i­cism. After all, if we have learned any­thing from Facebook's pro­lif­er­at­ing scan­dals, it's that the company's sur­veil­lance machine is indif­fer­ent to us. It cares not what we do.
Jacob Sil­ver­man
is the author of Terms of Ser­vice: Social Media and the Price of Con­stant Con­nec­tion. He is a con­tribut­ing edi­tor at The Baf­fler and has writ­ten about tech­nol­o­gy, cul­ture and pol­i­tics for the Los Ange­les Times, the New York Times,
&
lt;/i?
&
lt;i
&
gt;The New Repub­lic and oth­er publications.