When It Comes to the Fake News Scourge, Russia Doesn't Hold a Candle to U.S. Conservative Media
The panic over Russian interference obscures the fact that fake news has always been with us—it's just been pushed by the American Right.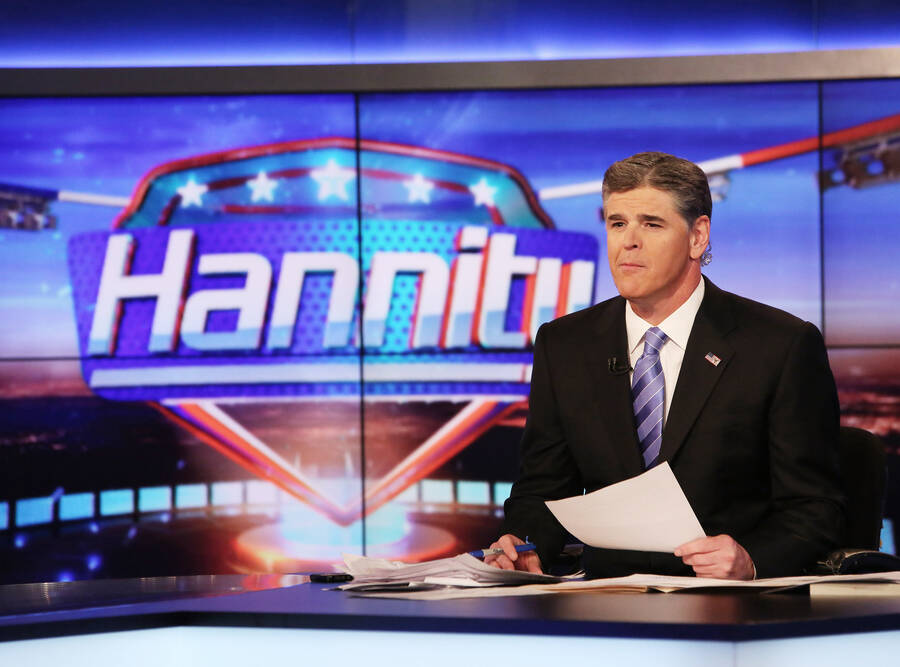 On Feb­ru­ary 16, the Jus­tice Depart­ment announced that 13 Russ­ian nation­als and three Russ­ian groups are being charged with crim­i­nal wrong­do­ing for attempt­ing to inter­fere with U.S. elec­tions, includ­ing dur­ing the 2016 pres­i­den­tial cam­paign. The charges include claims that these Russ­ian actors oper­at­ed social media accounts that attempt­ed to ​"pro­mote dis­cord" in the elec­tion process in the Unit­ed States.
No serious discussion of "fake news" can possibly discount the role this homegrown disinformation campaign has played in subverting U.S. democracy and manipulating the American people.
In response, a num­ber of promi­nent Democ­rats deemed the Russ­ian effort act of war on par with Pearl Har­bor, while oth­ers have point­ed to the news as fur­ther proof that an online dis­in­for­ma­tion cam­paign run by the Krem­lin had sub­vert­ed Amer­i­can democ­ra­cy in 2016.
In recent months, Russ­ian-orig­i­nat­ed ​"fake news" has been cit­ed by main­stream media out­lets and politi­cians as a cause for every­thing from Black Lives Mat­ter protests to frack­ing oppo­si­tion to the Dako­ta Access Pipeline protests. The mes­sage appar­ent­ly being that Amer­i­cans can't get out­raged about dis­pro­por­tion­ate police killings of African Amer­i­cans or eco­log­i­cal destruc­tion with­out being tricked into it by Russ­ian agents.
Before the indict­ment, the pan­ic over for­eign fake news was inflamed by a Wash­ing­ton Post report detail­ing how Russ­ian oper­a­tives cre­at­ed more than 100 made-up events dur­ing the 2016 elec­tion on ​"sen­si­tive social issues." This comes on top of a series of reports from the Post and the New York Times about an alleged­ly Krem­lin-linked cam­paign to tar­get spe­cif­ic vot­ers with Face­book ads and fake social media iden­ti­ties, one that involved the Inter­net Research Agency — the com­pa­ny named in last week's indictment.
Nev­er mind that no firm link has been estab­lished con­nect­ing a person's inter­ac­tion with fake news to their vot­ing pat­terns, nor the fact that a num­ber of the cit­ed posts had neg­li­gi­ble reach. As researchers Dun­can J. Watts and David M. Roth­schild have point­ed out, the fake Face­book ads cit­ed by the Post and New York Times com­prised a mere 0.1 per­cent of Face­book's dai­ly ad revenue.
Of course, for­eign inter­fer­ence in Amer­i­can democ­ra­cy is a seri­ous prob­lem. But the cur­rent media-inflamed pan­ic can serve to obscure that fact that fake news is not a new phe­nom­e­non. It's always been with us — it's just been home-grown.
Mis­in­for­ma­tion U.S.A.
In Novem­ber 2017, right-wing provo­ca­teur James O'Keefe made head­lines for hav­ing orga­nized a botched attempt to pub­licly embar­rass the Wash­ing­ton Post. His orga­ni­za­tion, Project Ver­i­tas, hired a woman named Jaime T. Phillips to feed the Post false alle­ga­tions against alleged child moles­ter and then-Alaba­ma Sen­ate can­di­date Roy Moore. The stunt back­fired when Post reporters dug into Phillips' past, and she and O'Keefe's efforts to manip­u­late the media were pub­licly exposed.
This gam­bit serves as a reminder that the Krem­lin and Mace­don­ian teenagers are sim­ply try­ing to mus­cle in on a mar­ket that the Amer­i­can right wing has long had a monop­oly on. One need only look back to the 2016 pres­i­den­tial campaign.
In Novem­ber 2015, while run­ning for the Repub­li­can nom­i­na­tion, Pres­i­dent Trump tweet­ed out a racist info­graph­ic from San Fran­cis­co's Crime Sta­tis­tics Bureau, a made-up gov­ern­ment agency, pur­port­ing to show that African Amer­i­cans are respon­si­ble for most killings of whites — a bla­tant false­hood. That tweet was shared more than 7,500 times and rep­re­sents just one of a con­stant stream of ephemer­al fake images and sta­tis­tics cooked up by the far Right in recent years.
Of course, this isn't the only time Trump has spread right-wing mis­in­for­ma­tion. Upon announc­ing his Mus­lim ban in Decem­ber 2015, Trump cit­ed a sta­tis­tic show­ing 25 per­cent of Mus­lims believed anti-Amer­i­can vio­lence was jus­ti­fied ​"as part of the glob­al jihad." The data was sourced from a shod­dy online poll of 600 self-select­ed respon­dents con­duct­ed by the U.S.-based Cen­ter for Secu­ri­ty Pol­i­cy (CSP), which the South­ern Pover­ty Law Cen­ter has des­ig­nat­ed as an anti-Mus­lim hate group.
Sim­i­lar­ly, Trump's request to ​"look at what's hap­pen­ing in … Swe­den" in Feb­ru­ary 2017 was based on a decep­tive seg­ment on ​"Tuck­er Carl­son Tonight" filmed by Ami Horowitz, a well-known U.S.-based xeno­pho­bic film­mak­er. The segment's main con­ceit — that Swe­den is a crime-rid­den war­zone brought to ruin by swarms of (non-white) immi­grants — is a wide­ly held belief in con­ser­v­a­tive cir­cles, and one broad­cast by pop­u­lar right-wing out­lets such as the Fed­er­al­ist, the Dai­ly Mail and Fox News. It's also entire­ly made-up, as the Swedish gov­ern­ment itself has out­lined.
No list of right-wing fab­ri­ca­tions pushed by Trump is com­plete with­out the biggest whop­per of them all: his repeat­ed claim that for­mer Pres­i­dent Obama's U.S. birth cer­tifi­cate doesn't exist, which helped to inspire the ​"birtherism" movement.
Trump wasn't the only big-name U.S. con­ser­v­a­tive to push the bla­tant­ly false claim: Sarah Palin, Rick Per­ry and Mike Huck­abee all joined in. The issue was also tak­en up by World​Net​Dai​ly​.com, described by Poli­ti­fact as the ​"con­duc­tor of the birther train." While the claim that Oba­ma does­n't have a U.S. birth cer­tifi­cate found its ori­gins in the online con­ser­v­a­tive rumor swamp, its broad­cast­ing by promi­nent con­ser­v­a­tives and wide­ly read, if dis­rep­utable, web­sites, helped the rumor take off.
Trump has con­tin­ued mak­ing untruth­ful claims, most recent­ly with a string of false­hoods about cli­mate change that have been long­time pop­u­lar con­ser­v­a­tive talk­ing points on the issue. His state­ment, for instance, that the polar ice caps are ​"at a record lev­el" appears to be an exag­ger­a­tion of claims con­ser­v­a­tives have been mak­ing for years which down­play warm­ing in the Antarctic.
Also alarm­ing is Trump's rela­tion­ship to the right-wing con­spir­a­cy show InfoWars, whose host, Alex Jones, claims to occa­sion­al­ly speak with Trump over the phone, and who, in Decem­ber 2015, inter­viewed the then-pres­i­den­tial can­di­date. Dur­ing the first year of his pres­i­den­cy, Trump used lan­guage and made a num­ber of false state­ments that appear to have been based on InfoWars seg­ments. Trump's re-elec­tion cam­paign even sent out to sup­port­ers an InfoWars sto­ry defend­ing the administration's deci­sion to pull out of the Paris cli­mate accord.
Out­foxed
When it comes to Fox News, the top-rat­ed cable news chan­nel has for the bet­ter part of two decades func­tioned as the country's most nox­ious source of right-wing mis­in­for­ma­tion. Its role has been all the more per­ni­cious giv­en its per­ceived sta­tus as a legit­i­mate news source and its sub­stan­tial view­er­ship. Hav­ing dom­i­nat­ed the cable news scene over the past 16 years, the net­work has recent­ly expe­ri­enced a rat­ings renais­sance under Trump. In 2017, Fox News reached its high­est rat­ings ever.
A defin­i­tive list of all of Fox​'s mis­in­for­ma­tion would be too long to list. But high­lights of how the chan­nel has been ter­ri­fy­ing its view­ers over the decades include:
Relent­less broad­cast­ing of the Seth Rich con­spir­a­cy the­o­ry which false­ly sug­gest­ed that Rich, a Demo­c­ra­t­ic Nation­al Com­mit­tee staffer, leaked the hacked DNC emails dur­ing the

2016

pres­i­den­tial cam­paign and was mur­dered for doing so.
Dozens of sto­ries in the sum­mer of

2010

inflat­ing the threat of the so-called New Black Pan­ther Party.
Copi­ous cov­er­age of what then-anchor Meg­yn Kel­ly cit­ed in

2010

as ​

"

vot­er fraud on a mas­sive scale," which has in fact nev­er exist­ed.
A seg­ment in

2015

that claimed the U.K. city of Birm­ing­ham was just one of numer­ous ​

"

no-go zones" where ​

"

non-Mus­lims just sim­ply don't go in," a lie the net­work was forced to cor­rect and apol­o­gize for.
Numer­ous seg­ments that false­ly claimed peo­ple would be put in prison for not buy­ing insur­ance due to Obamacare's indi­vid­ual mandate.
Con­sis­tent­ly mis­lead­ing cli­mate sci­ence cov­er­age, only

28

per­cent of which was accu­rate, accord­ing to a

2014

analy­sis by the Union of Con­cerned Scientists.
Inac­cu­rate Iraq War cov­er­age, which left its view­ers sig­nif­i­cant­ly more mis­in­formed than those of oth­er net­works — a

2004

study found

67

per­cent of Fox view­ers believed Sad­dam Hus­sein was work­ing close­ly with al-Qae­da and

33

per­cent believed the Unit­ed States had found weapons of mass destruc­tion in Iraq.
This is just a drop in the buck­et of the many false­hoods spread by the network.
This type of home-grown mis­in­for­ma­tion is far more influ­en­tial than for­eign-made, social media-based ​"fake news." While a 2017 Pew study found that 67 per­cent of adults get their news from social media, only 20 per­cent say they do so ​"often." Most say they only do so ​"some­times" (27 per­cent) or ​"hard­ly ever" (20 per­cent). A Stan­ford study on the impact of fake news released in 2017 found only 14 per­cent of adults con­sid­ered social media their ​"most impor­tant source of news and infor­ma­tion about the 2016 election."
By con­trast, Pew found that 50 per­cent of Amer­i­cans ​"often" get news from TV, a num­ber that was sev­en points high­er dur­ing the 2016 elec­tion. The Stan­ford study found that 23.5 per­cent of Amer­i­cans con­sid­ered cable news their ​"most impor­tant source of 2016 elec­tion news."
A tan­gi­ble effect
It's no won­der, then, that while the con­crete effect of social media-based fake news is yet to be deter­mined, right-wing dis­in­for­ma­tion has had a tan­gi­ble, mea­sur­able effect on pub­lic discourse.
As a result of the broad­cast­ing of ​"birtherism," the Hawaii Depart­ment of Health received around a dozen emails a day ask­ing about the legit­i­ma­cy of Obama's birth cer­tifi­cate. By 2011, one in four Amer­i­cans thought Oba­ma was born out­side the coun­try. As of August 2016, 72 per­cent of reg­is­tered Repub­li­cans still had doubts about the for­mer president's citizenship.
In 2015, the U.S.-based anti-abor­tion orga­ni­za­tion Cen­ter for Med­ical Progress cir­cu­lat­ed a series of mis­lead­ing and decep­tive­ly edit­ed videos on Planned Par­ent­hood, pur­port­ing to show the organization's employ­ees dis­cussing sell­ing fetal tis­sue for prof­it. These videos set off a string of right-wing-led efforts to defund the orga­ni­za­tion and helped lead to an inves­ti­ga­tion into its prac­tices, which ulti­mate­ly found no wrong­do­ing.
This wasn't the only time decep­tive­ly edit­ed videos were used by the Amer­i­can Right to attempt to bring down a pro­gres­sive orga­ni­za­tion. In 2009, con­ser­v­a­tive blog­ger Andrew Bre­it­bart pub­lished videos of James O'Keefe and his fel­low right-wing sabo­teur Han­nah Giles meet­ing with rep­re­sen­ta­tives at the com­mu­ni­ty orga­niz­ing group ACORN.
The videos appeared to show O'Keefe, dressed as a gaudy 70s-style pimp and accom­pa­nied by Giles, dressed as a sex work­er, get­ting advice from ACORN employ­ees on how to hide wages from the gov­ern­ment. The videos, edit­ed and in some cas­es over­dubbed, left out a lot, accord­ing to the Cal­i­for­nia Attor­ney Gen­er­al's office and oth­ers who viewed the full tape: that O'Keefe was nev­er dressed as a pimp, that he claimed he was try­ing to res­cue the fake sex work­er from an abu­sive pimp, that ACORN employ­ees gave some advice based on their fear for the wom­an's safe­ty, and that one employ­ee in San Diego even called the police over the incident.
The con­tro­ver­sy, fueled by Fox News and oth­er right-wing out­lets, dec­i­mat­ed ACORN, lead­ing to the organization's dissolution.
Sim­i­lar was the case of Shirley Sher­rod, an Oba­ma-era Depart­ment of Agri­cul­ture offi­cial who Andrew Bre­it­bart tried to paint as a racist by high­light­ing a video of a 2010 speech she had giv­en to the NAACP. In the video, Sher­rod dis­cussed not giv­ing a white farmer ​"the full force" of what help she could, part­ly because of his con­de­scend­ing atti­tude toward her, and part­ly because of her knowl­edge that so many black Amer­i­cans had faced sim­i­lar cir­cum­stances. The Oba­ma admin­is­tra­tion sub­se­quent­ly fired her.
In fact, Sher­rod's speech had been trun­cat­ed to leave out the real point of her sto­ry: that she over­came her own prej­u­dice, and that, after wit­ness­ing the way the man had been cheat­ed by the sys­tem and by his own lawyer, she real­ized ​"it's real­ly about those who have ver­sus those who don't." She lat­er reached a set­tle­ment with Breitbart's widow.
Mean­while, con­ser­v­a­tive media — includ­ing Fox News—cir­cu­lat­ed the myth that Oba­macare set up so-called ​"death pan­els," despite the fact that Poli­ti­Fact rat­ed it 2009's ​"Lie of the Year." In part due to the broad­cast­ing of this false­hood, as of 2015, a stag­ger­ing­ly high per­cent­age of Repub­li­cans con­tin­ued to believe the lie. The con­spir­a­cy the­o­ry was even writ­ten into that year's House GOP budget.
All of this fits into a pat­tern of inac­cu­rate and mis­lead­ing report­ing spewed out by con­ser­v­a­tive media in the Unit­ed States. No seri­ous dis­cus­sion of ​"fake news" can pos­si­bly dis­count the role this home­grown dis­in­for­ma­tion cam­paign has played in sub­vert­ing U.S. democ­ra­cy and manip­u­lat­ing the Amer­i­can people.
We still don't know the true mea­sur­able impact of Russ­ian-orig­i­nat­ed fake news on the 2016 elec­tion, espe­cial­ly giv­en the many, non-fake-news-relat­ed flaws of Hillary Clinton's cam­paign. But we've had decades to study the per­ni­cious effects of right-wing mis­in­for­ma­tion. On this front, the Rus­sians don't hold a can­dle to U.S. conservatives.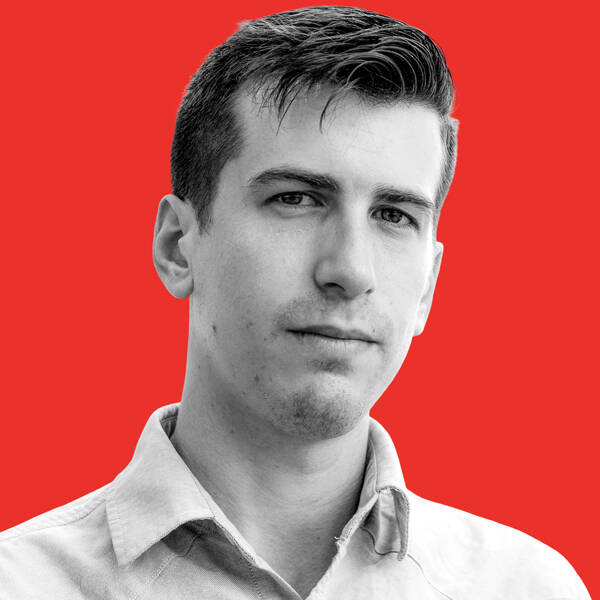 Branko Marcetic
is a staff writer at Jacobin mag­a­zine and a
2019
 – 
2020
Leonard C. Good­man Insti­tute for Inves­tiga­tive Report­ing fel­low. He is work­ing on a forth­com­ing book about Joe Biden.