The House Farm Bill Ignores What Farmers Want (and Farm Groups Call BS)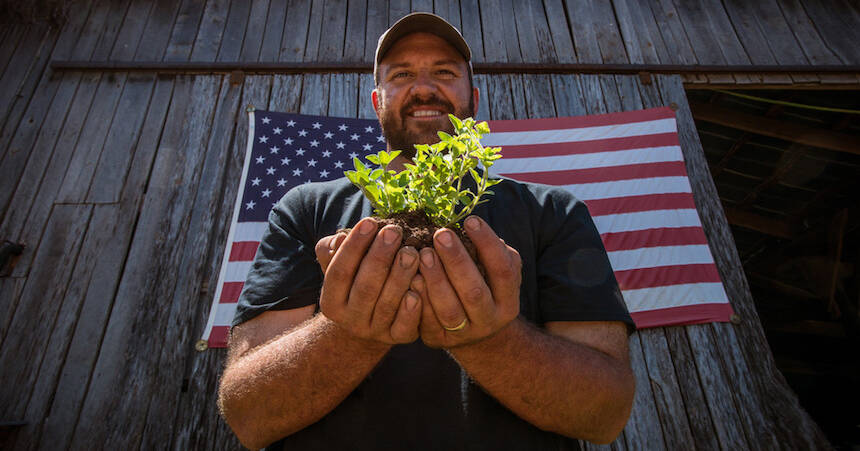 Last week, the chair­man of the House Agri­cul­ture Com­mit­tee made head­lines by unveil­ing a tru­ly ter­ri­ble farm bill pro­pos­al, one that dra­mat­i­cal­ly under­cuts the nation's most suc­cess­ful nutri­tion assis­tance pro­gram and threat­ens to throw the entire farm bill process into chaos. Yes­ter­day, after four-plus hours of ran­corous debate, the com­mit­tee advanced the chairman's deeply flawed bill on a par­ty-line vote, 26 – 20. We expect the full House to take up the bill in the com­ing weeks.
Beyond this high­ly par­ti­san bill's cyn­i­cal slap at mil­lions of low-income peo­ple and their com­mu­ni­ties, there's also very lit­tle for farm­ers to like. Deep cuts to incen­tive pro­grams that help them pro­tect water qual­i­ty, con­serve soil, and build resilience to floods and droughts are among the bill's many dis­ap­point­ing aspects, along with a fail­ure to invest in con­nect­ing farm­ers with new local customers.
In stark con­trast, a poll released today shows that farm­ers across the polit­i­cal spec­trum are eager for pre­cise­ly the kind of tools and incen­tives House Repub­li­cans have firm­ly turned their backs on. And soon they may be look­ing for polit­i­cal can­di­dates who will give it to them.
Sur­vey says: Farm­ers want more sup­port for local, sus­tain­able agriculture
The new poll was con­duct­ed in March by Iowa-based RABA Research on behalf of the Union of Con­cerned Sci­en­tists (UCS). Using tele­phone inter­views sup­ple­ment­ed by an online ques­tion­naire, the researchers queried more than 2,800 farm­ers in sev­en states—Iowa, Illi­nois, Kansas, Michi­gan, Ohio, Penn­syl­va­nia, and Wis­con­sin—to bet­ter under­stand how they are think­ing about farm pol­i­cy and sus­tain­able agriculture.
You might expect that farm­ers would regard the farm bill as an impor­tant piece of leg­is­la­tion, and the poll shows that they do. Ful­ly three-quar­ters of them said the farm bill is ​"some­what" or ​"very impor­tant" to their per­son­al liveli­hoods. In an era of deep cyn­i­cism about the abil­i­ty of Con­gress to help­ful­ly affect the lives of every­day Amer­i­cans, it's a strik­ing num­ber, and it par­tic­u­lar­ly con­tra­dicts recent news reports sug­gest­ing that rur­al Amer­i­ca ​"doesn't have time" for the farm bill.
Dig­ging a lit­tle deep­er, the researchers uncov­ered even more sur­pris­ing results:
Three-quar­ters of farm­ers sur­veyed said it's impor­tant to the future of farm­ing for farm poli­cies to offer incen­tives for farm­ers to take steps to reduce runoff and soil loss, improve water qual­i­ty, and increase resilience to floods and droughts. That num­ber was even high­er in some states — 

76

per­cent in Ohio,

78

per­cent in Kansas, and a whop­ping

84

per­cent in Iowa. The find­ing indi­cates that farm­ers are keen­ly aware of the neg­a­tive impacts of agri­cul­ture on our water and soil resources — and, with extreme weath­er becom­ing more com­mon, they are con­cerned about their abil­i­ty to cope. Farm­ers urgent­ly want tools to min­i­mize these impacts.
Fur­ther­more,

74

per­cent said that strength­en­ing the hand of farm­ers in deal­ings with com­pa­nies that con­trol the pro­duc­tion chain is impor­tant. This view direct­ly con­tra­dicts the recent action by the Trump admin­is­tra­tion and Sec­re­tary Son­ny Per­due to end the USDA's Farmer Fair Prac­tices Rules, which would have lev­eled the play­ing field for poul­try and live­stock farm­ers in con­tracts with the giant cor­po­ra­tions that con­trol meat pro­duc­tion and pro­cess­ing and made it eas­i­er for those farm­ers to sue the com­pa­nies for unfair treatment.
Sim­i­lar­ly,

74

per­cent of farm­ers said farm poli­cies should sup­port research on ways to increase farm prof­itabil­i­ty by decreas­ing the need for cost­ly chem­i­cal inputs. They might not call it agroe­col­o­gy, but that's what it is and what it does, and farm­ers want farm pol­i­cy to fund more of it.
And

69

per­cent of farm­ers said poli­cies should help con­nect farm­ers with new buy­ers through mar­ket­ing arrange­ments like food hubs and farm-to-school pro­grams. These are the kinds of arrange­ments UCS and oth­er groups have advo­cat­ed for in the bipar­ti­san Local FARMS Act.
Most aston­ish­ing­ly, these results hold across the par­ti­san divide. Poll respon­dents spanned the polit­i­cal spec­trum but leaned heav­i­ly Repub­li­can. Across the sev­en states,

55

per­cent of respon­dents were Repub­li­can,

20

per­cent Demo­c­ra­t­ic, and

25

per­cent other.
Sur­vey ques­tion: I'm going to read a list of ways that US farm pol­i­cy can shape agri­cul­ture in the years ahead. Answer yes or no to indi­cate which you think are impor­tant to the future of farm­ing.
(Info­graph­ic:
Union of Con­cerned Sci­en­tists
)
It's elec­tion sea­son, and farmer-vot­ers are look­ing for change
Per­haps the most strik­ing find­ing in the poll is this: Farm­ers are look­ing to back polit­i­cal can­di­dates who will deliv­er inno­va­tion and sus­tain­abil­i­ty for agriculture.
A sur­pris­ing 72 per­cent of farm­ers across the sev­en states said they would be more like­ly to sup­port a can­di­date for pub­lic office who seemed to favor farm suc­cess through sus­tain­able agri­cul­ture pri­or­i­ties instead of busi­ness as usu­al. That num­ber was even high­er in some states — 74 per­cent in both Michi­gan and Penn­syl­va­nia. (Swing states, any­one?) And remark­ably, that high lev­el of sup­port wasn't depen­dent upon par­ty affil­i­a­tion, but was held by 76 per­cent of Democ­rats, 73 per­cent of Repub­li­cans, and 67 per­cent of those who iden­ti­fied polit­i­cal­ly as ​"some­thing else" across the sev­en states.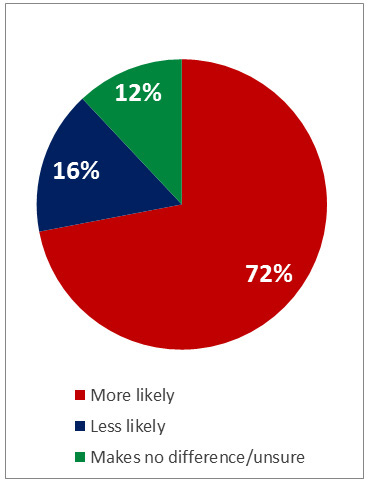 Sur­vey ques­tion: If a can­di­date for pub­lic office seemed to favor farm suc­cess through sus­tain­able ag pri­or­i­ties instead of busi­ness as usu­al, would you be more or less like­ly to sup­port that can­di­date?
(Info­graph­ic:
Union of Con­cerned Sci­en­tists
)
This find­ing shows that an over­whelm­ing major­i­ty of farm­ers are seek­ing change in the fed­er­al government's pri­or­i­ties for sup­port­ing U.S. agri­cul­ture. And why should we be sur­prised? The poll was con­duct­ed just before ten­sions over trade with Chi­na threat­ened to erupt into a full-scale trade war—in which farm­ers would be ear­ly casu­al­ties. But those trade ten­sions are mere­ly com­pound­ing the trou­ble farm­ers have faced in recent years as prices of lead­ing U.S. farm com­modi­ties have plunged. Farm income is pro­ject­ed to hit a 12-year low this year, leav­ing many farm­ers uneasy about the sta­tus quo and look­ing for new solutions.
House farm bill offers less — not more — of what farm­ers want (and farm groups call BS)
The House bill neglects or active­ly under­cuts pre­cise­ly the pro­grams that our poll shows farm­ers want. Exist­ing work­ing land con­ser­va­tion pro­grams pro­vide incen­tives and tech­ni­cal sup­port for farm­ers to adopt sci­ence-based prac­tices — like plant­i­ng cov­er crops and more diverse crop rota­tions—that reduce ero­sion and water-pol­lut­ing runoff, lessen the need for expen­sive chem­i­cal inputs, and build healthy soil to buffer farm­ers from the impact of floods and droughts. The bill advanced yes­ter­day cuts near­ly $5 bil­lion from these pro­grams over 10 years, and com­plete­ly elim­i­nates the Con­ser­va­tion Stew­ard­ship Pro­gram—a pro­gram so pop­u­lar with farm­ers and already so under­fund­ed that in recent years it has had to turn away as many as 75 per­cent of qual­i­fied applicants.
At the same time, the House farm bill as writ­ten also large­ly fails to take on pro­vi­sions of the Local FARMS Act, a bipar­ti­san pro­pos­al meant to expand the cus­tomer base for small and mid­size farm­ers while improv­ing access to healthy food (which is inad­e­quate for 15.6 mil­lion US house­holds). By over­look­ing the Local FARMS Act — which includes pro­vi­sions to strength­en farm to school pro­grams, pro­mote farm­ers mar­kets, and oth­er­wise build con­nec­tions between farm­ers and local con­sumers, espe­cial­ly low-income indi­vid­u­als and fam­i­lies — the authors of today's bill are bypass­ing an oppor­tu­ni­ty to cre­ate jobs and estab­lish reli­able rev­enue streams for strug­gling farm­ers while also increas­ing access to healthy and afford­able food for more of our neighbors.
Con­gress can do bet­ter — and we need to tell them
All this has led farm and con­ser­va­tion groups to join health and anti-hunger groups in pan­ning the House farm bill pro­pos­al. The Nation­al Farm­ers Union — while attempt­ing to be pos­i­tive — sim­i­lar­ly expressed frus­tra­tion with its fail­ure to give farm­ers what they need:
[C]ongressional lead­er­ship has severe­ly ham­strung the committee's abil­i­ty to address the six-year, 50 per­cent decline in the farm econ­o­my. While they've shown lit­tle regard for spend­ing and deficits this Con­gress, they've failed to pro­vide ade­quate resources for food and agri­cul­ture at a time of grave finan­cial strain on fam­i­ly farm­ers and ranch­ers. This is irre­spon­si­ble and harmful.
The draft bill that the House Agri­cul­ture Com­mit­tee vot­ed on is so fun­da­men­tal­ly flawed, we don't expect many oppor­tu­ni­ties to strength­en it through the amend­ment process. But here are two areas — the Local FARMS Act and the SNAP pro­gram — where we may be able to make the bill more respon­sive to the needs of farm­ers and the pub­lic interest.
(​"Will Con­gress Give Farm­ers the Farm Bill They Want" was orig­i­nal­ly post­ed on the Union of Con­cerned Sci­en­tists' blog and is repost­ed on Rur­al Amer­i­ca In These Times with per­mis­sion. To tell Con­gress to fight for farm­ers and healthy food in the farm bill, click here.)
Karen Per­ry Stiller­man
is a senior food and envi­ron­ment ana­lyst for the Union of Con­cerned Sci­en­tists. She's an advo­cate for trans­form­ing the U.S. agri­cul­ture and food sys­tem to one that pro­duces afford­able, health­ful foods for con­sumers; reduces air and water pol­lu­tion; and builds healthy soil for the farm­ers of tomor­row. She holds a master's degree in pub­lic affairs and envi­ron­men­tal pol­i­cy. Fol­low her on Twit­ter @KarenStillerman.