Our Food System Hurts Farmers, Consumers and the Earth. We Can Build a Movement to Change It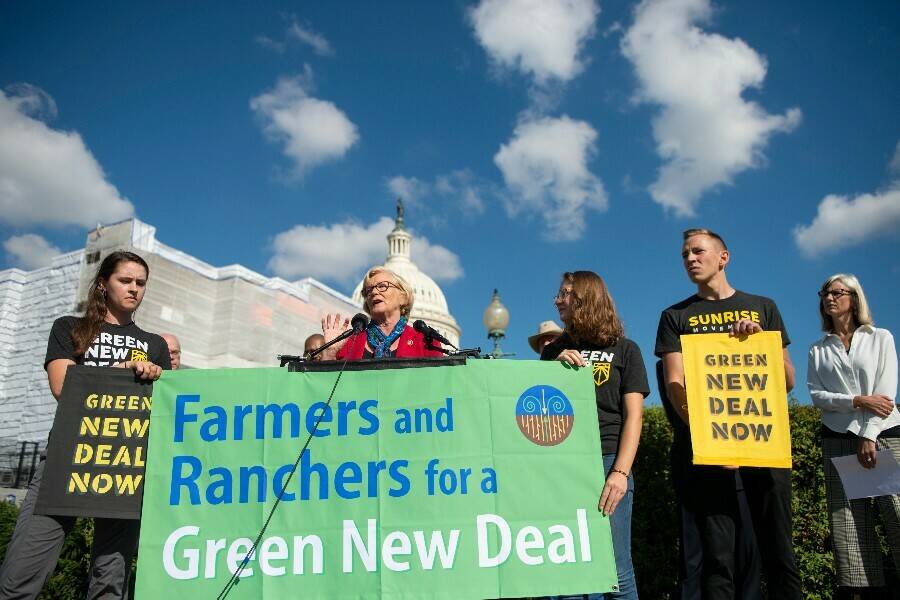 Amer­i­cans cher­ish the ​"fam­i­ly farm." Most are also hap­py to be able to buy local foods at farm­ers mar­kets, gro­cers or their favorite restaurants.
In the mar­ket­place, con­sumers are send­ing the mes­sage that they want more sus­tain­able and organ­ic food, sales of which exceed­ed $50 bil­lion last year. And the vast major­i­ty of peo­ple in our nation believe that cli­mate change is real, and that urgent action needs to be taken.
While there is some vari­abil­i­ty depend­ing upon one's polit­i­cal affil­i­a­tion, Democ­rats and Repub­li­cans alike hold these views. If this is what we col­lec­tive­ly believe, across par­ty, then sure­ly our pol­i­tics and pub­lic poli­cies sup­port these pri­or­i­ties, right?
Well, not so much.
While there has been real progress in sup­port­ing local and sus­tain­able farm­ing in the past few Farm Bills, the fact remains that the local and organ­ic por­tion of our food sys­tem con­tin­ues to reside on the mar­gins of fed­er­al research, train­ing and exten­sion and finan­cial investment.
There's good news here, to be sure: The 2018 Farm Bill des­ig­nat­ed $40 mil­lion per year for research and exten­sion to sup­port organ­ic farm­ing. It also increased funds to help farm­ers mak­ing the tran­si­tion to organ­ic practices.
Sup­port for local food infra­struc­ture has also been increased some­what, with a num­ber of past pro­grams now con­sol­i­dat­ed as LAMP, the Local Agri­cul­ture Mar­ket­ing Program.
While this increased fed­er­al sup­port for sus­tain­able farm­ing is indeed good news, it remains an extra­or­di­nar­i­ly small piece of U.S. Depart­ment of Agriculture's (USDA) pie. By com­par­i­son, pay­ments to com­mod­i­ty grow­ers, who are over­whelm­ing­ly large-scale, con­ven­tion­al farm­ers, have been aver­ag­ing over $20 bil­lion per year — that's five hun­dred times as much as the organ­ic farm­ing research allo­ca­tion. And near­ly two-thirds of that $20 bil­lion goes to the largest farm­ers, accord­ing to USDA data and an analy­sis by the Amer­i­can Enter­prise Institute.
Even on a per-acre basis, the biggest 10 per­cent of farm­ers receive near­ly two-and-a-half times the sub­sidy pro­vid­ed to mid-size farm­ers. With the cur­rent struc­ture of the crop insur­ance and risk man­age­ment pro­grams, these big farm­ers are sub­si­dized to get big­ger still, includ­ing rais­ing annu­al crops on eco­log­i­cal­ly vul­ner­a­ble land.
Forty years after Earl Butz told farm­ers to ​"get big or get out," almost every­thing about our sys­tem leads to exact­ly that.
Cli­mate-change leg­is­la­tion, where it has mate­ri­al­ized at all, has rarely con­sid­ered the role that agri­cul­ture must play in slow­ing and mit­i­gat­ing its impacts. The encour­ag­ing excep­tion here is recent state laws that incen­tivize and reward farm­ers for soil-build­ing, car­bon-seques­ter­ing prac­tices. Cal­i­for­nia and Mary­land pro­vide exam­ples here, with Vir­ginia and oth­er states con­sid­er­ing sim­i­lar laws.
On the oth­er hand, the Trump admin­is­tra­tion is ignor­ing crit­i­cal cli­mate-relat­ed research by its own staff at USDA, while mar­gin­al­iz­ing and cut­ting the fund­ing to region­al cli­mate-resilience hubs launched just a few years ago.
And the cur­rent admin­is­tra­tion is all in on the ​"get big or get out" doc­trine, with labor, safe­ty and anti-trust enforce­ment accom­mo­dat­ing the agribusi­ness giants, rather than pro­tect­ing work­ers and fam­i­ly farmers.
Clear­ly, there's an extreme dis­con­nect between our pub­lic pol­i­cy, on the one hand, and what would be good for con­sumers, fam­i­ly farm­ers and the ecosys­tem, on the oth­er hand.
This bat­tle has been waged for a few decades now, and though they're remark­ably per­sis­tent and effec­tive, the Nation­al Sus­tain­able Agri­cul­ture Coali­tion and oth­er healthy farm­ing advo­cates are sim­ply out-gunned by Big Ag's lob­by­ists. As a result, farm and food pol­i­cy takes baby steps in the right direc­tion, but nev­er address­es the fun­da­men­tal imbal­ances and prob­lems that dom­i­nate and dis­tort the system.
What can we do to change this?
Accord­ing to a 2016 sur­vey by Mar­ket Research, about 12 per­cent of adults in the U.S. report that they shop at farm­ers mar­kets. That trans­lates to about 25 mil­lion people.
Oth­er research, includ­ing a 2018 study from the Uni­ver­si­ty of Wis­con­sin-Madi­son, indi­cates that on aver­age, farm­ers mar­ket shop­pers are younger, with more for­mal edu­ca­tion and income than the pop­u­la­tion as a whole. While my own expe­ri­ence shows that peo­ple across the eco­nom­ic spec­trum can and do buy gro­ceries at farm­ers mar­kets, it's safe to say that the largest pro­por­tion of farm­ers mar­ket shop­pers are edu­cat­ed about and com­mit­ted to healthy eating.
What if we began to mobi­lize these ​"con­scious con­sumers" for real change, as advo­cates for pub­lic poli­cies that pro­mote a healthy and sus­tain­able food system?
What might hap­pen if we were able to move a por­tion of them, say one out of every 20, from being respon­si­ble con­sumers to also becom­ing effec­tive food citizens?
That would add up to more than 1 mil­lion knowl­edge­able advo­cates, tak­ing their per­son­al com­mit­ment to bet­ter eat­ing to a big­ger fight for a healthy, farmer- and cli­mate-friend­ly food system.
Just imag­ine that.
A mil­lion-per­son food movement
I dis­cuss this idea in some detail in my book, ​"Build­ing a Healthy Econ­o­my from the Bot­tom Up," but for our pur­pos­es here, let me sug­gest three spe­cif­ic steps to get this process going.
Step No. 1: First, we need to strike a bal­ance between tack­ling the big, com­plex issues that must be addressed, and the need for man­age­able, winnable issues with which peo­ple can more read­i­ly engage.
To do that, we need a clear frame­work that con­nects the big and the small, the local and the glob­al. One frame­work might be this: Fight­ing the bad stuff while invest­ing in the good stuff.
While a bit sim­pli­fied, this frame push­es us to con­sid­er big prob­lems that com­plete­ly under­mine a healthy food sys­tem, for exam­ple how cor­po­rate con­sol­i­da­tion and the lack of antitrust enforce­ment turns farm­ers into serfs, dev­as­tates the envi­ron­ment and sucks the life out of rur­al com­mu­ni­ties. Anoth­er foun­da­tion­al prob­lem is the extra­or­di­nary loss of black-owned farms, approach­ing 90% over the past century.
Pub­lic pol­i­cy deci­sions helped make these things hap­pen. Pol­i­cy choic­es can reverse them as well.
If we don't con­front big prob­lems such as these, our pos­i­tive impacts will nev­er be trans­for­ma­tive, rel­e­gat­ing our advo­ca­cy to sup­port for small pock­ets of healthy food and farming.
But at the same time, those big fights need to be brought down to size by iden­ti­fy­ing the best oppor­tu­ni­ties to build and scale up the alter­na­tives, for exam­ple seri­ous invest­ment in local food infra­struc­ture, which would enable con­sumers to buy more local food and farm­ers to get a bet­ter price. Or pro­vid­ing incen­tives for small and mid-size farm­ers to build healthy soils that pull excess car­bon out of the atmosphere.
If we real­ly want to trans­form our food sys­tem, we've got to be will­ing to fight the bad stuff while invest­ing in the good stuff. Hav­ing a mil­lion or so deeply invest­ed food cit­i­zens to help wage this fight improves our odds considerably.
Step No. 2: Sec­ond­ly, we need to devel­op edu­ca­tion and train­ing mod­els for this broad new base of advo­cates, built around their own expe­ri­ences as local food cus­tomers, but going far beyond that.
The ​"fight the bad, invest in the good" frame­work is the start­ing point for that. But it needs flesh on its bones, includ­ing a suc­cinct but suf­fi­cient­ly com­pre­hen­sive analy­sis of our cur­rent sys­tem, a diverse set of exam­ples of emerg­ing alter­na­tives, and a toolk­it that enables peo­ple to con­nect the two and become effec­tive advocates.
Step No. 3: Final­ly, we need not just an alliance between city folks and coun­try folks, between cli­mate activists and fam­i­ly farm advo­cates, but one that puts farm­ers and rur­al peo­ple at the fore­front, as experts and lead­ers along­side their urban allies.
The chal­lenge of trans­form­ing our food and farm sys­tem can­not ignore the broad­er polit­i­cal con­text of urban-rur­al polar­iza­tion. There are sev­er­al rea­sons for this divide, both legit­i­mate and con­coct­ed. But it's real.
A farmer‑, con­sumer- and cli­mate-friend­ly food sys­tem requires that we work togeth­er — as equals — across this divide.
All of us want to eat well, and all of us need a liv­able cli­mate. Only a few of us are will­ing to farm. Let's get in the same room and togeth­er build this mil­lion-per­son force of food cit­i­zens to make this happen.
Editor's Note: This essay is the sec­ond of a two-part series orig­i­nal­ly pub­lished on the blog of the Organ­ic Con­sumers Asso­ci­a­tion. It is repub­lished here with per­mis­sion. To read the first part of the series―"The Local Foods Move­ment Has Made Half a Rev­o­lu­tion. For the Oth­er Half, We Need a Green New Dea"l―click here. To read the orig­i­nal ver­sion of this essay, click here.