It always amazes me how so many of us fight to ensure that we keep doing the same thing, even when it clear­ly doesn't work. Two exam­ples stand out.
The first is ​"trick­le-down eco­nom­ics" — the idea that if we just cut the tax­es on the wealthy and big cor­po­ra­tions, we'll free them up to inno­vate, invest and cre­ate wealth, which will then trick­le down to the rest of us. This idea has dri­ven our eco­nom­ic debate and poli­cies since Ronald Rea­gan brought it front and cen­ter in 1980. It's the essence of Pres­i­dent Trump's tax and eco­nom­ic plans. The prob­lem is, it doesn't work. Nev­er has.
The 1950s through the ear­ly 1970s saw sus­tained eco­nom­ic growth and widen­ing pros­per­i­ty in the Unit­ed States. Dur­ing that peri­od, cor­po­rate tax­es were at 50 per­cent and the top tax brack­et on the rich was more than dou­ble what it is now. Dur­ing those same years, not only did the econ­o­my grow sub­stan­tial­ly, but the main ben­e­fi­cia­ries of that growth were work­ing peo­ple and the mid­dle class, whose incomes and wealth grew far more, pro­por­tion­ate­ly, than those of the rich.
Since then, through near­ly 40 years of tax-cut­ting trick­le down, the results have been stark­ly dif­fer­ent: An econ­o­my that's near­ly three times big­ger, with extra­or­di­nary increas­es in over­all wealth, yet the vast major­i­ty of Amer­i­cans tread­ing water or going back­wards. Trick­le down hasn't, doesn't and won't hap­pen. But that hasn't shak­en the con­fi­dence of its many proponents.
The sec­ond exam­ple is: the strat­e­gy of the Demo­c­ra­t­ic Par­ty. (I'm a Democrat).
Once aligned with labor unions and work­ing peo­ple, with help­ing the poor and vul­ner­a­ble, with fight­ing for rur­al as well as urban pros­per­i­ty, it has steadi­ly mor­phed into the par­ty of the elite, the high­ly-edu­cat­ed, the tech­ni­cal­ly-com­pe­tent and the well-to-do. As an alter­na­tive to the Repub­li­cans' full-on embrace of the rich and pow­er­ful, we Democ­rats have been a mis­er­able fail­ure. Our mes­sages and our mes­sen­gers — with too many words and too much nuance — have fur­ther befud­dled and alien­at­ed so many peo­ple. That's espe­cial­ly true in South­west Vir­ginia and oth­er pre­dom­i­nant­ly rur­al parts of the state.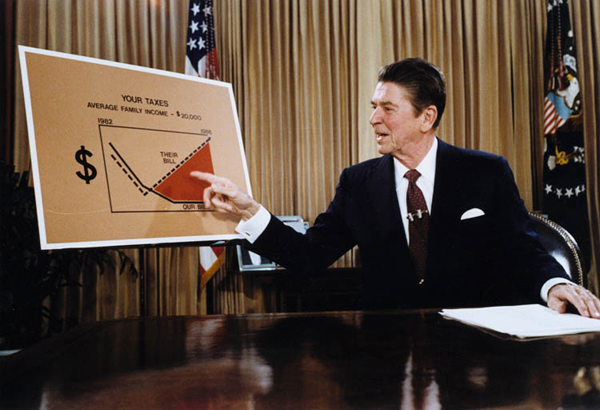 Ronald Rea­gan sells ​"trick­le-down eco­nom­ics" back in 1981. (Image: Wikipedia)
For a moment fol­low­ing the elec­tion of Trump, it seemed that the Demo­c­ra­t­ic Par­ty might be ready for a lit­tle soul search­ing; that giv­en not only Clinton's elec­toral loss, but the decade-long hem­or­rhag­ing of Demo­c­ra­t­ic seats from state hous­es to Con­gress, it was time for some can­did self-exam­i­na­tion; that if regions (like the Fight­ing 9th here in Vir­ginia) began to receive sus­tained atten­tion, resources and respect, we might rekin­dle the pro­gres­sive streak that had once been a part of its politics.
You'd think. But much like the con­tin­ued embrace of trick­le down in spite of its demon­stra­tive fail­ures, the Demo­c­ra­t­ic Par­ty con­tin­ues to mar­gin­al­ize large swaths of the coun­try, includ­ing the 9th Dis­trict of Vir­ginia and count­less oth­er rur­al communities.
It was in this con­text that Michael Hud­son, a vet­er­an and IT guy from Blacks­burg, Va., and I reached out to a small group of South­west Vir­gini­ans last Decem­ber in hopes of chang­ing the debate. ​"Pro­gres­sive 9th" as we call our­selves, also includes farm­ers, stu­dents, small busi­ness own­ers, school teach­ers, aca­d­e­mics and activists, from eight dif­fer­ent coun­ties, span­ning much of the district.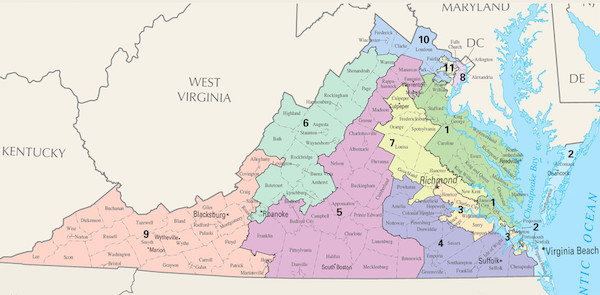 Vir­gini­a's 9th Con­gres­sion­al Dis­trict has been in the south­west­ern part of the state for over a cen­tu­ry. These are the state's dis­trict bound­aries as defined after the 2010 Cen­sus. (Source: U.S. Geo­log­i­cal Survey)
As described in the August 28 Roanoke Times edi­to­r­i­al ​"The Rur­al Lib­er­als," this group has writ­ten a Rur­al Pro­gres­sive Plat­form, released in June. We wrote it to con­front the fail­ings of both par­ties, but also to assert that what we most val­ue — a healthy land­scape, mean­ing­ful and dig­ni­fied liveli­hoods, and strong com­mu­ni­ties — are ​"pro­gres­sive" val­ues in the truest sense of the word.
The plat­form is nei­ther com­pre­hen­sive nor pre­scrip­tive. We're not seek­ing endorse­ments. Rather we offer it as a dis­cus­sion starter — to begin to rethink not only our lan­guage, but our under­stand­ing and priorities.
You've prob­a­bly heard it said that the def­i­n­i­tion of insan­i­ty is ​"doing the same thing over and over, but expect­ing a dif­fer­ent result." Like push­ing trick­le-down poli­cies that have failed for four decades; like Demo­c­ra­t­ic strat­e­gy that ignores the very com­mu­ni­ties we need to win back. I don't know if that's insan­i­ty, but I'm pret­ty sure it's flat out stupid.
For Democ­rats want­i­ng to trans­form their par­ty, rather than give up on it — like many of us in Pro­gres­sive 9th — the plat­form could be a good place to start. For inde­pen­dents and oth­ers who just want more hon­est and pro­duc­tive debate, it might also be of interest.
("Rebuild Demo­c­ra­t­ic Par­ty? Start in Rur­al Amer­i­ca" was orig­i­nal­ly pub­lished in the Roanoke Times and is repost­ed on Rur­al Amer­i­ca In These Times with per­mis­sion from the author.)
Below is the Rur­al Pro­gres­sive Plat­form, draft­ed in June 2017 by south­west­ern Virginia's Pro­gres­sive 9th, unedit­ed and in its entirety:
A Rur­al Pro­gres­sive Plat­form must be built upon three cen­tral ele­ments: land, liveli­hood and com­mu­ni­ty. Over gen­er­a­tions, these three pil­lars of rur­al life have shaped the economies and cul­tures of much of the coun­try­side; they have forged our com­mit­ment to self-reliance and belief in hard work. Though much of rur­al Amer­i­ca has changed great­ly over the past sev­er­al decades, land, liveli­hood and com­mu­ni­ty con­tin­ue to shape the way we see the world, our­selves, and there­fore our politics.
What fol­lows here is a frame­work for Pro­gres­sive Val­ues with­in a rur­al con­text, par­tic­u­lar­ly that of Cen­tral Appalachia. It fre­quent­ly uses ​"us" and ​"we", not to stereo­type or dimin­ish oth­ers — ​"them" — but because we write from our own expe­ri­ence, in our own words. This plat­form is not intend­ed to be com­pre­hen­sive, but should be under­stood as a back­ground doc­u­ment from which rur­al pro­gres­sives can devel­op more focused and ful­ly devel­oped posi­tions, or plat­forms bet­ter suit­ed to their par­tic­u­lar regions. It is accom­pa­nied by a one-page sum­ma­ry, which we hope will help spread the ideas more widely.
Our land
In south­west Vir­ginia, our forests pro­vide lum­ber for build­ing, wood for heat­ing, deer and turkey for food and gin­seng for a lit­tle bit of cash. Cat­tle and sheep graze on lush pas­tures, while nar­row strips of bot­tom­land have grown tobac­co, pro­duce and home gar­dens. Creeks and rivers offer bass, trout and perch, as well as irri­ga­tion for crops. And under­neath all of this, in some parts of our area has been coal, which his­tor­i­cal­ly pro­vid­ed well-pay­ing jobs and a good chunk of the tax base for many local services.
In Kansas, they have prairies; in Louisiana, bay­ous. Though each place is dif­fer­ent, rur­al regions share a sense that nature is part of how we meet our needs, feed our­selves, cre­ate jobs and liveli­hoods. That the moun­tains, forests, val­leys and streams are a prac­ti­cal part of our lives and economies. No doubt this is at least part of why we look at a chain­saw or a rifle so dif­fer­ent­ly from most city folks. Yet it's also true that many urban com­mu­ni­ties have begun to revi­tal­ize and rebuild their own land base, whether as com­mu­ni­ty gar­dens, farms or pub­lic parks. The time is right for rur­al and urban folks to come togeth­er around the idea of work­ing land­scapes that respect the envi­ron­ment while help­ing peo­ple meet their needs.
Our liveli­hoods
There are ​"envi­ron­men­tal­ists" in rur­al com­mu­ni­ties and small towns across Appalachia, the Mid­west and every oth­er part of the coun­try. Nev­er­the­less, because the envi­ron­men­tal move­ment has emerged most strong­ly in cities or sub­urbs, its focus has been on pro­tect­ing the envi­ron­ment, more so than using it well to meet people's needs. It often seems that envi­ron­men­tal­ists for­get just how much every­one depends upon the food, mate­ri­als and ener­gy that pri­mar­i­ly come from rur­al areas, thanks to the work that rur­al folks do. Rais­ing food, cut­ting logs, min­ing coal or min­er­als, drilling for gas — these are some of the jobs we do, along with the mechan­ics, the welders and car­pen­ters, the engi­neers and the truck dri­vers that fin­ish the work and get these prod­ucts to mar­ket. If we seem to resent peo­ple telling us how to man­age our land, it's because we do a lot of the work that enables so many oth­ers to eat well, be warm and live comfortably.
Of course our jobs are far more diverse now, and many rur­al peo­ple no longer even raise a gar­den, let alone work in the out­doors. But the sense of ​'liveli­hood', of tak­ing care of our own needs through hard, some­times dan­ger­ous work, of being self-reliant, that sense is still strong in most rur­al peo­ple, still part of what we believe and what we want. We're encour­aged to see that an increas­ing num­ber of peo­ple in cities, espe­cial­ly young peo­ple, are yearn­ing to work with their hands, to learn how to raise food or live clos­er to the land.
Our com­mu­ni­ty
In rur­al places, fam­i­ly and neigh­bor­li­ness are the start­ing point for com­mu­ni­ty. And church. Small towns and rur­al places, like many big­ger cities, have seen com­mu­ni­ty erod­ed by emp­ty store­fronts, con­sol­i­dat­ed schools, addic­tion and more. Even so, we still tend to set down roots in our place, so when we're told to just ​'move to where the jobs are', we think it's a choice we shouldn't have to make. We believe that a car­ing local com­mu­ni­ty offers the best means to sup­port and help our neighbors.
It's true that too often we've not wel­comed peo­ple who look or act dif­fer­ent­ly from our norms. But not always. After 911 and Kat­ri­na, many first respon­ders trav­eled from rur­al towns to New York and New Orleans. For years, the UMWA offered help to Chi­nese min­ers in their strug­gles to make their coalmines safer. We can be neigh­bor­ly to oth­ers, far away. But we need to believe that our own com­mu­ni­ties are val­ued and respect­ed, not dis­missed or ridiculed.
If land, liveli­hood and com­mu­ni­ty are cen­tral to rur­al iden­ti­ty and cul­ture, what would a pro­gres­sive plat­form look like in these places? How should it be dif­fer­ent from the pro­gres­sive ideas and lan­guage that we usu­al­ly hear? What are some exam­ples of pub­lic poli­cies to sup­port these values?
Rur­al Pro­gres­sive val­ues and the land
We love the land and all it has to offer. How­ev­er, we want peo­ple who don't live from the land, who expe­ri­ence nature most­ly through tourism or recre­ation, to under­stand this: It's hard to make a liv­ing from the land with­out harm, with­out impact. Farm­ers under­stand this, as do fish­er­men, hunters, log­gers and min­ers. Those of us who farm, fish or hunt see our­selves as good stew­ards, because we know that our liveli­hoods depend on healthy land.
If we're going to do a bet­ter job sus­tain­ing the envi­ron­ment while still meet­ing people's needs, pro­gres­sive poli­cies must make part­ners of those who live from the land, rather than just reg­u­lat­ing and restrict­ing what hap­pens in the coun­try­side. Pro­gres­sive poli­cies should make major invest­ments in the most promis­ing rur­al sus­tain­able busi­ness­es, par­tic­u­lar­ly in com­mu­ni­ties his­tor­i­cal­ly depen­dent on coal. Rebuild­ing local economies so that peo­ple can care for them­selves and their fam­i­lies should be as much of a pri­or­i­ty as pro­tect­ing the envi­ron­ment. We need to see that we are tru­ly in this envi­ron­ment thing togeth­er, shar­ing the chal­lenges equally.
Pol­i­cy examples:
Increased invest­ment in sus­tain­able farm­ing, fish­ing, forestry research and prac­tices, rather than sub­si­dies for cor­po­rate farm­ing, fish­ing, and for­est products
Sup­port for the RECLAIM Act and rein­vest­ment in coal communities
Invest­ment and tax cred­its for com­mu­ni­ty wind ener­gy, solar gar­dens and oth­er renew­able ener­gy that also pro­vides rev­enue to local com­mu­ni­ties, in com­bi­na­tion with a mod­ern­ized elec­tric grid that sup­ports dis­trib­uted energy
Envi­ron­men­tal reg­u­la­tions that are ​

'

scale appro­pri­ate', ie less bur­den­some on small to mid-sized farms, busi­ness­es and manufacturers
Rur­al Pro­gres­sive val­ues and livelihoods
We say with­out hes­i­ta­tion that work­ing men and women must be at the cen­ter of a Rur­al Pro­gres­sive plat­form and must form the foun­da­tion of the broad­er pro­gres­sive move­ment. Work­ing folks in rur­al Appalachia and urban Bal­ti­more might look dif­fer­ent, but in city and coun­try alike work­ing peo­ple often do work that is phys­i­cal­ly demand­ing, work that requires a prac­ti­cal intel­li­gence, and jobs that so many oth­ers have come to take for grant­ed. We think it's long past due that rur­al and urban work­ers share in the wealth our work cre­ates, and be respect­ed by politi­cians with their actions, not just their words.
We come from gen­er­a­tions of resource­ful peo­ple, folks ​"who were poor but didn't know it" because they made the most out of what they had. A Rur­al Pro­gres­sive plat­form should thus be built on respon­si­bil­i­ties at least as much as rights, with poli­cies that help peo­ple help them­selves, and build on our strengths and assets.
Pol­i­cy examples:
An end to poli­cies that under­mine orga­nized labor
Increase in Earned Income Tax Cred­it, and oth­er sav­ings vehi­cles for low­er income and work­ing folks;
Poli­cies and pro­grams that build the wealth of work­ers, includ­ing cooperatives

'

Asset-based' eco­nom­ic devel­op­ment that address­es real com­mu­ni­ty needs, rather than sub­si­dies for big box­es and out­side corporations
Free com­mu­ni­ty college
Col­lege edu­ca­tion with­out oner­ous debt, in part through reduced uni­ver­si­ty admin­is­tra­tive costs, and income-based loan repayment
Dra­mat­i­cal­ly increased inter­net access, includ­ing pub­licly owned options
Rur­al Pro­gres­sive val­ues and community
We've not yet giv­en up on com­mu­ni­ty — real com­mu­ni­ty, built around a place. We need pro­gres­sive eco­nom­ic, tax and trade pol­i­cy that sup­ports healthy, self-reliant local com­mu­ni­ties, instead of polices that suck the life out of our busi­ness­es, homes and down­towns. Strength­en­ing local com­mu­ni­ties should be a cen­tral goal of pro­gres­sive poli­cies.
Pol­i­cy examples:
Tax incen­tives for region­al man­u­fac­tur­ers and oth­er busi­ness­es that com­mit to long- term local employ­ment, rather than sup­port­ing cor­po­ra­tions who off­shore jobs.
Reg­u­la­to­ry relief for com­mu­ni­ty banks, and sup­port for cred­it unions and com­mu­ni­ty devel­op­ment finan­cial institutions
Expan­sion of rur­al health clin­ics, addic­tion treat­ment and pre­ven­tion, and incen­tives for doc­tors and health prac­ti­tion­ers to work in rur­al and under­served communities
Rur­al cit­i­zens believe in fair­ness and under­stand that some peo­ple start with advan­tages that ordi­nary peo­ple just don't have. After all, Jesus hon­ored the wid­ow, who gave in spite of her pover­ty, and rebuked the Phar­isees, who gave only from their sur­plus. It seems fair, then, to ask more of those with wealth and priv­i­lege, to oppose poli­cies that fur­ther their eco­nom­ic or polit­i­cal pow­er, and to pro­tect and care for those who are struggling.
Pol­i­cy examples
Dra­mat­ic changes in cam­paign financ­ing and lob­by­ing laws to elim­i­nate the extra­or­di­nary influ­ence now exer­cised by the wealthy and big corporations
Full sup­port for vet­er­ans' health, men­tal health and job training
Long-term sup­port of Social Secu­ri­ty and Medicare, by requir­ing the wealthy to pay into the sys­tem on all their earn­ings, as work­ing and mid­dle class peo­ple already do
Tax­ing div­i­dends, cap­i­tal gains and oth­er unearned income at the same lev­el as earned income, so that we all pay our fair share
Main­tain­ing full rights and pro­tec­tions for all peo­ple in our coun­try — who are, after all, our neigh­bors — regard­less of race, gen­der, sex­u­al ori­en­ta­tion or ability.