The Visa Loophole That Big Ag Construction Firms Love To Exploit
How hog barn builders are importing labor at low wages and leaving local workers in the dust.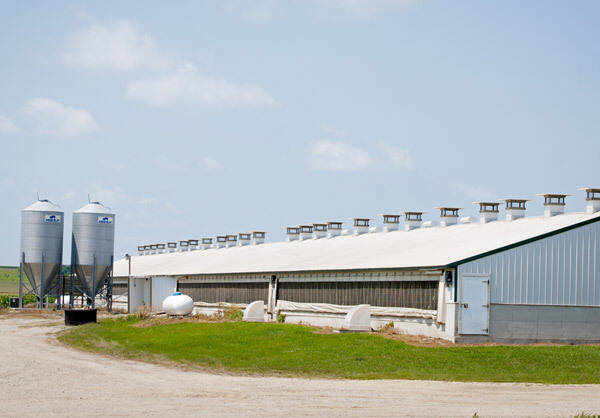 By Stephen Franklin, Kris­tine Sherred, Jes­si­ca Vil­lagomez, Zhe­jun Wang, Joseph Bulling­ton and Kari Lydersen.
The ad sought "farm laborers" to do such agricultural work as "layout building," "level earth," "tie-rebar," "position aluminum wall-frames" and "place all concrete."
SPRING­FIELD, ILL. — Work was rapid­ly van­ish­ing. Mary Wilson's con­struc­tion projects on farms, near­ly a third of her busi­ness, had dis­ap­peared, and she was not able to hire as many work­ers. But it was 2009, and she chalked it up to the recession.
When the work had not returned by 2016, Wil­son, pres­i­dent of Michel Con­crete in Spring­field, began search­ing for an answer. She found that the farm con­struc­tion jobs she typ­i­cal­ly sought were going to a com­peti­tor offer­ing low­er prices.
On fed­er­al con­trac­tor web­sites, she saw that the com­peti­tor was using a visa pro­gram meant to allow U.S. employ­ers to bring in for­eign work­ers dur­ing a local labor short­age. It's called the H2A visa, and in cen­tral Illi­nois it pays about $13 an hour, rough­ly half of what union con­struc­tion work­ers in the area make.
Wil­son couldn't under­stand why it was legal. The H2A visa pro­gram, as she under­stood it, was meant to pro­vide the agri­cul­ture indus­try with sea­son­al farmworkers.
Until recent­ly, the U.S. Depart­ment of Labor (DOL) — which, along­side the State Depart­ment, over­sees the visa pro­gram — seemed to agree. In 2008, the DOL reject­ed a request by Alewelt Con­crete Inc. to employ work­ers on H2A agri­cul­tur­al visas to help build live­stock con­fine­ment facil­i­ties in Iowa. The DOL explained in a refusal let­ter, ​"The request­ed work­ers will not be rais­ing, feed­ing or car­ing for the live­stock in the facil­i­ties." Alewelt appealed, how­ev­er, and reached a deal with the DOL to dis­miss the case.
In the decade since, Alewelt and oth­er farm con­struc­tion com­pa­nies have brought in hun­dreds of work­ers on H2A visas. In These Times spoke with H2A visa work­ers doing farm con­struc­tion in Illi­nois, con­sult­ed legal experts and migrant-work­er advo­cates, and stud­ied DOL records, and deter­mined that the prac­tice has become wide­spread — par­tic­u­lar­ly in build­ing the hog con­fine­ment facil­i­ties that are mush­room­ing in the Midwest.
Pork is a bom­ing indus­try, dri­ven large­ly by grow­ing exports to Chi­na. Between 2015 and 2016, the prof­its pork pack­ers earned per head of hog almost dou­bled, accord­ing to the North Amer­i­can Meat Institute.
As prof­its con­tin­ue to rise, Iowa, Min­neso­ta and Illi­nois lead the coun­try in num­ber of hogs slaugh­tered, and the hog industry's infra­struc­ture con­tin­ues to expand. The num­ber of ​"con­cen­trat­ed ani­mal feed­ing oper­a­tions," known as CAFOs, has quadru­pled in Iowa to more than 10,000 since 2001, accord­ing to a report by the Iowa Pol­i­cy Project. The dra­mat­ic increase has raised seri­ous envi­ron­men­tal and health con­cerns for neigh­bors who deal with over­flow­ing manure lagoons, over­whelm­ing odors and air pol­lu­tion from the facil­i­ties. And many work­ers who staff the CAFOs are them­selves immi­grants who endure low pay and dan­ger­ous work­ing conditions.
The CAFO boom also requires con­struc­tion work­ers, but it's hard to come by exact fig­ures on how many are on H2A visas. Full of typos and mis­spellings, DOL data­bas­es track­ing H2A work­ers require much guess­work. Over the years, ​"con­struc­tion" appears and dis­ap­pears as a data­base category.
Even offi­cials with the Gov­ern­ment Account­abil­i­ty Office (GAO), which released a report about the H2A pro­gram in 2015 (and updat­ed it in 2017), find the records dif­fi­cult to decode. ​"We were try­ing [to] answer what [H2A work­ers] were doing once they were in the coun­try — but we couldn't match [the fed­er­al records] up with what they were actu­al­ly doing," says Cindy Barnes, direc­tor of GAO's Edu­ca­tion, Work­force and Income Secu­ri­ty divi­sion. Barnes believes the mud­dled records are due to a lack of coor­di­na­tion between the DOL and the State Department.
Asked by In These Times about the num­ber of H2A farm­work­ers doing con­struc­tion work, DOL offi­cials point­ed to a spe­cif­ic cat­e­go­ry code that has been in use for H2A only since 2015. But even after 2015, many com­pa­nies with names that include ​"build­ing" or ​"con­crete" filed as if their work­ers were pick­ing crops or milk­ing cows.
Based on the DOL's cat­e­go­ry for farm con­struc­tion jobs, only 36 con­struc­tion appli­ca­tions for H2A visas were approved in 2015, 2016 and 2017. But when In These Times searched the data­base for the word ​"con­struc­tion" as a sub­cat­e­go­ry of ​"pri­ma­ry crop," more than 300 appli­ca­tions were approved over that three-year peri­od. Most of the appli­ca­tions were for mul­ti­ple workers.
The amount of H2A visas issued for Iowa and Illi­nois has been climb­ing marked­ly, from 2,071 in 2012 to 3,475 in 2016. Much of the increase can be attrib­uted to one com­pa­ny: Alewelt Con­crete. Alewelt made the DOL's 2016 list of the top 10 H2A employ­ers in the coun­try, with 1,343 cer­ti­fied H2A work­ers. Alewelt is the only con­struc­tion com­pa­ny on the list.
H2A is not the only guest work­er visa pro­gram avail­able to employ­ers. The H2B visa is designed to bring in tem­po­rary work­ers for nona­gri­cul­tur­al jobs, includ­ing con­struc­tion. Each pro­gram is sup­posed to pay the pre­vail­ing wage, but H2A's rates are based on low farm­work wages rather than high­er con­struc­tion pay. Unlike H2A, H2B man­dates over­time pay, requires that employ­ers pay into Social Secu­ri­ty and Medicare, and has annu­al caps.
"Using the H2A pro­gram to hire work­ers to do con­struc­tion is, at the very least, a legal gray area," says Daniel Cos­ta, an attor­ney and labor and migra­tion expert with the Eco­nom­ic Pol­i­cy Insti­tute (EPI) in Wash­ing­ton, D.C. ​"Even if it doesn't vio­late the let­ter of the law, it at least vio­lates the spir­it. I think work­ers who are doing con­struc­tion should come under the H2B program."
To qual­i­fy for either visa, employ­ers must prove there are no U.S. work­ers will­ing and able to do the job. Among oth­er things, they must place two recruit­ment ads in local news­pa­pers. In prac­tice, such ads often fall short of a good-faith effort. Con­sid­er the noto­ri­ous case of Don­ald Trump's Mar-a-Lago resort, which ful­filled the H2B pre­con­di­tions in July 2017 with an ad instruct­ing locals to ​"apply by fax."
In These Times found that Alewelt placed such an ad in the Sioux City Jour­nal as recent­ly as March 22 for jobs near Juani­ta, Iowa. The ad sought ​"farm labor­ers" to do such agri­cul­tur­al work as ​"lay­out build­ing," ​"lev­el earth," ​"tie-rebar," ​"posi­tion alu­minum wall-frames" and ​"place all con­crete" for a wage of $13.80 an hour. The aver­age wage for an Iowa con­struc­tion labor­er is $17.32.
An office man­ag­er for one small-town Iowa con­struc­tion firm tells In These Times that qual­i­fied con­struc­tion work­ers can be hard to find in rur­al Amer­i­ca. H2A work­ers brought in from Mex­i­co are ​"cru­cial to the com­pa­ny," says the man­ag­er, who asked not to be named because they are not autho­rized to speak on the company's behalf.
Mary Wil­son, in cen­tral Illi­nois, says she doesn't think she could rea­son­ably apply for guest work­er visas. With vet­er­an con­struc­tion work­ers and new­com­ers always look­ing for jobs, she says, ​"I can't sign the affi­davit and hon­est­ly say I can­not find any­one that will do the work."
For­tu­na­to ​"Lucky" Sala­m­one is the busi­ness man­ag­er for Labor­ers Union Local 32 in Rock­ford, Ill. In ear­ly 2017, his atten­tion was drawn by arti­cles about the build­ing of a near­by hog con­fine­ment facil­i­ty. Look­ing into the project, he dis­cov­ered the work was being done by H2A workers.
On a qui­et res­i­den­tial street in Rock­ford, where fed­er­al records indi­cat­ed that H2A farm con­struc­tion work­ers had been stay­ing, neigh­bors point­ed to an emp­ty ranch house, describ­ing it as a one-time home to a revolv­ing pop­u­la­tion of work crews.
At the time, about 20 of the Local's 200 work­ers were out of work. The Illi­nois con­struc­tion indus­try lost near­ly one-third of its jobs between 2001 and 2012 (and has since regained only about one-third of those). The state's unem­ploy­ment rate for con­struc­tion work­ers remains among the high­est in the coun­try, at 8 percent.
"We shouldn't pun­ish the for­eign work­ers — I'm sure they are hun­gry, too," Sala­m­one wrote in a May 2017 col­umn for the Jour­nal Stan­dard, a Rock­ford news­pa­per. ​"But let's give our local peo­ple a first chance at employment."
Econ­o­mists say that over­all and in the long run, immi­grants do not push Amer­i­cans out of work. Immi­gra­tion spurs eco­nom­ic growth that ulti­mate­ly cre­ates more jobs.
But there can be short-term excep­tions, econ­o­mists add. In peri­ods of high unem­ploy­ment and weak job growth, the econ­o­my can take longer to adjust to new immi­grants who may com­pete with less-edu­cat­ed U.S. workers.
One of the prob­lems with the guest work­er sys­tem, accord­ing to Daniel Cos­ta of EPI, is that the rules don't func­tion well enough to make sure the pro­gram ful­fills its inten­tion: pro­vid­ing short-term work­ers to fill labor shortages.
Records and inter­views with guest work­ers indi­cate some employ­ers are using the visas as a main­stay of their staffing.
Cos­ta reviewed fed­er­al fil­ings for H2B work­ers from 2004 to 2014 and found that, among the top 15 types of jobs filled by H2B work­ers, wages for all work­ers have been flat or falling. This could indi­cate that the avail­abil­i­ty of guest work­ers may indeed be dri­ving down wages for those indus­tries. Cos­ta also found high unem­ploy­ment rates for work­ers in the top 15 H2B sec­tors, includ­ing con­struc­tion. In short, employ­ers appear to be ben­e­fit­ing from the low­er wages giv­en to H2B work­ers, rather than hir­ing local work­ers. Cos­ta believes that the pro­grams also ​"fail mis­er­ably" in anoth­er way: at ​"pro­tect­ing the basic work­place rights of migrant work­ers, who can in many cas­es be legal­ly underpaid."
Sit­ting in a trail­er in a small north­west Illi­nois town, Raul Gómez (not his real name) describes how he's come to the Mid­west every year for the past 10 years on an H2A visa. He spends about nine months work­ing, then returns to Mex­i­co. The three-bed­room trail­er is pro­vid­ed for Gómez and eight oth­er work­ers by their employ­er: Alewelt Con­crete. Signs warn the men not to smoke inside the trail­er, which appears more like a break room than a home. Cam­eras watch every­thing with­in the walls; the men say the employ­er told them enig­mat­i­cal­ly that the cam­eras were for their neigh­bors' safe­ty. The men sleep in bunk beds and share two bathrooms.
Gómez earns $13.80 an hour, an amount he says he could nev­er imag­ine mak­ing in his vil­lage in the state of Zacate­cas. He's glad for the mon­ey he can send home, but regrets see­ing his wife and daugh­ters only a few months of the year. ​"You can't have it all," he sighs. Like him, most H2A work­ers in the Unit­ed States come from Mex­i­co and have fam­i­ly there.
Gómez works just over 10 hours a day, six days a week, putting up build­ings to house pigs. He knew about the H2B pro­gram, but says the com­pa­ny told him it is only for work­ers in cities (which is not true).
The DOL sets H2B pay based on local pre­vail­ing wages. H2B pay for con­struc­tion work in Illi­nois and Iowa ranges from about $20 to $30 an hour, plus overtime.
Gómez knows oth­er work­ers who have returned on H2A visas three, five or 10 times.
He says he has nev­er had any prob­lems get­ting paid, but recalled anoth­er work­er for a dif­fer­ent employ­er who was not paid all of his wages last year.
Gómez says he sees work­ing on an H2A visa as much bet­ter than work­ing as an undoc­u­ment­ed immi­grant. And, indeed, the H2A and H2B visas are meant to pro­vide legal alter­na­tives to undoc­u­ment­ed sea­son­al migrant work. But both pro­grams are plagued with reports of work­place abus­es, includ­ing sub­stan­dard ten­e­ment hous­ing, wage theft, dan­ger­ous work­ing con­di­tions and improp­er fees charged to workers.
Alewelt, where Gomez works, was sued in 2010 by a group of sea­son­al work­ers. The work­ers alleged that Alewelt had arbi­trar­i­ly switched them from H2B to H2A visas, had failed to pay them for all hours worked, had ille­gal­ly failed to reim­burse them for recruit­ing fees and trans­porta­tion and equip­ment costs, and, in two cas­es, had put injured work­ers on bus­es back to Mex­i­co with­out med­ical treat­ment. The case result­ed in a set­tle­ment and a nondis­clo­sure agreement.
Offi­cials at Alewelt and the firm's attor­ney, Aaron Bernard, declined repeat­ed requests for com­ment from In These Times.
Miguel Keber­lein, a for­mer immi­grants' and work­ers' rights attor­ney with the Legal Aid Foun­da­tion (LAF), says that, of the labor-abuse cas­es the LAF pros­e­cut­ed in the past four years, 10 involved farm con­struc­tion work­ers brought in under H2A visas. All of the cas­es were settled.
Keber­lein says the use of H2A work­ers for farm con­struc­tion ​"doesn't pass the smell test, and it is cer­tain­ly why com­pa­nies that are exploit­ing the sys­tem are so eager to settle."
Ben Botts is legal direc­tor for the Cen­tro de los Dere­chos Del Migrante, a bina­tion­al migrants' rights orga­ni­za­tion that joined the suit against Alewelt. A for­mer DOL tri­al attor­ney, Botts says he has ​"some skep­ti­cism about the DOL's capac­i­ty to mean­ing­ful­ly penal­ize employ­ers." He doesn't doubt the inten­tions of most of his for­mer DOL col­leagues. ​"DOL has the author­i­ty under exist­ing law to mean­ing­ful­ly address H2 employ­er non­com­pli­ance," Botts says. ​"The prob­lem is one of resources and insti­tu­tion­al will."
The extent of the prob­lem is hard to gauge: Just as undoc­u­ment­ed work­ers fear speak­ing out because of the risk of depor­ta­tion, tem­po­rary work­ers fear anger­ing their employ­ers and being sent home or not hired back next sea­son. Based on inter­views with work­ers and groups that rep­re­sent them, the GAO's report sug­gest­ed that the lev­el of abuse under the visa pro­grams may be underreported.
In May 2017, the DOL won a pre­lim­i­nary injunc­tion against a farm in El Mirage, Ariz., for pay­ing its H2A work­ers ille­gal­ly low wages and hous­ing them in ​"ille­gal and life-threat­en­ing liv­ing con­di­tions." The injunc­tion was the first against the H2A pro­gram in DOL his­to­ry. But Ari­zona reporters have not­ed that a great increase in H2A work­ers in the state has not been met with a boost in DOL inspectors.
"All of these guest work­er pro­grams have been rife with abus­es," says Bruce Gold­stein, an attor­ney and pres­i­dent of Wash­ing­ton, D.C.-based Farm­work­er Jus­tice. ​"The busi­ness­es that bring in guest work­ers have been able to game the sys­tem and part of the rea­son is that the peo­ple who come in are very vul­ner­a­ble. The sys­tem is dri­ven by the desire of employ­ers to obtain a low-cost pro­duc­tive work­force and the will­ing­ness of politi­cians to give in to their demands."
Mary Wil­son does­n't have a gripe with com­peti­tors rely­ing on for­eign work­ers, ​"if they tru­ly can't find [local] work­ers." But if they bring in migrant work­ers, she thinks they ought to do so under the H2B pro­gram, and pay them accord­ing to their expertise.
On aver­age, she pays her work­ers about $26 an hour, plus over­time. ​"I want to attract peo­ple who want a career," she says.
In June 2016, Wil­son wrote a let­ter to U.S. Sen. Richard Durbin (D‑Ill.), say­ing, ​"Since 2008, the con­struc­tion indus­try in Illi­nois has faced hard times, mak­ing it quite dif­fi­cult for con­trac­tors, like myself, to pro­vide steady employ­ment for our work­ers. The loss of agri­cul­tur­al projects has only made this worse."
Durbin's office wrote back to say they would con­tact the DOL, and said they would get in touch when they heard back. They have not yet fol­lowed up.
An ear­ly-child­hood edu­ca­tion major, Wil­son taught for a few years, worked part-time at a hos­pi­tal and raised four chil­dren. In 2008, she took over the fam­i­ly busi­ness, start­ed years pri­or by her father in the family's kitchen in Edin­burg, Ill., a rur­al com­mu­ni­ty near Spring­field. To learn more about the prac­ti­cal side of con­struc­tion, Wil­son suit­ed up for work like her employ­ees and went out on jobs with them.
Now, Wil­son believes she has to fight against a trou­bled bureau­cra­cy and com­pa­nies that exploit it to pro­tect her indus­try and employees.
"The real prob­lem I have is that I see the peo­ple here, who used to do this kind of work, get paid less annu­al­ly because they are not work­ing as much," she says. ​"I didn't think that was right."
Stephen Franklin is a for­mer labor and work­place reporter for the Chica­go Tri­bune, and the author of Three Strikes: Labor's Heart­land Loss­es and What They Mean for Work­ing Amer­i­cans.Kris­tine Sherred, Jes­si­ca Vil­lagomez and Zhe­jun Wang are grad­u­ate stu­dents in the Medill School of Jour­nal­ism in the social jus­tice and inves­ti­ga­tion spe­cial­iza­tion. Vil­lagomez is a for­mer In These Times intern.Joseph Bulling­ton is a reporter and a Rur­al Amer­i­ca In These Times intern who grew up in White Sul­phur Springs, Mont.Kari Lyder­son is co-direc­tor of the Social Jus­tice News Nexus and a Chica­go-based reporter, author and jour­nal­ism instruc­tor spe­cial­iz­ing in ener­gy, the envi­ron­ment, labor, pub­lic health and immi­gra­tion issues.