Farmworkers Say "Us Too," Demanding Freedom From Sexual Violence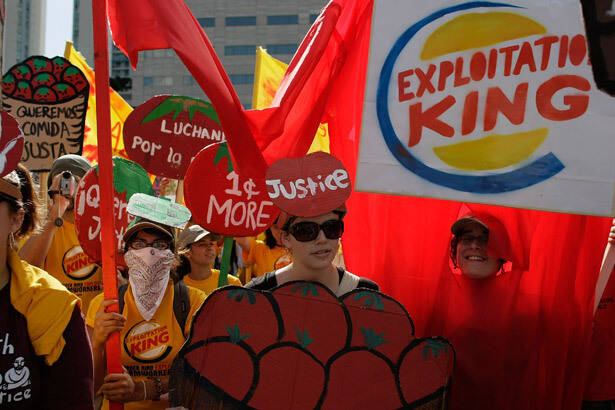 Ahead of the Thanks­giv­ing feast, the Coali­tion of Immokalee Work­ers (CIW) hit mid­town Man­hat­tan on Mon­day to face down the suits with chants of ​"Exploita­tion has got to go!" CIW was there to demand humane work­ing con­di­tions on their farms.
Pep­pered with brass-band musi­cians and street pup­pets, the pro­test­ers ral­lied at the New York, N.Y. offices of the fast food giant Wendy's.
CIW mem­bers hoist­ed toma­to and buck­et-shaped pick­et signs with slo­gans like ​"free­dom from sex­u­al vio­lence" and ​"Jus­ti­cia" to face off against Wendy's cheery, red pig­tails. They demand­ed fair wages and free­dom from vio­lence and exploitation.
This week's march, part of the coalition's mul­ti-city tour to pro­mote its Fair Food labor pro­tec­tion pro­gram, put women work­ers at the front­lines, protest­ing the epi­dem­ic of sex­u­al assault in agri­cul­tur­al labor, which affects as many as eight in ten women.
Decades before labor-rela­tions courts and bureau­cra­cy-laden con­tract nego­ti­a­tions, work­place dis­putes with pow­er­ful cor­po­ra­tions were resolved with fists and clubs. And in Trump's Amer­i­ca, CIW work­ers are turn­ing Florida's vast toma­to fields into the lat­est front­line in the strug­gle for the rights and dig­ni­ty of immi­grant communities.
"As farm­work­er women, this expe­ri­ence pos­es an incred­i­bly hard choice; we don't have anoth­er job, we have to suf­fer this abuse, because we have a fam­i­ly to main­tain," said orga­niz­er Lupe Gon­za­lo, speak­ing on the vio­lence that stalks women work­ing the fields, at an Octo­ber gath­er­ing at a Min­neso­ta the­ater. ​"Our silence is some­thing we must grow accus­tomed to every day."
Voic­es like Gonzalo's rarely take the pub­lic spot­light in con­ver­sa­tions on sex­u­al vio­lence and dis­crim­i­na­tion, but her words res­onate deeply on the edges of the econ­o­my. As a minor­i­ty in a male-dom­i­nat­ed work­force, work­ing in bru­tal, iso­lat­ed con­di­tions, women are exposed dai­ly to sex­u­al vio­lence, be it cowork­ers' harass­ment or rape by supervisors.
Although agribusi­ness cor­po­ra­tions have his­tor­i­cal­ly failed to address sex­u­al abuse in their sup­ply chains, CIW mem­bers say they've vir­tu­al­ly elim­i­nat­ed sex­u­al harass­ment from the fields they've orga­nized via tar­get­ed enforce­ment, broad-based mon­i­tor­ing and work­er edu­ca­tion efforts. Addi­tion­al­ly, strong com­mu­ni­ty sup­port and the group's pio­neer­ing Fair Food Pro­gram (FFP) has helped break the cul­ture of silence in the fields by mak­ing women's rights everybody's busi­ness — from cowork­ers and neigh­bors all the way up to multi­na­tion­al restau­rant chains.
Wendy's is now the lone hold­out among the large restau­rant chains that CIW has pushed over the years to sign onto its FFP code of con­duct. Since the 1990s, the group has marched on col­lege cam­pus­es, ral­lied at cor­po­rate offices and lob­bied on Capi­tol Hill to pro­mote an inno­v­a­tive form of col­lec­tive work­er pro­tec­tion that has evolved into FFP's work­er-led social respon­si­bil­i­ty system.
Though not a for­mal union con­tract, the pro­gram's mod­el, which now pro­tects some 35,000 work­ers, essen­tial­ly pro­vides a bill of rights for thou­sands of labor­ers in Florida's heav­i­ly con­sol­i­dat­ed agribusi­ness sec­tor to pro­mote struc­tur­al change at all lev­els of the indus­try. The bind­ing agree­ment man­dates that all com­pa­nies in the sup­ply chain — includ­ing grow­ers and retail­ers — pro­vide an addi­tion­al pen­ny-per-pound pre­mi­um that is passed through to pick­ers. This adds a con­sid­er­able amount to work­ers' annu­al wages. Mean­while, the agree­ment ensures enforce­able stan­dards for fair work­ing con­di­tions, job secu­ri­ty through direct, long-term employ­ment and due process for abuse complaints.
The coali­tion's work­er-dri­ven social respon­si­bil­i­ty mod­el sets a ​"zero tol­er­ance" rule for vio­la­tions to pre­vent wage theft, traf­fick­ing and work­place sex­u­al violence.
"If there is a farm that is par­tic­i­pat­ing that is refus­ing to cor­rect the sit­u­a­tion in a time­ly fash­ion and bring swift con­se­quences for abusers, then the mar­ket con­se­quences kick in, because the cor­po­ra­tions can no longer buy from those farms," Oscar Otzoy, a CIW orga­niz­er, told In These Times.
He says the under­ly­ing pow­er of the process is its trans­for­ma­tion­al effect on the work­er com­mu­ni­ty by help­ing train and empow­er work­ers as their own advo­cates for rights and safe­ty at work.
"One of the essen­tial ele­ments of the coali­tion is that it is led by farm­work­ers them­selves, and so we are from that com­mu­ni­ty," Otzoy says. ​"We share the same val­ues and the same expe­ri­ences and the same real­i­ties, so there is trust with work­ers that their com­plaints will be brought to a solution."
Often that solu­tion is not just pun­ish­ment, but also ensur­ing that the vic­tim will receive need­ed reha­bil­i­ta­tion services.
The CIW's cam­paign has tar­get­ed a host of large chain restau­rants, super­mar­kets and insti­tu­tion­al pur­chasers, like uni­ver­si­ty food ven­dors. But unlike Whole Foods and Taco Bell, Wendy's con­tin­ues to insist that its own cor­po­rate code of con­duct can effec­tive­ly be applied instead of the FFP.
In a state­ment sent to In These Times, Wendy's said that it is ​"pro­mot­ing human rights and safe work­ing con­di­tions" through its own social respon­si­bil­i­ty pro­gram, with ​"assur­ances and require­ments relat­ed to human rights and labor prac­tices." The com­pa­ny dis­missed CIW's cam­paign as part of a ​"com­mer­cial dis­pute," since Wendy's refus­es to ​"pay fees to their orga­ni­za­tion" to sup­port FFP.
Wary of self-reg­u­lat­ing cor­po­rate stan­dards, the CIW coun­ters that the com­pa­ny is actu­al­ly ​"deriv­ing a very real cost advan­tage over its com­peti­tors, while con­tin­u­ing to pro­vide an alter­na­tive mar­ket for less rep­utable growers."
But while CIW's mod­el has gar­nered high-pro­file acco­lades, includ­ing hon­ors from the Oba­ma White House, it has also got­ten the atten­tion of anti-labor activists. The right-wing ​"watch­dog" Cen­ter for Union Facts (CUF) issued a com­plaint in ear­ly Novem­ber to fed­er­al tax author­i­ties chal­leng­ing CIW's tax-exempt sta­tus as an edu­ca­tion­al char­i­ty, insist­ing that CIW is in fact a union front group — and should be reg­u­lat­ed as such.
Paint­ing the CIW's protests as mob-like tac­tics pro­mot­ing ​"harass­ment" of com­pa­nies, the CUF argues, ​"CIW is essen­tial­ly a group oper­at­ing for the pri­vate finan­cial ben­e­fit of a small class of peo­ple (cer­tain agri­cul­tur­al workers)."
CIW defines its ​"small class" as the whole farm­work­er pro­le­tari­at, and their mod­el devel­oped in response to the struc­tur­al bar­ri­ers to union­iza­tion in the high­ly strat­i­fied agri­cul­tur­al work­force where work­ers are unsta­ble, often undoc­u­ment­ed and intense­ly poor.
They oper­ate like a union in terms of engag­ing in nego­ti­a­tions with boss­es, but have more tac­ti­cal agili­ty in that they do not rely on insti­tu­tion­al­ized majori­tar­i­an rep­u­ta­tion but grass­roots mobilization.
As for the com­plaint about its tax sta­tus, Otzoy said those who com­plain ​"are just try­ing to roll back the human rights advances that we've been able to achieve."
The FFP has spread wide­ly, and CIW is work­ing to bring their mod­el to straw­ber­ry, pep­per and dairy farms else­where in the Unit­ed States. ​"It's the work­ers who are still speak­ing on behalf of them­selves and mov­ing for­ward the move­ment," Otzoy says.
So when CIW work­er-activists ampli­fy women's voic­es from Florida's toma­to har­vests into the Manhattan's streets, they put mus­cle behind Gon­za­lo's dec­la­ra­tion as she spoke to com­mu­ni­ties across coun­try: ​"We had to draw on enor­mous strength and courage in order to break our silence — but also, we did not do it alone."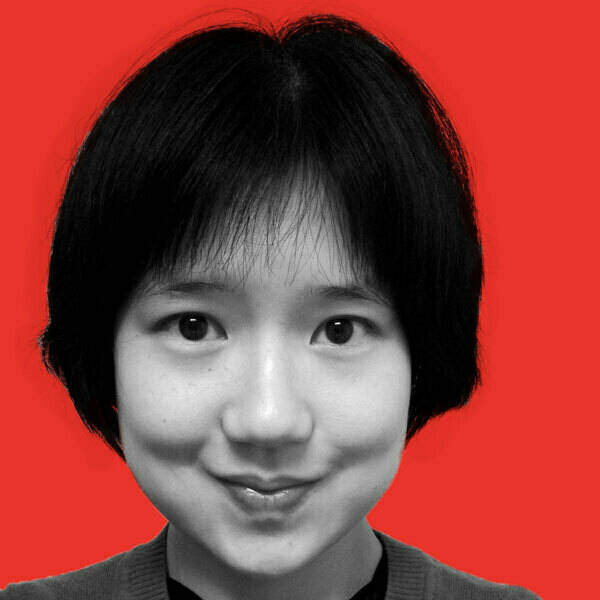 Michelle Chen is a con­tribut­ing writer at In These Times and The Nation, a con­tribut­ing edi­tor at Dis­sent and a co-pro­duc­er of the ​"Bela­bored" pod­cast. She stud­ies his­to­ry at the CUNY Grad­u­ate Cen­ter. She tweets at @meeshellchen.